Discover more from The Pick and Roll
We're all about Aussie hoops. Independent, objective analysis and commentary. Insightful narratives built around Australian basketball. Read about our men and women in the NBA, WNBA, NCAA, Europe, national teams, NBL, WNBL, NBL1, prospects and more.
Over 2,000 subscribers
A year ago today, the Australian Boomers beat Team USA in Melbourne.
Here's everything you need from that historic Game 2.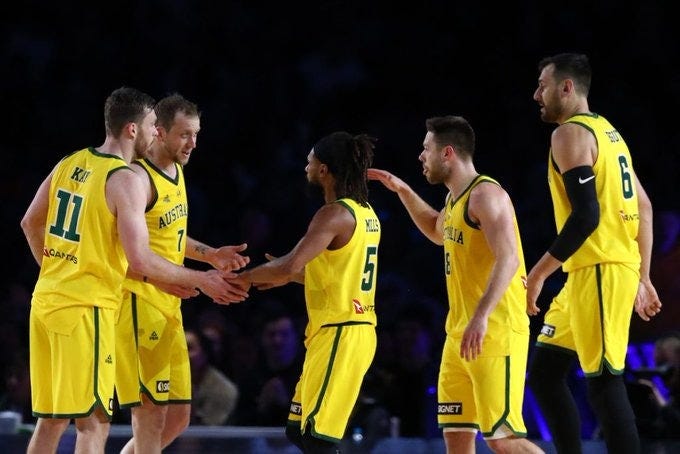 Credit: Kelly Defina/Getty Images
---
24 August, 2019. 98-94. Game 2. It was a game to remember.
Game story
From Ben Mallis, who covered the game at ground level in Marvel Stadium:
A contested, step back jumper was all Mitchell could muster with Creek in his face. Australian basketball's everyman played the type of defence that belongs on an NBA court - simultaneously rubber stamping his credentials at this level and sending one of the NBA's leading youngsters home defeated.

"I saw arguably one of the best guards in the NBA with the ball isolating and I went 'Aw shit, yeah, this will be awesome,'"Creek said of his showdown with Mitchell.

Joe Ingles was brilliant all night. He was the best player on the court in the first half and it wasn't particularly close. Andrew Bogut and Aron Baynes combined to give the Boomers a thoroughly robust 40 minutes at the five position. Baynes threw around American bodies like a bouncer arresting control at 3am, while Bogut showed flashes of the high post mastery that was seen in the NBA this decade. Each, in their own way, were instrumental in the Boomers' triumph.

Nick Kay graduated from overmatched - which he certainly was on Thursday night - to a role player excelling against global sporting icons. Matthew Dellavedova was everything you'd expect him to be, with one moment rising above all else when attempting to digest this game. On a seemingly meaningless possession early in the second quarter, Dellavedova became that serial pest that annoys his opponents no end. He picked up Marcus Smart full court. He pestered Smart, actually, while forcing a deflection and knocking the ball away. Before anyone in attendance could blink, Dellavedova was sprawled out on the floor and the possession belonged to his team.

We could go on.

The heroes were endless. But it was Mills who stood, in the middle of a football stadium after, perhaps, the most important scoring burst in Australian basketball history, being serenaded with "MVP" chants. And the ironic thing is that this is exactly who Mills has been on a global stage. He has done this in the NBA Finals. With Australian basketball finally having its moment on the biggest stage, Mills was simply afforded a chance to show out in the green and gold on home soil.
Strategy
Michael Kruger broke it down from an X's and O's perspective.
To begin the game, Team USA tried switching against Mills. The diminutive speedster subsequently went full Medusa on their defence, turning bigger bodies to stone as he left them behind in his wake.

After a few minutes, Gregg Popovich switched it up, literally, and countered by asking his guards to glue themselves to Patty – only to watch as Australia began to run misdirection sets in an attempt to free Mills up. Here, Aron Baynes sets a ball-pick for Ingles (as if Australia is going to run a simple high pick and roll) before instantly sprinting to Mills for a weak-side screen.

Aware that the Americans wouldn't switch, Australia then started to get creative – heavily utilising an offensive philosophy known as 'advantage basketball'. Predicated heavily on cuts and screens, advantage basketball deliberately manipulates the defence in a fashion that allows a player to catch the ball with a running lead on their defender – an advantage, so to speak.
---
Important: If you enjoy the commentary and analysis we bring to Australia's national teams like the Boomers and Opals, consider supporting us by becoming a paid subscriber. Your help allows creators like Ben Mallis, Kane Pitman, Brad Winter and the rest of our team to continue putting their time and effort into crafting original content and narratives around Aussie hoops.
---
Narrative
Brad Winter discusses the significance of that win, from a big picture perspective.
Instead, Andrej Lemanis' funky defensive strategies disrupted the American offence, the huge discrepancy in playing experience as teams bore itself out, and Team USA didn't play half as hard as the Aussies did. The fact that Nick Kay was able to play huge crunch time minutes effectively (he ended up with a game-high +18) against a longer, more athletic, and talented front line speaks volumes.

Zooming back in, although it may have officially been an exhibition game, the win acts as what is modern Australian basketball's defining moment. With the heartbreaks of 2016 and 2019, this generation's Boomers never quite found their golden moment in any major competition. As far as this era of Australian basketball goes, this game is the holy grail.
How was it like at ground zero?
Kane Pitman and Ben Mallis, who both witnessed the Boomers' victory from the press box last year in Marvel Stadium, revisit the game on a special episode of the Pit and Roll Podcast - available on both podcast and video formats!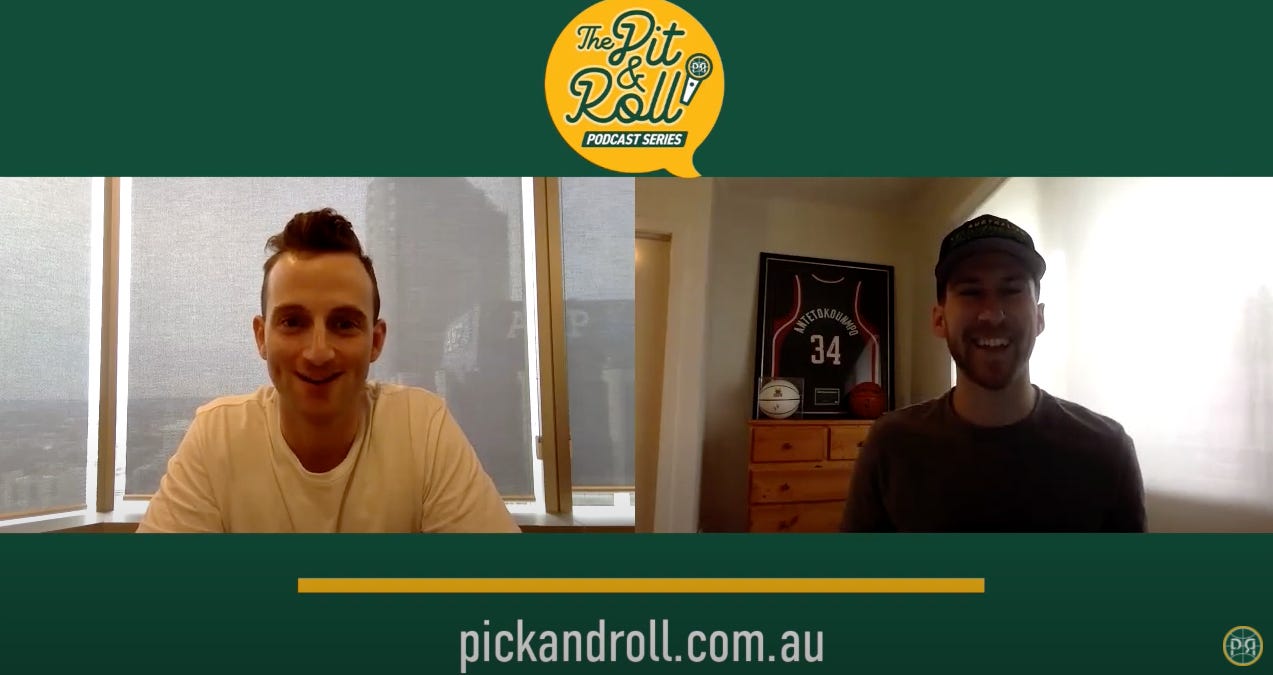 Retrospective
Ben Mallis returns to the game a year later with Andrew Bogut.
"He got hot late," Bogut said of Mills' performance. "I was out there on the floor with him for the most part, so I was just trying to figure out ways of getting him the ball. He was in a good rhythm and flow."

While Mills was tasked with delivering the final scoring bunch, it was far from a solo mission. The long-time San Antonio Spur benefited from the chemistry built with years playing alongside the likes of Bogut, Joe Ingles and Matthew Dellavedova. Look closely over those final moments and you will notice Bogut acting as the chaperone to Mills on offence.
---
Game 2: Team USA vs Australian Boomers
Full game replay: Game 1 - Game 2 (NBA highlights) (House of Highlights)
Behind the scenes with Beyond the Game TV: Part 1 - Part 2 - Part 3
Behind the scenes with USA Basketball: Game 1 - Game 2
Box score (via USA Basketball)