Discover more from The Pick and Roll
We're all about Aussie hoops. Independent, objective analysis and commentary. Insightful narratives built around Australian basketball. Read about our men and women in the NBA, WNBA, NCAA, Europe, national teams, NBL, WNBL, NBL1, prospects and more.
Over 2,000 subscribers
A Game of Mistakes: How the Boomers' team chemistry broke Team USA's defence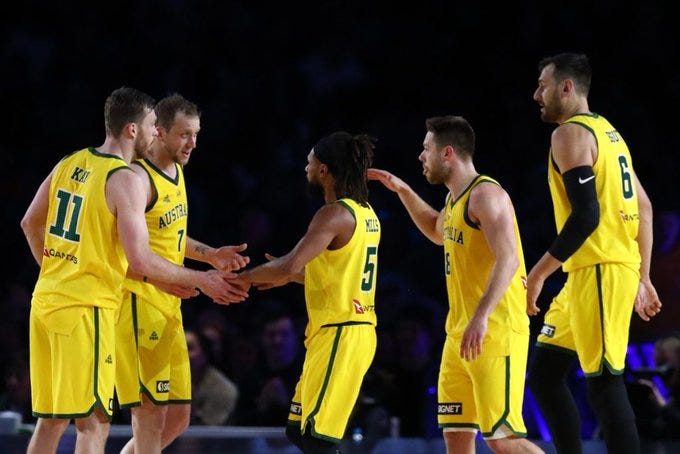 Credit: Kelly Defina/Getty Images
---
Sitting in the stands during Sunday's final exhibition game at Marvel Stadium, it was hard not to be a die-hard Boomers fan.
For the first time ever, the Australian men's basketball team beat Team USA. After hanging only 70 points against the Canadian national team just over a week ago, the Boomers incredulously dropped 98 on the Red, White and Blue – ending Team USA's 78 game winning streak whilst doing so. The story of the night was seemingly Patty Mills, who blazed the way for the Boomers with a team high 30.
And yet, this Australian wrecking act was not simply a one man show. Instead, the Boomer's radically improved team chemistry elicited open look after often look. Here's a quick breakdown of how they did so.
To begin the game, Team USA tried switching against Mills. The diminutive speedster subsequently went full Medusa on their defence, turning bigger bodies to stone as he left them behind in his wake.
After a few minutes, Gregg Popovich switched it up, literally, and countered by asking his guards to glue themselves to Patty – only to watch as Australia began to run misdirection sets in an attempt to free Mills up. Here, Aron Baynes sets a ball-pick for Ingles (as if Australia is going to run a simple high pick and roll) before instantly sprinting to Mills for a weak-side screen.
Aware that the Americans wouldn't switch, Australia then started to get creative – heavily utilising an offensive philosophy known as 'advantage basketball'. Predicated heavily on cuts and screens, advantage basketball deliberately manipulates the defence in a fashion that allows a player to catch the ball with a running lead on their defender – an advantage, so to speak.
In this first clip, Nick Kay sets a down screen for Mills that precedes both Joe Ingles and Andrew Bogut creating further daylight for Patty by successively screening for him up top. Donovan Mitchell is behind from the get go:
Bogut's trickery in the above plays cannot go underappreciated. The big man opens up his hips at the precise moment as he releases a pass to Mills – effectively elongating a defender's path of circumnavigation whilst simultaneously sealing off with his backside.
Operating surgically out of the high post, the wily veteran likewise put on a passing clinic with four crisp assists, all of which you can view here.
Team USA decided early on that they wouldn't let Bogut beat them as a passer, and after getting beat on multiple back-cuts, started to sag off the Australian dramatically. However, the Boomers likewise countered. By running multiple curl cuts around Bogut that drew warranted attention, the team exploited the room suddenly available to its centre.
Observe how freely Bogut flips up a floater in the first clip below, and how far off Mason Plumlee is in closing out to Ingles (after a botched Joe Harris/ Kemba Walker rotation) in the second.
Following these internal breakdowns, Team USA resorted back to switching on defence. Nevertheless, Australia instituted an inventive action that saw its big men re-screen after an initial ball pick, in an effort to create further confusion.
Here, Harris navigates the first switch effortlessly before getting snagged on a secondary, blindside pick.
This offensive wrinkle is known as a 'roll and pick', and it worked again and again.
In this clip, Baynes waits patiently for Ingles to seal Khris Middleton on his hip before re-screening the help defender in Miles Turner. It's a technique he mastered in Boston, and one that he and Bogut used with aplomb down the stretch:
Once the reality sunk in that the Boomers might actually win the game, Team USA ratcheted up the intensity of its switching, athletic defence. And yet, through thoughtful, complex movement, the Boomers – just like any great illusionist – repeatedly sold Team USA down the wrong avenue, ending the game by forcing switches they wanted.
As Popovich noted after game one, basketball is often just "a game of mistakes". In game two, he attempted to hide Donovan Mitchell defensively on Matthew Dellavedova during crunch time, only to watch as Mills drained his final dagger after the Boomers forced the young American to switch and chase him through a multitude of picks.
Whilst Mills indeed took over late – scoring ten points in a row – his performance alone did not tell the whole tale.
Instead, after looking almost entirely out of tune offensively during their first their three exhibition matches, the Boomers finally, collectively, and historically, got their story straight.