Discover more from The Pick and Roll
We're all about Aussie hoops. Independent, objective analysis and commentary. Insightful narratives built around Australian basketball. Read about our men and women in the NBA, WNBA, NCAA, Europe, national teams, NBL, WNBL, NBL1, prospects and more.
Over 2,000 subscribers
Patty Mills closes out Team USA, secures historical moment for Australian basketball
It was a night to remember.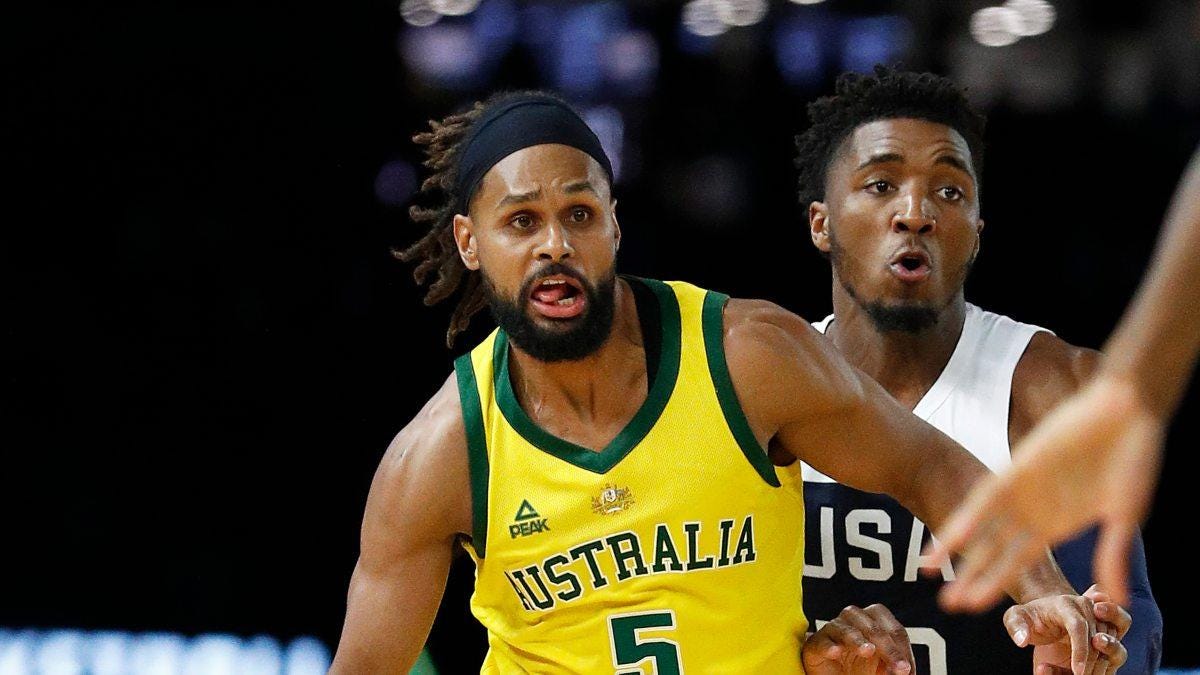 Credit: Daniel Pockett / Stringer
---
MELBOURNE - Mitch Creek knew exactly what to say.
Following one of the most poignant moments of Patty Mills' career, Creek gave his Australian Boomers running mate a new name. He offered a new descriptor and role, actually. Given what Mills punctuated on Saturday afternoon in Melbourne, it's virtually impossible to argue against the Hollywood storyline Creek thrust Mills' way.
"The new Fantastic Four movie is coming out and [Patty] is the Human Torch and he has the lead role," Creek said, through a glorious smile that characterised the Boomers locker room, following their historic 98-94 triumph over Team USA.
"Patty is just Patty," Creek added. "So you don't have to say anything else - he is Patty Mills."
Mills has always been many things to Australian basketball. Australian culture, actually. He is an NBA champion. A ten-year NBA veteran playing in San Antonio. Mills is a spokesperson for Indigenous Australia. Away from the court, he has a presence that grows every time he returns to his homeland. These traits have seen him transcend sports and they are inherently more important than basketball. Although the sport remains Mills' public craft, it is the means by which he has elevated himself over the past decade. Saturday night was just another example of why.
At Marvel Stadium, infront of 52,079 adoring fans, Mills, as he is wont to say, was the bala Australia needed to make history. He shut the door on Team USA, giving the Americans their first competitive defeat when fielding NBA players in almost 13 years. For the Boomers, victory was their first in 67 attempts against Team USA. The goliath of global men's basketball went down, and the finishing move was a nine-point scoring burst from Mills.
In the final moments, Mills went deep into his kitbag and acted as the "jitterbug creator" Gregg Popovich has repeatedly called him. The flurry started with a banked in three - lucky, yes, although Mills did say "that is why the backboard is there," when speaking postgame. The smile on Mills' face when he uttered those words really said it all.
Next was a mid-range jumper to put the Boomers four points up with 2:20 remaining. Then a driving layup, which was followed by the ultimate heat check: a 20-foot, step back jumper - aka the worst shot in basketball - over his outstretched opponent. All four attempts slid through the basket and by the time Mills was finished, he had provided a moment that will live on inside the annals of Australian sporting history.
"Just brilliance," David Barlow said of Mills' performance late. "Absolute brilliance. Looked like an absolute nightmare to defend."
Mills wasn't alone. Like any triumph in team sport, this was a collective success. Everyone from the Boomers head coach, Andrej Lemanis, through to the guys at the end of the bench had their moment tonight.
Take Creek: with 30 seconds remaining in the game, he went mano a mano with Donovan Mitchell and came out on top. A contested, step back jumper was all Mitchell could muster with Creek in his face. Australian basketball's everyman played the type of defence that belongs on an NBA court - simultaneously rubber stamping his credentials at this level and sending one of the NBA's leading youngsters home defeated.
"I saw arguably one of the best guards in the NBA with the ball isolating and I went 'Aw shit, yeah, this will be awesome,'"Creek said of his showdown with Mitchell.
Joe Ingles was brilliant all night. He was the best player on the court in the first half and it wasn't particularly close. Andrew Bogut and Aron Baynes combined to give the Boomers a thoroughly robust 40 minutes at the five position. Baynes threw around American bodies like a bouncer arresting control at 3am, while Bogut showed flashes of the high post mastery that was seen in the NBA this decade. Each, in their own way, were instrumental in the Boomers' triumph.
Nick Kay graduated from overmatched - which he certainly was on Thursday night - to a role player excelling against global sporting icons. Matthew Dellavedova was everything you'd expect him to be, with one moment rising above all else when attempting to digest this game. On a seemingly meaningless possession early in the second quarter, Dellavedova became that serial pest that annoys his opponents no end. He picked up Marcus Smart full court. He pestered Smart, actually, while forcing a deflection and knocking the ball away. Before anyone in attendance could blink, Dellavedova was sprawled out on the floor and the possession belonged to his team.
We could go on.
The heroes were endless. But it was Mills who stood, in the middle of a football stadium after, perhaps, the most important scoring burst in Australian basketball history, being serenaded with "MVP" chants. And the ironic thing is that this is exactly who Mills has been on a global stage. He has done this in the NBA Finals. With Australian basketball finally having its moment on the biggest stage, Mills was simply afforded a chance to show out in the green and gold on home soil.
BOOMERS | A historical win over Team USA led by Patty Mills' 30 point performance. What a game! ​ ​ ​ #AussieHoops #BoomersUSA #GoBoomers #FIBAWC #AustraliaGotGame

A post shared by The Pick and Roll (@pickandrollau) on Aug 24, 2019 at 12:29am PDT
"It is what he does," Chris Goulding said of Mills' late game heroics. "I was in the stands during Game 5 of the [2014] NBA Finals. He is a big time player. He is a focal point of our offence so we are not surprised when he comes up big for us."
Mills, like all involved with the Boomers program, hope tonight is just the start of a special month ahead. To a man, every Boomer that spoke postgame reiterated the need to remain focused on the ultimate goal of medalling at a major tournament. The World Cup in China is obviously the subtext to this commitment. Since the final buzzer sounded in Rio three years ago, the upcoming Chinese excursion has been the moment thrust forward as the point of redemption. This sentiment remains true.
"To be able to feed off of this, hopefully, for the years to come and get basketball back to the high quality sport, that it is within this country, I think that is important," Mills noted after the game.
Like he was against Team USA today, Mills is the arbiter of the truth.
If the Boomers fail to claim a medal over the next twelve months, tonight's moment, while historic and glorious, will be seen as the high water mark of this group and that simply isn't good enough for those inside the program. That's not to downplay today's result - defeating Team USA will be pointed to as a transformative moment for the years to come. Rather, the harsh reality is that today shows what is possible for these Boomers. For Australian basketball. The days of the Boomers program being plucky underdogs ended at the Rio Olympics. Tonight was a gigantic step inside that new reality, with a number of familiar faces leading the way.
"For the most part, we just trusted each other as a group on the floor," Mills explained of the Boomers' victory. "Being able to feed off each other and a lot of it comes down to basketball I.Q. You look on the court and you see Andrew Bogut, Joe Ingles, Matthew Dellavedova, Aron Baynes… all being able to understand the gameplay and just feeding off each other."
The cohesion Mills references has been building since this veteran group of Boomers landed at the AIS last decade. It has been incubating through every Boomers loss to a global powerhouse like Team USA. To that end, the fact Mills had his glowing national moment in front of Popovich is apt. It's the type of serendipity that only sports can offer.
Coming off a defeat in just his fourth game in charge - a seismic event, given his predecessor, Mike Krzyzewski, won his final 76 games as head coach of the program - Popovich gave voice to someone he has seen grow up under his tutelage in San Antonio.
"In a strange way, I'm happy for him,"Popovich said of Mills. "He's a wonderful human being. A much better human being off the court than on the court. I mean that sincerely. He is just a beautiful guy. He cares about people. He loves people. When someone like that has success, you've got to feel good about it."
Patty Mills got the Boomers across the line tonight. He got the final moment on a night that has been a generation in the making. Anyone with a vested interest in Australian basketball hopes this is just a stepping stone to something bigger. The playing group trumpets this message louder than anyone.
And yet, there is just one thing that must be said: the Australian Boomers defeated Team USA in a basketball game. How good!