Discover more from The Pick and Roll
We're all about Aussie hoops. Independent, objective analysis and commentary. Insightful narratives built around Australian basketball. Read about our men and women in the NBA, WNBA, NCAA, Europe, national teams, NBL, WNBL, NBL1, prospects and more.
Over 2,000 subscribers
Your guide to our Aussie men in Europe this 2020/21 season
We preview our Australians in Europe contingent, who are embarking on pivotal 2020/21 seasons throughout the continent.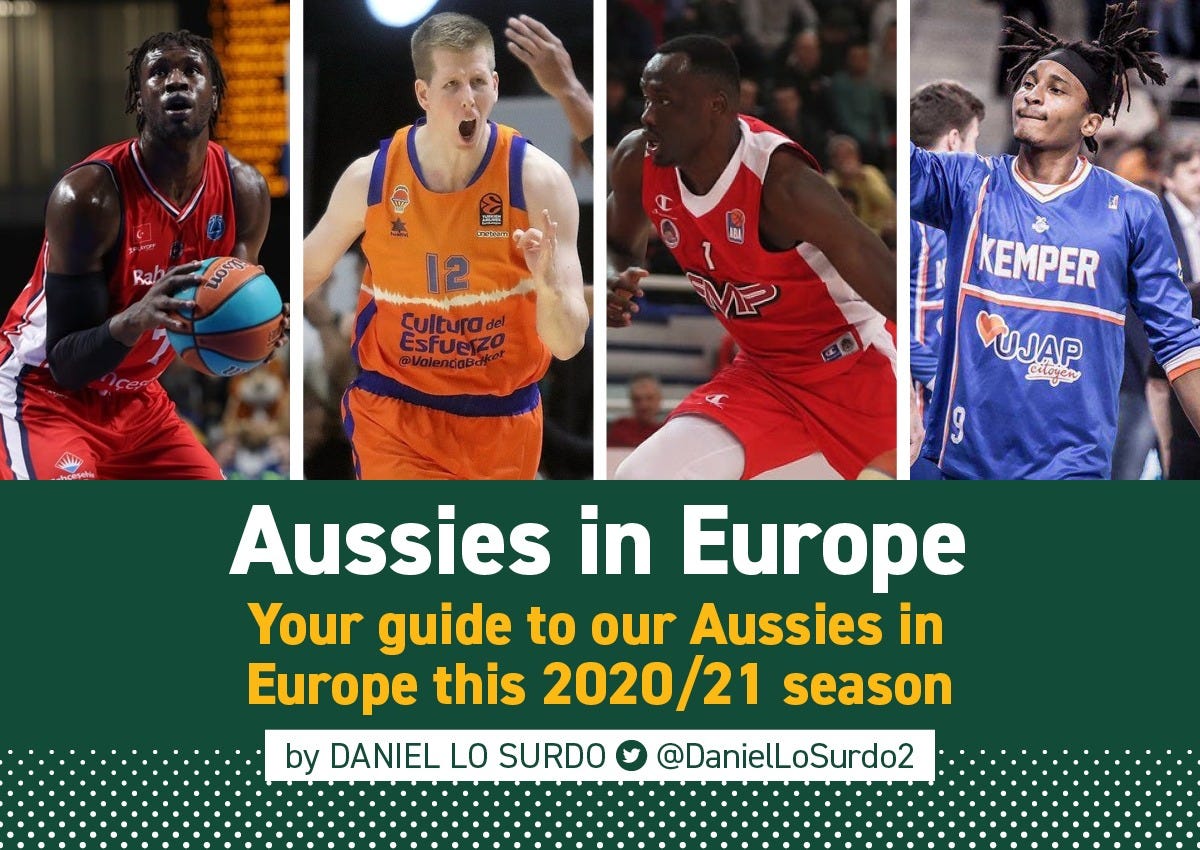 After a busy offseason for our European contingent, we have broken down each Australian's opportunities for success in their respective sides.
Whether it be impressing a new coach, a new fanbase or settling into a new continent, compelling seasons beckon for our countrymen facing some of the largest obstacles of their exciting careers.
Brock Motum (Turkey)
Club: Galatasaray S.K. 
Competitions: Turkish Super League, FIBA Champions League 
Must-watch game: Champions League @ Iberostar Tenerife, 14 October 2020 (1230 AEST)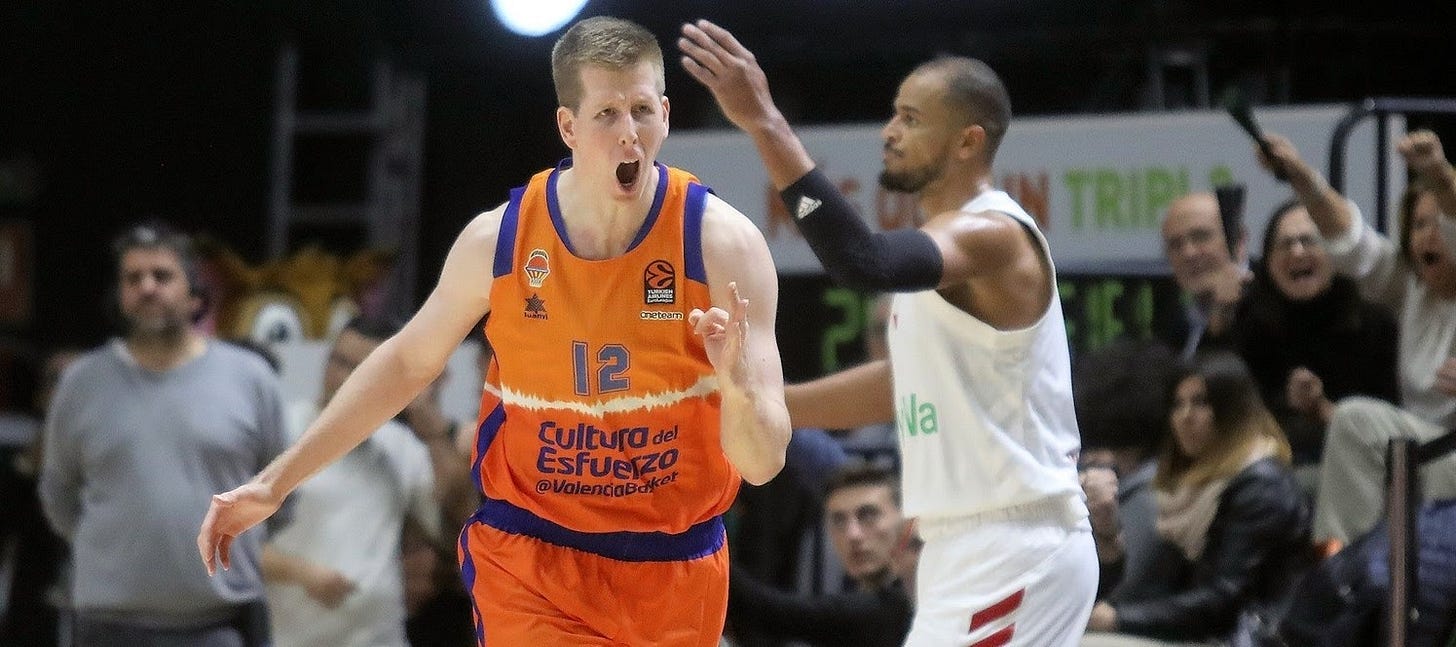 Credit: EuroLeague
A return to Istanbul for the 2016 Rio Olympian has primed Brock Motum to recapture the form that saw him star for crosstown rivals Anadolu Efes on their unlikely run to the 2019 EuroLeague final. After a forgettable season with Spanish side Valencia, Motum returns to the city where he won both Turkish Cup and League trophies, and will be poised to add to his European trophy cabinet with 16-time domestic champions Galatasaray. It is with the Turkish powerhouse that Motum will mark his Champions League debut against Spanish club Iberostar Tenerife, where he will be expected to thrive against the continent's elite. 
Arriving in Valencia after his best European season yet, the 29-year-old posted professional lows in minutes played, points, rebounds and efficiency rating in a frustrating season under Head coach Jaume Ponsarnau. 
"It was a difficult year for me," Motum told The Pick and Roll's Kane Pitman. "Their [Valencia's] structure and their plan didn't really fit my style of game, and that was fine, but it was best to part ways this year so I could move on to something different."
A return to Turkey will provide the Queenslander a familiar environment to continue chasing silverware for his new club. The 2016 Olympian is projected to start at power forward for the Sari Kirmizililar in a season where many are predicting the side, sparked by key signings of NBA veterans RJ Hunter and Daryl Macon, as favourites for both domestic and continental crowns after an underwhelming 2019/20 campaign. 
Head coach Ertugrul Erdogan will be reliant on Motum's European pedigree to lead his side in their Champions League campaign, where the Australian has proven his ability to perform at the pinnacle of the continental stage. In the 2019 EuroLeague final, Motum contributed four points and three offensive rebounds in just ten minutes in the biggest match on the continent, eventually losing to Russian powerhouse CSKA Moscow in a season viewed by 1.3 billion people worldwide. Over a five year EuroLeague career, Motum has posted 40.5 per cent from three point territory, bettering the likes of competition alums Davis Bertans and Nicolo Melli to forge a strong reputation as one of the sharpest shooters on the continent.
With a new chapter on the horizon, the former Washington State forward is excited for what the future holds in his second stint in Istanbul.
"It seems like a good fit for me," Motum affirmed. "I'm really happy to go back to a somewhat familiar place with a good deal."
Nick Kay (Spain)
Club: Real Betis
Competition: Liga ACB
Must-watch game: ACB @ Barcelona, date TBD
Following another stellar season in the NBL, Nick Kay will begin a new chapter in his career after the Tamworth native signed a one-year deal with Spanish side Real Betis. The opportunity affords the Australian a chance to compete against renowned competition whilst potentially punching his ticket to Tokyo for next year's Olympic Games.
The two-time NBL champion arrives in Seville to a club poised to rebound from what was a difficult 2019/20 campaign. In a season hampered by COVID-19, Los Verdiblancos finished 8-15 in the Spanish top tier, slumping to a six year ACB postseason drought in Andulusia. It is in the domestic competition where the 28 year old will face continental heavyweights Real Madrid and Barcelona, the latter boasting two-time league MVP Nikola Mirotic. 
Facing world-class talent on a weekly basis is just one of the many tests that the former Perth Wildcat looks forward to tackling in Spain.
"I think there will be a number of challenges in adjusting to a different language, playing style, refereeing and more, but these are all things that I am very excited about," Kay shared. "I can't wait to face these challenges and face some of the best players in the world, to fight in each and every game and show why the coach and coaching staff recruited me from Australia."
Widely predicted to start at the power forward position, Head coach Curro Segura will be reliant on Kay's 46.2 per cent 2019/20 three point accuracy to invigorate his 'four out one in' motion offense dependent on floor spacing and ball movement. 
Whilst the Australian will become revered in the San Pablo for his sharpshooting, it is on the defensive end where the Metro State alum can seize a starring role for the Spanish side. The arrivals of Kay and Senegalese centre Youssou Ndoye has signalled a renewed defensive emphasis in Andulusia, projecting a lockdown painted area to contrast a Betis key that conceded 54.3 per cent of opposition attempts in the 2019/20 season. Ndoye has forged a strong career across the continent as a relentless defensive anchor, qualities that promise to complement Kay's rugged physicality. After earning the 2019 Pro A rebounding title, the 29-year-old led French club Nanterre 92 to a top five defence in the same competition, dragging the Parisian side to a 14-11 record whilst gaining EuroCup qualification. Betis' guards will be urged to funnel their opposition's actions to the rim, where Segura will leverage Ndoye and Kay's length and energy to create a promising defensive fulcrum. 
The arrivals of former Melbourne Tigers guard T.J. Campbell and two-time Israeli State Cup winner James Feldeine, in addition to their new look frontcourt, has marked the beginning of an exciting chapter for a club that has tasted playoff action just twice in the last decade. 
"It is a team that is building something special," Kay recognised. "The organisation gives the feeling that they are striving to be better and they do a real job to be successful in the ACB. It is a feeling that you have from the sporting director, the coach and all the staff."
With optimism looming large after a busy transactional period at Betis, only time will tell if Kay and his new teammates can bring Sevillanos something to cheer about. 
Dominic Gilbert (Croatia)
Club: KK Zadar
Competitions: Croatian League, ABA League
Must-watch game: ABA League vs. Cibona, 6th December 2020 (time TBD)
Embarking on his fifth season on the continent, Dominic Gilbert stands as the best Australian prospect largely unknown to his home country. 
An opportunity to emerge as one of the stars of the Croatian Premijer Liga awaits the Sydney native, where the Australian-Croatian will be poised to elevate his role after a strong first year with national powerhouse KK Zadar. 
After winning the 2019 Premijer Liga title with KK Cibona, Gilbert left the Zagreb-based club in favour of domestic rivals Zadar, making the 285 kilometre journey south in search of a larger role on a side contending for trophies both domestically and in the Adriatic (ABA) League.
Whilst facing off against some of the best players in eastern Europe last season, Gilbert displayed his star potential in an advanced role with his new club. The 23-year-old played over 25 minutes, averaging 11.4 points and 5.9 rebounds (tenth in the league) whilst recording a deadly 41.9 per cent mark from three point range, serving as a crucial piece to a Zadar side finishing 18-3 domestically before the season was cancelled. Gilbert added the Croatian Cup to his growing silverware cabinet, where the University of British Columbia alum poured in 15 points in the final against former employers Cibona to secure an 89-76 victory. 
Despite registering a 6-15 record in ABA action, the Sydney native posted eye-catching performances in his third year in the league. In a game playing host to Slovenian side Koper Primorska, the Hong Kong-born wing scored 23 points to pair with eight rebounds and three assists, leading his side to a resounding 99-79 victory. 
Gilbert will return to unfamiliar management on the Dalmatian coast, where Croatian national team head coach Veljko Mrsic replaced Ante Nazor after poor performances in the ABA League. 
Despite uncertainties that new administration brings, the Sydneysider is optimistic about his side's revamped brand of basketball.
"I expect that we will play completely different basketball compared to last season," Gilbert revealed to local newspaper Zadarksi list. "I think the vision of our new coach is to play as a team and for more players to be used offensively."
Over a six month offseason, Gilbert reconstructed his shooting form to poise himself for the added offensive responsibility that the Australian-Croatian is expected to shoulder. 
"Throughout my career I was tormented by the fact that I was the so-called spot up shooter, while from dribbling and from movement I didn't shoot well," Gilbert recognised. "A lot of people have told me why you want to change a shot when you hit well, but I certainly don't want to be just a spot-up shooter for the rest of my career."
Duop Reath (Serbia)
Club: KK Crvena zvezda
Competitions: Basketball League of Serbia, ABA League, EuroLeague
Must-watch game: EuroLeague @ Fenerbahce, 3rd October 2020 (0345 AEST)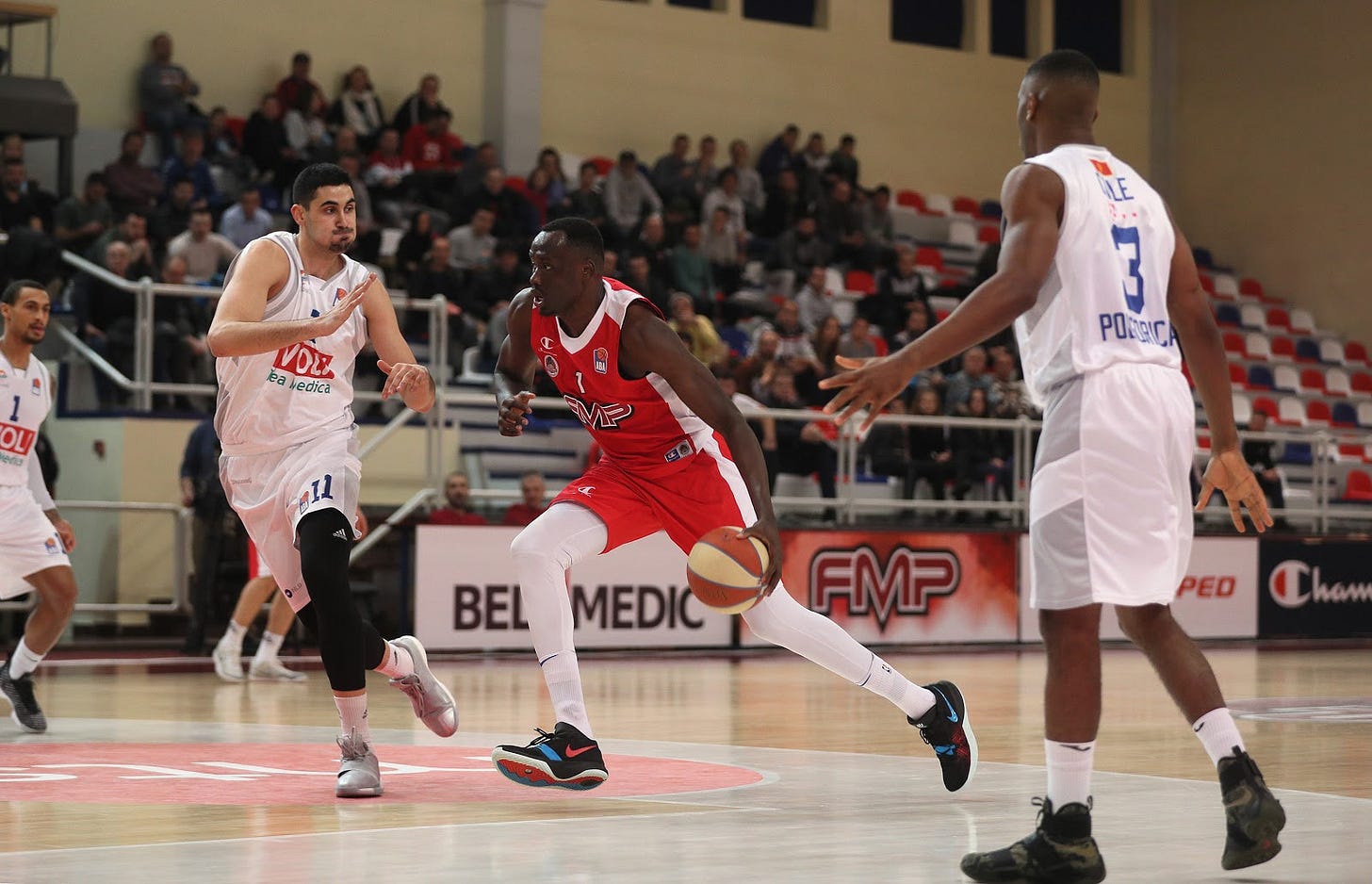 Credit: FMP
Serving as Australia's sole EuroLeague representative this season, Duop Reath will be facing the best competition that the continent can offer. The 24-year-old's one-year deal with Serbian powerhouse Crvena zvezda (Red Star) marks the beginning of an exciting new chapter for the LSU alum after two strong seasons with fellow Belgrade side KK FMP. 
Reath will make his EuroLeague debut on the third of October (AEST) against reigning Turkish Basketball Cup champions Fenerbahce, matching up against 2019 EuroLeague MVP Jan Vesely. 
As the reigning ABA champions begin preparations for the season, however, Reath will need to continue his unmistakable energy and efficiency to challenge Cameroon star Landry Nnoko for the starting centre position in the Serbian capital. 
Returning for his second year at FMP, the Perth native's newfound offensive production spearheaded the 24-year-old's breakout campaign in a blossoming European career. Whilst averaging 11.7 points and 4.7 rebounds, the fringe Boomer shot 62.1 per cent from inside the arc to pair with an eye-popping 43.4 per cent from three point territory, a vast improvement from the 30.4 mark Reath posted in his first professional season. FMP finished their shortened ABA season with a 10-11 record. 
The addition of a well-rounded, efficient offensive repertoire has placed the South Sudanese-Australian perfectly for EuroLeague competition, where the modern centre is expected to stretch the floor whilst anchoring the team defensively. These attributes developed with FMP will be critical in Reath's success with the Crveno-beli. 
As another one of Head coach Sasa Obradovic's 10 additions to Red Star, Nnoko will be Reath's main competition for minutes in Belgrade. Fresh off a trophy laden season with Alba Berlin, the 2018 G-League Defensive Player of the Year has gained valuable EuroLeague experience in Germany, and will be favoured to start at the five in the Serbian capital. 
Feeling underestimated, however, is when the 24-year-old is most comfortable. From fleeing war torn Sudan, to beginning his basketball journey at a Texas community college and now making it to the EuroLeague, the LSU alum has been written off his whole life. And long may he continue to prove the cynics wrong. 
Mangok Mathiang (Slovenia)
Club: KK Cedevita Olimpija Ljubljana
Competitions: Premier A Slovenian Basketball League, ABA League, EuroCup
Must-watch game: EuroCup @ Nanterre 92, 1 October 2020 (0400 AEST)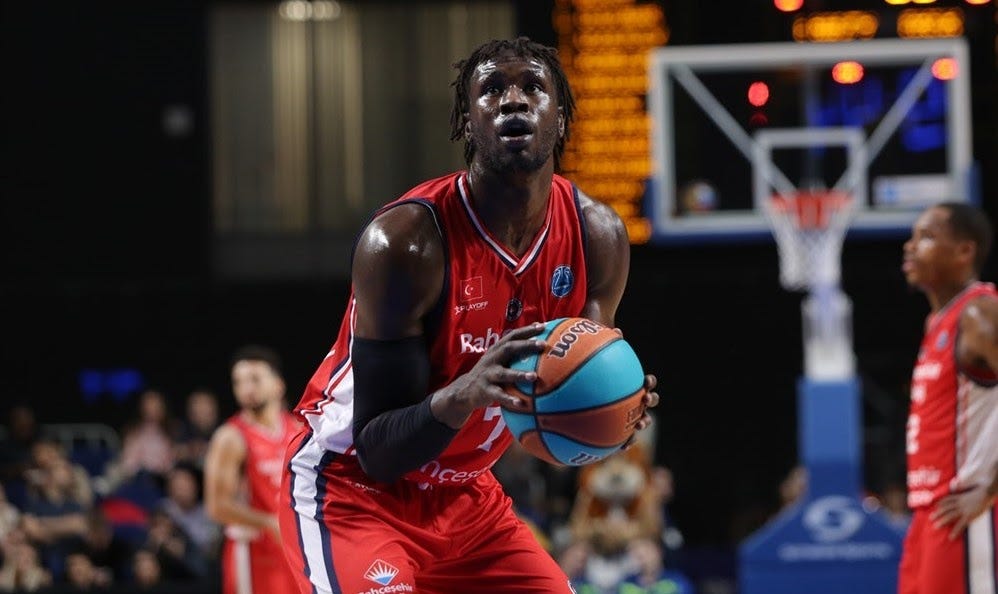 Credit: FIBA Europe Cup
Melbourne native Mangok Mathiang enters a career defining season in Slovenia after a breakout 2019/20 campaign. 
The opportunity to emerge as one of the continent's brightest beckons in Ljubljana for the once-Charlotte Hornet, where the 27-year-old inked a one-year deal with Slovenian powerhouse Cedevita Olimpija. 
Mathiang's third European season follows a standout year with Turkish side Bahçeşehir Koleji, in which the centre averaged 12.7 points, a competition-best 10.6 rebounds and 1.4 blocks (third in the nation) in 33 minutes an outing. The Australian led the Istanbul-based club to the semi finals of an inaugural FIBA Europe Cup campaign where the Louisville alum led the continent in rebounding (11.2) and finished sixth in blocks (1.3) per game. 
The Melburnian's exploits with the Red Dragons captured the attention of the continent, growing interest from some of the powerhouses of the European basketball scene.
"We are extremely satisfied and happy because we managed to bring in a basketball player [Mathiang] who many EuroLeague clubs wanted to see in their ranks," Olimpija sporting director Sani Becirovic revealed to the club's media. "Mathiang is a player we have wanted to see in the Cedevita Olimpija jersey for a long time."
It is with the Zmaji that Mathiang will debut in the EuroCup, an esteemed competition that will pit the fringe Boomer against the toughest opponents of his continental career. The Australian will face the possibility of returning to Istanbul to face his old club, whilst could line up against the likes of European powerhouses AS Monaco and KK Partizan. It is in the EuroCup that head coach Jurica Golemac will be expecting his starting centre to inject a new wave of energy into a side that endured an underwhelming 2019/20 season.
"We are very lucky to have managed to lure a player like Mangok Mathiang to Cedevita Olimpija," Golemac shared. "[Mathiang] is one of the most promising centres in Europe, playing excellently in both defence and attack. We worked for a long time to bring him to Ljubljana."
The excitement surrounding the 27-year-old's arrival in the Slovenian capital will be balanced with high expectations for the Australian, where supporters will be anticipating Mathiang to lead their side to a resurgence on the continent. A successful EuroCup campaign will see the Melburnian emerge as one of the competition's elite centres, where he promises to usher a new look Olimpija side into another chapter of continental prestige. 
Chima Moneke (France)
Club: Orleans Loiret Basket 
Competition: LNB Pro A
Must-watch game: Pro A vs. ASVEL Basket, 28 December 2020 (0300 AEST)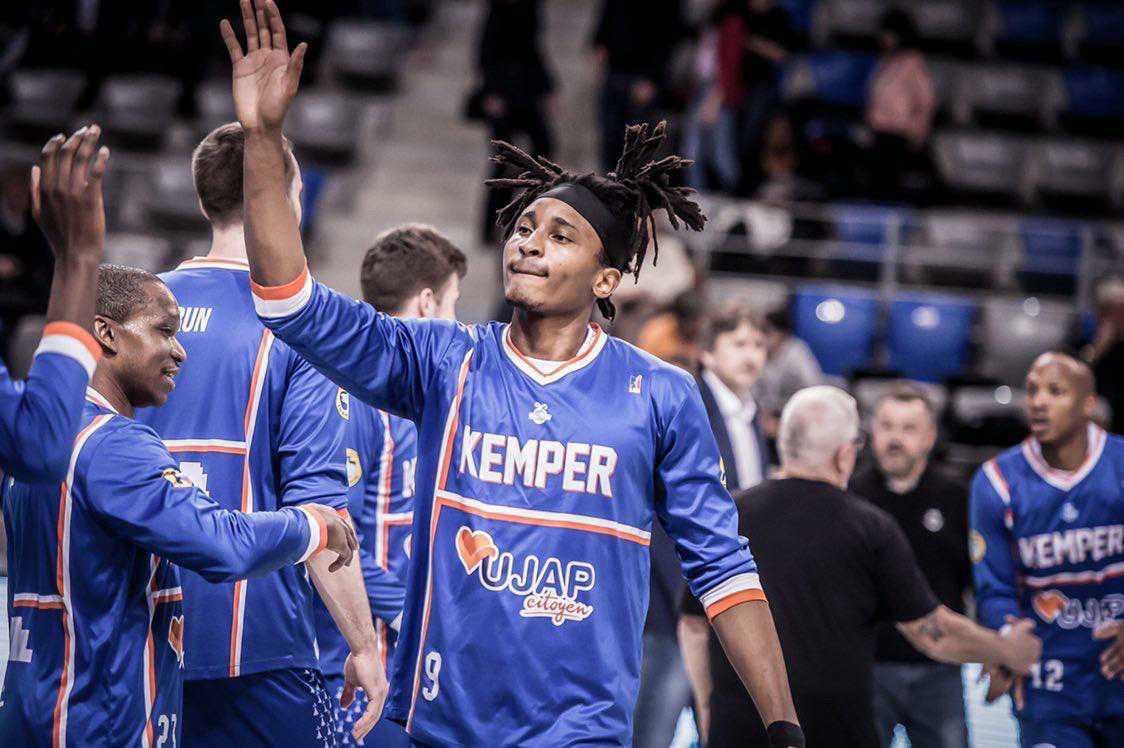 Source: Supplied
Moneke made the leap to the French first division for the 2020/21 season, inking a one-year deal with newly promoted club Orleans after what was a standout year with LNB Pro B side UJAP Quimper. 
The Nigerian-Australian impressed in his second season in the French second division, averaging 15.8 points (eighth in the league) to pair with 6.8 rebounds while shooting 38.3 per cent from beyond the arc. The undersized forward's stellar play led Quimper to a 17-7 record, galvanising a fan base enduring 13 years without playoff action. Despite the premature conclusion of the season, Moneke had already primed himself for a berth in the French top flight.
"After the season I had, I knew I was going to play first division," Moneke revealed to The Pick and Roll's Michael Houben in an August conversation. 
And when Orleans expressed their interest in the 24-year-old, the dual international did not hesitate to agree to terms with the side.
"When my agent told me that they were seriously interested, I thought it was a no-brainer," Moneke revealed. "The coaches know me, and there's no excuses for them to recruit me if they're not going to play me, because they've seen me play and I've played against them, and I've gotten better since then."
In north-central France, the Nigerian-born forward will link up with reigning Pro B MVP Brandon Jefferson, whilst battling against French veteran Florent Pietrus for the bulk of minutes at the power forward position. It is at Orleans where Moneke will face the toughest competition of his young career, the 24-year-old playing the likes of EuroLeague side ASVEL and NBA-level talents Geurschon Yabusele and Alpha Kaba. 
As the challenges lie ahead for the undersized forward in Orleans, Moneke understands the opportunity that strong performances in the French top flight will provide for his continually ascending career.
"Obviously I don't want to get ahead of myself, but this year, if I play the way I feel like I'm going to, and have the season I hope we have, then the interest will be from almost every country. Let's see."