Discover more from The Pick and Roll
We're all about Aussie hoops. Independent, objective analysis and commentary. Insightful narratives built around Australian basketball. Read about our men and women in the NBA, WNBA, NCAA, Europe, national teams, NBL, WNBL, NBL1, prospects and more.
Over 2,000 subscribers
European ascension: Mangok Mathiang is set to thrive in Slovenia
After a breakout season in Turkey, Mathiang is poised to announce himself as one of the best on the continent - but challenges lie ahead.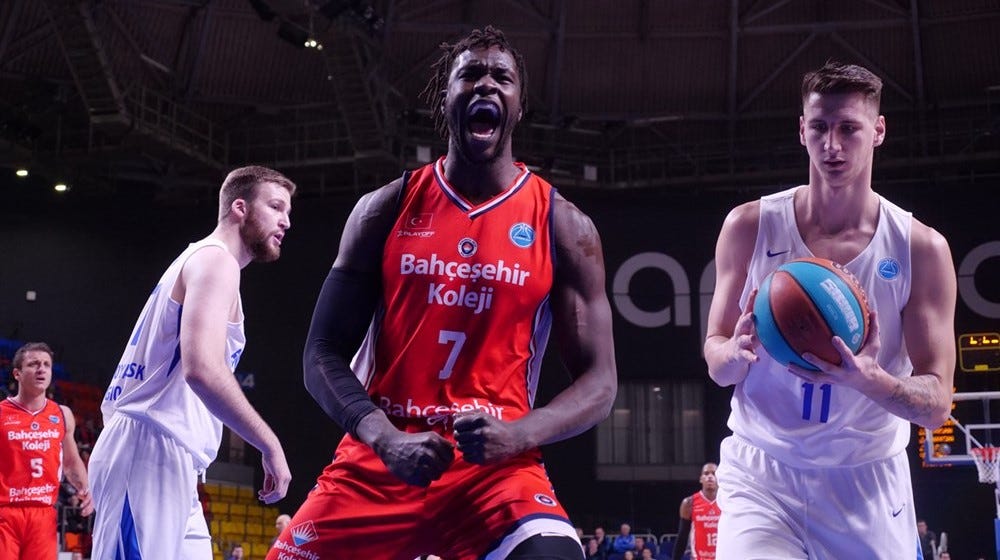 Credit: FIBA Europe Cup
---
Mangok Mathiang will forge a new chapter in his European career this season. The once-Charlotte Hornet recently agreed to a one-year deal with Slovenian powerhouse KK Cedevita Olimpija.
Olimpija plays in the ABA League, a competition featuring the best clubs in eastern Europe, the Slovenian League and the EuroCup, which will allow the Melburnian an opportunity to battle against some of the best players the continent offers. 
The 27 year old's impending arrival in Ljubljana has been met with rampant excitement in the Slovenian capital, where head coach Jurica Golemac will expect Mathiang to dominate on both sides of the floor. 
"We are very lucky to have managed to lure a player like Mangok Mathiang to Cedevita Olimpija," Golemac shared. "[Mathiang] is one of the most promising centers in Europe, playing excellently in both defense and attack. We worked for a long time to bring him to Ljubljana."
Olimpija will be expecting the Australian to bring the same relentlessness that sparked the center's breakout 2019/20 campaign with Turkish side Bahçeşehir Koleji.
In Mathiang's lone season with the Red Dragons, the fringe Boomer emerged as a star for the Istanbul-based club. He averaged 12.7 points, a competition-best 10.6 rebounds, and 1.4 blocks (third in the league). The former Louisville forward dragged his side to the semi finals of an inaugural FIBA Europe Cup campaign, leading the continent in rebounding (11.2 per game) and finishing sixth in blocks (1.3). 
The Melburnian's growth was highlighted by a dominant performance against local rivals Besiktas, posting 20 points to pair with 14 rebounds and a colossal six blocks to lead his club to an overtime victory, generating interest from some of the powerhouses of European basketball. 
"We are extremely satisfied and happy because we managed to bring in a basketball player [Mathiang] who many EuroLeague clubs wanted to see in their ranks," Olimpija sporting director Sani Becirovic revealed on the club's website. "Mathiang is a player we have wanted to see in the Cedevita Olimpija jersey for a long time."
Whilst Mathiang became revered for his defensive energy, it was on the other end of the floor where the Australian developed attributes critical to success in the modern European game. The centre formed an extremely productive offensive repertoire, catapulting himself to the second best efficiency rating in the country (20.33). Mathiang shot 54.3 per cent from the field while posting a respectable 64.3 per cent from the free throw line, a vast improvement from the 50 per cent mark displayed in the 27 year old's previous season in the Italian Serie A. 
It is clear that the Australian will be provided every opportunity to cement himself as one of Europe's elite. The Melburnian is projected to start at center for Olimpija, and will be tasked with anchoring the defence of a team that has made wholesale changes after a disappointing 2019/20 campaign. After underachieving in both the ABA and EuroCup competitions, the Slovenian powerhouse farewelled 12 players from its ranks, paving the way for a personnel rebuild that brought in former Sydney Kings guard Kendrick Perry and Slovenian teenager Dan Duscak, a graduate of the esteemed Real Madrid academy. 
Mathiang will share the front court with Mikael Hopkins and Edo Muric, two forwards poised to perfectly complement the Australian's presence in the painted area. Both Hopkins and Muric shot over 35 per cent from beyond the arc for the Zmaji last season, assuring the Melburnian space to continue his deadly efficiency. Within Golemac's 'attack and react' motion offence, Mathiang will be encouraged to display his versatility as a passer, where any double coverage in the post will be capitalised by Olimpija's new look back court. Sharpshooting guards Perry (43.5 per cent) and team captain Jaka Blazic (36.2) will be assured quality opportunities to continue their eye-catching three point accuracy, carrying over from their respective 2019/20 campaigns. 
It is in this competition where Mathiang will be able to solidify his position as one of the best centres on the European basketball scene. The Australian faces the possibility of returning to Istanbul to play his former club, whilst competing against teams like powerhouses AS Monaco and KK Partizan. After a 4-6 record in last season's EuroCup, Olimpija will be trusting Mathiang to inject a new wave of energy into a club with strong ambitions on the continental stage. 
"Players all over Europe recognise our project in Ljubljana, and see Cedevita Olimpija as a competitive club that could eventually play in the EuroLeague," Becirovic declared.
The potential to emerge as one of the continent's best awaits Mathiang in the Slovenian capital. Olimpija supporters will be expecting the Australian to bring an unmatched relentlessness to Ljubljana, spearheading a fresh team culture that will keep the Stozice Arena rocking through a much-anticipated European renaissance for the Slovenian powerhouse. 
---
If you enjoyed this story, please consider becoming a paid subscriber! This allows us to continue producing Australian basketball content like this piece on our Australians in Europe, that's not found anywhere else.