Yesterday and today: Copeland talks NBL, Simmons and more
NBL legend Copeland has an exclusive chat with
The Pick and Roll
about the NBL, Ben Simmons and more, as he gears up for the
Red Bull Reign
as a player and the competition's official ambassador.
Note: interview has been edited and condensed for clarity.
---
Lanard Copeland was one of the most exciting players to ever grace the NBL hardwood, and a true legend of the game. He arrived in Australia for the 1992 NBL season, after a stint with the NBA's Philadelphia 76ers and Los Angeles Clippers.
It didn't take him long to show he had brought an above-the-rim game local basketball fans had rarely seen outside of Michael Jordan commercials.
Teaming up with Andrew Gaze, the Gaze-to-Copeland alley-oop became the most exciting play in the NBL throughout the glory days of the 90's. The star duo led the Melbourne Tigers to two titles in 1993 and 1997, with Copeland winning the 1997 Finals MVP.
Copeland played with the Tigers until 2005, followed by short stints with Brisbane and Adelaide, and retired at the end of the 2007-08 season. He finished his glittering career with 532 games played. Copeland was undoubtedly one of the most lethal scorers the league had ever seen, with 10,735 career points at an average of 20.2 per game.
---
Reveling in Rivalries
When Copeland arrived in Australia, the NBL was at the peak of its popularity. There were four teams in Victoria alone – Melbourne Tigers, North Melbourne Giants, South East Melbourne Magic & Geelong Supercats.
The crosstown rivalries were fierce between both players and fans, ensuring stadiums were packed with an electric atmosphere each time. It is no surprise that the memory which Copeland looks back on most fondly from his playing days was probably the most thrilling game of the era.
"There was one game we played the Magic. Full house, fifteen thousand, they were kicking our butts, and for some reason they took the foot off the pedal," Copeland recalls enthusiastically.
"Me and Andrew caught fire and started knocking down 3's, and I think we were down 21 or 22 in the third quarter. All of a sudden [Gaze] hits a 3, I hit a 3, I hit another 3, and we're back in the game.

Tony Ronaldson goes to the free throw line, and back then it was 1-and-1 and he missed, we're down two, and he missed. Andrew gets the rebound and kicks it up the floor and I come down and hit a 3 to win it."
Copeland still remembers the fervent atmosphere with fondness. "The atmosphere! I never heard a crowd in my life, and I've been around, I played in the Philippines and I played in the NBA, and I've never heard a crowd that loud ever in my time in playing basketball. And that was one of the best times and something hard to forget, and you get goose bumps just thinking about it."
[embed] https://youtu.be/I0Z9LtpDF-A [/embed] This game highlights the passion and interest of the fans that was once commonplace in the NBL, but is sadly lacking today. Like what our friends at Save Our South Dragons wrote about recently, Copeland also believes crosstown rivalries play a vital role in focusing the public's attention on the league.
"All those games back then with the Giants we had a rivalry. With the Magic we definitely had our rivalry and people were talking about it the day before, the week before," Copeland says. "The newspapers are following it and you had the radio stations calling you and asking what's your strategies? All that stuff to me is gone. I miss it and it's a shame that you can't get that back."
Copeland would love nothing more than see another team back in Melbourne and bring back that sense of rivalry. By doing so, the NBL will recapture that fierce intensity, raising the standards of play on the court and igniting the crowds once more.
"At the end of the day if you look at football, the best crowds are when people are allowed to choose and barrack for their own team, and that's when you get the best games, the best atmosphere," Copeland says.
"So why wouldn't you put another team here in Melbourne and let people pick whether you're (Melbourne) United or that other team? You want to have a full house every time you play them.

I don't understand it. I've seen it, I've seen it work and that's why I'm an advocate for having another team or another two teams here in Melbourne, because I know it can work and I know there is plenty of backing".
Promoting the game
Copeland also spoke about an underlining issue for the NBL: a failure to promote its players effectively. NBL players were once household names who were frequently stopped on the street, but are barely recognisable to the general public today.
"At the start of my career, as big as we were, we still went to schools and to shopping centres to sign autographs, and later in my career I didn't see any of that stuff."
Copeland remembers every team having its own household names. "Back then, every team had recognisable players. If you looked at the Giants there's [Pat] Reidy and D-Mac, and you look at the Magic and there's Ronaldson, [Robert] Rose and [Darren] Lucas and with the Tigers there is Andrew and myself and Bradtke, and then in Perth [Ricky] Grace, [Andrew] Vlahov and in Adelaide you have [Brett] Maher and Mark Davis, so every team had recognisable players."
"Even when we went to Adelaide or we went to Perth people knew us in the streets, now I don't know if it's like that now but I don't know most of the guys here in Melbourne, that's the hard thing."
---
Lanard the coach
Since his retirement, Copeland spends his time giving back to the game of basketball in Australia, coaching the Hume City Broncos in the Big V competition. He also helps young basketballers reach their potential as a coach at the AUBD Basketball Academy, which has produced numerous players bound for the college basketball scene in America.
Copeland believes the commitment to coaching by many former NBL stars, has contributed to Australian basketball's recent talent boom.
"Every guy who has played down the line is doing some form of coaching... that's what's helping these other guys come through and be such good players."
While ultimately he would love to coach professionally at the highest level in Australia, with so few teams in the NBL, he understands his chances slim at the moment. Yet, Copeland feels the excitement generated by Australia's burgeoning crop of NBA players could help reinvigorate the game here, especially if they perform strongly on the big stage of the Olympics.
"You put all those guys (in the NBA) in that Olympic team and they manage to do well, and not even a medal, but the top 5 or top 6, it excites people about the game again," Copeland says.
The wave of talent in present-day Australian basketball is undoubtedly something to enjoy in the days ahead, as Rio 2016 draws closer.
Gazing back at coach Lindsay
Copeland's long-time coach at the Tigers, Lindsay Gaze, recently became the first Australian inducted into the Naismith Basketball Hall of Fame. Now a coach himself, Copeland has gained a greater appreciation of Gaze's famously laid-back coaching style. View image | gettyimages.com "Lindsay was the type of guy whom I appreciate now than I ever have, because I'm coaching. Do you know how hard it is to stand there and not swear at a referee or swear at your player or just lose yourself in the game? Lindsay was the type of coach who sat back, every time we played, he was a spectator," Copeland says.
"Now, you have to be in total control to do that. He loved the game and if you see him in training, in practice every day he would be that exact opposite. All the swear words and every word you want to hear came out of Lindsay on that Monday, Tuesday, Wednesday, Thursday, Friday. Now on the Saturday, he would be the calmest, coolest, collected coach I've ever had and that gave us so much confidence because we knew he had so much confidence in us.
"I asked him about that one time. 'Lindsay how do you not get excited about it, how do you not get up and go off?' He goes, 'We've done our work in training throughout the whole week and now it's time to enjoy the game. When you lose the enjoyment of the game then it's time to go'."
As Copeland outlined earlier, the sideline struggles as a coach are real. He confessed to several occasions where he lost his composure and engaged the referees, or even his own player on a bad play. Having the ability to sit back and trust in the players to do their work on the court is a learning process, and Copeland knows it takes time to get there.
---
The son is a gun
Copeland played alongside bruising power forward David Simmons for many seasons during his Tigers stint. The two remain friends to this day, and Copeland is just as excited about the talents of David's son Ben Simmons, as is the rest of the basketball world.
"Ben is an absolute superstar. I thought when Ben was small he was going to be a player, but I didn't realise he was going to be as big a player," Copeland says. "Very athletic, very smart player, strong, jumps over the moon. I [watched] him train the other day with LSU, and the amount of athleticism is amazing."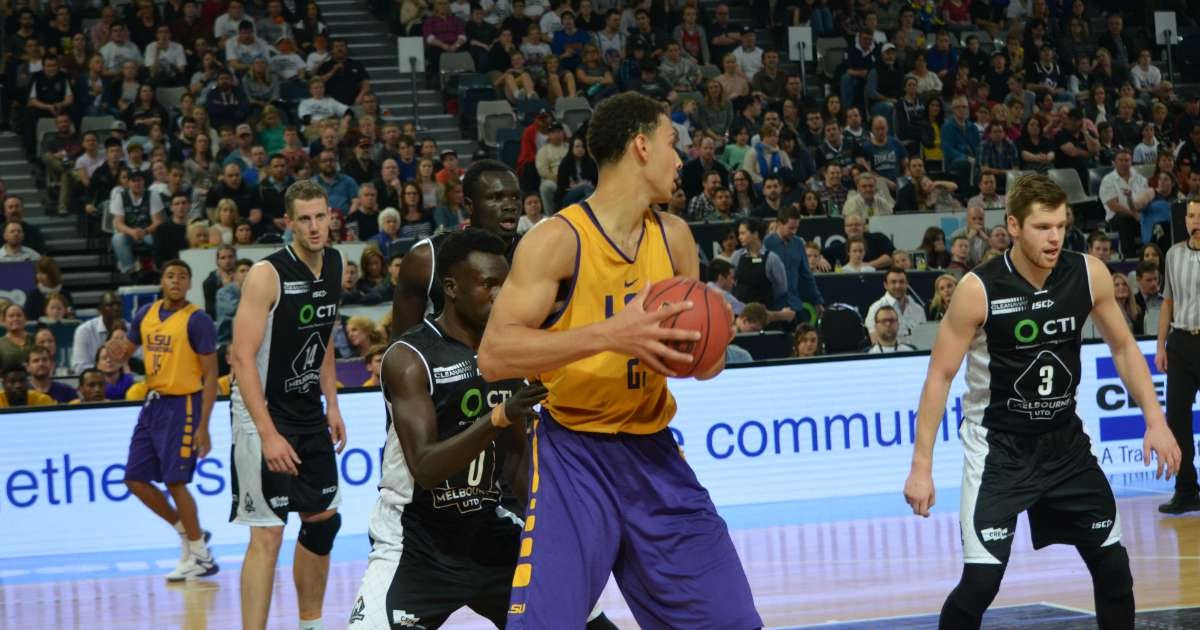 "His ability to push the ball down the floor for a player his size is something you don't find a lot of, and that's why he is such a phenomenon in the States now because most big guys -- and I say big because he's 6'9 – 6'10 -- most guys at that size go learn to go down and get on the box and play with post moves.

The fact [that] he is able to get that ball off the glass, push it down the floor and make the right decision, [and make] a nice pass, people are very excited about that. NBA teams are very excited about it; he will do very well."
---
Lanard Copeland's ultimate NBL and NBA teams
Just for a bit of fun, I challenged Copeland to name his ultimate NBL and NBA teams, and this is what he came up with:
Lanard Copeland's ultimate NBL team
PG – Darryl McDonald - "D-Mac at the point guard, who was a superstar point-guard, played D, led the league in steals for a number of years and assists."
SG – Andrew Gaze - "I would put Andrew at the two spot. Just unguardable at his best."
SF – Sam Mackinnon - "You know what? As much as I love myself, I'll probably go with a guy like Sam Mackinnon at the three."
PF – Adam Ballinger - "I'd go with a stretch four, perhaps Adam Ballinger, somebody who's big, who can shoot it from three, someone you have to go out and guard and can stretch that floor."
C – Mark Bradtke - "My five man would still be Bradtke who I think is the best five man to have ever played the game in the NBL."
Lanard Copeland's ultimate NBA team
PG – Magic Johnson - "I'm a Magic Johnson fan, a point guard who is 6'9 and could handle anyone."
SG – Michael Jordan - "Jordan obviously at the two, the best two man/player to ever play the game"
SF – Lebron James - "I'll probably go Lebron at the three, who is just so athletic on the wing. Imagine Magic throwing him an alley-oop!"
PF – Kevin Garnett - "I would go Kevin Garnett at the four spot. I was a big Kevin Garnett fan, he plays defense and he motivates guys around him, not that these guys would need any motivating."
C – Shaquille O'Neal - "You'd have to go Shaq on the inside, he's a beast and unguardable".
---
Our thanks to Lanard Copeland for sharing so many of his thoughts on Australian basketball, and the NBL in particular, with numerous trips down memory lane.