Discover more from The Pick and Roll
We're all about Aussie hoops. Independent, objective analysis and commentary. Insightful narratives built around Australian basketball. Read about our men and women in the NBA, WNBA, NCAA, Europe, national teams, NBL, WNBL, NBL1, prospects and more.
Over 2,000 subscribers
Reading the signs: coaching at Deaf Basketball's most elite level
Brent Reid and Ryan Holloway share their experiences in coaching the Deaf Australian national teams.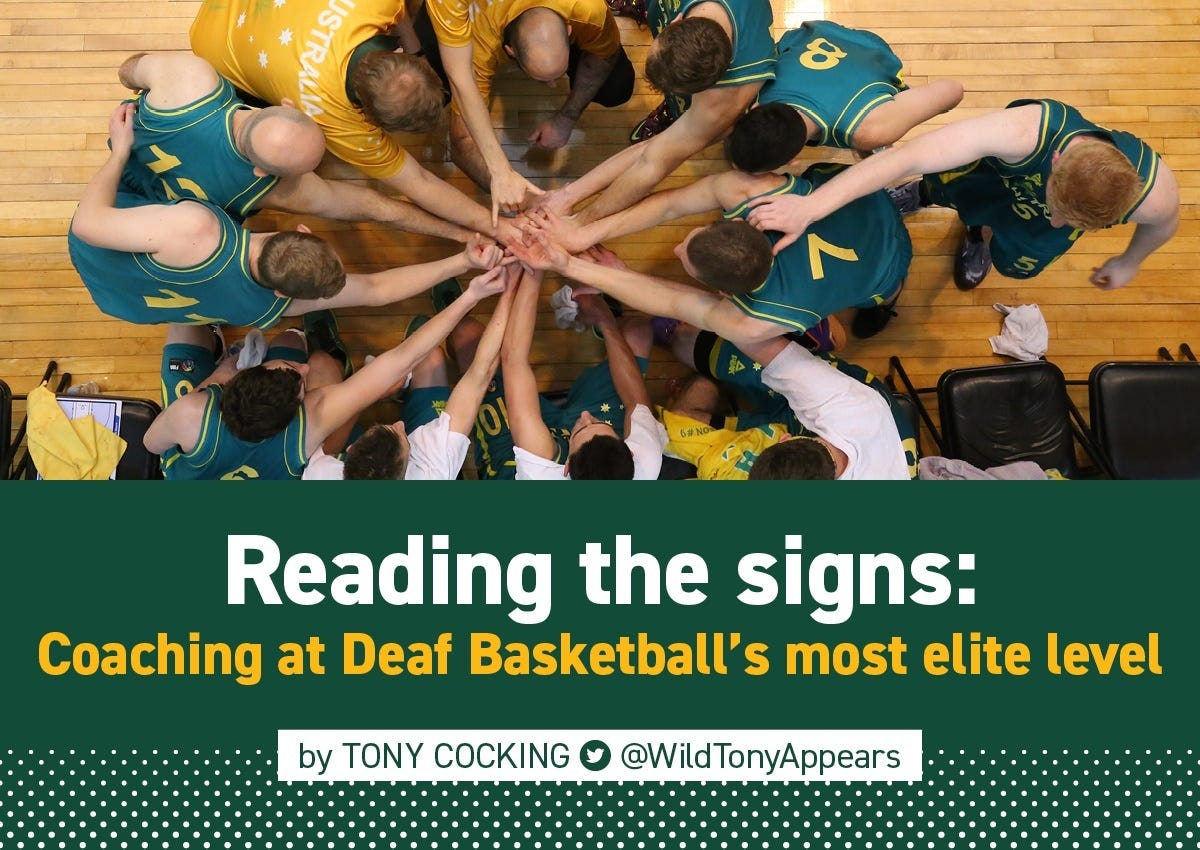 The journeys we take in sport, much as in any walk of life, are rarely linear. Through a series of circumstances and decisions, we may end up on a path unlike any we could have seen coming. Sometimes, those unexpected opportunities turn out to be the best of them all.
If you'll pardon the overly sentimental lede, this idea rings particularly true for longtime basketball coaches Brent "Stretch" Reid and Ryan Holloway. Like many others in the transient world of coaching, it was a circuitous series of sideline stops that would eventually land them roles as head coaches for Australia's national Deaf basketball squads — the men's team of the Goannas, and under 21 boy's Dingoes, respectively.
"I've played basketball since I was five, and I started coaching Mini Ball when I was 12 with the help of my mum babysitting over my shoulder," Reid told The Pick and Roll. "I coached on and off when I was younger, and I ended up going through and playing SEABL level. When basketball got serious, I stopped coaching, and then when my playing days started to wind up, I naturally gravitated back to it.
"The Goannas [role] turned up for me in 2014, and it sort of started as an accident. I took a three hour training session to help a friend out and met the guys, and it was a pretty natural progression from there. The job came up, and I had eight guys and the team medic message me and said 'you have to apply for this'. I never thought I'd get it, [but] I got it, and I've been with them ever since."
"Mine's pretty similar, to be honest," Holloway added. "Started off playing at a young age, and then transitioning to coaching. I was helping out on the sidelines from around 10 years old, and then started taking my own teams from year 7 onwards, doing the school programs, doing Aussie Hoops, taking Mini Ball. That transitioned into domestic basketball, sometimes coaching three or four teams on a Saturday as well as playing, just because… why not?
"Around 2015, [I] got involved with the Ivor Burge program at the Basketball Victoria state level, and around 2017, the advert popped up for the Dingoes. I knew Stretch, and saw some of the great stuff that he'd been doing within the program, and saw it as a great opportunity to give back to more players.
"[I] applied for it, with little hope that I'd actually get it. Just kind of threw my hat in the ring, see how it went, then got the role, and within 14 months, was taking a team to America. I don't know how we pulled that off, but we got over there, we pulled a team together!"
The history of Deaf and Hard of Hearing basketball in Australia is similarly rich, with its own unique ups and downs throughout the years.
Trying to condense decades of organised ball into a few abstract thoughts is a fool's errand, but two of the key moments to consider: Deaf Basketball Australia was first formed in 1964, and in 2005, the Deaflympics were hosted in Melbourne. The home squad took fourth place, their best result up to that point.
Sounds promising, doesn't it? And yet…
"Almost immediately after that, Deaf Basketball Australia pretty much died and was revitalised in 2012 to go to the Deaflympics in Bulgaria [the following year]," Reid explained. "Essentially, that group of guys that went away are the core group of guys that are now the Goannas. The team was pulled together at pretty short notice, I think they had a good coach and then he pulled the pin not long before the Deaflympics.
"When I took over, they had a core group of six guys — six good basketballers, highly committed to the program, and that was the group of guys that I met in November in 2014 to do the three hour training camp. They're an amazing bunch of humans, not just basketball players, but a pretty amazing bunch of humans and they've stuck together since. They've sort of accepted me and my ways and my form of basketball.
"In 2015, we went to the Deaf Basketball World Championships, and we beat a European team for the first time ever in our first game against Poland. We basically led from the tip to the final siren and it kind of stopped the whole of the World Championships for 24 hours — everyone's like, (wow), Australia learned how to play basketball, it was pretty crazy."
In case you were wondering, no, 'wow' was not the exact word that was used.
"The next day we lost to Greece by one point on the buzzer, and we led that game the whole [way]. We finished ninth, and we had a pretty good tournament. We were ranked third in Asia Pacific at the time, we beat the two best Asian teams at that tournament. We kind of stamped ourselves like we actually play a decent brand of basketball and we're not the easy beats anymore.
"At the moment we've got 11 players in the squad and it's the strongest we've ever been. We've got 11 guys that genuinely understand real basketball concepts, real defensive strategy, real offensive strategy, and we're actually deep."
Having a stabilising force at the helm has certainly gone a long way. The Goannas took gold at the 2015 Asia Pacific Games, and are presently ranked eighth in the world.
Two of the members of the current roster, incidentally, were among the players Holloway took to the 2018 U21 World Deaf Basketball Championships in the USA. As one may expect, assembling that team and getting them tournament ready in a little over a year was no small feat.
"We had to pull together a team, develop a team, get them somewhat competitive to be able to go to a World Championship, and I think when I first came into it, I kind of underestimated the challenge that would have been ahead," he described. "A lot of our players found out through the Goannas program. I think I also sent out an email to every single basketball club in Australia, basically saying 'hey, you got any players?'
"We ended up taking away a team of nine over to America, and three of those players had actually played competitive basketball before. So the first six months of training were teaching the basic five-out motion, the basic defensive principles, just getting them to a point they can understand those basic basketball principles, to then be able to look at the next step and build up from there.
"And to the guys' credit, they did an awesome job. They'd never played in a real tournament before together, they hadn't played as a team all that much. We went away to America and we came across some absolute powerhouse teams.
"So we had a real challenge on our hands. We didn't win a game, but throughout the tournament, they progressively developed and got better as it went, and I think you could see it on the court, just the way that they were building as a team."
Speaking of development, it works both ways. Neither Reid or Holloway are Deaf or Hard of Hearing, and coaching happens to bring out a lot of instinctual habits that many would take for granted.
Keeping these emotions in check to ensure the message gets across can prove critical, with more than a few adjustments that have to be made along the way.
"There's lots of learning curves," Holloway confessed. "I've traditionally been a very verbal/visual coach. I'll explain things, I'll turn my back, I'll move people around, move my hands, and you can't do that with Deaf or Hard of Hearing people.
"You need to be facing them, they need to be able to see what you're saying, how your expressions are. You have interpreters to help you, but you have to change the way that you present yourself to the group.
"There's a lot more planning involved. You'll start going off on an educational piece, or start teaching an offence, then realise that you've been basically trying to explain to yourself, because everyone else is behind you and they don't know what's going on.
"There's been a lot of learnings around that sort of stuff, as well as trying to learn and understand, for me, the Deaf and Hard of Hearing community and the culture; the respect and the way that they like to communicate. [I'm] always learning, so it's good."
"I think I was a pretty good communicator anyway, but to go into a group where you genuinely have to concentrate on your communication and how you're doing it, has been an amazing learning curve in life for me," Reid echoed. "To be coaching a basketball team and to physically have to slow yourself down, calm yourself down, control your arm movements and things, and just communicate very clearly and concisely, things like that, is an amazing learning curve."
Reid then admitted, with a smile on his face, that his composure can falter in the heat of the moment, and that his players would find the idea of him always remaining a stoic, calm figure hilarious.
"They'll laugh at me, but the truth is, sometimes I use that as my way of communicating; them seeing that I'm really angry or upset." he continued. "I walk away sometimes sort of giggling at myself. I look like a tool but I got my point across, they understand what I'm talking about."
There are plenty of hurdles along the way, of course. The Asia Pacific Games, originally scheduled to take place in Hong Kong in November 2019, were cancelled due to the political situation, leaving the Goannas without a qualifying tournament for the Deaflympics.
The rescheduled Asia Pacific Games, at this stage, are pencilled in for March/April next year in Malaysia, with December's Deaflympics event to follow in December. Short of a drastic improvement in the pandemic situation, these dates are little more than a pipe dream for Australia.
Even without these extreme circumstances, there remains a significant challenge for the Goannas and the Dingoes, and indeed for Deaf basketball in general: recognition.
"These guys are athletes," Reid firmly stated. "The group of guys that I have are as professional as any person representing Australia. That's probably the biggest misconception: it's 'just deaf basketball'. No, it's actually just elite basketball.
"I challenge anybody to put some earplugs in and go and play in a domestic game and see how much you rely on your hearing. There's ten guys on the basketball court as committed as anybody you'll ever see to playing the sport, as professionally and as hard as they can, and it's quite amazing."
"It's seen as charity work, and it's not," Holloway expressed. "We're building an elite program here, and a high performance program at that. Challenging people to put some earplugs in and play basketball is one thing, I challenge coaches to come and coach it. They'll walk out the door!
"The other side of it, is [that] you don't have to be profoundly deaf to be a player in the program. One thing that might put a lot of people back, especially junior players these days, [is] having grown up with cochlears in and not feeling like they're completely deaf. If they are Deaf or Hard of Hearing, I'd encourage them to reach out and investigate whether it is a suitable program for them to be involved with, and whether there is an opportunity for them."
Despite all of the hardships, the players keep on playing, the coaches keep on coaching, and Deaf basketball keeps on working to stamp its mark in the crowded sporting landscape. The task may be a tall one, but the rewards are plenty, both on and off the court.
"I've been sitting in a pub having a drink with friends, and gotten tapped on the shoulder," Reid recalled. "People in the Deaf community had realised that it was me, that I'm the coach of the Australian deaf team, and come up to say hi.
"The problem is, my sign language is shit, so trying to have a conversation with a group of Deaf people in a pub, my first conversation piece is 'my signing is bad'." He valiantly signed this as he spoke, to emphasise his point. "They think it's hilarious that I can't sign, but I'm the coach of the Deaf team.
"The thing that I'm most proud of, is teaching these kids what it takes to be successful in life through basketball. If these kids learn how to compete on a basketball court, they learn how to compete at life, and it's a pretty bloody good skill to have to. Putting the gold jersey on with Australia stamped across your chest is a pretty proud moment.
"Part of my theory is, I've had a really blessed life in terms of what basketball has given me, and I feel it's my responsibility to give a bit back. I've played SEABL, I got to go to America, I got to go to New Zealand to play… I had some amazing opportunities, and then through the power of wanting to give back, it's actually given me more, so I'm not sure when I'm ever going to become level with the game."
Anyone who is interested in learning more about Deaf and Hard of Hearing basketball can follow Deaf Basketball Australia and the Australian Goannas on Facebook. The DBA website also has information about the Goannas and the Dingoes, as well as the Ringtails — an under 21 girl's squad currently in development.
There is also helpful information about the eligibility criteria for prospective players.
And of course, The Pick and Roll has got you covered for Deaf basketball stories, including a deep dive with some of the Goanna players, and an insight into the constant struggle for funding.