Meet the Goannas: The quiet achievers of Aussie basketball
Like most 7 year olds, Jordan Woolmer was always in a hurry.
So naturally, he was all in for a game of tag with the other kids at the back of the vacation care centre in which he stayed during the school holidays.
He still remembers the scene to this day.
"There was a massive wooden cubby house, a sandpit with a giant swing, and a paved pathway leading to the backdoor of the building," he recalled.
A wooden bench adjoined the back of the building for those who needed a break.
Not for Jordan though. He ran like the wind.
That day, sand had been kicked up onto the pathway, rendering it treacherously slippery. As Jordan turned around the cubby house, he felt his feet gave way.
His head slammed onto the wooden bench.
His aunt, who worked at the centre, rushed out to tend to him. It was just something that happened to kids. Just another knock, a bruise, another reprimand. He ended up with an icepack and a "suck it up and move along" scolding from his aunt.
Later that night at home, Jordan heard the phone ring from afar. Unperturbed from his earlier fall, he raced across the lounge room to answer it.
"Hello?" he said.
Silence.
Hello?!
Jordan repeated the greeting, progressively getting louder with the lack of a response.
His mother stormed into the lounge room, furious with Jordan. She could hear the person yelling on the other end of the line from the adjacent room.
She ordered him to place the handset onto his other ear. He immediately recognised the voice of his aunt, who had called in to check up on him.
"Mum told me to switch back and again nothing," he remembered.
Days later, doctors diagnosed Jordan Woolmer with LVAS -- Large Vestibular Aqueduct Syndrome – a hearing loss condition.
"Basically, I get a head knock and I lose hearing."
---
Sam Cartledge called himself 'deafDude' in high school. Partly, it was because he wanted an identity and subsequent social inclusion. He had always been known as the 'deaf guy'.
"I would go along with the jokes that came with being deaf and learnt to accept them as normal," said Cartledge.
But part of it also turned out to be embracing who he was.
Cartlegde cannot hear sound. His family found out when he was only 6 months old. His mother was vacuuming and Cartlege did not so much as stir. After they took him for some testing, doctors diagnosed the condition.
He did not hear sound for the first two years of his life. Once he did receive a Cochlear implant, he had to undertake extensive remedial work to catch up with his age group.
"I had to undergo intensive speech therapy as well as get used to my new hearing environment," said Cartledge.
Thanks to the support of his family, teachers and therapists, he caught up when he began primary school. Deaf accents are usually developed as a result of delayed intervention. Were it not for his family, Cartledge would not have been able to speak and hear fluently.
He still has to work extremely hard nowadays to understand what is being said in any situation. But Cartledge now fully embraces who he is and uses it to his advantage. When he just wants to tune out from the world, he simply switches off all sound and slumps into a peaceful splendour that is complete relaxation.
He now immerses himself into the deaf community through his various roles advocating for greater awareness of the obstacles faced by the deaf and hard-of-hearing community.
"I can proudly say that my deafness is my identity and I want raise the awareness of people just like me and many others who share similar lives and experiences missing out on the world of sound to the hearing community," said Cartledge.
The stories of both Jordan Woolmer and Sam Cartledge are just two within an amazing group of men who are putting Australian deaf basketball on the world map.
---
Brent Reid sank into his car seat with his head in his hands. He was trembling from exhaustion.
Moments earlier, he had just completed a gruelling 75-minute interview for the head coaching job with the Goannas, Australia's national deaf men's team.
The interview, held at Deaf Sports Australia in East Melbourne, was a short drive away.
Only a few months earlier, in late 2013, Reid, the abrasive Kilysth coach in Big V competition, had agreed to run the Goannas through their paces for a 3-hour coaching session.
He hadn't been impressed.
It had taken some gentle coercion for Reid to even consider accepting the invitation. He had got the call on a Thursday from Bridget Gamble, a long-time friend who worked as the trainer for the Goannas. The team was without a coach, and Gamble had asked him for help in running a session on the Saturday.
Reid had never even met a deaf person in his life before, let alone run a coaching clinic for the nation's best deaf male basketball players.
Ultimately, he acquiesced. Basketball was basketball. The game could be communicated through universal signifiers that everyone could understand.
But if he was going to do it, he was going to do it as well as he possibly could. He spent time hours devising a detailed training schedule.
"I had details down to the minute," he said.
On the day, he arrived and set about getting the boys stuck into the first drill. What he saw genuinely alarmed him.
He noticed basic basketball fundamentals and footwork were missing. Players had to be taught basic things, such as catching the ball and squaring up to the hoop. Reid quickly threw away his training program and focused on the fundamentals that you see in an under-10s and under-12s group.
"He was having trouble communicating with all of us, as he had no knowledge of sign language," recalls Goannas' captain, Mark Bilyj. "He did lose his patience as well when the players didn't understood his fundamentals or explanations."
It shocked Reid that this was the national program.
"These guys had just slipped the cracks with this sort of stuff," he explained. "I did 3 hours of footwork and the boys were mentally broken by the end of it. They were exhausted."
They were exhausted. But to a man, they also appreciated the time and effort Reid had put in to help. They all shook Reid's hand as he left, and the Kilsyth mentor thought nothing more of it – the session was a great experience, but it was a one-off.
But it all changed when he was urged by those already in the national program, including Gamble and some of the players, to apply for the role when the position was formally advertised in mid-2014.
Ironically, the script flipped on that fateful day as Reid stepped walked into the conference room for his interview.
The interview panel consisted of 3 deaf people, all former players with the national program. A translator, sitting behind Reid, was also present so that both sides could relay their messages across.
Already nervous, the interview got off to an inauspicious start.
The panel signed the first question to Reid in Auslan, the language of the deaf community in Australia. The translator repeated the question to him in speech.
Reid eagerly jumped in.
Turning around, he began answering the question to the translator. But between gritted teeth, the translator hissed back at Reid, "turn around and face them!"
"I had no idea," Reid admitted. "I was completely ignorant."
The term ignorance was not a reflection of Reid's intelligence. Rather, Reid was referring to the misconceptions that are bestowed upon the hard-of-hearing community, unknowingly or not. Before that day, he was completely oblivious towards what people hard-of-hearing had to deal with.
Fast forward to Reid walking out at the end of the interview and heading to his car. He was mentally exhausted.
"Absolutely, completely… it was a mind f#%k," he said. "It did my head in -- the concentration level of having to go through that."
"I was absolutely exhausted." I sat there for 15 minutes before I could muster up the energy to drive home."
Reid would become the first non-deaf coach to be selected for the role.
---
Mark Bilyj is the longest-tenured player in the Goannas. Doubling up as captain and the most capped player, he inspires his teammates with his actions, both on and off the court.
When he talks, people listen.
He's also been a part of the Goannas for a decade and witnessed first-hand how the program has evolved.
"The biggest change to the program was in 2014 year when Brent Reid got on board with the Goannas coaching role," said Bilyj.
Brent Reid addresses the team in a huddle.
Before the combative Kilsyth coach came along, the program had been run to stay alive. From day one of his tenure, Reid instilled a culture of professionalism.
He hated what he called "shits-and-giggles" basketball. He hated the fact that no one knew of the program. But most of all, he hated how the boys had not been able to showcase the best of themselves.
Reid essentially instigated a reboot of the national program.
"It was about being involved rather than about being successful," he said. "If we're going to turn up, we're going to do it properly. We're going to be as professional as we can be."
He focused on building up the fundamentals of the playing group. He didn't pander to the group -- he went hard at them.
"[It was] his way of showing us how the fitness is done to the highest level and what we need to reach for," explained Bilyj.
Reid also identified a core group of players to move the program forward.
"For someone who has never met a deaf person before to come along and sacrifice the time, money and effort that he has, just to make us better basketball players, he's a great coach and an even better role model," said Woolmer of Reid.
Slowly but surely, their improvement in process was reflected in the results. Reid guided the national program towards unprecedented international success.
In 2015, the Australian men's team was the most improved deaf basketball nation in the world, jumping eight ranking spots to be number 5 in the world.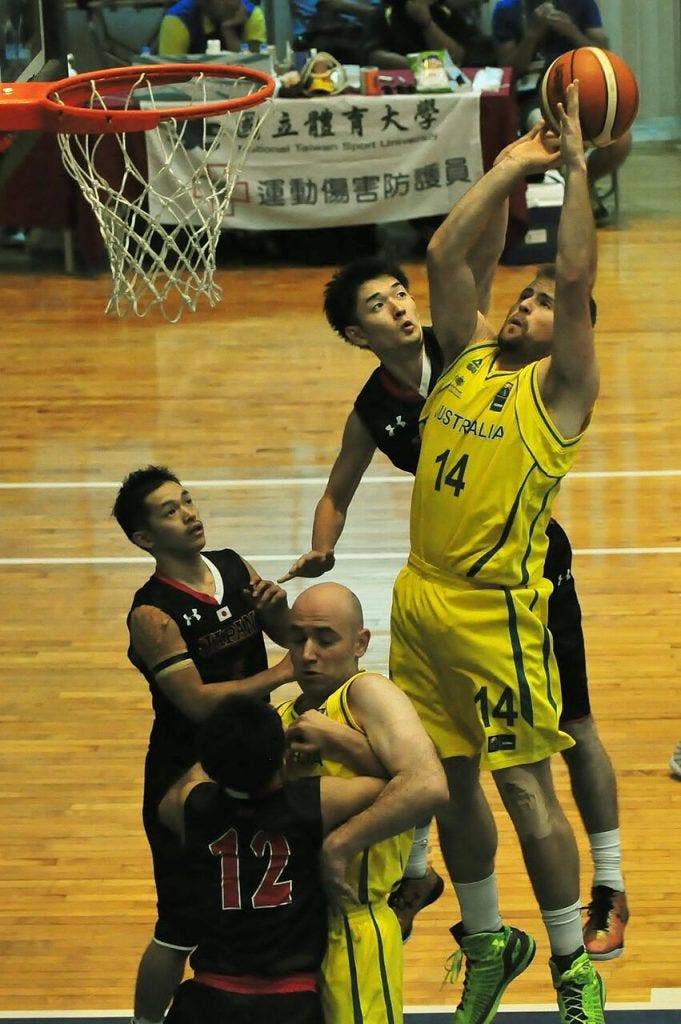 Along the way, they battled valiantly at last year's World Championships, beating sides like Poland and were narrowly edged by semi-finalists, Greece, by a single point.
The Goannas also won the Asia Pacific Deaf Games. They dominated the tournament -- no opponent scored more than 50 points against them. They became the first team to win a gold medal in any deaf team sports for Australia.
"To hear your national anthem played while you're standing on the top step of the dais… man, that's a whole other level," said Reid, as his voice cracked with emotion. "I can't hear the national anthem now… it's changed me forever."
With that win, the Goannas guaranteed themselves at next year's Deaflympics, to be held in Turkey. It's there where they hope to medal and become the pride of Australian basketball.
Still, those results have not necessarily guaranteed greater funding for the team.
"We slip through the cracks of funding," said Reid.
Part of it is political. But Reid thinks that part of it was brought on by themselves at the time.
"We probably didn't have a product that was worth being funded," he said. "Shits and giggles basketball, who's going to pay money for that? Why would you? Why would you expect anybody to pay money?"
It's a small thing, but before he started, the team didn't even have a Facebook page. There was no awareness of deaf basketball, let alone the national program.
"Nobody knew," he said.
As he got to know the boys, Reid found out that some were randomly told of the team and decided to try out. By contrast, Team USA had 300 males turn up to their Deaf World Championship tryouts. The Australians had 13.
"There isn't any money," said Reid. "We get told by the governing bodies that one body is meant to fund it, and then they tell us that the other body is meant to fund it. Ultimately, nobody funds it."
As a result, the players themselves raise money for their tours.
"The boys raise money. The boys pay their own way," says Reid. "We're trying to put together a product that is worth the money for someone to be involved with."
"It's sacrifices like this that truly show how deep our commitment runs," said Cartledge. "It's just sad that we have had to financially back it all ourselves with no assistance from sponsors. We have a gold medal to show for it, to prove that we did it on our own, but very soon it won't be feasible as we need provide for ourselves, our future and families."
#GoannaFamily
It's just a throwaway line, thought Brent Reid.
"You've all got to be brothers. You've got to be family!" he had implored.
Only the boys embraced it.
Despite their early struggles, the group developed a special bond.
"Our team is a very tight knit group and we have a very strong idea of family. We all love the game and we get on well but there's this understanding of what it's like to be deaf that we all share that makes us more than just good teammates," explained Woolmer. "We understand the challenges and struggles that each of us face day in and day out and I think that kind of bonds us together."
Some have even moved interstate to Melbourne to be closer to their training base. As if to signify the solidarity of the team, they also introduced the hashtag of GoannaFamily into the group's vernacular.
Lachy Jackson, the team's one true big man, went one step further. He wanted something to unite the team further. After confiding in the captain and coach and receiving their blessing, he introduced a pre-game ritual.
"They approved of it and since then in international matches we use this ritual as a way of linking arms and getting fired up together," explained Jackson. "But also remembering it's an honour to put the jersey on once again for your mates and country."
Prior to every single game, the players form a group huddle. Inside the huddle, every single player jersey is placed on a chair.
"When their number comes up, the player collects the jersey in middle of the circle while we are pumping/motivating each other," explained Bilyj. "They should all realise when they collect the game jersey, they are representing their country: Australia."
Each player receives thunderous applause and plenty of pats on the back as they don their jersey in the circle.
"Our little ritual is a pretty special moment for us as a group," said Woolmer. "We know that representing Australia is not something many people get to do and it's definitely not something we want to take for granted," said Woolmer.
"The boys are passionate. The boys absolutely love playing for their country," said Reid. "The ritual that they go through before every game in putting on their singlets, if [only] you could see that in the locker room. It really brings a tear to your eye every time."
---
Lasting Image
There's one particular memory that stands out for Reid throughout this journey.
The Goannas were playing against Chinese Taipei at the World Championships. Late in the game, up by 7 points, the Goannas forced a turnover and initiated a fast break.
"Mark [Bilyj] got grabbed and kind of thrown to the ground," recalled Reid.
The Goannas thought it was a foul, even borderline unsportsmanlike. Only the referees didn't blow the whistle; no foul had been spotted.
Bilyj got up off the court and proceeded to remonstrate with the officials. The Goannas ended up scoring with that possession, despite Bilyj being late to arrive on offense.
"I thought he should have got up and run his lane hard and maybe got a layup and put us up by 9," said Reid. "I was super pissed that his first response was to complain."
Bilyj's tirade at the refs continued as Chinese Taipei called a timeout. Angered by his captain's actions, Reid let rip into Bilyj during the ensuing stoppage.
"I'm in his face – finger on his chest – screaming at him to be our captain, to be our leader," said Reid. "You're above that! I was absolutely giving it to him."
"The only words I remember he said to me were, 'be a f*cking captain right now', and him poking me on my chest," said Bilyj.
It was only afterwards that Reid understood the impact of the moment.
"He's just copping it. He's just taking it. At the end of the timeout as he walked away, he patted me on the bum and he gave me a wink like, I got this," said Reid, as his voice thickened with emotion. "That's… just something that really sticks with me. That's the level of togetherness. I f#%king lost it at this kid and he's still, yep, I got it. I understand."
How times have changed since his first training session with the team back in 2013. He can fondly remember now how a ragtag group of men transformed into the tight-knit squad of world-beaters today.
"They were rubbish. Absolutely rubbish," said Reid of the boys when he first started coaching them. "Individually, they're a skilful bunch. As a team, they were junk."
Reid can say that with affection – and he can also get away with that.
He may emit a level of gruffness, but it comes from a good place from which he genuinely cares.
"That's the one thing I've learnt about the deaf community – if you're willing to try they will help you," he explained. "If you want to stay ignorant, then they'll let you look like a fool."
That's a theme that has underscored his tenure with the Goannas. This is about so much more than just basketball.
"We're going to be role models for young, deaf basketball players, [and] for young, deaf kids," Reid said of the men's national program.
"Brent doesn't look at us as deaf people who play basketball, he sees us as basketball players who happen to be deaf and he coaches us that way," said Woolmer. "He taught us that none of us are good enough to do this on our own but if we work together as a team we can achieve so much more."
"We are doing this for each other, for our families, our wives, girlfriends, the deaf community and the hearing community," added Cartledge. "[Whether or not] they hear and see us is up to them."
"But we're hungry for more," said Lachy Jackson. "Our new journey for the Deaflympics at Turkey has already started."
The Goannas now turn all their attention towards the Deaflympics next year, where they will strive for a podium finish. We know that they will represent the country with pride.
Regardless, they've already achieved so much.
"With everything we've been through in the last four years, all the ups and downs, I know these guys are going to be with me for the rest of my life," said Woolmer.
And that's perhaps the most poignant thing.
---
* All images courtesy of Sam Cartledge