From Bearcat to Dragon: Chloe Hodges commits to Drexel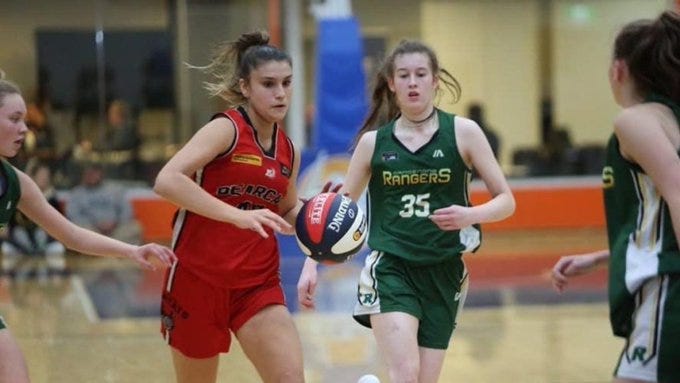 Source: Supplied
---
Versatile wing Chloe Hodges is the latest talent to commit to a US Division I college, announcing via social media that she will be attending Drexel.
In speaking with The Pick and Roll, Hodges explained that he journey in eventually committing to Drexel did not exactly all go according to plan.
"Before being approached by Drexel early this year, I was definitely considering other options," explained the South Australian. "I went on two official visits, my first being to Florida in October. The visit was great and gave me my first taste of what life would be like as a student athlete. But after returning home from the visit, I had a feeling that this school wasn't quite the right fit for me.
"I was able to go on another visit to a Californian University. After this visit, both my parents, the coaching staff and myself thought that this was a great fit and we were all ready to commit. However, news came from the school the following week that one of their seniors had an Achilles injury more serious than they first thought, and she would be able to Redshirt and get her year back. This meant that the final spot on their roster was now taken, leaving me with no offer.
"This was quite difficult for me to overcome as I had shut off all recruiting with other schools and I had to restart the recruiting process again from scratch at a time which was considered quite late seeing as I am a class of 2020 athlete. That's when Drexel reached out to me and I started to learn more about them and their amazing program. I almost immediately knew after speaking with the staff and team that this program was something special that I knew I wanted to be a part of it."
Hodges further explained that Drexel would be able to not only support her on court goals, but also those off it, fully aware that she will require a career post-basketball.
"I chose Drexel because it is a program which is really dedicated to developing the whole person and not just athletes," added Hodges. "I feel that at Drexel, I will be able to excel academically in their amazing science program and achieve my dream of becoming a nutritionist. I will also be able to develop skills in areas such as leadership, innovation and independence, all of which will be essential for success in the later parts of my life
"In saying this, their basketball program is seriously like a family which is super important to me and was another main reason I was drawn to Drexel, as I am going to be moving so far from home. The coaches and girls are amazing and have already welcomed me in with open arms! Drexel's basketball program is one which has the potential to excel and participate regularly in post-season play, which is super exciting to be able to strive for, and being the first Aussie Dragon is also pretty cool!"
The 6'0 lefty wing from South Australia can play inside and out, while also being a good shooter with range all the way to beyond the three-point arc. She can also punish closeouts by putting the ball on the floor and finishing at the rim. A terrific rebounder, she is a classic two-way player that is able to guard multiple different positions.
Hodges turned in an impressive tournament in representing South Australia at the 2020 Under 20 nationals. Displaying her versatility at both ends of the floor, she averaged 9.0 points, 6.9 rebounds, 2.9 assists and 1.4 steals per game to be one of the standouts on her team along with Nebraska commitment Ruby Porter.
Hodges was a member of the 2019/20 Rachael Sporn Lightning Academy Squad which is aligned with the Adelaide Lightning in the WNBL. She was sent to hit the hardwood with the West Adelaide Bearcats in the NBL1 Central conference this season before it was cancelled due to the COVID-19 global pandemic.
Thankful for those who have helped her in achieving her college aspirations, Hodges
"I could not have even gotten the opportunity to commit to Drexel if it weren't for the help of so many amazing people behind the scenes," enthused Hodges. "Firstly, my parents, who have always supported my dreams and done whatever they needed to in order to help me make them come true no matter how big or small. Secondly to all my junior coaches at both club and state level who have all taught me something unique and pushed and developed me into the player I am today.
"In particular, Morgan Treloar is someone who has coached me in various capacities ever since I was nine years old. She still finds new ways to push me and my game to the next level and do whatever she can to ensure that I have the best chance at success both as a player and a person. In terms of recruiting, I had such a great support system such with both Renee Johnson-Allen from BlueStar Basketball Asia and Samantha Tomlinson from Aussie Basketball USA Pathways in my corner. They both put me in touch with various schools and gave me numerous options to ensure that I was able to find my perfect fit and for that, I am beyond grateful.
"Of course I couldn't have done any of this without each one of my amazing teammates in every team that I have been fortunate enough to play in. From them, I have been able to learn so much and they have helped me to develop such a love for playing the game."
With Drexel elevating Amy Mallon to the role of head coach this season, the Dragons will be aiming to top the Colonial Athletic Conference in 2020/21 after tying for first with James Madison last season with a 16-2 record (23-7 overall). It is an opportunity that has Hodges excited for what lies ahead.
"I am so excited to play under newly appointed head coach, Amy Mallon and her staff," further added Hodges. "Amy is so great and super experienced with previously being the associate head coach at Drexel for several years.
"Coming in as a freshman, I am hoping to contribute to our team in any capacity I can on both ends of the floor - either as a bigger guard or a small forward. Once we get all of the girls together and start to play together, I think that we will naturally fall into our individual roles and we will quickly gel and start playing some really great team basketball!"