Breaking down Nick Kay's first week in Europe
After making his much-anticipated European debut, Daniel breaks down Kay's role for Spanish club Real Betis in what will be a pivotal year for the Australian forward.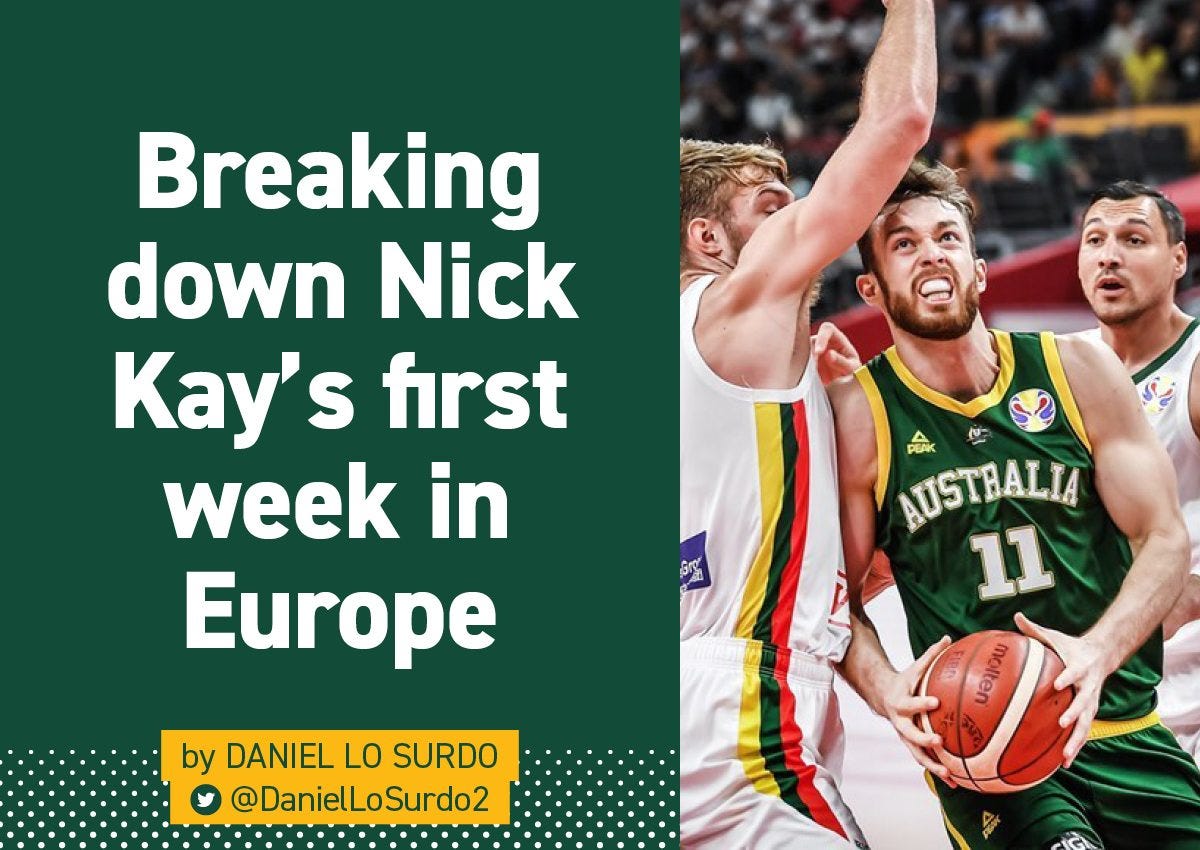 Despite registering losses against Unicaja Malaga and Real Madrid, Nick Kay's initial European action has formed an intriguing base for the forward's first season on the continent. We have analysed how Kay can shine in Real Betis' system, where impressive showings against world-class talent will book the Tamworth native's seat on the Boomers' plane to Tokyo.
Betis' offence depends on Kay's versatility
As the stretch four in head coach Curro Segura's 'four out one in' motion offence, Betis will be reliant on Kay's versatility as both a scorer and passer in a system prioritising ball movement and floor spacing. The Seville-based side's half court offence will see the two-time NBL First Team member receive touches primarily in the corners after quick ball reversals. Kay's 46.3 per cent three-point shooting makes him a reliable option to punish scrambling defences, or be afforded opportunities to blow past opponents for contested finishes in the paint.
In this action, Kay's ability to collapse defences will facilitate open looks for his teammates. His versatility as a passer can create easy offence for a Betis backcourt of T.J. Campbell and James Feldeine that average a combined 38.6 per cent from beyond the arc in their accomplished European careers.
When employed as a screener in Betis' continuity actions, Kay will be encouraged to either slip or fade out of the motion to create open shots from the perimeter, to get looks previously received from Bryce Cotton in Perth.
Building a new defensive culture in Seville
After finishing with the seventh-worst defensive rating in Spain last season, Los Verdiblancos' offseason acquisitions of Kay and Senegalese centre Youssou Ndoye signalled a renewed defensive philosophy in Seville for a side that slumped to a six-year playoff drought in the Spanish top flight. With a new starting front court, dreams of a postseason return have reappeared in the Andalusian capital. Hopes of a lockdown defence in the San Pablo have emerged for a club that conceded 54.3 per cent of opposition painted area attempts in a disappointing 2019/20 campaign.
While it has been only two matches, it seems like a new defensive culture is still waiting to take shape in Seville. Playing host to Unicaja Malaga, Betis' Andalusian neighbours ran out convincing winners, spearheaded by Spaniard Francis Alonso's 26 points (8/8 3PFG) on debut to lead his team to a 74-90 victory. Throughout the game, Betis looked like a team only beginning to understand their defensive schemes, often looking lost against Unicaja's 'attack and react' motion offence.
After the encounter, head coach Curro Segura understood his side had many areas to refine before their ACB campaign begins later in the month.
"There are many things to analyse and improve," Segura said. "They punished us a lot by running and had enormous success in the three-point shot, especially in transitions and counterattack."
With Ndoye yet to make his Spanish debut, Kay has been thrust into the five against larger opponents, and is often left vulnerable against centres towering over the 6'8" Boomer.
Ndoye's introduction into the starting lineup will facilitate a smoother defensive role for Kay. An unwavering physicality combined with a high basketball IQ will allow him to thrive as a disruptor, reading passing lanes to create steals that start the Sevillanos' fast break.
When targeted in the pick and roll against larger opponents, Kay uses his frame and footwork to hedge early in the play, allowing his teammate time to recover from the screen while forcing the ball handler to progress into the next stage of the action.
In the clip below, Madrid runs a simple screening action to capitalise on 7'3" centre Edy Tavare's mismatch against Kay. The motion was run twice for the 2019 EuroLeague Second Team centre, and was nullified on both occasions through exceptional reads that placed the Australian ahead of the play. While the 35-time Spanish champions were eventually bailed out by a sloppy defensive rotation, Kay's defensive activity and energy cannot be understated for a team that harbours playoffs ambitions this season.
It is these under the radar effort plays that typify the Australian's unwavering tenacity and will be the foundations of a rejuvenated defensive culture in Seville.
Spain season could secure Kay's Olympic debut
After posting a game-high 21 points against Spanish powerhouse Real Madrid in just his second game on the continent, Kay looks primed to continue his stellar NBL form into a crucial Olympic year in Spain. In the Boomers program, Kay is competing for a place and minutes with Aron Baynes, Jock Landale, Ryan Broekhoff and Brock Motum; four accomplished perimeter threats offering floor spacing for centrepiece Ben Simmons.
With former 76ers head coach Brett Brown at the helm, it is likely that an Olympic side will be designed around two-time NBA All-Star Simmons (schedule permitting), who excels in an open court with a plethora of shooters at his disposal. In the half court, Kay's three-point shooting will force rim protectors to the perimeter, creating a deserted painted area for Simmons to torment smaller guards inside the arc, a region he's shot 56 per cent in his NBA career so far. Alternatively, the 2018 NBA Rookie of the Year's generational passing eye can find Kay for catch and shoot shots, an area that the Betis forward has already punished opponents in Spain.
Strong displays in the highly competitive ACB could propel Kay into the rotation, and an opportunity to replicate his personal successes in the 2019 FIBA World Cup campaign. The 28 year old recorded over 20 minutes off the bench for the Boomers in that tournament, adding 7.9 points and 5 rebounds an outing to help the Boomers reach the bronze medal match.
While floor spacing will be a crucial element to the Simmons era of Australian basketball, it is on the defensive end that Kay can cement himself as a permanent fixture with the Boomers. Defending in a potential front court with Aron Baynes or Andrew Bogut, Kay can excel in a physical key as a disruptor that can clog passing lanes, alter shots and begin the Australian fast break, where a formidable handle will allow the likes of Patty Mills and Joe Ingles to fill lanes that can lead to uncontested perimeter shots and easy baskets at the rim.
An ability to guard any position, in addition to Kay's physicality as an undersized centre in a 'small-ball' unit, will afford the two-time NBL champion important minutes to confirm himself as a core piece for what promises to be a golden generation of Boomers talent.
Tough challenges lie ahead
An exciting challenge in Seville brings many new challenges for Kay, and his biggest personal test will come against Spanish powerhouse Barcelona. The Blaugrana boasts two-time ACB MVP Nikola Mirotic and is expected to match up against Kay in a November 15 fixture in the Catalan capital.
The ACB is one of the toughest competitions on the continent, registering 12 clubs in European competition this season. Stronger competition will force Kay to develop consistent performances for Betis, where his defensive physicality and sharpshooting can elevate the Australian to a starring role for Los Verdiblancos.
In a preseason ranging from adding six points in a blowout loss to leading all scorers with 21 in a near upset victory against Madrid, Kay's displays in the ACB this season holds the potential to define the rest of the Australian's European career. Contracted in Seville for only one season, eye-catching performances will poise Kay to field offers from some of the European heavyweights, however an underwhelming year in the Andalusian capital may conceivably bring an abrupt end to Kay's continental career.
With optimism brimming throughout the San Pablo after a strong transactional period, it is apparent that Nick Kay is playing for a club that understands how to best utilise the Australian forward. Expectations are on him to lead a fresh team culture that promises to return pride to Sevillanos once again.