Discover more from The Pick and Roll
We're all about Aussie hoops. Independent, objective analysis and commentary. Insightful narratives built around Australian basketball. Read about our men and women in the NBA, WNBA, NCAA, Europe, national teams, NBL, WNBL, NBL1, prospects and more.
Over 2,000 subscribers
Aussies in the NBA Wrap: Patty's perfect shooting aids nailbiting win in Houston
Technically, it was Tim Duncan's perfect defense against Harden sealed the game. We can't forget about Patty's breakout performance this game though! It's a welcome return to form, after the recent drought.
In other news, Delly's on his way to becoming the holder of an interesting all-time NBA record. Bogut racks up a career in blocks this week, and more awaits you in our recap.
Top 3 video highlights
https://www.youtube.com/watch?v=IjO8oSfeVcs&feature=youtu.be Everyone this week gets in on the action! Baynes had a great game against Houston and slams down the hammer on Harden. Our young star Exum leads the fast break to hold on strong and finish with the and-one. Finally, Big Bogey becomes a beast in the air with an one-armed flush to light up the crowd at the beginning of the game.
---
Andrew Bogut (Golden State Warriors)
Is it time for Bogut to get more involved in the team's offense, as the postseason draws ever closer? Take a look at the impact Bogey brings on the court as a roll man, post up threat and more, in the Warriors' recent game against the Spurs.
"Can you take any pleasure in a nine-block night?"

"No, not with a loss," the Warriors' center said after losing to New Orleans on Tuesday. "It would have been nice in a win. It's a good stat, but I'm not really about stats. I'd rather have the win and have one block." - source
A loss that didn't matter in the grand scheme of things, produced a career high for our man Bogut. Surpassing his previous high of seven blocks, nine is the magic number this week. Don't miss the highlight reel of his blocks, and the triple-double that nearly happened.
https://www.youtube.com/watch?v=vuz1H65X560
Not quite Lob City, but the Dubs do all right when it comes to alley oops. Bogut gets off an early dunk off a Klay lob, and it's all part of the play.
https://www.youtube.com/watch?v=mcb4IMB3Ico
Bogut talks about Warriors defense and growing up in Australia
A fantastic interview from Sam Amick of USA TODAY Sports, that takes the reader on a journey through Bogut's early days before the NBA. It's filled with quips from Bogut that usually doesn't appear in the postgame interviews and so on, highly recommended. Obviously, a lot of NBA elements inside, including the Warriors rise through the years, and Bogut's hands-on role when it comes to defense.
"I've always played physical, even when I wasn't being strong," said Bogut, who is one of seven Australians in the league. "In high school I was 6-7, 6-8, probably 200 pounds, or 190, but I still tried to push people, even though I couldn't. I knew there was going to be some trouble once I started filling into my body and put some weight on. And I think that's just an Australian mentality.

"My city, Melbourne, has Australian rules football and everyone grows up with a football in their hands because we have like eight pro teams in our city and it's part of that sport where you can't take a backstep and be a (wussy) because that sport will eat you alive. So you play it in high school, you screw around with friends and you play it, so it teaches you to be a little tougher."
He went on to talk about his school day scuffles, and then the early basketball memories of being ragged on, and how that in turn became a driving force to succeed.
"I kind of got through that, and then I brought that into my basketball where as a young kid my junior coaches said I'd never make it because I had an attitude problem and I'm an (expletive). That just kept firing me up, firing me up, and firing me up, and even people who played against me at 18 or 19 hated me because I was a prick. Even now, this season, you could probably talk to a lot of people on NBA teams who say the same thing."
I love the quote at the end. It just captures the confidence of Bogut, the team, and the simple fact that basketball metrics fail to sum up things that mean more than just numbers on a box score. Bogut's proving his worth on the court, and we all know it.
"I don't really care about the box scores," Bogut said. "A lot of people who don't follow us or watch our games look at a box score and say, 'Oh, four (points) and 10 (rebounds), that's not a good game,' but I know the value I'm providing and I think my teammates do too."
---
Aron Baynes (San Antonio Spurs)
The Banger's doing a little bit more than the usual screen and roll plays, and we get a goodly eyeful of what he's got hidden up his sleeve. Did you know Baynes' capable of launching hook shots from either hand? I didn't either.
The Banger highlight
Baynes had a pretty dominant performance against the Rockets on Saturday, scoring 13 points off 5 of 6 attempts. He was also the first Spur to score in the game, after a 12-0 run from the Rockets in the first four minutes. This is the fifth consecutive game for Baynes, where he's attempted at least six shots, and made more than half of them, ranging from 62.5% (lowest) to 83.3% today (highest).
Check out this dunk from the Banger, where he corralled a rebound and stuffed it right back through the hoop, exerting dominance over the hapless Harden. [gfycat data_id="MerryBreakableBeardedcollie" data_autoplay=true data_expand=true]
---
Cameron Bairstow (Chicago Bulls)
Cam returned to a DNP status this week. His last action on the hardwood was on 28 March against the Knicks.
---
Dante Exum (Utah Jazz)
A little Exum-Gobert sequence that happened during the Kings game shows us the potential lurking on the horizon for this rookie duo. Gobert's developing offensive capabilities, along with Exum's confidence, aggression and passing vision will be the keys that drive the Jazz's future.
Exum and the point guard woes
We know all there is to know about Exum's offensive challenges this season. The lack of aggression on getting into the paint, no free throws, a developing three-point shot. There were likely to be no new angles, but his latest outing against the Grizzlies (3 points on 1 of 4 shots, 5 assists, 2 turnovers) displayed yet another interesting wrinkle. The Jazz seem to be putting Exum into the playmaker role these days; Hayward seems to be playing off the ball more and handing the keys over to Exum.
It's interesting to see how Exum's handling the point guard role against a top-tier defense like Memphis. The Grizzlies obviously offer much less space when it comes to driving and passing lanes, compared to Denver. The windows of opportunity are much tighter, and Exum had lesser time to decide on what to do with the ball. He's learning to use his quickness to get past the first defender, but it's the decision-making and passing that needs work.
It's not easy, even when he's going against guys like Beno Udrih and Nick Calathes instead of Mike Conley (who tormented Exum earlier in the season on both ends). He still managed this dime to Gobert for a monstrous one-handed dunk however, which looked really good.
[gfycat data_id="CaringElaborateHyena" data_autoplay=true data_expand=true]
---
Joe Ingles (Utah Jazz)
Joe Ingles continues sizzling from deep, exhibits point forward smarts
Jingles has had a fine week, as he continues his hot shooting from last week. Certainly not the "best shooting in the NBA" like he's joked about, but 50% is pretty good in our opinion!
He's also had some fine passes going on against the Kings.
[gfycat data_id="ShortJollyBinturong" data_autoplay=true data_expand=true]
Don't miss Hayley's recap, and some quotable snippets from Big Joe's latest interview on The Zone, one of which that sums up how big a challenge it's been transition from Europe to the NBA.
"It's been challenging at times, just getting used to it and just trying to figure out the league. When I first started it took me a few months to feel comfortable before I could really play the way I wanted to play. I've got great team mates that have helped me."
---
Matthew Dellavedova (Cleveland Cavaliers)
Delly's well on his way to being the holder of an all-time NBA record. Not the best kind of record out there, but an intriguing case nonetheless. How exactly do you shoot worse from inside the arc, than you do from the three-point line? That's exactly what he's doing right now. More details inside.
Back to the start
With Kyrie Irving out of the lineup due to a hip injury, Matty took the starting spot and ran a pretty good show against the Celtics. He clocked 41 minutes and shot decently from the field (4 of 8), had eight assists, three rebounds and one steal in the 99-90 loss.
He showed assertiveness with the ball this game, driving deep into the defense before dishing it out. Earlier in the season, he might have just tossed a floater up, instead of keeping his dribble this far in the paint.
[gfycat data_id="BigheartedUnimportantCanvasback" data_autoplay=true data_expand=true] Add a random highlight to the mix. The clock was running down, and Delly charged across the court. He was caught by two defenders, and threw a running floater that banked off the glass, just as the clock expired. Don't quote me on this, but I'm 99.8% sure that bank shot wasn't called.
[gfycat data_id="CaringElaborateHyena" data_autoplay=true data_expand=true]
---
Patty Mills (San Antonio Spurs)
Lastly, Patty! The Rockets game was one of those tough, grinding games where the Spurs just couldn't seem to find a rhythm defensively, or on offense. Yep, the Spurs had it as tough as this fan here, who got a pie in the face from the Houston mascot. Poor form there Clutch, sorry Kenny (fan's name was on the jersey).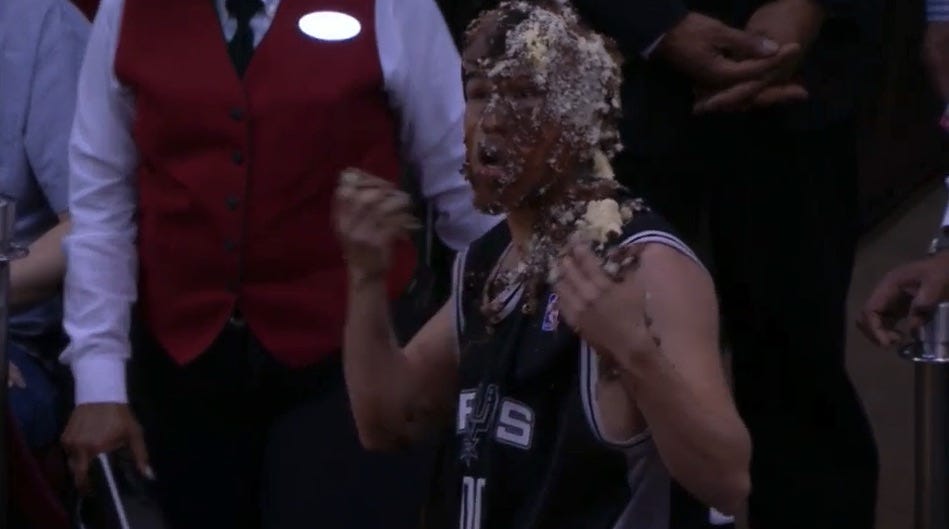 Patty did not see action until the third quarter, and had a rough start. He continued to play hard however, even flying out of bounds to save a loose ball. The turnaround moment arrived in the final minute of Q3, as the Spurs got out to transition. Patty found himself open for the three-pointer on back-to-back opportunities, and splashed both, getting the Spurs their first lead of the night.
[gfycat data_id="OpulentPoliticalBear" data_autoplay=true data_expand=true]
Love how the guys on the bench are so stoked for Patty's makes.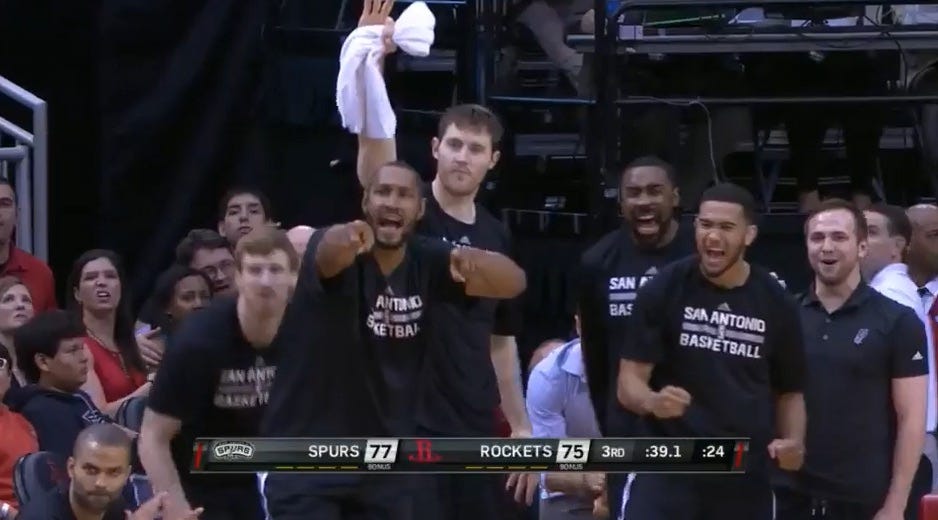 The rest of the game continued to be a back-and-forth affair, and Patty was in the thick of the action. Thankfully, the Spurs managed to keep it together long enough to take the road victory. Again, great to see Patty back in fine shooting form, while playing hard.
Defense-wise, he doesn't look 100%, but it's a positive start to what has seemed like a long drought.
---
Game schedule for the week featuring Aussies in the NBA
We are using an embedded Google Calendar format, which would hopefully make it much easier for all of you to keep track on when our favourite Aussies in the NBA are hitting the court!
Game schedules courtesy of NBA on ESPN.