Discover more from The Pick and Roll
We're all about Aussie hoops. Independent, objective analysis and commentary. Insightful narratives built around Australian basketball. Read about our men and women in the NBA, WNBA, NCAA, Europe, national teams, NBL, WNBL, NBL1, prospects and more.
Over 2,000 subscribers
Aussies in the NBA: Jazz starts Ingles and Exum, Bogut returns
Three big headlines for our Aussies in the NBA this week. First off: Andrew Bogut finally returns to action on the hardwood!
Next up: how often do we see not one, not two, but three Aussies getting the start! Along with Dellavedova -- who has been starting in Cleveland in lieu of Kyrie Irving -- Joe Ingles and Danté Exum both got the nod from coach Synder this week.
Top 3 highlights
A fantastic Ingles dish to Favors for the jam. Delly's fearless charge to the rim against Dirk. Best of all? An opportunistic Exum steal that led to an easy two-handed dunk in transition.
Enjoy this week's Top 3 video highlights, curated by Alistar Sullivan!
http://youtu.be/R-FQp4REPfc
---
Andrew Bogut (Golden State Warriors)
[table id=14 /]
Stephen Curry made NBA history this game by hitting 1,000 career 3 pointers with only 369 game appearances, but Bogut's return was not to be undermined.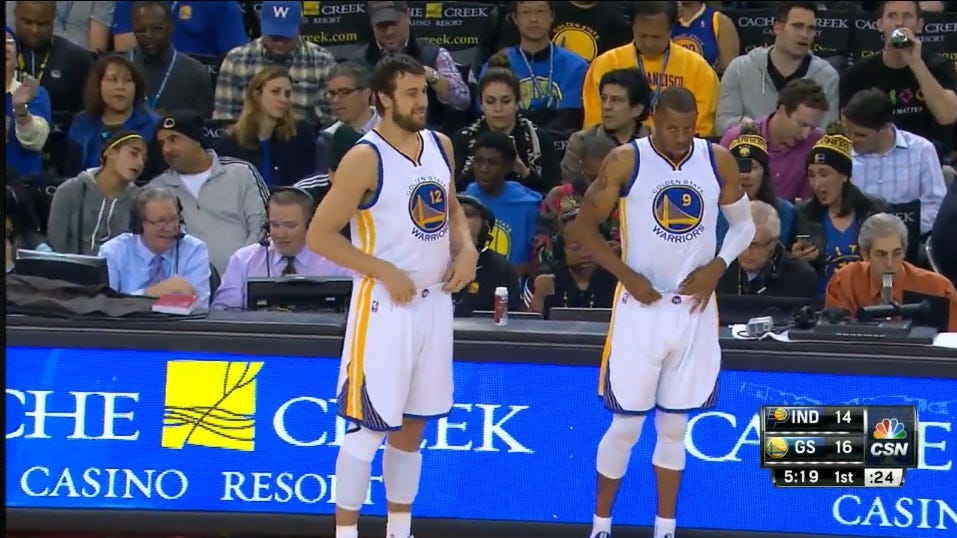 He came off the bench, checking in to the game at the 5:19 mark of Q1 against the Pacers, along with teammate Andre Iguodala. Needless to say, the Oracle Arena crowd was ecstatic at seeing Bogut back.
https://www.youtube.com/watch?v=vzX1-dHmRVY
Bogut made immediate impact after his entry, leaping in the way of a CJ Watson layup (and likely stifling it) had Curry not been whistled for a reach in foul.
[gfycat data_id="ObviousHorribleHornedviper" ]
The usual sharp movement was missing. Nonetheless, Bogut functioned effectively as a rim protector on half court defense.
Curry attempted a lob early on, which Bogut caught in mid-air, but landed and converted into a post up instead. Shaun Livingston later on sent another pass flying in, and Bogey delivered on an alley oop!
[gfycat data_id="CompassionateElasticFlamingo" ]
Bogut ended the game with 8 rebounds on an efficient 15 minutes. It's an impressive debut, seeing as the Warriors center averages 9.2 rebounds a game on nearly 25 minutes of play. Welcome back!
---
Aron Baynes (San Antonio Spurs)
[table id=17 /]
Injury: Neck spasms (source)
Estimated return: No details as yet.
Pre-neck spasms, Baynes played limited minutes against the Washington Wizards, with surprisingly limited effectiveness. Quite unlike the Aron Baynes we've come to know this season.
While I was playing with the trade machine I forgot to tweet about Aron Baynes' floater/runner/javelin toss AKA the greatest shot ever.

— 48 Minutes of Hell (@48MoH) January 4, 2015
He also showed off the rare Baynes floater. What do you think, is the Big Banger floater a shot for the ages?
[gfycat data_id="VerifiableImpureAnglerfish" ]
Off the court: Baynes also participated in a culinary challenge at the San Antonio Food Bank this week, cooking up roasted vegetables and having fun with the students from Estrada Achievement Center.
"If I can be someone that they look up to and they take one good thing away from today then I'm happy." - @houseobayne

A photo posted by San Antonio Spurs (@spurs) on Jan 1, 2015 at 12:54pm PST
---
Cameron Bairstow (Chicago Bulls)
[table id=15 /]
Cam saw brief action this week. He was sent on for mop up minutes in the fourth quarter, being tasked with defending Rudy Gobert. The Bulls failed to prevail against Utah at the United Center, in what was a somewhat unexpected 97-77 loss to the Jazz.
[gfycat data_id="AdmirableFrightenedArmedcrab" ]
Bairstow played well within the Chicago defense, and successfully disrupted a drive attempt for a steal - good instincts!
---
Danté Exum (Utah Jazz)
[table id=18 /]
What a week it's been for Danté!
Stat milestones
New career scoring high twice (13 points, against IND 5 Jan 2015, ATL 2 Jan 2015)

New career steals high (3 steals, against ATL 2 Jan 2015)

Tied previous career high field goals made (5, against IND 5 Jan 2015, ATL 2 Jan 2015)

Tied previous career high three pointers made (3, against IND 5 Jan 2015, ATL 2 Jan 2015)
The historic start
Aside from statistics, Danté also notched his first ever start in the NBA against Indiana, due to fellow guard Trey Burke's absence.
Dante Exum signs a few autographs before his first NBA start. pic.twitter.com/XFNWBbNHah

— Aaron Falk (@tribjazz) January 6, 2015
He formed an all-Aussie starting backcourt with Joe Ingles, and had a career high of 13 points (including back-to-back threes in the second half) in a close loss to the Pacers. According to Angus Crawford of NBA Australia, this is the second time in NBA history that two Aussies started in a game (earlier: Mills/Baynes.)
When asked about his overall performance for the night, Dante had this to say.
It was a big thing. I found a couple of guys a few times, but you know, not getting any assists as starting point guard is not good enough, so it's just something I got to work on, hopefully when I get the chance again, I can step up.
- Danté Exum Postgame interview 1.5.15
Stay humble, stay hungry. It's good that he's focused on the primary role of the point guard. A refreshing and very welcome perspective for any basketball lover, I must say.
Shooting it up
Although, his shooting does need to get better. Danté's only making 38.7% of his shots, and his shot chart reveals the shooting deficiencies. Especially that sea of red from outside.
Dante Exum's short chart as at 8 Jan 2015 for the 2014-2015 NBA season.
That corner shot looks wet though. We all know Danté's working very hard on getting his shot better, and it is just a matter of time before this trend reverses itself. It's also very encouraging to see that he's finishing his attempts in the restricted zone at an elite 68.2%. Shots taken at less than 5ft away look even better - Exum finishes them at 75.7%.
Like this.
[gfycat data_id="WhisperedLeafyBrontosaurus" ]
Danté was shifted back to the bench on their next game against the Chicago Bulls, which Utah won very handily on the road. Danté had a +/- of 25 on this late victory.
While nowhere on the level of the legendary Stockton/Malone duo, you can easily imagine Dante and Gobert growing into the one-two punch of Utah's future.
---
Joe Ingles (Utah Jazz)
[table id=19 /]
Stat milestones
New career rebounding high twice (9 rebounds, against IND 5 Jan 2015)

New career assists high (7 assists, against IND 5 Jan 2015)

New career blocks high (2 blocks, against ATL 2 Jan 2015)
An equally historic start
Lost amongst all the talk about Exum's start, might have been the fact that Ingles also received his first career start this week, contributing 7 points, 4 assists and 3 rebounds to a win over the Timberwolves.
He also did very well as the all-Aussie backcourt against Indiana, toeing the triple double milestone on 8 points, 9 rebounds and 7 assists. Ingles, being the team-first guy that he is, modestly laid the credit to their comeback victory on teamwork.
"The best thing about playing with these guys is the attitude, and obviously we were missing some guys tonight and others had to step in, but we never gave up,'' he said. "That is impressive and now we need to build on that for the next trip."
- Jazz rookie Joe Ingles making the most of his opportunity
Slicing it up
Starts aside, this cut and finish is a precise example of what I want Ingles to be doing all the time, when playing off-ball.
[gfycat data_id="GreenUntidyAfricanpiedkingfisher"]
Obviously, court spacing is an equation in itself, but I don't believe in camping for the open shot when it comes to Ingles. Defenses know his game, and good shots are going to be hard to come by.
Just in case you were wondering how Jingles is shooting this season.
Bonus: Blake Griffin talked about his Summer League teammate Joe Ingles on his recent teleconference with the media.
---
Matthew Dellavedova (Cleveland Cavaliers)
By Alistar Sullivan [table id=20 /]
Stat milestones
New career rebounding high twice (7 rebounds, against CHA 2 Jan 2015)

New season assists high (8 assists, against PHI 5 Jan 2015)
Coming off last week's average shooting performance from the field, Dellevadova has had another tough run this week. Matthew is playing the most amount of minutes per game in his career so far, averaging 35mpg over the last 4 games due to the injuries of Irving and LeBron.
These minutes are great for his experience, but are coming at a dear price. His efficiency on both ends of the floor has significantly decreased. Delly has been selective with his shots, but is still shooting a poor 31% from the field this week. Tuesday night against Philadelphia, Matthew had a forgettable night. He shot 1/7 along with an opportunity gone begging. With 19 seconds were left on the clock, Delly missed a pair of free throws, and then the potential game winner.
His 3 point shot has been a little more consistent. Shooting 39.1% from deep, Delly is spacing the floor well and running off hard screens to get an open shot. He just needs to finish all the hard work and knock down a few more.
With the elevated playing minutes, Delly is gaining invaluable experience and it's showing over the last few games. On the video below, you can see just how much he has developed as a guard player. He is more patient with the ball and is using his body and positioning much more effectively than in the past to protect the ball.
http://youtu.be/B6fcES3RnB0 Delly has improved his assets significantly over the last few games. His assists have been more efficient, and he's slowing his game down to be more composed and look for more openings with cutters and off-ball screens.
---
Patty Mills (San Antonio Spurs)
[table id=21 /]
Patty had an exciting game against the Washington Wizards this week, splashing 6 of 8 shots enroute to a 15 point, 15 minute night. While consistency is still a work in progress, he's proving himself to be as sharp as ever when it comes to moving off the ball.
[gfycat data_id="NeatMisguidedFoxterrier"]
He hit a slump against the Pistons later in the week, hitting only 2 of 10 shots. The open shots clanked, his floaters were really off - it was tough to watch. That being said, it feels like Patty's pace is a little too rushed right now, when coming off the screen and stepping into the shot.
Detroit would go on to win, in what will likely become NBA lore as the "form a f**king wall" game.
If you have no idea what I'm talking about:
Post by The Pick and Roll - Everything NBA.
---
Game schedule for the week featuring Aussies in the NBA
We are switching to an embedded Google Calendar format, which would hopefully make it much easier for all of you to keep track on when our favourite Aussies in the NBA are hitting the court!
Game schedules courtesy of NBA on ESPN.