Discover more from The Pick and Roll
We're all about Aussie hoops. Independent, objective analysis and commentary. Insightful narratives built around Australian basketball. Read about our men and women in the NBA, WNBA, NCAA, Europe, national teams, NBL, WNBL, NBL1, prospects and more.
Over 2,000 subscribers
Young Boomers handle eclectic Tall Blacks squad in Asia Cup qualifier
Because no editor would accept 'Mean Teens in Gold and Green' as a credible headline.
Credit: FIBA
When the Australian Boomers played the New Zealand Tall Blacks on Saturday as part of the 2021 Asia Cup qualifiers, its composition felt more like the result of fantasy booking than your average basketball lineup.
As mandated by COVID-19 restrictions (something we're all getting sick of hearing), the rosters had to be assembled without their most prominent names on call. No NBL talent available, the least of which to be said about international stars, the Boomers skewed young, to the tune of an average age of 19. If you wanted a glimpse at the future of Aussie basketball, headlined by names like Dyson Daniels, David Okwera and Tyrese Proctor, this was your chance.
Mate, it was practically a blue light disco, albeit all of the dancers were lithe, sweaty young men with a basketball in their hands. Awful analogy, but I'm sticking with it.
For the Tall Blacks, the challenge was even greater, tasked with plucking Kiwi ballers from across Australia in what was ostensibly considered a 'home game'. This created a roster that was equal parts strange and nostalgic, led into battle by decorated 38 year old NBL veteran, Mika Vukona. It has to be said, watching the spritely Aussies bouncing off each Vukona screen was a definite plus, as well as his disappointed dad stare every time New Zealand bungled a play.
The game itself played out mostly as the narrative would suggest. The Boomers were keen, bouncy and connected, though somewhat skittish with their decision making at times. They got off to an early lead thanks to superior athleticism and rhythm, alongside the efforts of Reyne Smith (8-18 from the field including 6-14 from deep for 22 points) lobbing bombs with reckless abandon.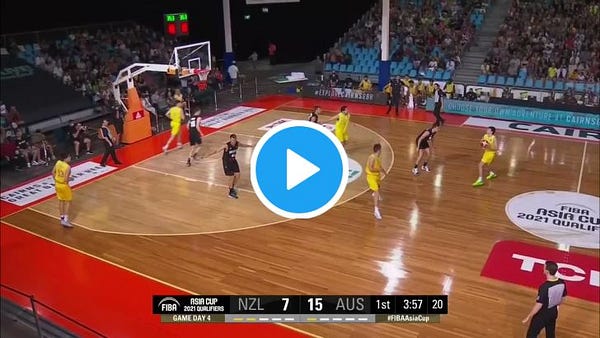 It looked as if a blowout was imminent in the early stages, with New Zealand practically gifting turnovers to their opponents. They were plagued by missed open looks, passes launched haphazardly to the sidelines, and a couple of head-scratching plays that took far too long to develop, with the ball leaving the shooter's hand after the shot clock had expired.
The Tall Blacks had to lean on occasional buckets in the paint, alongside the hot hand of Houston O'Riley (4-5 from the field and a perfect 4-4 from 3, 12 points total), to crawl back into contention. Meanwhile, the Boomers would soon come back to earth, their crisp play calling offset by an inability to seal the deal. Their game plan, on paper, was pristine, highlighted by extra passes to find the open man, who then seemed incapable of finishing in a second quarter lull.
Despite these hiccups, the cavernous divide in cohesion would prove insurmountable for the valiant, disjointed Tall Blacks. By the end, Australia would pull away in a 52-81 win that rarely felt in doubt.
The best two plays for the Boomers would come off of New Zealand turnovers (of which there were 22 in total); an Okwera fast break jam, followed shortly after by a nifty steal in the half court by Daniels that he quickly exchanged into a dunk of his own.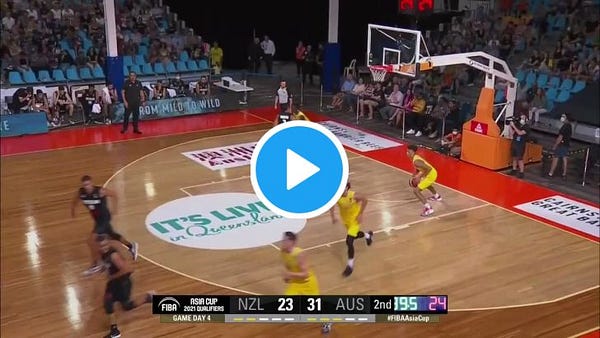 Daniels, in particular, showed off exactly what makes him such an intriguing two-way prospect. He scoring a game-leading 23 points and purloined six steals (one more than every other Boomer combined). As he himself has confessed in the past, his shooting is not there yet, and he missed his mark from range when given the opportunity. However, his form was comfortable and the shots were the right choice to make, especially with the Boomers' ability to create open looks.
He's a thrilling young player with a bright future ahead of him.
In the end, this game proved little more than a fun preview of emerging local talent pitted against a smattering of curious Tall Blacks options. Had the latter team been allowed more of a chance to feel each other out, this bout may have been competitive, but there was a kind of enjoyment to be had out of its chaotic spontaneity.
If you're looking for a major takeaway, it's that the future looks bright for Australian basketball. While that's not exactly a secret, it's satisfying to see them shine so brightly on such a grand stage with a convincing victory and a batch of highlights worth watching back.