Discover more from The Pick and Roll
We're all about Aussie hoops. Independent, objective analysis and commentary. Insightful narratives built around Australian basketball. Read about our men and women in the NBA, WNBA, NCAA, Europe, national teams, NBL, WNBL, NBL1, prospects and more.
Over 2,000 subscribers
WNBL: Whitcomb provides endless highlight reel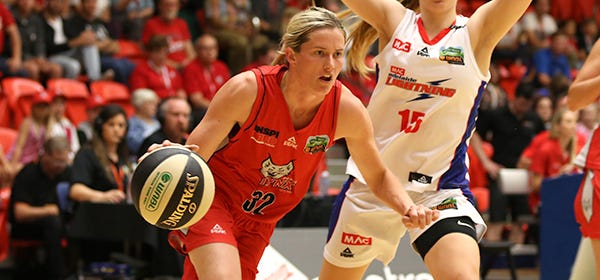 The Bendigo Spirit inch a game in front of both Dandenong and Perth after a stellar weekend that consisted of two road wins, with thanks to stalwart Kelsey Griffin who was blindingly brilliant in both games.
The game of the round happened straight off the bat, as the WNBL's best offence and best defence, the Lynx and Spirit, kicked off Round 7. Sami Whitcomb exploded into the first half, scoring 33 points before the main break, just 7 points behind Bendigo's total score. She finished on 39 points and 6 rebounds, a career high for points for the guard.
However Whitcomb's performance wasn't enough, as the Spirit fought back after half time to take the lead, and eventually the win by 13 points. Kelsey Griffin tore the Lynx apart in the end and was the difference in the game, she finished with 31 points and 8 rebounds. However it was also Griffin's on court support that lead to the win, with Nayo Raincock-Ekunwe contributing 18 points and 6 rebounds, followed by the entire Spirit team getting a few points on the board and making impact.
Whitcomb tried her best to hold this one up for the Lynx, but it wasn't enough. Carley Mijovic was the closest to her with 11 points and 11 rebounds, but the Spirit just dominated on the glass all night to bring this one home.
Bendigo were then able to front up the next night against Adelaide, taking home a predictable 23 point win and got solid minutes into their entire team.
American point guard Blake Dietrick ran the point well, but it was Nadeen Payne who top scored for the Spirit with 13 points, 8 rebounds and 3 steals in a promising display for the tall forward.
Tayla Roberts was Adelaide's best, in promising signs for the Lightning the tall forward had 12 points, 6 rebounds and 4 assists. It wasn't a pretty night for Adelaide though, as they sorely miss injured captain Laura Hodges' leadership and desperately seek a way to get some boards and scoring options.
Griffin again showed her leadership for the Spirit with 10 points, 8 rebounds, 4 assists and 3 steals to cap off a brilliant weekend that saw her awarded Round 7's Player of the Week.
Catch all of Griffin's highlights.
https://www.youtube.com/watch?time_continue=12&v=GxFJXJa_B3U
Canberra were able to beat the reigning premiers in a high intensity, crucial match for the Capitals. Mikaela Ruef dominated, lifted by the support from the rest of her teammates who were all playing in sync. She totalled 14 points, 17 rebounds and 3 steals, while teammates Lauren Mansfield (15 points, 6 assists) and Marianna Tolo (17 points, 4 rebounds) provided standout performances as well.
While Mansfield, Marianna Tolo and Ruef continued their dynamic and cohesive form, it was Kate Gaze who top scored for Canberra, hitting 18 points from all over the court in a healthy game for the shooting guard.
Suzy Batkovic continues to be Townsville's go-to, finishing up with 27 points and 11 rebounds. Mia Murray (13 points, 6 rebounds, 5 assists) and Natasha Cloud (12 points, 5 rebounds, 4 assists) were also solid for the Fire, but the close-margin specialists weren't able to close this game out, despite some solid efforts across the board.
Unfortunately Townsville's woes didn't end there, as the powerhouse had to subsequently front up to their building rivals Sydney, which resulted in a 6-point loss for the Flames.
Asia Taylor handed the win to the Flames, as the star banked 25 points, 11 rebounds and 4 assists in a brilliant display of her athleticism and dynamic ability across a range of positions.
Townsville's only option was again Batkovic, as the veteran finished with 28 points, 8 rebounds and 5 assists. The closest behind her was emerging point guard Natasha Cloud, who is well and truly holding her own in the absence of Kelly Wilson. Cloud finished with 15 points, 5 rebounds and 7 assists.
But it was all the Flames, who were able to maintain their noses in front all night to bring it home in yet again another close one with the Fire. Behind the leading performance of Taylor was young gun Alex Wilson, who finished up with 15 points and 4 rebounds and the dynamic Leilani Mitchell who had 8 points, 5 rebounds and 8 assists.
The crosstown rivalry of the Dandenong Rangers and Melbourne Boomers was in full swing on Sunday, and the Rangers were ignited from the get go, sending shockwaves through the Boomers.
It was all Steph Cumming, Sara Bicavs and Aimie Clydesdale in the first half taking the Rangers into a 26-point lead into the main break. However the Boomers showed some class in the last half, with Rebecca Cole providing sparks and momentum building plays for the Boomers, and Brittany Smart knocking down some well needed deep shots.
Despite bringing back the margin to under 10, the Boomers eventually fell short by 9 points. Cumming finished the game with 22 points, followed by Blicavs on 14 and Clydesdale on 12. Credit however to both talls in Jacinta Kennedy and Ally Mallott who provided some great options inside the paint.
For the Boomers, it was Smart with 16 points, Cole with 12 points and a massive 9 assists, and Chante Black with 12 points and 12 rebounds.
It was a tough game for the Boomers, who had nothing going right for them in the opening two terms. Hopefully their week off this week will allow them to refresh enough to finally get that win.
Check out all the Round 7 highlights.
https://www.youtube.com/watch?v=F9Q04kGbVSg
---
Round 8 Previews
Townsville Fire vs Perth Lynx
The reigning grand finalists will meet in Round 8, both searching for a win after some tough losses. Townsville have the upper hand at home, and have shown their dominance coming off tough losses.
Key Match-Ups:
Natasha Cloud vs Sami Whitcomb
Sydney Uni Flames vs Bendigo Spirit
Predicting another close one, similar to when these two met in Round 3 and it was the Flames by 5. Bendigo however are playing on another level at the moment and should be able to edge out a victory.
Key Match-Ups:
Asia Taylor vs Kelsey Griffin
Dandenong Rangers vs Adelaide Lightning
Sitting 2nd on the ladder, the Rangers should have this game locked up at home against Adelaide, who are yet to bring home a win this season.
Key Match-Ups:
Sara Blicavs vs Jessica Good
Canberra Capitals vs Perth Lynx
These two teams have shown they have the talent to take it all the way, and their match up does provide an interesting one. Canberra have more presence inside, whilst the Lynx have shooters from everywhere.
Key Match-Ups:
Mikaela Reuf vs Carley Mijovic
Bendigo Spirit vs Adelaide Lightning
A tough weekend for the Lightning sees them first coming up against number 2, then number 1 both on the road. Can't see the Lightning coming close to the Spirit at their home after they beat Adelaide at their home court by 23 points.
Key Match-Ups:
Nayo Raincock-Ekunwe vs Colleen Planeta