Discover more from The Pick and Roll
We're all about Aussie hoops. Independent, objective analysis and commentary. Insightful narratives built around Australian basketball. Read about our men and women in the NBA, WNBA, NCAA, Europe, national teams, NBL, WNBL, NBL1, prospects and more.
Over 2,000 subscribers
WNBL: SEQ signing bonanza; Lightning on brink of elimination
A week in the WNBL is certainly something not to be missed, especially during this time of the year. Our newest franchise South East Queensland have done their homework and splashed out on some quality signings. The University of Canberra made a statement after losing Bishop, while Sydney Uni continue to add to their core. Despite all the positive news, there must be some negatives reported, with the Adelaide Lightning facing starvation which will most likely see them not participating in season 2015/16.
---
Adelaide Lightning on brink of elimination
The once heavily touted franchise has just hours left to somehow secure $150,000 it needs to be able to play in the WNBL next season.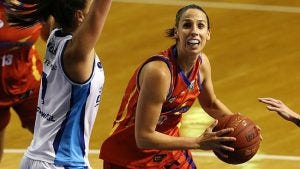 A five-time WNBL championship winning club lost its past owner Vince Marino in January this year, only half way through last season. His announcement created much discussion as to how the Lightning would survive this period and continue to contend in the women's national league.
With the club hanging on by broken string, it is relying on Basketball SA to pick up the tab, however there has been no intention thus far that Basketball SA will do so.
Boti Nagy reported that opposition Sport, Recreation and Racing spokesman Tim Whetstone said that "women's sport always gets the short end of the stick," while the current Minister in that role Leon Bignell explained that the "Government was looking after grassroots and facilities, while corporates got behind top-tier sporting clubs."
It will be a sad day for South Australian basketball Friday, when it is announced that the Adelaide Lightning will not be returning to the WNBL for next season.
With 11 Olympians having played for the prestigious club formed in 1993, South Australia will have lost a legacy that they will hope to bring back as soon as possible.
---
SEQ Basketball sign four new players, with two more on their way
Shane Heal announced via Twitter that his SEQ Basketball club would sign six new players within the next week. Four stars, including two American imports have been announced, which adds to the depth of their inaugural squad.
Starting off with their newest local signings, Bree Farley has committed to the cause after playing her first professional season in Portugal with GDESSA Barreiro. Previously, Farley spent four years at Fresno State University after attending the AIS.
Steph Bairstow attended Utah State for two years before coming back home to Australia to play in the SEABL for Bendigo Braves. Bairstow previously played for the AIS in the WNBL prior to heading to college and will flourish in her new role at SEQ.
Sticking along the line of recognisable names (Bairstow - brother of Chicago Bulls Aussie Cameron Bairstow), SEQ's first of two imports is Ify Ibekwe; the sister of recent NBL Champion, New Zealand Breakers' Ekene Ibekwe.
Ibekwe was named Most Valuable Player in her championship winning team with Uni Girona CB in the Spanish league. She led the league in rebounds at 10rpg and was third in overall scoring at 16ppg. Ibekwe will become a force to be reckoned with throughout the WNBL season and will flourish in Australia, much like her brother.
Finally, DeNesha Stallworth has been announced as SEQ's second import, having recently graduated out of the University of Kentucky. Stallworth also played in the Spanish league last season with Universitario de Ferrol in her first professional gig.
Both imports are associated to WNBA clubs (Stallworth - Connecticut; Ibekwe - Atlanta Dream).
---
Sydney Uni/Uni of Canberra make their own splash
Within the midst of a plethora of SEQ signings, further south the Sydney Uni Flames and University of Canberra Capitals have made the most of their networking material.
The Flames have announced the signing of Alex Wilson and the re-signing of Hayley Moffatt.
Wilson, who was named Rookie of the Year in 2014, makes the trip down from Townsville, where she tasted success in last season's championship winning squad.
Her addition to the Flames will provide a big spark off the bench, with her hustle and determination to find possession of the basketball an invaluable asset.
Moffatt's re-signing shores up the defensive end of the floor even further. Last season's defensive player of the year for the club, she is excited to add to her already strong capabilities on the floor.
Head coach Shannon Seebohm was thrilled to have re-signed one of their most important pieces, "She brings valuable experience and a great work ethic which we hope will influence our younger players. We will be looking for her to have another big season again in 15/16."
Despite the Capitals being without Abby Bishop after her announcement last week, the club had gone out and sourced another veteran star, with that star also happening to have a child on their hands!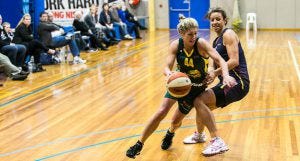 Kath MacLeod has made the move north from the Dandenong Rangers to join a star studded backcourt, where she will team up with Jess Bibby and now Opal Steph Talbot.
The move was in the best interests for not only herself, but also her family, with the contract also including child care facilities.
"They're so kid friendly. Jaxon (MacLeod's son) is obviously our main priority so knowing it was going to be easy with him was a massive bonus," - MacLeod told John Tuxworth upon signing.
A former championship captain, MacLeod sat out of the 2013/14 WNBL season before playing 17 of the 23 games last season for the Rangers.
Rangers CEO David Graham wished MacLeod all the best, despite his best efforts to keep the star point guard. "Kath has been an extraordinary player and captain and we were keen to keep her. I can't speak for her. She felt there was a better opportunity there at Canberra. We sincerely wish Kath all the best. It is a big move for her.''