WNBL: No imports, no worries?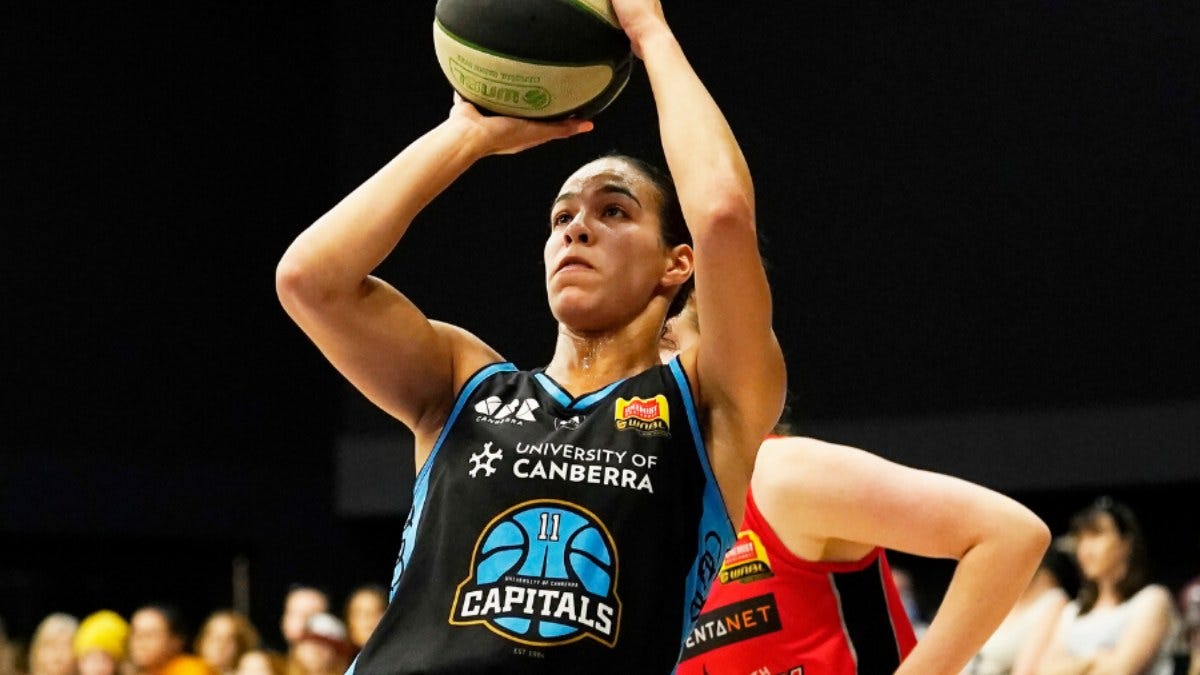 Credit: Jacob Crook / JCB Studios
---
The WNBL has seen scores of high-level imports bring their talents to the league, but 2019/20 was undoubtedly one of the finest crops in recent times.
Canadian star Kia Nurse became the first import to be named league MVP, whilst names such as Olivia Epoupa, Lindsay Allen, Sophie Cunningham, Brianna Turner, and Mercedes Russell were among the international stars who left significant marks on the league last season.
However, the news that the upcoming season could potentially run without imports due to the COVID-19 pandemic may change the entire make-up of the league. Whilst it was already known that Nurse would not return to the nation's capital, clubs would no doubt have been banking on the possibility that they could bring back their international stars. Now, not only can they not re-sign those players, they will be forced to fill the gap with Australian players. Whilst the Australian talent pool is stacked with elite-level talent, it is not the deepest, and teams will need to do their due diligence and play their cards right if they are to put together a winning roster.
Melbourne's Guy Molloy is one coach whose team will be impacted by the recent announcement. The Boomers' two imports, Allen and Cunningham, combined for 561 points last season, averaging 14.8 and 11.5 points per game respectively. Allen also added 4.8 assists per game, leading the team.
"I love those girls; it is a great shame to not have them for another season as part of the Boomers," Molloy said in a statement.
"We have been working hard in recent years to have strong stability and development within our group. Our domestic core of players will always be stable and strong. The next step will be finding players who can enhance this strength and stability.
"Our fans have genuine superstars in Ezi Magbegor, Cayla George, Maddie Garrick, Kalani Purcell and others. They will be the backbone of the team and we will try and find some new teammates that fit in and augment those players, both culturally and with our style of play.
"We have a list with quite a few names on it."
Molloy is unlikely to be the only coach whose name has quite a few names on it, but it will be tough to replace the international stars that the league has been able to lure to these shores. Finding upwards of 10 additional local players to fill these spots across the league won't be easy, but it will create opportunities for Australian players who may otherwise not have many chances to showcase their talents at the highest level in their home country.
But where will those players come from?
There are a number of pathways a team could take in filling out these spots usually taken up by imports. Perhaps the biggest question surrounds the status of overseas leagues in which Australians currently play.
Among others, players such as Bec Allen, Sami Whitcomb, Alanna Smith, and Liz Cambage have played in either Europe or Asia in the most recent season. Smith has already announced that she will make her WNBL debut in the upcoming season for an as yet unnamed club. For the remaining Aussies based overseas, the circumstances under which those leagues recommence may impact not only those players, but any other Australians who may have considered playing overseas in the upcoming season. Should the majority of those players return to the WNBL, it would provide a significant boost to the league's playing stocks in the wake of the loss of high-calibre imports.
However, those players won't be able to take every spot that needs to be filled. This opens up opportunities for players in a range of different stages in their careers. On the face of it, some clubs have development players that could slot straight into the last couple of spots on the roster that have now opened up. Even accounting for those planning on heading to college later this year, all clubs with the exception of Bendigo still have at least two development players from 2019/20 that could move up into the main roster. However, the majority are vastly inexperienced players. Would coaches be prepared to take a flyer on accelerating their development curve? It would certainly a be a high-risk option, but it could pay off, particularly if it keeps a young star at the club rather than going to college as they develop into a player who can contribute on a regular basis.
These young players need not be official development players though. Training partners, academy players, or other young stars earmarked as future WNBL players may also be in the mix, particularly if clubs wish to lock these players down. Besides, even if some of them do choose the college route in future seasons, there is a lot of goodwill that can be generated from providing a player with an opportunity. It could be enough to be able to secure any such player upon their return from the US.
If coaches don't feel that those development players are quite ready though, there are other places to find players who can contribute. Several Australian junior representatives are re-entering the local system after four years at college, and all will be vying for a WNBL roster spot. Players such as Alex Sharp and Courtney Woods might be expected to land on a roster, but they will be far from the only ones who believe they can make it onto a team. Perhaps some of these players may have only picked up development spots if imports were available, but if they can force their way in, they will then have an entire season to show they belong and cement their spot in the league.
2020 NCAA Women's All-Australian Awards 🎖️ ➡️
bit.ly/3bo4jhB
by
@lachyheel
#AussieHoops
#NCAAW
However, this isn't just an opportunity for young players trying to force their way in for the first time. Whilst there has been little or no play this season in the state-based winter leagues, including NBL1, these leagues are swarming with players with significant WNBL experience. Many of them will be hoping that that experience can help secure them a spot, and in these uncertain times it may well shake out that clubs look to bring in players who are known quantities.
Whilst teams will be hoping to replace their imports with Australian players of equal standard, the fact is that there simply aren't enough to go around for all eight clubs to do that, even if overseas-based Opals stars return home to play. However, this may not be the worst thing for the league. In the long run, we may yet see that the opportunities afforded to developing players assists in growing the strength and depth of the domestic talent pool, with an import-free WNBL still among the best leagues in the world.
There is no doubt that the level of imports that have played in the WNBL have helped elevate the standard of competition whilst also garnering an increasing international audience, and in no way is this an advocation that they be eliminated from the league in the long-term. But if the WNBL is forced to run exclusively with local players for 2020/21, the opportunities that this provides for domestic players may mean that it is not the doomsday scenario that it may appear to be at first glance. It only takes a few players turning this unexpected opportunity into breakout seasons to significantly increase the competition for roster spots in future years, and that can only be a good thing for the league.