Discover more from The Pick and Roll
We're all about Aussie hoops. Independent, objective analysis and commentary. Insightful narratives built around Australian basketball. Read about our men and women in the NBA, WNBA, NCAA, Europe, national teams, NBL, WNBL, NBL1, prospects and more.
Over 2,000 subscribers
WNBL: Fit and firing, Penaluna's focused on WNBL as major step in grand plan
609 days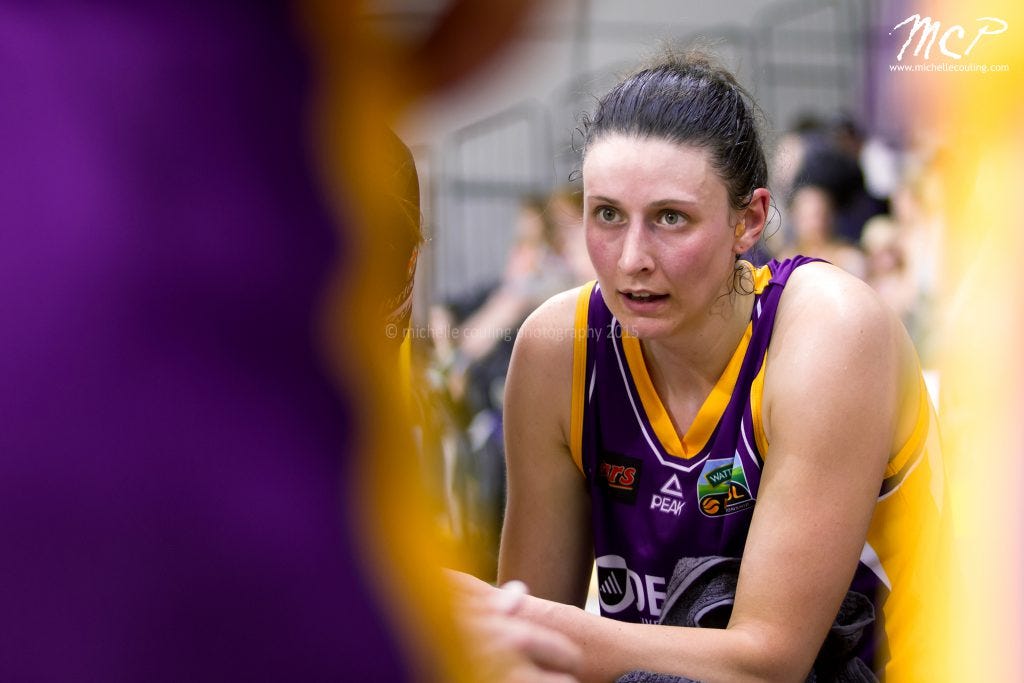 Photo Credit: Michelle Couling Photography
Elyse Penaluna hit the hardwood for the Melbourne Boomers Saturday night for the first time in a competitive WNBL fixture since February 8 2014, marking 609 days between drinks.
Penaluna has had a scarring recent past with knee troubles, dating back to 2011, which saw her on the sidelines for an 18-month period leading into the 2012/13 season. A second knee reconstruction in February 2014 put her career somewhat on the shelf.
The latter stint on the sidelines saw her miss the entire 2014/15 WNBL season with the Bendigo Spirit.
For Penaluna, a new lease on life had arrived when she agreed to return to the Melbourne Boomers (the club which was Bulleen when she last played there), a team whom she won the club's only championship with back in 2011.
Photo Credit: Michelle Couling Photography
While Penaluna has hit the floor previously this year under the combination of Jonathan Goodman, Bernie Harrower and Brendan Joyce thanks to SEABL (Bendigo) and Opals commitments, it hadn't been until she'd joined the Boomers for pre-season in which she felt back at her best.
"I've never been more excited about a season, that's being totally honest." – Penaluna explained glowingly.
Her output last Saturday night showed no different either, dropping a game high 26 points and pulling down nine rebounds as the Boomers cruised to a 94-72 victory on opening night.
Photo Credit: Michelle Couling Photography
Penaluna's goal for season 2015/16 however, is to average a double double; so it's only fair to criticise a professional player for being one rebound shy of the goal!
"I want to average a double double, but also to help the group out defensively, a big focus of mine is to change shots."
Boomers head coach Guy Molloy continues to leap praise on his star centre; not only understanding her role to the team, but also knowing her tedious journey back into the fray.
"It's just terrific to have a legitimate interior presence. What a talent and she'll get better for sure, she just gets her game together and finds a rhythm." - Guy Molloy
Understanding her role inside Molloy's system is crucial to not only her success this season, but also the teams. Melbourne has built itself around a family atmosphere and mentality this season, however the slogan #WeAreFamily is more evident than ever inside the locker room.
The players have encompassed the motto even more so than the fans thus far, although that's sure to be surpassed in the weeks to come.
"Everyone has your back…everyone is just so warm and inviting. I haven't been at this club for almost three years now and it feels like I never left." – Penaluna described upon returning to the club.
Penaluna joins Alice Kunek as the duo to make inroads back to Melbourne, and the pair not only have their sights set on a making an impression this WNBL season, they're putting their best foot forward for Rio 2016.
Astounding talent currently surrounds the Opals; therefore if all members remain healthy, competition for a scarce amount of spots at the Olympics become far more reliant on form for Brendon Joyce and his selection panel.
Penaluna featured for the Opals earlier this year in a three game series on home soil against Japan, before being left out from the Oceania Championships against New Zealand.
But that won't shy away from the fact that the Boomers centre has her sights set on using a strong Melbourne season to turn into donning the green and gold Opals jersey in Brazil next August.
Track back ten months from Rio and Elyse Penaluna's goals are simple. Stay healthy, stay on the court and let her basketball with the Boomers do the talking.