Discover more from The Pick and Roll
We're all about Aussie hoops. Independent, objective analysis and commentary. Insightful narratives built around Australian basketball. Read about our men and women in the NBA, WNBA, NCAA, Europe, national teams, NBL, WNBL, NBL1, prospects and more.
Over 2,000 subscribers
WNBL: Bendigo secure new GM, Boomers/Lynx membership drives start early
Photo taken from Bendigo Weekly
Photo: Andrew Perryman. The Bendigo Spirit have announced Adam Tarr as their new General Manager. The former General Manager of the Mildura Basketball Association and Echuca Basketball Stadium, Tarr also occupies the current U/18 Vic Country men's head coaching position. Tarr has been given the reigns of attempting to reignite a club that has endured a shaky off-season. Fans venting frustration over social media and a coach who had his contract terminated which was followed up by another social media outrage. However, the new GM is committed to the cause, knowing that nothing can turn around in a day.
"I think you have got to be committed to something like this, it is a huge job and a huge challenge and is a great responsibility to not only the club and all its stakeholders but the Bendigo basketball community and community in general,"
Tarr's focus will be on reaching out to those outside of the Bendigo area, hoping to engage new members, sponsors and schools.
"You really do, as a community, want to hang your hat on a team that performs at a national level. We are talking about a team that has four Australian representatives, playing at a world class level, which is something the city should be immensely proud of," "I think that Bendigo should have a reaching impact into communities outside of town, and exposing those people to high level basketball," "That will be a challenge down the track to get that out there and expand our brand. We need to make sure that this exciting time for the Spirit is reaching out further than Bendigo."
---
Melbourne's local team certainly haven't sat on their laurels this off-season either, with the Boomers arguably the most influential throughout media channels. With multiple new signings, including the return of both Elyse Penaluna and Alice Kunek, Melbourne have managed to stay in the headlines and they aren't planning on stopping there. The Boomers have released their season memberships with their May Membership Blitz. Members who sign up during the month of May will receive a 25% discount on normal prices.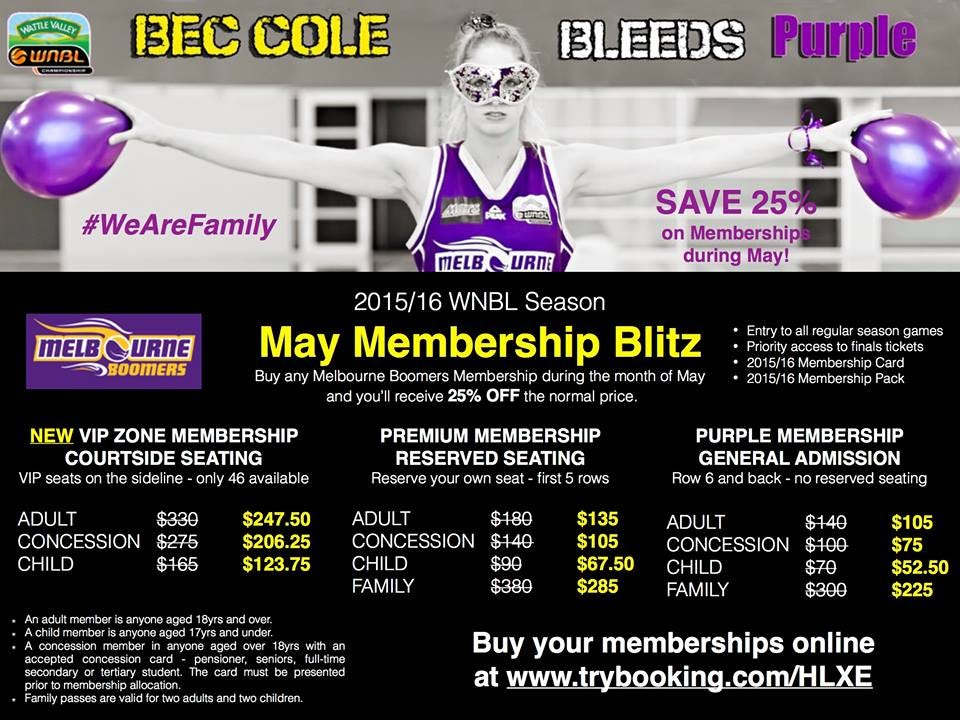 Melbourne General Manager Justin Nelson has emphasised the connection between the Boomers and Victorian juniors this season. "The number one priority at the Melbourne Boomers is to connect with the grassroots, we want all of the players and their families across Melbourne's basketball associations to come and see these amazing elite-level female athletes playing," "We pride ourselves on delivering a great family culture. Being a member is about inclusion, support and belonging," "We have some of the best young players in Australian basketball and they take their status as being role models very seriously. That's what endears them most to our members."
---

The Perth Lynx also haven't wasted any time since their rebrand, having already released membership packages which includes their five membership categories. The Lynx, who are now aligned with Western Australia's NBL side, the Perth Wildcats are expected to see a huge increase in support this season. Wildcats owner and chairman Dr Jack Bendat believes that there is much to like about the new look Lynx. "We see enormous potential in this brand and expect significant growth in membership, corporate support and crowds at Perth Lynx home games. Basketball Australia are still working with WNBL clubs in terms of finding and securing broadcasting agreements, which are hope to be resolved in the near future.