Discover more from The Pick and Roll
We're all about Aussie hoops. Independent, objective analysis and commentary. Insightful narratives built around Australian basketball. Read about our men and women in the NBA, WNBA, NCAA, Europe, national teams, NBL, WNBL, NBL1, prospects and more.
Over 2,000 subscribers
WNBL: Analysing the All Star Five
The WNBL All-Star Five has been announced, with some seasoned WNBL players as inclusions and a few new surprises to the league as well.
Capping off some stellar basketball displayed from the 2015/16 season, the All Star Five recognises amazing talent from across the league. We took a look at each of the players phenomenal seasons and why they were included in the award, including MVP Suzy Batkovic.
Credit: WNBL
WNBL All Star Five
G | Leilani MITCHELL | Adelaide Lightning G | Sami WHITCOMB | Perth Lynx F | Katie-Rae EBZERY | Sydney Uni Flames F | Kelsey GRIFFEN | Bendigo Spirit C | Suzy BATKOVIC | Townsville Fire
---
Leilani Mitchell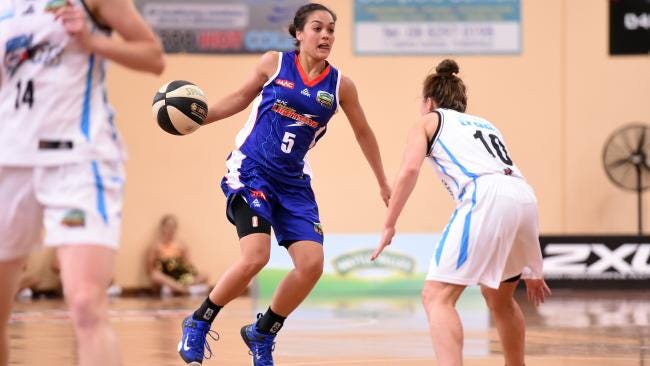 Earning the position as the point guard, Leilani Mitchell was a major highlight to the Adelaide Lightning's season.
Mitchell's first season at the club saw her average 17.4 points per game, and 5.2 assists per game. Her highlight was Round 17, where she earned the Player of the Week after displaying some phenomenal form in a back-to-back weekend. Scoring 17 points, 8 assists and 3 steals against the Melbourne Boomers on the Saturday night, Mitchell wasn't tired the following day. She racked up 35 points on 14-19 shooting against the Bendigo Spirit away from home.
Mitchell is versatile and an extremely smart player, which has seen her go from strength to strength throughout the season.
The Opals squad member was the pillar of strength for the Lightning this season, as they faced a rough start to the season and a long road ahead. However they made a respectable case out of their 2015/16 season with persistence and not-giving-up attitude. There's no denying Mitchell's involvement in this, as an experienced point guard with a somewhat calm approach, she guided her team to fight through till the end.
The pocket-sized guard will look ahead to Rio now, as she has made a worthy campaign for herself to be selected in the Australian Opals Rio Olympics team alongside point guard Erin Phillips. Her poise and class as a playmaker will be important to the side in pivotal moments, and we can't wait to see her wearing the green and gold again.
---
Sami Whitcomb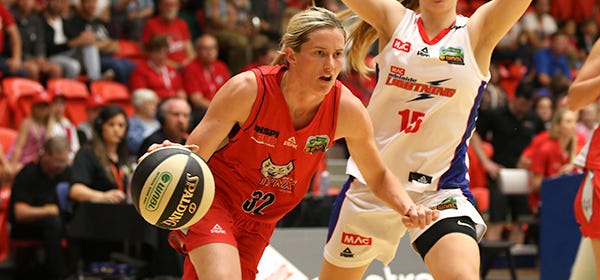 Sami Whitcomb has been the barometer for the Perth Lynx all season with her ability to make impact in big moments and provide huge momentum swings for her team.
Whitcomb burst onto the WNBL scene and shocked the league with her amazing shooting.
From way the 3 point arch and sometimes way beyond, Whitcomb managed to shoot 95 3-pointers throughout the season, 19 more than any other players. She also averaged 19.5 points throughout the entire season. Whitcomb provided headaches for defenders, who would get a hand in her face but she still managed to slot the 3 all season.
Undeniably a major factor in the Perth Lynx's successful campaign this season, Whitcomb displayed versatility as a defender. Her hassling style of defending, mixed with quick hands and hustle would see her rack up steals and put worry into opponents minds.
The American import was noticed by the Lynx for her impressive tenure with the Rockingham Flames in the WSBL in Western Australia in 2013 and 2014. She has managed to make a huge impact in her first season of the WNBL, and well and truly earning her position in the All Star Five.
Whitcomb has been an exciting talent to watch all season, and there's no doubt she will continue to be as the Lynx front up to Game 2 of the Grand Final series. Her damaging shooting and explosive pressure will be crucial to Perth's chances in taking the game away from the Townsville Fire.
---
Katie-Rae Ebzery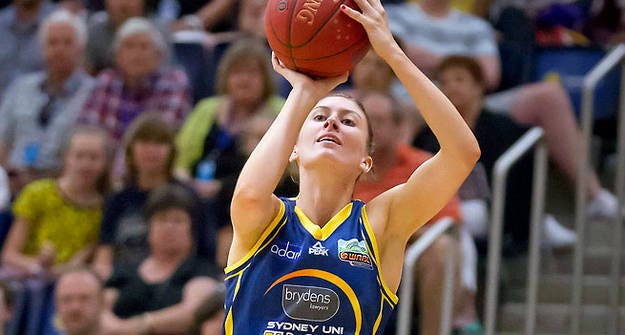 The extremely versatile and dynamic Katie-Rae Ebzery has capped off a stellar season with a selection in the All Star Five.
Ebzery's fierce attacking style of play is her strength, as her speed guides her to get through defenders and straight to the rim. Averaging 17.7 points for the season and 4 assists per game, Ebzery has been an influential player for the Sydney Flames.
Not only is her attack on the ball an offensive strength, she displays the same attack when defending as she hassles opponents who struggle to get past her.
The veteran WNBL player made it past 220 WNBL games for her career this season and doesn't look to be in any shape of slowing down as she manages to make more impact each season.
Her agility, speed and attack has always been Ebzery's style of play, but she seemed to step it up a notch in the 2015/16 season, making a statement as she earned a spot in the Opals squad.
Ebzery would be a solid addition to the Opals Rio campaign, and the dynamic force has proven her ability on the international stage. Hopefully she can maintain her phenomenal form and earn herself a spot in the final team for the Rio Olympics.
---
Kelsey Griffin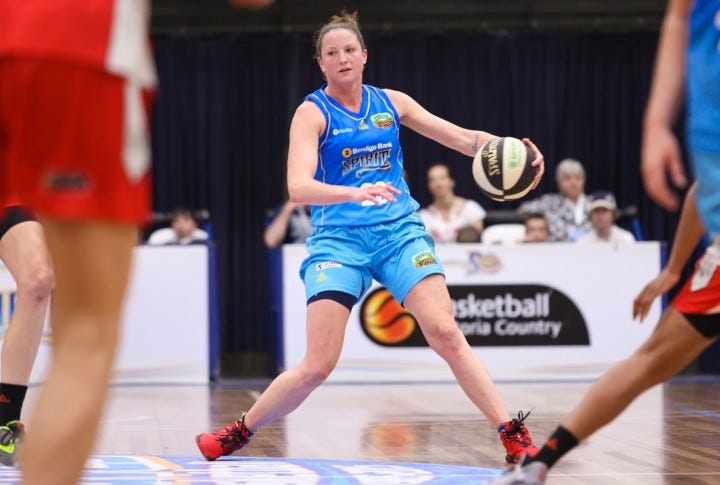 Born in Alaska, Kelsey Griffin has become one of the most highly regarded WNBL players from just four seasons with the Bendigo Spirit. Even with a hamstring injury late in the season forcing her to sit out, the All Star Five selection proves just how much respect the impressive power forward has from the other clubs.
Griffin averaged 17.9 points per game this season, and 10 rebounds a game - a double-double average which proves just how dominant her style of play is.
Griffin manages to rack up points in games by powering through the key to the rim and sharp shooting from the outside. Her dynamic ability and athleticism makes her a nightmare for other teams when she crashes the boards, as her rebound count continued to grow.
Becoming an Australian Citizen this year means Griffin finally joined the Australian Opals squad for the first time. However the team will only be allowed to have one naturalised player at the Olympics (Leilani Mitchell is the other), making the road to Rio even tougher for Griffin.
We're certain though that this won't stop the dynamic forward from making a statement at the Opals camp. Griffin will be up to the challenge, and will pull through impressively from adversity. Her strength, leadership and attack would be a great inclusion to the Opals on the big stage.
---
Suzy Batkovic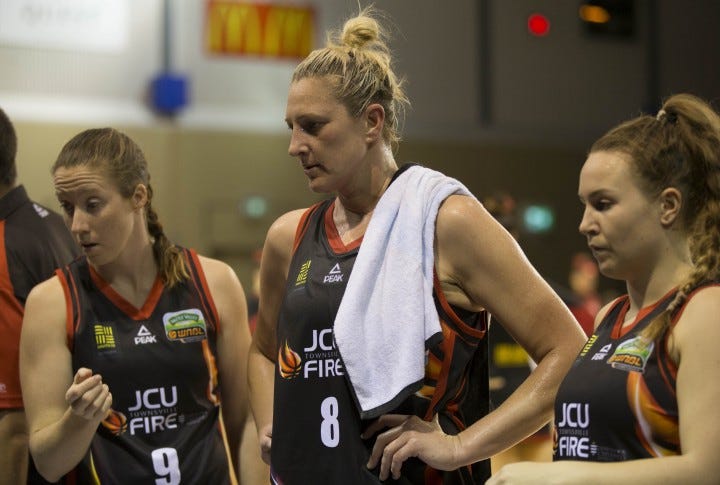 Suzy Batkovic has been in some of the finest form of her career, making her a phenomenal force for the Townsville Fire this season. Along with her All Star Five selection, Batkovic has also been rightfully named the WNBL's Most Valuable Player.
The centre has managed the season's highest 20.8 average points per game, 8.4 rebounds and 1.3 blocks. Her presence inside is feared among opposition as her versatility allows her take on any defender in her way.
Batkovic is also a great leader both on and off the court. Inspiring her teammates and helping to build on a great culture is what has made the experienced veteran one of the most respected players in Australia. Her determination and fight to win is uplifting for her teammates, and will continue to be one of her greatest strengths as a player.
At age 35, Batkovic seems to be in some of the most powerful for of her career. No doubt the illustrious player will be displaying the same form in Rio later this year, which would make it her 4th Olympic appearance.
Putting fear into the other side and being ruthless in her attack and defense on the court, Batkovic has and will continue to be one of Australia's most valued basketball players.
---
The five players are a great representation of the amazing talent displayed this season. The other award winners named to date are outlined below:
Betty Watson Rookie of the Year
Alex CIABATTONI | Adelaide Lightning
Coach of the Year
Andy STEWART | Perth Lynx
Robyn Maher Defensive Player of the Year
Steph CUMMING | Dandenong Rangers
Most Valuable Player
Suzy BATKOVIC | Townsville Fire