Discover more from The Pick and Roll
We're all about Aussie hoops. Independent, objective analysis and commentary. Insightful narratives built around Australian basketball. Read about our men and women in the NBA, WNBA, NCAA, Europe, national teams, NBL, WNBL, NBL1, prospects and more.
Over 2,000 subscribers
WNBL 2014/15: Round 11 Review
The first round back after the Christmas break is now over where there's been a slight shift in the standings. After two wins which included one against playoff contenders Sydney Uni, Dandenong's long quest back into the top-4 is over where they wish to stay for the rest of the season after a tough start. Sydney Uni make room for them however, falling outside to number 5 where they have a game in hand over both Melbourne and the Rangers.
Get ready for a thrilling end to the season.
---
Townsville record 48-point win over dismal Canberra
Townsville didn't let the Christmas break clunk their form as they recorded a large 48-point victory, shutting down MVP-candidate Abby Bishop to just six points from her time on the floor.
The Fire held the Capitals to just 29.5% shooting for the game, as they were never able to catch up after falling down by 13 points and quarter time. Suzy Batkovic and Cayla Francis for 44 points in under 40 minutes combined, as Canberra were unable to stop the Fire with whatever they tried.
Townsville dominated the Capitals in almost every major statistical category. They made 54.3% of their shots to Canberra's 29.5%, they recorded 15 more assists, stole the ball 10 times to Canberra's 3 and had 11 less turnovers than the Capitals.
Canberra were absolutely pitiful for the game. They hit as many free throws as they did field goals for the entire battle, while no player made more than 50% of their shots. Canberra's star Abby Bishop only made 1/6 from the field, with only 1 of these shots coming from inside the paint. Francis and Batkovic did a phenomenal job at keeping Bishop out of the key, contributing to a large margin of victory.
Townsville Fire 106 (Batkovic 23, Francis 21, Cocks 15)
University of Canberra Capitals 58 (Talbot 17, Bibby 7)
---
Griffin's 27 gets Bendigo by West Coast
In the ABC TV game of the week, West Coast put up a valiant effort against the star-studded Bendigo Spirit outfit but were unable to get the victory going down by 13 points. This is the 7th loss in the row for the Waves after a promising 4-3 start, while the Spirit continue to extend the margin between them, Townsville and the rest of the competition.
Bendigo finished on top thanks largely to a terrific performance by import Kelsey Griffin. The talented American finished with 27 points, 9 rebounds and 3 steals on 12/18 shooting (0/4 from three) in a game where she could not be stopped by the West Coast front-line. Belinda Snell also handily chipped in with 17 points, 6 rebounds and 5 assists in another top-class performance by the veteran.
Import Cassie Harberts had her best statistical weekend for the Waves, which started with a 12-point, 11-rebound game here against the reigning champs while Toni Edmondson put 10 points on the scoreboard for West Coast who are now in drastic need of a win.
The first quarter let the Waves down as they were outscored by Bendigo 20-8. West Coast's first quarter contained a 4/20 shooting performance compared to Bendigo's 20 points on 9/17 shooting. The rest of the game was played on an even slate, where Bendigo only outscored the Waves by 1 point for the final three quarters.
Bendigo Spirit 83 (Griffin 27, Snell 17, Blicavs 15)
West Coast Waves 70 (Harberts 11, Edmondson 10, Antonio 8)
---
Rangers flex their muscles with 15-point Flames victory
Dandenong have pulled away from the Sydney Uni Flames early in a critical game that sees them enter the top-4 and pushes Sydney back out. Dandenong entered the half 50-34 ahead in the game, then pulled out 15-point victors through an effort in which four rangers all scored 15 points or more.
Katie-Rae Ebzery top-scored for the Flames with 23 points on 9/19 shooting. Sydney's front-court duo of Paris Johnson and Mikaela Ruef also combined for 27 points and 14 rebounds in a valiant effort by the two Sydney imports. Former Dandenong guard Leilani Mitchell did a little bit of everything on the stat sheet finishing with 8 points, 9 assists and 5 rebounds.
For the victors, it was Penny Taylor who scored 21 points, had 7 rebounds and dished out 4 assists who was the best for the Rangers. Alice Kunek also had 21 points and 8 rebounds, with 3 offensive rebounds, while Kathleen McLeod and Annalise Pickrel had 20 and 16 points respectively.
Dandenong's 32-point opening term and 11 offensive rebounds were two underlying keys to their victory. The 32-point first quarter performance provided them with comfortable breathing space while they multiple offensive rebounds credited the Rangers with easy second-chance points. Sydney will be left disappointed with their performance from three, only hitting 2 of their 12 attempts.
Sydney Uni Flames 78 (Ebzery 23, Ruef 15, Johnson 12)
Dandenong Rangers 93 (Taylor 21, Kunek 21, McLeod 20, Pickrel 16)
---
Losing streak over after Lightning defeat Waves by 17 points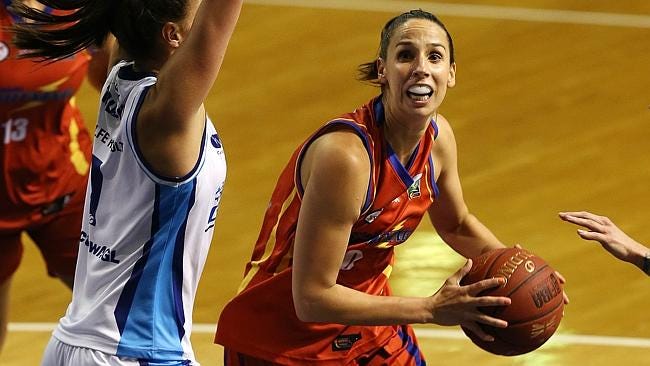 The city of Adelaide can finally breathe again as their beloved Adelaide Lightning finally emerged victorious against another struggling team, the West Coast Waves. Adelaide produced a terrific defensive into keeping the Waves out of the paint, forcing West Coast to take 27 of 70 shots from beyond the arc, in which they only made 6.
Laura Hodges top-scored for the Lightning, with 18 points and 7 rebounds. Angela Marino had one of her better games for the season by scoring 17 points and dishing 6 assists, while Carley Mijovic was good with ball in hand, scoring 17 points, rebounding the ball 7 times while also producing 4 assists.
Cassie Harberts recorded her second double-double of the weekend, with 11 points and 10 rebounds. Sarah Graham scored 17 points for the losers, while marquee players Deanna Smith and Lindsey Moore both had 10 points a piece on difficult shooting performances (6/23 combined).
West Coast were mauled by Adelaide in the fight for rebounds, winning the battle 50-31. The Waves seriously struggled on the second leg of a back-to-back playing the previous day, also losing the battle for assists by 10. Adelaide held West Coast to just 28.6% field goal and 22.2% three-point shooting.
Adelaide Lightning 78 (Hodges 18, Marino 17, Mijovic 14)
West Coast Waves 61 (Graham 17, Harberts 11, Smith 10, Moore 10)
---
Lauren Jackson not enough for Canberra as Dandenong win by 5
In her return to the Canberra faithful, the presence of Lauren Jackson couldn't get it done for the Capitals, who lost to the Rangers by a slender 8 points in a highly competitive match-up. Jackson had 10 points and 8 rebounds in her return, a highly exciting match headlined between her fellow legendary Opal Penny Taylor.
Abby Bishop put behind a difficult game against the Fire, and was back to filling up the scoresheet against the Rangers, lighting up the Rangers to the tune of 34 points and 11 rebounds while shooting 65% from the floor. Steph Talbot had 12 points and 6 assists, while Kristen Veal put up huge assists numbers with 12 to go with 5 points.
Penny Taylor had her best game for the season, scoring 30 points on only 11 shots, along with 7 rebounds and 3 blocked shots. Kathleen McLeod was also good in the Rangers second game of the week, with 18 points, 10 rebounds and 4 assists. Cappie Pondexter also made it back to the top-scorers list, with 17 and 4 assists for the Rangers.
The match was very evenly contested, with the main draw card being the shoot-out between Bishop and Taylor which would have been a fantastic advertisement for the the talent the Opals possess. Dandenong made 56% of their shots to Canberra's 42%, the main difference between two sides in an incredibly even game.
Canberra Capitals 84 (Bishop 34, Wilson 13, Talbot 12)
Dandenong Rangers 89 (Taylor 30, McLeod 18, Pondexter 12)