Discover more from The Pick and Roll
We're all about Aussie hoops. Independent, objective analysis and commentary. Insightful narratives built around Australian basketball. Read about our men and women in the NBA, WNBA, NCAA, Europe, national teams, NBL, WNBL, NBL1, prospects and more.
Over 2,000 subscribers
WNBA bubble life: Sandy Brondello on returning to basketball
The challenges behind competitive basketball are greater than ever, but Sandy Brondello is ready to win.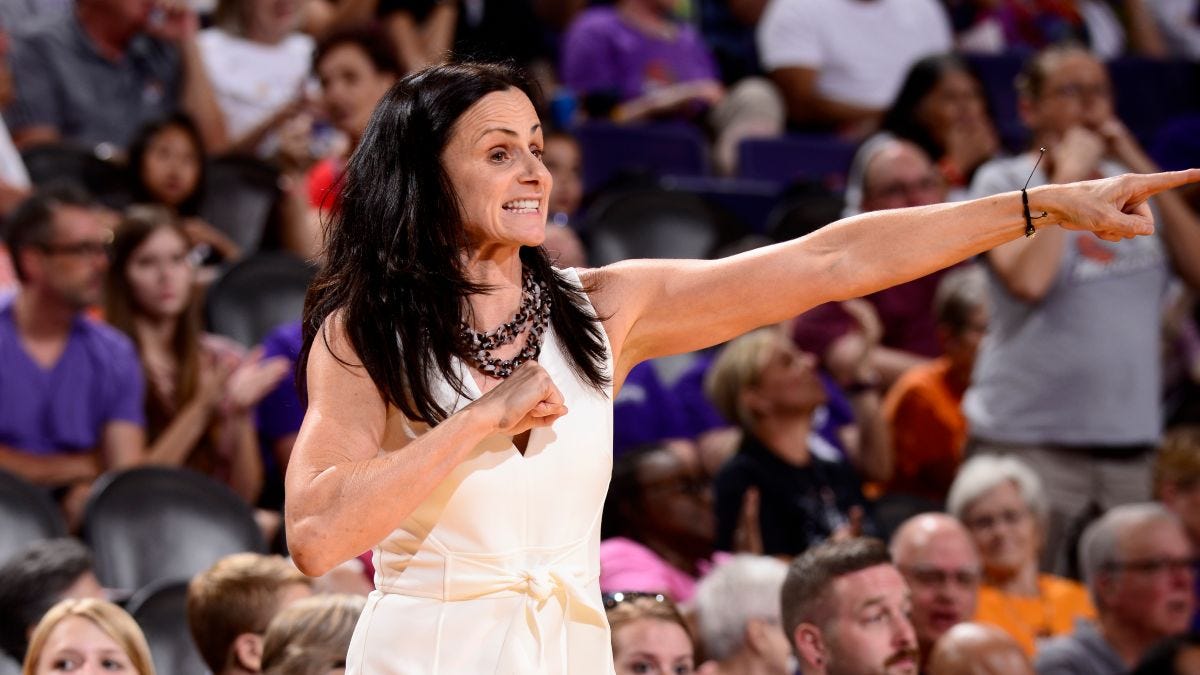 Credit: by Barry Gossage/NBAE via Getty Images
---
With WNBA season tip off less than two weeks away, Australian Opals and Phoenix Mercury coach, Sandy Brondello has little time to waste.
A far cry from their NBA counterparts' private jets, the majority of the WNBA athletes, coaches and staff made their way to Florida via commercial flights last week, as COVID-19 continues to run rampant throughout the United States.
"I think the new world is everyone wearing masks, it's a thing you have to do now. On a plane everyone is wearing masks, I made sure I had a lot of wipes and hand sanitiser. That's what we are getting used to now and maybe that's a good thing, everything is clean," Brondello told ESPN.
Tested on arrival to the new home of the WNBA at the IMG Academy, Brondello and the rest of the Mercury travel party faced a two-day quarantine while results were processed.
It was during this time that social media was alight with images of less than ideal accommodation, food and amenities, as the league scrambled to rectify the situation.
"I don't really have any issues; I know that people have had some issues, but I think the WNBA have handled it promptly and made sure to improve it," Brondello said.
"I think the food is fine, I'm not starving put it that way, I think it's good. The accommodation, I'm in the hotel, it's nice, everything is very convenient."
"It's all about the overall experience and taking care of the players is number one and making sure they are comfortable. Any issues that come up they're listening to them and trying to fix them promptly which is all you can ask for.
With players having the ability to opt out of the modified 2020 season, the Mercury only had one player withdraw, though, Brondello is pleased with the protocols the league has put in place to ensure the safety of those in attendance.
"We're in a pretty safe bubble, I think this is the safest place I can be.
"IMG is great grounds, apparently it costs $100,000 (USD) to send your kid here. The facilities are impressive, and it's quite spread out and people are staying in hotels, villas or lodge.
"For me, I'm a parent, so I handle this situation pretty good, I'm just happy to be back on the court working with the team."
On the court, Brondello faces the challenge of preparing her ten-player roster in limited time, ahead of a gruelling schedule that will see a 22-game regular season crammed into a 45-day window beginning on July 25.
"A lot of these players haven't played any type of controlled basketball in a very long time; it's only been individual workouts. If you aren't running up and down, you aren't getting conditioned for basketball.
"Most of them are in really good shape but they just aren't in basketball shape, I've had to make sure we are being really smart in practice and easing them back into it while pushing them enough to get their legs under them and lungs pumping so we can adapt."
Always one to look at the positive side of things, Brondello points to the comradery and chemistry the group will able to foster in the bubble environment, with the benefits already paying off within the coaching staff.
"I'm able to get together with my staff and it just feels normal now. It's basically the same thing as I would do at home except my coaches are a little more accessible to me now because they live right near me.
"I can call a meeting whenever I want and not feel bad," Brondello said with a laugh.
Among a veteran laden squad that includes former MVP Diana Taurasi, six-time All-Star Brittney Griner and four-time All-Star Skylar Diggins-Smith, 24-year-old rising Australian talent, Alanna Smith is set to play her part after injury interrupted her rookie campaign.
"I just want Alanna to get back healthy. If she's healthy, that's when you see the potential she has," Brondello said.
"She's been in my system a fair bit so she did feel comfortable going into training camp it was just the ankle couldn't hold out.
"She got through almost three days and we are being careful not to overload her and bring her back at the right stage. I'm looking forward to her having a really strong year."
One Opal that didn't make the final roster is Southside Flyer forward, Sara Blicavs, who was initially awarded a training camp deal in April.
"I've always like Sara as a player but I love the growth she's shown in the last year and we just had to make a decision. We weren't allowed to have training camp and we had to select our team, we just made the decision, it was much harder to get visas from overseas.
"I told her she just has to keep working and I'll definitely give her another opportunity next year and I think she totally understood that it was just a crazy world we were living in at the time."
Brondello admits her overwhelming emotion is excitement in returning to work, with a strange sense of normalcy resuming albeit in unfamiliar territory. With preperations being fine tuned, the Opals coach hopes the eyes of the world will be locked on the WNBA with the hunger to win a championship as great as ever.
"It's still a WNBA championship, you come, you compete and if you win that's that. I don't know if there's an asterisk or not, we are still playing quality basketball.
"Our goal every year is to win a championship. We like our team; we know it won't be easy, but I think whoever stays the healthiest will win the championship."