Will a lack of three-point shooting hinder the Wildcats?
Photo Credit: Perth Wildcats
On paper, this season's Perth Wildcats team looks as good as any they've put out on the court in previous years. The signing of Nate Jawai is huge - literally - standing at 209cm tall and weighing in at 143 kg, the 'Beast from Bamaga' is expected to have a big impact in the NBL.
So is the Wildcats other major signing of the off-season, high-flying American import Casey Prather.
The 6 ft 6" swingman comes from great pedigree, having played NCAA ball at Florida under Billy Donovan. Wildcats fans will be hoping he can replicate what James Ennis did in his sole season playing in 'the jungle'. Reaching such lofty expectations might be unrealistic, but at the very least fans would like to see more of this.
Both players bring quality attributes to the team, a mean post-up game for Jawai, NBA athleticism for Prather. What they don't bring, and what the Wildcats sorely need, is 3-point shooting. Casey Prather hit just 10 shots from downtown during his four years of college, and as for Nate Jawai, I don't think he knows the 3-point line exists!
That's a problem for a team set on starting just two players capable of knocking down the long ball - Jermaine Beal and Damian Martin. Compare that to the Illawarra Hawks, who potential could start four excellent 3-point shooters alongside AJ Ogilvy. In Oscar Foreman, Kirk Penney, Rhys Martin, and former Wildcats star Kevin Lisch, the Hawks have four players capable of killing you from the outside.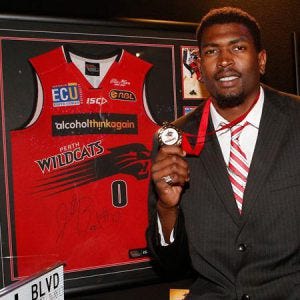 It will be interesting to see how much the NBL mimics the NBA in spreading the floor with shooters. Small-ball and pace-and-space are very much en vogue in today's basketball and some NBL teams have taken notice, namely the Illawarra Hawks and Melbourne United. The Wildcats are sticking to the traditional route.
Perth do have some shooters on the bench, however. Shawn Redhage, Jesse Wagstaff and new signing Jarrod Kenny are all solid 3-point shooters while Greg Hire showed an improved stroke during the pre-season Blitz.
Trevor Gleeson has the depth to mix and match lineups to suit. Wagstaff can replace Knight when looking to inject some outside shooting, Redhage can do the same with Prather. Those moves will come at a cost, however. Wagstaff isn't close to the rebounder Matty Knight is, and Redhage, at his age, is an obvious downgrade defensively.
That's the tradeoff most teams deal with when putting shooters on the floor, rebounding and defense sometimes suffers. A Wildcats frontcourt of Jawai, Knight, and Prather will out rebound most teams. They'll get plenty of second-chance points by way of offensive rebounds, and Gleeson will hope that is enough to offset their lack of outside shooting. Casey Prather's athleticism should also generate some easy points in transition.
So it's not all doom and gloom for the Wildcats offensively.
The blueprint for success under former coach Rob Beveridge, and now Trevor Gleeson, was solid rebounding and great defense. The additions of Nate Jawai and Casey Prather solidify that, but the past great Wildcats teams could hurt you from the 3-point line.
How much will the Perth Wildcats miss Hugh Greenwood?
The jury's still out on whether this Wildcats team can replicate that.
A lot of people have been quick to write the Wildcats off this season, but those calls might be premature. There's enough talent on this roster to be in the conversation for the NBL championship.
Perth starts its campaign for a historic 30th consecutive playoff appearance on Saturday night against the Adelaide 36ers; we'll have a better idea of how a lack of shooting affects this Wildcats team after round 1.
Until then watch this space.