Discover more from The Pick and Roll
We're all about Aussie hoops. Independent, objective analysis and commentary. Insightful narratives built around Australian basketball. Read about our men and women in the NBA, WNBA, NCAA, Europe, national teams, NBL, WNBL, NBL1, prospects and more.
Over 2,000 subscribers
The Wildcats need Jaron Johnson's aggressiveness
There have been times this season when the Perth Wildcats did, and didn't, want Jaron Johnson. However, with a fleeting offence and the ever-present threat of missing the playoffs for the first time since 1986, the Wildcats don't just want Johnson – they need him.
Johnson's first NBL season has been downright bizarre. After being cut after three games, Trevor Gleeson explained how Johnson isn't the right fit for the 'Cats in their quest for a championship. When they brought him back just weeks later, though, it was revealed that the 24-year-old had continued to privately workout with Perth's assistant coaches, indicating that he never really left.
How Johnson and Perth got to this point is irrelevant. Of greater concern is the 'Cats' equal-last offensive rating and second-last rank in points per game, proving the defending champions desperately need a sparkplug on that end. Johnson needs to provide this and he is more than capable.
The excitement when the Wildcats announced Johnson's arrival was palpable, as an eye-catching highlight reel accompanied it.
https://www.youtube.com/watch?v=H0kLYtIMdGo
While nobody expected Johnson to throw down dunk-contest worthy jams on a game-by-game basis, that offensive aggressiveness was a key reason why Perth signed the guard.
"He's athletic and extremely aggressive – which I really loved with watching him play," Wildcats assistant, Matt Nielsen said in the offseason, via wildcats.com.au.
That boisterous nature allowed Johnson to average 16.7 points in the NBA D-League last season, the type of scoring ability the Wildcats expected they would be getting. Instead, the ex-Rio Grande Valley Viper is putting up just 12.2 points in Perth, which is actually representative of a larger problem.
Johnson is second in scoring for the 'Cats. If you said this prior to the season, it would have been welcomed, as Johnson was brought in to play as another scoring option next to Casey Prather. However, when your second leading scorer is putting up 12.2 points, it shows the offence needs a jolt of energy. That responsibility falls on the shoulders of the Texas native.
For a player to maximise his talent, he must be put in a position to do so. In Johnson's case, this means getting him shots around the basket, where he can use his bouncy athleticism to make plays. Last season in the D-League, Johnson shot 56.6 percent within the restricted area, a strong rate for a guard. When looking at his NBL shot chart, it's clear that ability to finish at the hoop hasn't been lost.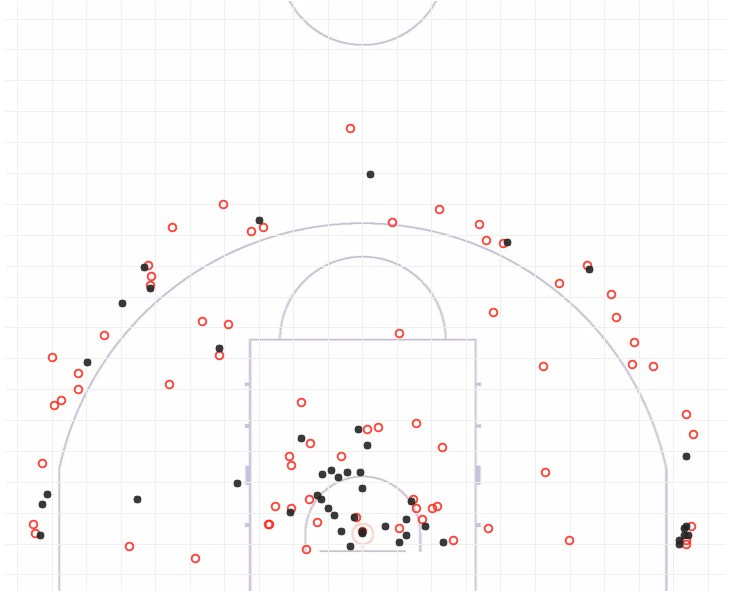 There are numerous ways for the Wildcats to get Johnson open at the basket. They can use creative off-ball actions to get Johnson a head of steam heading towards the rim, where his vertical leap allows him to finish lob passes.
[gfycat data_id="AthleticDeterminedKitfox"]
While the threat of a Jesse Wagstaff screen pulls Brendan Teys out of position, notice Johnson uses his basketball IQ to realise the path towards the basket is free, where he takes full advantage. That intelligence also enables Johnson to cut towards the rim once he sees the slightest of openings.
[gfycat data_id="DearestCleverDugong"]
Johnson is a smart basketball player. When he takes his time to read the defence, he can get to his spots and finish efficiently. This is also the case in transition, an area where athleticism trumps all other basketball abilities.
In the D-League last season, running and gunning was a big part of Johnson's offensive repertoire. The 6'6" guard scored 17.2 percent of his points on fast breaks, 17.1 percent of his points off turnovers and 39.3 percent of his points in the paint – three elements that can be attributed to transition basketball.
With the Wildcats, Johnson has been able to show his open court prowess at times.
[gfycat data_id="PrestigiousPinkBetafish"]
However, circumstances have limited Johnson's opportunities to run in Perth. As reveled by Warren Yiu in Pick and Roll's NBL Half Time Roundtable, Gleeson wanted his squad to play at a faster tempo this season. Thanks to injuries to Damian Martin, Matty Knight and others, though, the Wildcats have had to change their approach.
Perth generates a paltry 88.9 possessions per 40 minutes, the second-worst pace in the league. The 'Cats have moved back into their familiar 'flex' offence, which, at times, has relegated Johnson to a spot-up three-point shooter.
While Johnson isn't a bad three-point shooter, he is by no means a transcendent one. The 24-year-old is connecting on 35.8 percent of his triples this season, which is a tad over the average NBA three-point shooting rate of 35.4 percent. His preferred shooting spot on the floor is obvious.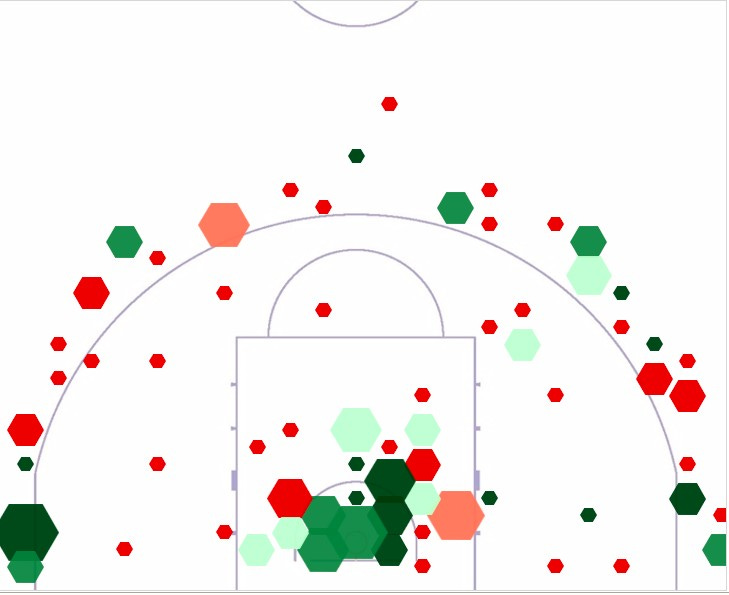 The Wildcats have done their part getting Johnson free in those corners, where his high release point neglects the defenders' contest.
[gfycat data_id="QuerulousTallBobcat"]
Using Johnson in this way is a handy weapon, but it shouldn't be where majority of his offence comes from. Using three-point shooting, two-point shooting, lay-ups, alley-oops, tip-ins and dunks as the sources of shot distribution, 44.17 percent of Johnson's attempts come from three-point land. This rate is the largest initiator of Johnson's offence, which places a ceiling on his offensive potential.
"When you put limits on players, they hit their limits," Mike D'Antoni said, in a recent Lowe Post podcast. By turning Johnson into a high-usage spot-up three-point shooter, it takes away his capability to get to the rim and score.
This, of course, is a delicate balancing act. Johnson has proved to be a semi-reliable long-range gunner, while there have been times where his transition possessions turn into disasters.
[gfycat data_id="BaggyDapperFruitbat"]
Additionally, Johnson is a -9.2 points per 36 minutes, so his impact on winning hasn't been great this season. He needs to pick up his level of production.
However, looking at that number ignores the greater point. The Wildcats activating Johnson's offensive aggressiveness has to be done out of necessity. In an NBL that is closer than ever, having one major scoring weapon isn't enough.
This is why Johnson needs the 'Cats, and the 'Cats need Johnson. Not only will it give Perth a different look on offence, but it should install the confidence into Johnson that lets him play better than he has showed.
Stats and shot charts via Spatial Jam. Stats also via Crunchtime Shots, Real GM and stats.nbadleague.com.