Discover more from The Pick and Roll
We're all about Aussie hoops. Independent, objective analysis and commentary. Insightful narratives built around Australian basketball. Read about our men and women in the NBA, WNBA, NCAA, Europe, national teams, NBL, WNBL, NBL1, prospects and more.
Over 2,000 subscribers
Why the Bucks drafted Thon Maker: "we fell in love with him"
"Milwaukee," began a monotonic voice from the other side of the line. "You have one minute."
John Hammond, general manager of the Milwaukee Bucks, hurriedly scurried back into the Bucks' draft night war room.
"Tell him," he instructed his staff, with a hint of urgency in his voice. "Thon Maker."
All-Access: Inside the #BucksDraft war room as the Milwaukee Bucks select Thon Maker!https://t.co/52Ds3ZNara

— Milwaukee Bucks (@Bucks) June 24, 2016
Tension was rife within a makeshift base that squeezed in the likes of Jason Kidd, John Hammond, Justin Zanik (assistant general manager) and the rest of the Bucks' brains trust.
Only when Adam Silver, in his distinct and deliberate enunciation, officially declared Thon Maker as the 10th overall pick at the podium, would the Bucks allow themselves some solemn, congratulatory applause and self-congratulations.
"Thon," an excited Hammond would exclaim over the phone, as he called his treasured draft prize. "How about that, buddy?"
Just hours earlier, rumours that had tailed Maker over the past few years threatened to derail his hopes for a first round selection. Rumblings had resurfaced that Maker was not the 19 years of age that he claimed to be, with some speculating that he could be as old as 23-24 years old.
Several teams have entirely ruled Thon Maker out of the first round due to his age. Multiple sources believe Maker to be 21-23, not 19.

— Jake Fischer (@JakeLFischer) June 23, 2016
Those concerns proved to be unfounded.
In one of many surprises for the 2016 NBA Draft, the Bucks stunned the NBA community with their lottery selection of Thon Maker with the 10th pick.
John Hammond would later front the media (the transcript is available via BrewHoop.com), and enthuse over the possibilities of Maker.
"We're really excited about him," said Hammond. "He can stretch the floor right now. Give him a little time to gain some strength and we think he has the chance to be a special player."
As much as Maker tantalises with his physical gifts, what impressed the Bucks most was Maker, the person.
"But as much as anything, in our time with him we fell in love with him as a young man," said Hammond. "Just a great guy, extremely bright, extremely articulate, and I think he's going to be a good fit for the guys on our team.
"He's had a long journey to arrive here and I think maybe he appreciates it more than others. We really felt that with his personality, he really fits with others here."
That journey, involving fleeing war-torn Sudan, to Perth, followed by Sydney and then North America, forced Maker to mature quickly.
"The way I moved around definitely helped me be mature but that's expected of us - when you're born and grow up in Sudan, you have to mature quickly because you have to be the man of the house soon," he said.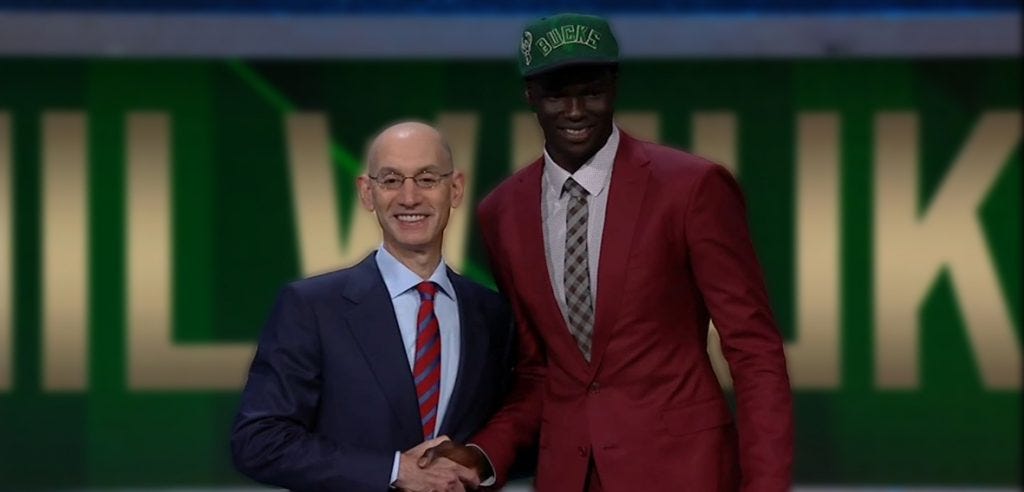 With on-court fit, Maker figures to join a core of Frankenstein-ish athletes, all long-arms-and-limbs, that feature the likes of Giannis Antetokounmpo, Michael Carter-Williams, Jabari Parker and Khris Middleton.
"Just extra more length," Maker said of his addition to that core. "With those players, they can play any position, so the other teams can't afford to have guys who can't guard those type of players at any time on defence."
It's not difficult to picture Maker being a part of a gangly troupe of long-armed defenders, harassing opposing ballhandlers, and cutting off passing lanes in the Bucks' hectic schemes. After all, defense largely comprises effort, and discipline, traits that Maker associates himself with.
[gfycat data_id="BogusImaginativeBoto" data_expand=true]
It's on the offensive end where Maker projects to struggle at the NBA level. And the Bucks figure to bring him along slowly.
"He's got some steps and growth to go through, but if you have a chance to watch him, he's really multi-faceted at that young age and seven feet tall," said Hammond. "He has the ability to handle the ball more effectively than you realize, he has good vision with the ball, and the fact that he shoots make it extra exciting."
It's certainly an exciting time for the Maker. Those steps that Hammond referenced may mean that Maker's journey towards NBA relevancy remains a work-in-progress, but it's a seemingly short journey, relative to what he's already gone through.
A day later, Maker was at Wisconsin, and fronted the media as a Milwaukee Buck.
"I feel amazing. I feel blessed," he said. "It's a bright future for this organisation, and myself also."
And it's been a journey well worth it.