Which Aussie has had the best NBA career?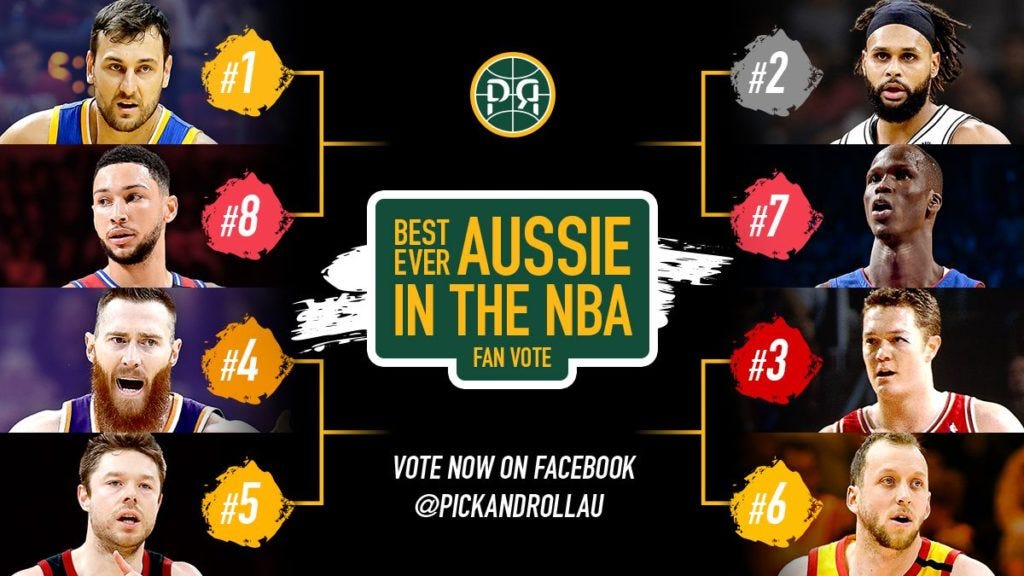 Australians playing in the NBA have come a long way in recent years.
From three-time champion Luc Longley, who was the first Australian to play in the NBA back in 1991, through to the latest young stars who have managed to hit the court over the last two seasons, the talent emerging from down under has never been greater.
Since Longley's debut, 25 Australians have played in the NBA - that number increases to 26 if you were to include Kyrie Irving, who was born in Melbourne and chose to play basketball for the United States.
In fact Melbourne, Australia has been the birthplace of more NBA number 1 draft picks than any other city in the world ahead of Chicago and Toronto. Andrew Bogut (2005), Irving (2011) and Ben Simmons (2016) all heard their names called first in their respective drafts, and they all came within an 11-year span.
The list of NBA players from down under does include naturalised Australians Ricky Grace and Darnell Mee. They chose Australia as their home, and importantly both went on to represent the Boomers on the international stage.
With so many players having taken to an NBA court across almost 30 years, who had the best career? It's a tough question, and one The Pick and Roll explores.
Was it Longley and his three championship rings? Could it be Bogut, despite his injury-riddled career? Where do championship winners Patty Mills, Aron Baynes and Matthew Dellavedova sit in the discussion? And then there is Ben Simmons. Is it too early to put his name into the equation?
Introducing The Pick and Roll's "Best Ever Aussie in the NBA Fan Vote"
Over the next two weeks, we will pit our top eight Aussies against each other in a tournament style Facebook vote.
Shortlisting the top eight
Some all-time greats of Australian basketball have played in the NBA. Arguably one of the greatest ever in Andrew Gaze, played just two seasons and saw limited action across 26 games in total, despite winning a championship with the San Antonio Spurs in 1999. Shane Heal, Chris Anstey, David Andersen and Mark Bradtke enjoyed all-too-brief stints as well. In reality, these superstars of Australian basketball all received little opportunity to shine in the NBA at a time where international players were only just starting to get a look in the door.
When assessing the candidates, longevity stands out as one measure that can be used to determine success. You don't stick in the NBA if your skill set is not valued, and ultimately, if you are not good enough.
Bogut played 14 seasons, Mills just chalked up his 11th, while Longley played 10 before retiring. Aron Baynes has now chalked up eight seasons, Matthew Dellavedova is in his seventh, while Joe Ingles has now played six. These guys have all managed to stick in the NBA, play meaningful minutes, and for a handful, play on championship winning teams. For this reason, the aforementioned players have all been shortlisted for the fan vote, leaving just two places left to fill.
It's hard to argue that Ben Simmons is going to be in discussions as an all-time Australian great in the NBA. The 2018 Rookie of the Year is already a two-time NBA All-Star, a feat no other Aussie has been able to achieve. He is a walking triple-double threat every game, and is a magician in the open court. Despite his youth, you cannot leave him out of the discussion, so he is in.
That leaves Dante Exum and Thon Maker battling for the last spot on the list of eight. Exum has shown glimpses of his undeniable talent, yet every time he threatened to realise his potential, injury would set him back. Maker is also a Top 10 NBA draft pick like Exum, and has had to work for every opportunity he has received at the Milwaukee Bucks and now the Detroit Pistons. Maker has to date been able to stay healthy, play more minutes, and been a more consistent contributor, so as of now, he edges Exum and takes a place in the top eight.
Note: Kyrie Irving was not considered for this list as he has chosen to represent the USA.
Top eight seeding
To keep it simple and eliminate any bias, we seeded the top eight using the number of seasons they have played (in brackets).
Andrew Bogut (14)

Patty Mills (11)

Luc Longley (10)

Aron Baynes (8)

Matthew Dellavedova (7)

Joe Ingles (6)

Thon Maker (4)

Ben Simmons (3)
Fan vote brackets
Round 1 | Tips off on 14 April 2020
14-April | (1) Bogut vs (8) Simmons

16-April | (5) Dellavedova vs (4) Baynes

21-April | (2) Mills vs (7) Maker

23-April | (6) Ingles vs (3) Longley
Voting opens at 8:00am AEST on The Pick and Roll's Facebook page and remains open for 24 hours.
Be sure to check in and vote for who you think has had a better NBA career.
All-Time Australians in the NBA*
NamePosYearsSeasonsC'shipsDeng AdelF20191 David AndersenF/C2009–20112 Chris AnsteyC1997–20003 Cameron BairstowF/C2014–20162 Aron BaynesC2013–present81Andrew BogutC2005–2018; 2019141Jonah BoldenF2018–20202 Mark BradtkeC1996–19971 Ryan BroekhoffG2018-20202 Mitch CreekG20191 Matthew DellavedovaG2013–present71Dante ExumG2014–present5 Andrew GazeG1994; 199921Ricky GraceG19931 Shane HealG1996–19972 Isaac HumphriesF/C20191 Joe InglesF2014–present6 Nathan JawaiF/C2008–20102 Luc LongleyC1991–2001103Thon MakerF/C2016–present4 Mangok MathiangF/C2017–20181 Darnell MeeG1993–19952 Patty MillsG2009–present111Luke SchenscherC2006–20072 Ben SimmonsF2017–present3
*As at 13 April 2020