What is at stake for Ben Simmons in Orlando?
For Simmons, it's more than a mere positional change that's on the cards.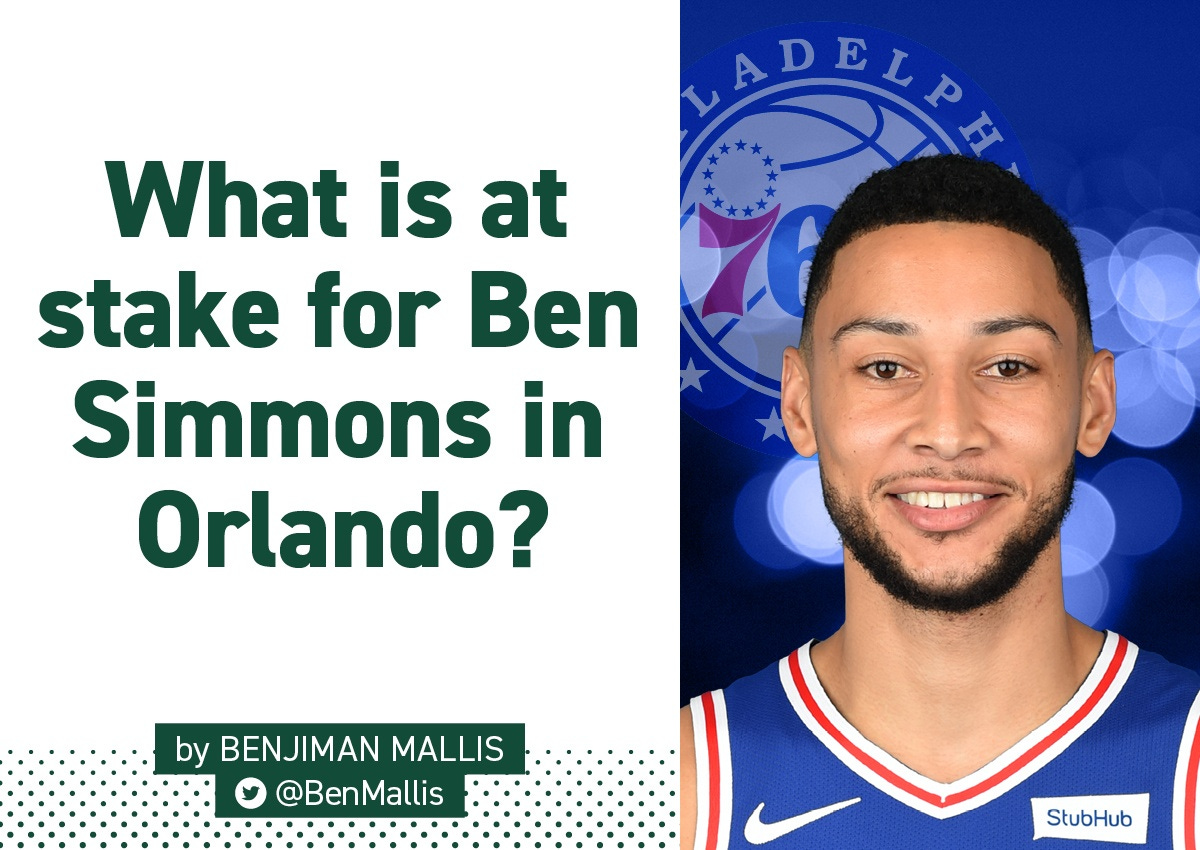 Brett Brown has spent the past four years convincing everyone that Ben Simmons is a starting point guard.
More to the point: that Simmons is his starting point guard on the Philadelphia 76ers. Not just a placeholder in title, but rather, a bona fide lead guard who, despite his unconventional size, can play the point within the current NBA. Brown left no ambiguity in his argument.
"When I say 'point guard,' I mean 'point guard,"' Brown said in April 2017. "You know, who takes the ball out of bounds, who receives the ball when the ball goes in the basket, who brings it up the floor after a free throw. I'm not talking about Draymond, I'm not talking about LeBron, you know, I'm talking about a point guard."
Brown's verbose media conferences have been loaded with similar comments since Simmons was selected first overall four years ago. So it begs the question: what has changed since Simmons injured his back against Milwaukee in late February?
When last seen, Simmons was a newly minted two-time All-Star, starting at the point, against the best team in basketball. Flash forward five months and he returned to NBA action in Orlando playing off the basketball for the first time in his professional life. Shake Milton has been tabbed as the new point guard; the one who Brown hopes will balance out Philadelphia's starting unit as Simmons slides to the four.
With all respects to Milton, the Sixers haven't suddenly been presented with an elite guard prospect. Milton was toiling away in the G League last season and played less than half of Philadelphia's pre-COVID-19 regular season games. He is a nice prospect who has showed droplets of promise at the highest level, but he remains unproven. Brown's job is on the line and this is the move he has made to secure his coaching future. So I ask again: what has changed?
What became clear in a pre-pandemic NBA universe was that the Sixers' jumbo starting lineup did not work. The hypothesised defensive behemoth of a Simmons, Joel Embiid and Al Horford-led unit had many —including yours truly— predicting an NBA Finals appearance for these Sixers. But this experiment didn't work out. Plain and simple. Horford's presence placed the Sixers starting lineup over a tipping point. Too many big bodies and not enough shifty, or "jitterbug" to borrow a favourite term of Brown's, guard sized players who can boost the offence.
The reality for Brown, who is operating with Elton Brand's lopsided roster, is that he is bereft of players who can do the most two important NBA skills: dribble and shoot. The fact that Milton is being signalled as the saviour for Philadelphia's season reveals all you need to know in that regard. Thoughts about Milton aside, it is now clear that Simmons will have to find his niche in Orlando. Since entering the NBA, Simmons has averaged the second-most passes per game across the entire NBA. He found comfort and reached the All-Star plateau while being able to control the basketball on offence. That has changed.
Early returns from Orlando reveal that Milton is essentially the Sixers' "half-court point guard" when the game is organised and under control, while Simmons is the team's "transition point guard." Brown virtually signalled this during his media availability on 24 July.
"I can almost simplify it like this: on any missed shot, I want Ben with the ball," Brown said. "Any time the opposition team misses and we're running, I want Ben Simmons with the ball and let him get to the rim and dunk or find another shooter. It's really that clean and that simple."
When Simmons is pushing the ball up the floor, initiating fast-twitch attack, the Sixers offence pops. It flows at a level that not many in the NBA could ever dream of reaching. It's long been obvious that Simmons is a transition monster. Regardless of what position is assigned to him at the tip, the Australian will pounce on a retreating defence like a cheetah hunting its prey. There are only a handful of players in the world who can match Simmons' performance in this area.
Discussion about Simmons never settles on the bounty of things he can do. All conversations invariably settle into the handful of things he can't, and how they interact with his All-Star running mate in Philadelphia's basketball ecosystem. As noted by ESPN's basketball maestro Zach Lowe, Simmons warrants an elevated level of attention for what he did during the regular season proper. Merely calling him an All-Star is selling this athlete short. Simmons was a top-five NBA defender this season, and has a legitimate chance of joining Andrew Bogut as the only Australians to receive All-NBA honours.
But here we are again, looking forward to how Simmons and the Sixers will perform when the NBA playoffs begin. With their head coach fighting for his job, and a 60-plus game sample size of disappointing basketball on their resume, these Sixers are the most succulent storyline in Orlando. That was true before they decided to change the role of their All-Star point guard, and the change only magnifies the unknowns for a franchise who continues to operate in the realm of the unconventional. It is an appropriate label, really, considering they are led by two of the most unconventional All-Stars in the sport. 
How will Simmons and the Sixers offence interact when the game slows down? When it's nut-cutting time during a playoff contest, will Simmons return to the dunker's spot like he has done during the Sixers' playoff series defeats to Boston and Toronto? Will Brown finally unleash Simmons as a roll man on the pick and roll? Will Simmons revert to old habits and want the ball? Would Simmons spot up and take jumpers from the corner? Again: these Sixers are a sporting soap opera in real life.
Simmons knocked down an open three during the Sixers' first game in Orlando. The predictable Internet hoopla followed, but just like every tweet coming from the cheap seats, one Simmons three means absolutely nothing until it is repeated. If Brown is true to his word and invested in keeping Simmons off the basketball in high leverage stations, the Australian will almost certainly have an open three any time he wants one. That's the inertia of NBA scouting reports: Simmons will remain a poor shooter in the minds of NBA coaching staffs until he proves otherwise. But the million dollar question remains: does Simmons wants those shots?
Being a non-shooter can be mitigated to a certain extent by having the ball in hand. But a non-shooter, playing alongside a low-post beacon in Embiid, is just inviting defences to turn Philadelphia half-court action into a logjam. Something is going to have to give in order for Brown's lineup change to bear the fruit he desires. If Simmons remains camped in the corner, there is only way to prevent his man collapsing down to Embiid. He must be a willing shot maker.
Simmons has been listed at guard since the start of his NBA career. While largely trivial, this was all apart of a PR campaign emanating out of Philadelphia that placed Simmons as the Sixers' starting point guard. It was a title the young Australian wanted to hold, and the Sixers bent over backwards to make it happen. There were games during his rookie season where Simmons was listed as a guard, while players like J.J. Redick were listed at forward. None of this actually matters when the ball is tipped and the games begin, but there was a clear and obvious attempt to placate Simmons' desire to be viewed as a point guard. Those days are now over.
Brown has changed his tune and is attempting to unleash Simmons in a role that threads the needle between Draymond Green and LeBron James, the two names who he ironically used to trumpet Simmons' guard skills in an earlier quote. 
Simmons, Brown and the Sixers are about to reveal themselves to the sporting world again. The ruthless NBA will find you out and reveal your true talents, and in their third postseason, this trio are about to provide their biggest and most poignant performance yet. The consequences could be drastic, or they could be celebratory. What remains certain, is that the next two months of basketball will shape the futures of Philadelphia's biggest names.
---
If you enjoyed this story, please consider becoming a paid subscriber! This allows us to continue producing quality Australian basketball analysis like this piece, that's not found anywhere else.