Discover more from The Pick and Roll
We're all about Aussie hoops. Independent, objective analysis and commentary. Insightful narratives built around Australian basketball. Read about our men and women in the NBA, WNBA, NCAA, Europe, national teams, NBL, WNBL, NBL1, prospects and more.
Over 2,000 subscribers
How to watch the NBL live on your computer
The new NBL Live app is an impressive product, and its live stream has worked impressively in tonight's season 2015/16 debut game. The Adelaide 36ers took a solid victory against the underwhelming New Zealand Breakers, who struggled from the three-point line. Corey Webster's absence certainly didn't help.
Back to the app. It has a few shortcomings at the moment, one of which is an inability to watch the game live on the computer. This is inconvenient, especially for fans who do not own tablets. Until a desktop streaming platform is unveiled, here's one way you could stream the live game onto your computer, and watch it without squinting at your phone.
Disclaimer: this method requires an Android phone running Lollipop (version 5+). Phones running KitKat will need their phones to be rooted.
1. Install AllCast Receiver app on computer
Install the AllCast Chrome app on your computer. This should work on both Mac OS X and Windows.
When this is done, launch the AllCast Receiver app.
2. Install Mirror Beta app on phone
Download the Mirror Beta app from the Google Play Store.
When this is done, launch the Mirror Beta app. You should see a Chrome device open under Network Devices: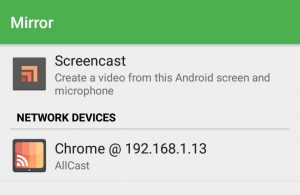 Note that your phone and computer should be on the same network.
A prompt will appear: "Mirror will start capturing everything that's displayed on your screen." Tap on Start Now.
At this point, you should see a window pop up on your computer - an exact mirror of your phone screen.
3. Launch the NBL Live app
There's nothing else left to do here. Open the NBL Live app, tap on the game you want to stream, and enjoy.
Note that sound will still be coming from your phone, but that's definitely a minor inconvenience.
---
There are other ways to cast an Android phone screen to the computer, for example using the Chromecast. One could possibly use a Chromecast to cast an iPhone screen to the computer, or refer to other methods listed here, but this will need to be verified separately.
Did you enjoy the NBL's first game of the season, and how did you find the streaming experience?