Discover more from The Pick and Roll
We're all about Aussie hoops. Independent, objective analysis and commentary. Insightful narratives built around Australian basketball. Read about our men and women in the NBA, WNBA, NCAA, Europe, national teams, NBL, WNBL, NBL1, prospects and more.
Over 2,000 subscribers
Victorian centre Nic Tata commits to Missouri State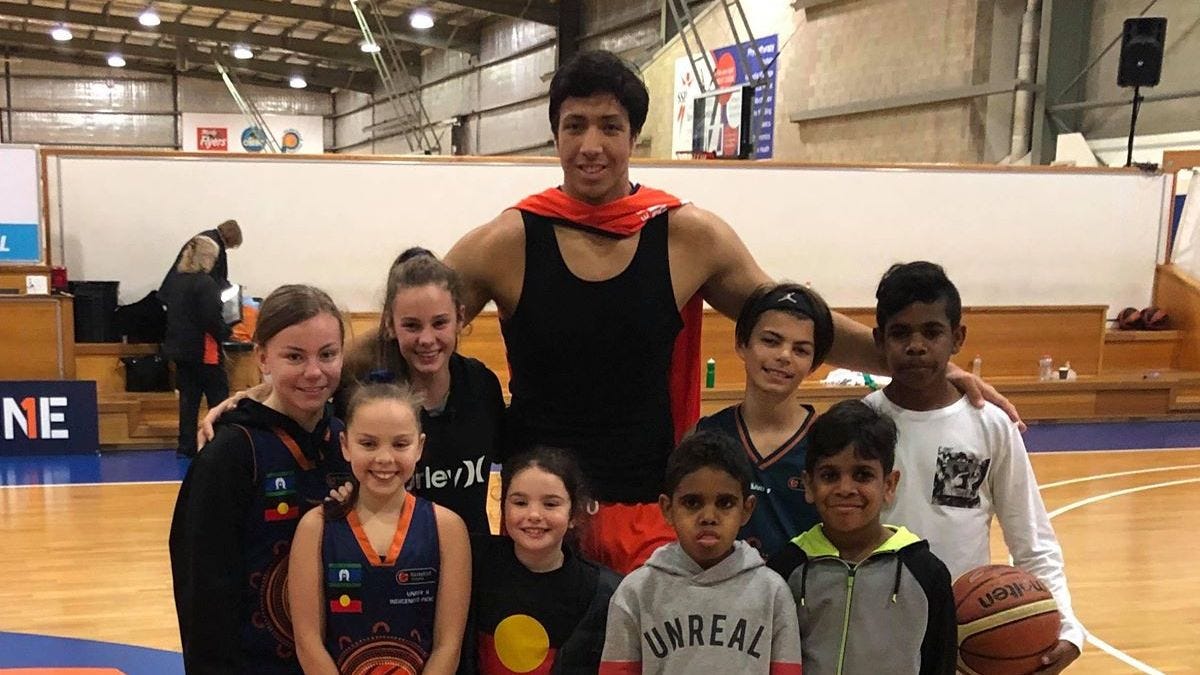 Source: Supplied
Imposing Victorian centre Nic Tata has announced his commitment to Missouri State to add to the list of young Australians heading to US College.
The 6'10 big man from the Mornington Peninsula has spent the last two years impressing with Blinn College, an NJCAA school located in Brenham, Texas. Across 32 games as a sophomore last season, he provided 8.6 points, 6.2 rebounds while shooting 74% from the field.
In speaking with The Pick and Roll, Tata explained that moving to the US to further his basketball development after completing his junior basketball with Frankston was just what he needed.
"Having playing basketball at a higher lever has transformed my game in ways that I never thought I could reach," enthused Tata. "It has brought out my aggressive side that I never thought I had."
He also spoke highly of the coaches that have helped him on his journey up until this point.
"There have been so many coaches along my journey that I'm thankful for, but I have to acknowledge my under 18 coach Ricky Baldwin," added Tata. "He really pushed me and made the biggest impact in my career! Secondly, coach Schumacher at Blinn also played a great role as a mentor, helping me through my first college years."
An imposing pivot who does his best work in the paint where he uses his large frame to his advantage, Tata is an efficient scorer as his shooting percentages demonstrate. He played an integral role for Blinn in helping them to a 23-10 overall record and 11-8 in the Region XIV conference play, placing them in second position in the South Zone Division. They would advance to the 2020 NJCAA Region XIV Men's Basketball Championship game before falling short in the final.
Tata also made an encouraging debut with the Southern Sabres in the 2019 NBL1 season on his return home in between his US college commitments. He managed to deliver an impressive 6.6 points, 5.0 rebounds while shooting 65.6% from the field and 80.0% from the free throw line, finishing the season the Sabres starting centre. Head coach Nathan Cooper-Brown expected big things ahead for Tata based on what he achieved in such a short time in the semi-pro NBL1 competition.
"We thoroughly enjoyed our time with Nic in 2019," shared Cooper-Brown in speaking with The Pick and Roll. "He is a very exciting talent, a next level athlete, but importantly a great kid.
"He joined our group late in the season with an understanding he would need to commit to catching up, being a great teammate, and working for his opportunities and embrace our player first development program - so he could leave the best version of himself. By the end of the season he was starting in the post, and showing some of the most consistent basketball he's ever played.
"Knowing he will carry that same attitude to Missouri State gets me even more excited for what this young man is capable of on a basketball floor. I wish him nothing but the best in this next chapter of his career."
As a late developer, Tata is a great athlete and with a ceiling that remains high as his former under 18 Blues coach Ricky Baldwin explained.
"He was very raw when he joined my team, but he had a real passion for the game," Baldwin shared. "He is a gym rat, always living in the gym and wanting to get better.
"The US college system has been great for his development, and I managed to watch him a number of times in the NBL. At almost 6'11, he is a very good athlete who had many Division I offers but has chosen to attend Missouri State.
"His development has been rapid, his thirst to get better and compete is great to watch. I got to spend a lot time with Nick and his Mum Shay getting and getting to know the young man. He has a bright future ahead of himself, and I look forward to watching his journey at Missouri State."
The Bears needed to bolster their front court depth following the graduation of Tulio Da Silva, Kabir Mohammed and Lamont West. Tata will arrive for his junior year and have two seasons of eligibility, and could well push for a starting role given the changes the roster is undergoing.
The Bears finished with a 16-17 overall record last season, and with Tata adding size and depth to their front court, will be aiming to make some noise in the Missouri Valley Conference next season.