Discover more from The Pick and Roll
We're all about Aussie hoops. Independent, objective analysis and commentary. Insightful narratives built around Australian basketball. Read about our men and women in the NBA, WNBA, NCAA, Europe, national teams, NBL, WNBL, NBL1, prospects and more.
Over 2,000 subscribers
Pre-Season All-Australian First Team #4 - Venky Jois, Eastern Washington
In the lead up to the 2013/14 NCAA division 1 college basketball season, Damian Arsenis counts down his pre-season selections to The Pick and Roll All-Australian First Team in a series that includes interviews with all five players.
Securing a forward position in the pre-season All-Australian First team is reigning Big Sky Freshman of the Year, Venky Jois of Eastern Washington.
#4 | Venky Jois, Eastern Washington
Position Forward Height 6'7"/ 201cm Weight 100kg Year Sophomore Hometown Boronia, VIC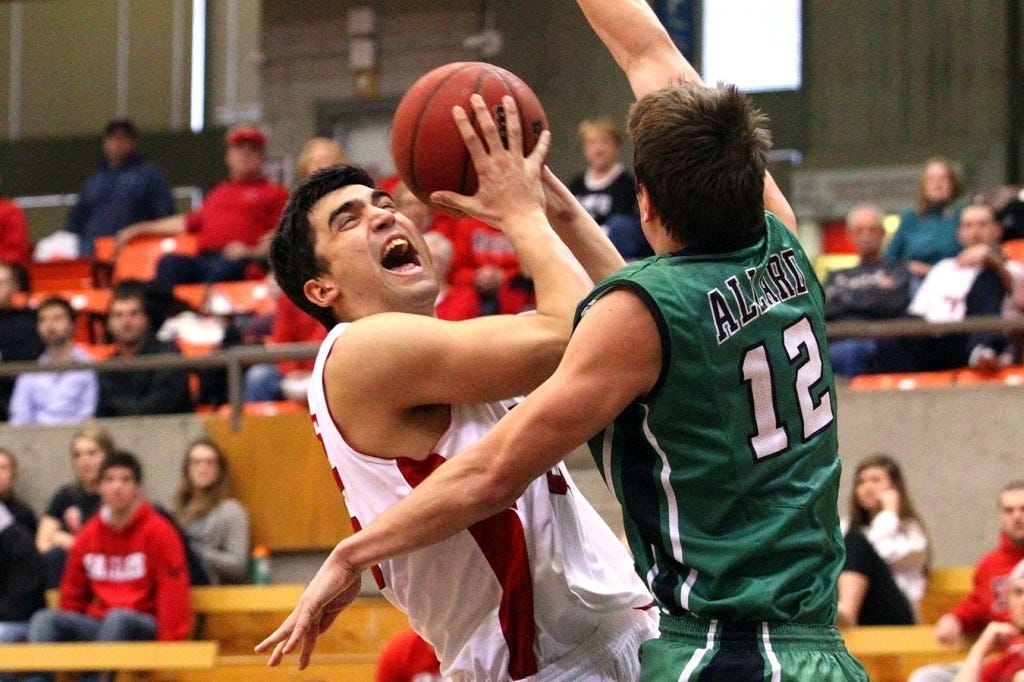 Venky Jois going up strong - Courtesy of Eastern Washington Athletics
After a stellar junior career in Australia that included MVP awards won previously by current NBA players Patty Mills and Andrew Bogut, the 6'7" Jois landed at Eastern Washington. Despite battling nagging injuries throughout the season, he went on to exceed almost everyone's expectations. Jois missed three games with an ankle injury mid-season, and despite the setback he would still record a league high 9 double-doubles in averaging 12.3 points, 9 rebounds, 2 assists and 2.4 blocks per game. His 9 rebounds per game ranked him second in the Big Sky Conference (46th nationally), whilst his 2.4 blocks per game led the league (33rd nationally) and now has him in 7th place on the Eagle's all-time list after just a single season.
With his amazing first year on court exploits and explosive finishing at the rim, it was hard not to attract any attention. Jois was duly recognised by being named 2013 Big Sky Conference Freshman of the Year whilst also receiving an All-Conference honorable mention. Healthy and injury free, Jois will once again be expected to provide leadership and maturity alongside his athletic all-round game throughout 2013/14. There are no limits to just how high this Eagle can soar, and expect nothing less than an outstanding season from the sophomore forward this season.
---
The Pick and Roll's
exclusive interview with: Venky Jois
Damian: Just like my own surname, your name is quite unique. What is your family background and how do you actually pronounce your surname?
Venky: Even though my mother and I were both born and raised in Australia, I'm named after my Indian grandfather Venkatesha. My Dad's side of the family are all Indian, but over here I just go by Venky for short. The name Venkatesha is actually a form of one of the Hindu Gods, Vishnu. My surname is actually pronounced "Joyce."
Damian: I am not too familiar with your progression through the junior basketball ranks, but am aware you won the under 20 Nationals MVP and South East Australia Basketball League (SEABL) Youth Player of the Year Awards which are amazing achievements (awards won by current NBA players Andrew Bogut and Patty Mills). Can you tell me what led to you taking up basketball and fill me in on where you played most of your junior basketball growing up? Did you face any adversity in making it to where you now are?
Venky: I loved most sports as a kid but I started out my junior career at Knox as a top age under 12 player. After not making any of the top teams with Knox, I moved to Dandenong for my bottom age under 16 season, and it was only there where I feel they put me in positions to succeed. Especially when I got a chance to play SEABL and eventually start on a playoff team as a 17-year-old, winning accolades like the SEABL Youth Player of the Year award started to put me on the map both in Australia and in the USA. I committed to Eastern Washington shortly after winning that award, and after winning MVP of the Under 20 national team. I also started to get some interest back home in Australia, being invited to practice with the Melbourne Tigers and the Australian Boomers squad!
Damian: Sounds like your career really took off from there! What ambitions did you have as junior basketball player? Was playing college basketball always high on your list of goals?
Venky: College basketball was definitely something I set my sights on from the age of 16. After I started to improve and perform as a junior, I came to the realisation I could make playing in the NCAA a reality; from there it is definitely something I worked hard towards and strived for. Along with heading to college, winning a National championship in juniors along with attaining success with my SEABL team were my goals. I only managed to achieve two out of those three goals; we lost to Albury-Wodonga by 2 points in the SEABL championship game, which just so happened to be the day before I left for college.
Damian: I guess you had plenty of time to revisit that narrow loss on the plane. So after all that success, how was it that you ended up venturing to the USA and a scholarship with Eastern Washington?
Venky: Playing with Dandenong certainly helped an enormous amount in providing exposure to the college scene, and ended up being the contact that helped me land a spot on Eastern Washington's roster last year. One of the Dandenong coaches for a junior team told Jim Hayford from the US about me, and now Hayford is my coach here in America.
Damian: It's sometimes all about the right time and the right place. Moving to another country on the other side of the world must have been a big change for you. What adjustments did you have to make?
Venky: It was definitely a big adjustment at first, but something I do cherish as I believe that it helped me mature as a person and develop me as a player much faster than I would have if I stayed home in Australia. I think living on my own, off campus where I have to cook my own meals and do everything around the house; these were things I normally took for granted back home. It did take a lot of getting used to, but now is something I definitely prefer. That's not to say I don't miss my family and friends though; the culture and lifestyle change couldn't compare to them and especially come Christmas time and birthdays - it's always going to be tough being away from home at those times.
Damian: After playing in the SEABL, how have you found playing basketball for a team such as Eastern Washington in the Big Sky Conference?
Venky: Playing basketball for Eastern Washington was probably the best decision I could have made in terms of developing further as a basketball player. In Australia, my game was almost purely all about transition, finishing, rebounding and slashing. However after a number of injuries to our point guards, I ended up finding myself playing the point-forward position in college and therefore an opportunity to create for others. Despite the injuries I experienced during my freshman season, I've improved tenfold from the player I was back at home. I am continuing to improve here and I believe much faster than I would have if I have stayed in Australia to pursue my career. Both the opportunities I've been given here and the facilities available to me have allowed me to really improve each and every day, and hopefully more people will see the work I've put in on court and in the weight room as my career continues.
Damian: In following your career with the Eagles from Australia, you had a massive freshman season in being named Big Sky Freshman of the Year. Congratulations on that by the way – a massive achievement for someone from the land down under! Did the recognition surprise you and how have you handled all the attention that goes with it?
Venky: I was really honoured when I received that award, as there are a number of freshmen that I think will be spectacular players down the road, and are certainly very tough to play against even now. Unfortunately though, as a team we didn't end up having the season we wanted in order to hold our heads high. Individual accolades don't mean too much when your team is not winning, but I think this upcoming season things will be a lot different and our expectations are high.
Venky Jois at the line - Courtesy of Eastern Washington Athletics
Damian: How do you describe yourself as a player? What are your key strengths and what areas of your game do you need to keep working on?
Venky: At the moment I would describe my game as being a play maker and rebounder. I've worked really hard all spring and summer improving my shot and think I've become a much more complete player than I was last year. I still recognise that I have a long way to go in tightening up almost all aspects of my game before I'd be ready to step onto the floor as a professional. I've managed to get by through using my athleticism and finishing around the rim for most of my career, but it's only the last couple of years that I've added new facets to my game that will almost certainly help me moving forward.
Damian: Daniel Hill and you joined fellow Aussie Jordan Hickert at the Eagles as a freshman, and now Felix von Hofe also links with the team after an outstanding U19 World Championships. Is there a growing sense of 'Aussie' camaraderie and are the Eagles trying to replicate the success of Saint Mary's College in recruiting players from Australia?
Venky: Definitely! It's no secret that Eastern Washington is trying to gain an advantage on other programs by recruiting internationally; Australia and Germany are the two countries we have most heavily recruited from. However we also have now added a Serbian team member in Ognjen Miljkovic - we now have more international players than Americans on our roster!
Damian: With all the internationals on your roster, what are your expectations for the season ahead both individually and for the team?
Venky: On paper we have a young team again, but I don't believe that should have any effect on the way we play this year. Most of our guys have significant experience from playing last year in the program, and I really think that with the new additions to the team we can make some good runs both in the preseason and Big Sky Conference. Individually it should be an interesting season for me; last year I came into the season after recuperating from knee surgery, and then fell down at the end of the season with an ankle injury. I never really felt 100% throughout the course of the entire season. Not only do I feel much better fitness wise right now, but I am also a much improved player to last year. I think you can expect a hybrid of posting up and transition plays to complement the playmaking I was able to create through on-balls from the wing last year. We still have some work to do with figuring out how to best integrate our new players into the line-up, but our guys now know what to expect and have all come back better, stronger and smarter than last year.
Damian: So with all the on-court action ahead of the new season sounding promising, I'm also interested to identify what are you currently studying and where do you see your qualification taking you for life after basketball?
Venky: I'll be declaring either a Biology or pre-medicine major this year so a future in physiotherapy or medicine would certainly be my goal for life after basketball. I have a passion for all the major sciences and would love to explore career paths in any of those subjects.
Damian: Sounds really interesting, but hard going! Whilst you technically have three more years to go, are you likely to eventually head home to Australia maybe land an NBL gig, or will you explore options in the US or Europe?
Venky: I want to play at the highest level I possibly can in basketball; whether that brings me back home to Australia, sends me to Europe or even staying in the US. I love to compete, so I'll just continue to work hard so that in three years from now, I can be asked the same question and hopefully have multiple opportunities to explore. Until that time I'll be in the gym working as hard as I can to get bigger, stronger, faster and better than I was the day before.
Damian: I may just ask you that same question in three years' time and compare your answers! Can you share with me your career highlight to date? What was it and why does it stand out for you?
Venky: To me, my biggest career highlight was more of a moment than it was an accomplishment. I was playing as a role player on the under 18 Victorian state team in the national championship game (which unfortunately we ended up losing at the final buzzer). At one point in the game I drove baseline in front of what I thought was a huge crowd at the time, and then dunked it over one of the New South Wales guys and yelled as loud as I could. However I recall not being able to hear my own voice because the stadium was so loud it was deafening! That was the first time I realised basketball was something I really wanted to do. It was an awe-inspiring moment for me.
Damian: A goose bump moment by the sounds of it - I wish I had been there to see that. With all that you have accomplished to date both on and off the court, what do you want to achieve on court before you eventually retire well down the road?
Venky: I really just want to play. Competing is my passion and every day I work hard so that one day I might get the opportunity to be part of something special.
Damian: It's been great finding out a little bit more about you and your basketball. However it is always good to finish up with something memorable. Can you tell me something about you that you may not have shared with many others before?
Venky: I guess not many people would know that I come from a family of biologists. My Dad used to work as a veterinarian and then moved to lecturing and research in nutrition. My eldest sister will be a Vet too, whilst my youngest sister has almost finished studying medicine, and my other sister has a PHD in Bio-Med! My Mother is now doing pharmaceuticals, but I'd definitely like to follow suit and potentially become a doctor as well at some stage down the road.
Damian: Wow - that's one smart family you have there! I was the first and only child in my family to graduate from university; you will get no pressure from me. I really appreciate your time in willingness to answer my questions openly. Good luck for the season ahead and may the Eagles soar!
Venky: Thanks Damian. It's great to get the support from back home in Australia.
---
The Pick and Roll's
pre-season All-Australian First Team
#5 | Center: Angus Brandt, Oregon State
#4 | Forward: Venky Jois, Eastern Washington
#3 | Guard: TBA
#2 | Guard: TBA
#1 | Forward: TBA
Has Damian got it right so far? Share your thoughts on the selections to The Pick and Roll's pre-season All-Australian First Team to date.