USC Rip City joins CLB 3X3 as a foundation club
Queensland's USC Rip City has been named as the official third team of Champions League Basketball's CLB 3X3's Elite circuit.
The USC Rip3X3 joins the resurrected names of the Townsville Suns and the Hobart Devils as foundation clubs of CLB 3X3 Elite's league, as CLB 3X3 continues to slowly but surely establish a national presence.

With the new side being established in collaboration with the existing USC Rip City Basketball Association, USC Professor Mark Brown and Treasurer of Rip City says the club is very excited to be making the push into 3x3 basketball.
"In addition to the opportunity to be part of a major national competition with strong international pathways with FIBA, Olympics and Commonwealth games, 3x3 basketball will add a new element to the grassroots club program for USC Rip City Basketball that will help attract more kids to the sport," said Professor Brown in a statement.
"Like other sports that have added a compact version of their game, 3x3 basketball provided developing athletes with more touches of the ball, more shots and more one-on-one defence opportunities at game pace, all of which promotes the development of stronger fundamental skills, which will drive better overall basketball development opportunities for USC Rip City members. Of course we can not overlook the appeal of 3x3 being outdoors and the fit that has with the active outdoor lifestyle of the Sunshine Coast."
Rip City have enjoyed tremendous growth in South-East Queensland, with USC Rip city President Brad Wilde excited about their club's move into Elite-level 3x3 basketball.
"USC Rip City Basketball prides itself on developing deep, long-term partnerships that benefit the club and its members," said Wilde. "A majority of the corporate sponsors in the QBL program have been part of our QBL program since its inception three years ago, with many even having partnerships that go back the start of our SBL program six years ago. We look forward to continuing this strong partnership approach with CLB in establishing and growing 3x3 basketball on the Sunshine Coast."
CLB3X3's long-term plans allow for a 30-team Elite 3x3 national league spread across every state, with Champions League Basketball General Manager Matt Hollard advising that further teams located across Australia will be announced in the lead up to the tip-off of the 2018/19 CLB3X3 Summer Series that is slated to commence in mid-September.
"We are set to make some further big announcements over coming months, and with an extended 2018/19 schedule of events, we will continue to build the foundations for 3X3 success for years to come," said Hollard. "The 2018/19 CLB3X3 summer season consists of 25 events Australia wide, with all Elite teams expected to compete in a minimum of 5 tournaments to be eligible for a place in the National Final [Labour Day weekend in Melbourne]. The winning team from the National Final will earn a spot in an official FIBA3x3 Challenger [event].
"All of our locations and stakeholders have been carefully selected to ensure we are forming a truly National 3x3 league that brings a deep understanding of the sport, a shared vision of where we know this sport is heading, and a culture like no other. With key people such as Mark Nash, a former NBL 300-gamer, and Tim Keating, a talented 3x3 player from Townsville who is currently [ranked] number 4 in Australia. Now Eric McAlister, current Rip City QBL player, and Carlie Smith, the number one female 3x3 player in Australia, are heading up the male and female sides at USC Rip. We are primed to stay on course with our vision."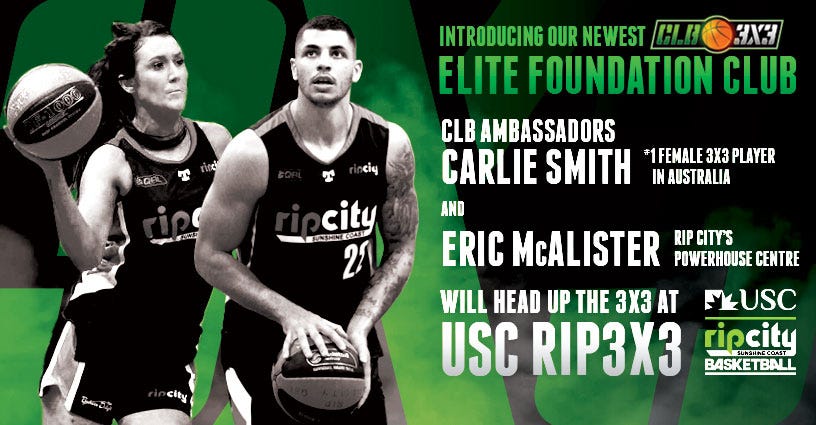 Carlie Smith, who has represented Australia on the FIBA 3X3 international stage, is looking forward to the opportunity to represent USC Rip3X3 and helping grow the sport in Australia.
"I take a lot of pride in helping 3x3 grow within this club and within CLB. It is proving time and time again to be a space that offers more opportunities for players to be able to explore other avenues of basketball. We are looking forward to officially being a part of the upcoming Aussie Summer Series"
2018/19 CLB3X3 Summer Series Schedule
You can register for an event via the FIBA 3X3 Planet app or website.
https://www.youtube.com/watch?v=lmuS27xF7xA&feature=youtu.be