Discover more from The Pick and Roll
We're all about Aussie hoops. Independent, objective analysis and commentary. Insightful narratives built around Australian basketball. Read about our men and women in the NBA, WNBA, NCAA, Europe, national teams, NBL, WNBL, NBL1, prospects and more.
Over 2,000 subscribers
NCAA Men: All-Aussie Pre-season Picks
There are more than 50 young Australian men in NCAA Division I college basketball this season; all be aiming to make an impact for their teams and in turn their country.
Damian Arsenis previews the cream of the Aussie crop in action and places his reputation on the line in delivering his pre-season All-Aussie teams - 10 players to watch - and his Player of the Year nominee.
Last year we saw the remarkable emergence of Queenslander Cameron (Chicago Bulls, NBA) at New Mexico who proved to be one of the best power forwards across the entire NCAA. With a work ethic second to none, he delivered one of the all-time great individual year's by any Australian in US college hoops. He was our pick as Aussie Player of the Year for 2013/14, and was duly selected at pick 49 by the Chicago Bulls in the 2014 NBA Draft. However who will be the standout Aussie this season? Will we see a number of players from down under step up to demand national attention?
While time will ultimately reveal the Aussie standouts for the season ahead, nevertheless I take a crack at selecting the players that I believe will be the ones to shine above all others.
---
Pre-Season All-Aussie First Team
G | Anthony DRMIC | Boise State
Last season promised so much for Anthony Drmic and the Boise State Broncos, only for injury to impact on the team's high expectations. Drmic was right on the heels of Cameron Bairstow early last season, and even led the entire NCAA in scoring average - even if it was only for one day! He was averaging more than 19 points per game before an ankle injury slowed him down, resulting in his scoring average dipping to just 15.9 - below his 17.4 average from a season earlier. Despite this he was still named to the All-Conference Second team.
The 2012 Mountain West Freshman of the Year is the only current Australian collegiate player this season who spent time with the Australian Boomers in the off-season. He has fully recovered from injury and is set for a big senior year ahead and help turn last year's disappointment into success this coming season. Success for the Broncos means a potential Mountain West crown and a return back to the NCAA Tournament. To do that, they will need Drmic to be at his sharp-shooting best, something that he is primed to do.
G | Hugh GREENWOOD | New Mexico
With the departure of the Lobos three star players in Williams, Kirk and Bairstow, make no mistake - New Mexico is now Hugh Greenwood's team. Greenwood has played the facilitator for the past three years. He has taken very good care of the ball and played the role of 'glue-guy' to near perfection as he provided the support for New Mexico's star trio and did whatever the team needed him to do.
In some ways expect nothing different. He will still be the 'glue-guy', the team leader and continue to do what he does best in taking care of the ball. However there is one key difference; Greenwood will be expected to score this season in a style of play that is more likely to suit his game. Expect to see Greenwood help drive New Mexico's more up-tempo game this year with a new-look lineup as they aim for another Mountain West crown.
F | Venky JOIS | Eastern Washington
Eastern Washington are a team on the rise, and the 6'7" junior forward from Melbourne is a big reason for their growing success. The small forward plays big and relishes the challenge, having worked his way to the top of the Eagles all-time blocked shots leaderboard after just 2 years. With a team growing in chemistry with all the key pieces returning, Eastern Washington and Jois are on the rise and a real chance to make some noise in the Big Sky Conference this year.
The 2013 Big Sky Freshman of the Year returns for his third year in arguably the best shape of his life and having worked on his agility and ball-handling and possibly a return to playing a point-forward type role. After receiving All-Conference honourable mention last year, the consummate team player who provides leaders, defense, scoring and rebounding is a legitimate chance for All-Conference recognition again this season. He is the player that brings the team together, and for the Eagles, that could result in long-awaited Big Sky success this season.
F | Jeromie HILL | Texas-San Antonio
After enduring two knee injuries that resulted in red-shirting last season, Jeromie Hill returns as a 5th year senior for the Roadrunners with a final chance to audition for a professional contract. Hill, like Drmic and Jois earned Freshman Player of the Year honours when playing in the Southland Conference, and now this season will be looking to return to the form that had him in contention for Western Athletic All-Conference recognition now in Conference USA.
The 6'8" sweet-shooting forward is a genuine inside and outside scoring threat, with an ability to hit the three-ball at a very good clip. He returns as just the 6th player in Roadrunner to compile 1,000 points and 500 rebounds and is set to break all kinds of team records this coming season should he remain healthy. He will be the barometer for his team desperate to return to on-court success, and if his exhibition form is anything to go by, he is set for a career-year.
C | Mangok MATHIANG | Louisville
Mangok (pronounced Mango) Mathiang is a towering 6'10" interior presence for the nationally #8 ranked Louisville. He worked his way into the rotation last season, providing defense and rim protection on one of the power programs in US college basketball and performed admirably. While his game still requires refinement, especially offensively, expect to see the big man play a lot of minutes for the Cardinals at center this season.
In fact the Aussie from Sudan via Melbourne could well push for a starting position on this team such is his progress and potential. Whether a starting berth eventuates or not, one thing is for sure - Mathiang is the most likely Aussie to be playing genuine minutes on a with legitimate NCAA Tournament Final Four aspirations this season. Expect to see a fair bit of Mathiang on ESPN this season - he is one to look out for.
Pre-Season All-Aussie Second Team

G | Peter HOOLEY | Albany
Peter Hooley stepped up big-time in last year's America East Conference Tournament to lead Albany to back-to-back crowns and the big dance, garnering Most Outstanding Player honours along the way. He earned a host of accolades last season, and I expect the 2014/15 season to be no different.
Hooley's outstanding perimeter play is likely to once again prove a major key to the Great Danes chances this season. With the confidence he obtained last season's performances, I can only predict bigger and better individual success for Hooley this season. As co-Captain, he will be leading from the front as he aims to guide Albany to an America East three-peat. Given his poise and ability to perform for the big occasion, there is no reason to suspect that they cannot achieve their goals.
F | Sam ROWLEY | Albany
Hooley's Aussie side-kick is senior forward Sam Rowley who is also happens to be the co-Captain this season. Like Hooley, he was named to last season's America East All-Tournament team and will once again prove to be an important piece to Albany's chances of a three-peat.
Already one of, if not the best power forwards in the conference, he will be looking to step it up to another level in 2014/15. He recorded 5 double-doubles last season and I am expecting that to get closer to 10 this season. He plays consistently at both ends of the floor and provides the intangibles that the stats do not often show. With his brother Mike also on the roster and with fellow Australian Geremy McKay joining the team, Rowley alongside Hooley will provide the perfect role models for them to emulate as they push for another tilt at the title. All going well, he will be hot on the heels of fellow forwards Venky Jois and Jeromie Hill.
F | Nick DUNCAN | Boise State
One word I would use to describe Nick Duncan is 'primed' - he is primed for a big season this year! He is the one Aussie who is likely to make the biggest improvement from the past season. Duncan lived on shooting the three-ball last season, and while he can continue to make a good living from distance, he has been working hard in the off-season to add a new dimension to his game.
Duncan has tone up and is arguably in the best shape of his life in a great sign for Broncos fans. Already boasting good size strength, Duncan has new-found agility and a quicker first step this season that he is hoping to use to get past taller opponents on close-outs. Expect to see Duncan drive more this season from the wings, and when defenders start sagging off he will hit the triple. With a fit and firing Drmic and Hadziomerovic playing alongside him, and some added size to the roster, Boise State will be tough to beat if they can get it going. Duncan will be a key to their success.
G | Taylor DYSON | Hartford
Last season, there were glimpses that Taylor Dyson was about to break out. He managed to work his way into the starting five for 15 starts and this season should see him firmly entrenched there, especially if the off-season trip to Australia is anything to go by. Put simply, Dyson starred for the Hawks in playing against state league, SEABL and NBL teams during their tour down under.
Dyson ended the tour with back-to-back 20-point outings and was shooting the three-ball at an exceptionally high percentage. If he can maintain that kind of form throughout 2014/15, then he will ensure that Hartford is humming and challenging the likes of Albany for the America East title and a trip to the NCAA Tournament. One thing is for sure, expect to see the live wire Dyson shoot plenty from the perimeter.
F | Daniel TRIST | Lafayette
Senior forward Daniel Trist possesses one of the most efficient offensive skill sets by any Aussie in Division I hoops this season. He shot the ball at better than 54% from the field last year, behind only Ball State alumni Majok Majok (Helios Domzale, Slovenia) and Cameron Bairstow out of those Aussies who scored more than 10 points per game. With the likelihood of an increase in court time from 22 minutes per game he played last season, there is no reason to believe that he cannot surpass his efforts from a year ago.
One area where the offensive threat needs to improve upon is his defense. If he can hold his own at that end of the court and lift his rebounding, Trist is sure to be one of the best Aussie forwards this coming season as he plies his trade in the Patriot League.
Player of the Year
Anthony DRMIC | Boise State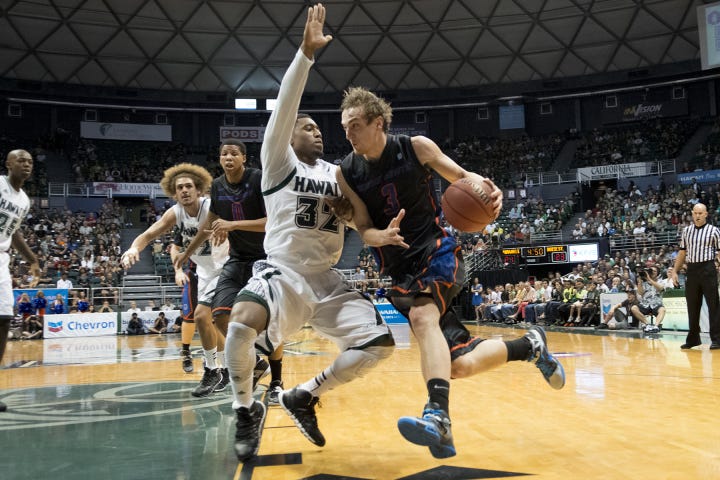 Drmic on the drive against Hawaii at the Diamond Head Classic - Courtesy John Kelly via Boise State Athletics
If Anthony Drmic stays healthy and plays to his potential, then he will take over the mantle from Cameron Bairstow as the best Aussie in college hoops this season. All going to plan, he will also lead the Broncos back to the NCAA Tournament. Heck, if he can average more than 20 points per game , shoot better than 40% from downtown and demonstrate he has improved defensively, I dare to dream he could nudge his way into the 2015 NBA draft as a late second round pick. There is a lot of water to pass under the bridge before we get too excited, but expect Drmic to be flying the Aussie flag as high as ever this season.
---
Listen
Listen to Damian breaking down his Top 10 Aussies in NCAA Division I college hoops this season on Melbourne's SEN 1116 sports radio broadcast on 11 November 2014 (from 24:19 onwards).
[soundcloud url="https://api.soundcloud.com/tracks/176322885" params="auto_play=false&hide_related=false&show_comments=true&show_user=true&show_reposts=false&visual=true" width="100%" height="450" iframe="true" /]
Do you agree with Damian's selections - did he get it right? Post your comments below.