The Ultimate Dante Exum Guide - Demystifying the Man of Mystery
It was worldwide news when Dante Exum decided to forgo college, declaring instead for the 2014 NBA draft. The 6'6 point guard is turning out to be the most talked about Australian basketball prospect in recent memory, and for good reason.
With standout performances in the FIBA U19 World Championships and the 2013 Nike Hoop Summit, Exum has shown that he's more than capable of competing with the best in the world in his age group. It's because of these performances that his stock has risen to the point where he's considered to be the best point guard in this draft class.
Exum is the son of Cecil Exum, a sophomore benchwarmer for the North Carolina Tar Heels in 1982 when UNC won a national championship with Michael Jordan and James Worthy leading the way. Cecil Exum also had a professional career in Australia, playing seven years in the NBL as a member of the North Melbourne Giants, Melbourne Tigers and the Geelong Supercats.
NBA general managers have already labeled Dante Exum as a future NBA All-Star, and his style of play is inherently pleasing. The most talked-about detail regarding Exum's recruitment, since July of 2013, is the mystery that surrounds him. He hasn't had the same exposure as the other players in this draft class, nor an illustrious mix-tape on YouTube and he didn't go to college. Yet he's universally billed as a top-5 talent. How does that work?
We bring you the Ultimate Dante Exum guide - from his junior basketball days in Melbourne, Australia to now just days away from being drafted and donning that elusive NBA cap.
---
Australian Institute of Sport (AIS)
https://www.youtube.com/watch?v=Rb_Mq_Mmohg
Exum joined the AIS at the tender age of 15, under the direction of Ian Stacker and Paul Gorriss.
The structure of the AIS involves ten male and ten female athletes living at the Canberra residence, under the direction of some of the best basketball coaches in Australia - kinda like a season of the reality TV series 'Big Brother', but with actual talent. Or perhaps, think of it as an un-televised season of 'The Ultimate Fighter' and you're halfway there. The athletes attend Lake Ginniderra for their secondary education and to learn important life skills. The aim of the AIS is to improve the athletes and aid their skill development both on and off the court.
Before attending the AIS, Exum received an invitation from former Australian Boomers head coach and current Philadelphia 76ers head coach, Brett Brown, to join the Australian men's national team in a training camp. At that time, Exum was the youngest athlete to ever train with the Boomers.
During his tenure at the AIS, Exum participated in 2 junior world championships, an adidas Nations tour and a Nike Hoop Summit appearance. Toward the end of his stint at the AIS, Exum received the 2013 AIS Junior Athlete of the Year award at the Australian Sports Commission Awards.
Credit - Australian Sports Commission & Basketball Australia
In an interview with ON POINT Basketball, Exum talks about how the AIS has helped his development, "I've been playing against the best players in Australia for a long time… that's really helped with my development." He continues, "Playing against older guys, bigger guys. That's helped me come on to the court and step up."
---
2012 FIBA U17 WORLD CHAMPIONSHIPS (Kaunas, Lithuania)
The FIBA U17 World Championships for Men in Lithuania was the first opportunity for Exum to perform in front of an international audience.
The Australian U17 squad, led by Exum and top 2015 prospect, Ben Simmons, performed extremely well throughout the tournament. A flurry of wins was sandwiched between two losses to the powerhouse USA squad, good enough for 2nd place.
Throughout the tournament Exum excelled in the open court, penetrating extremely well and finishing efficiently around the rim. An upside that was evident throughout this tournament was Exum's passing game. Although he only averaged 2.5 assists, his kick-outs were on point and he made smart plays in transition.
Exum averaged 17.2 ppg, 4.1 rpg, 2.5 apg, 43.9 % FG, 17.1% 3pt for the tournament.
This connection with Ben Simmons was the play of the tournament and illustrates how dangerous Exum is in the open court.
https://www.youtube.com/watch?v=kMzs04FiAhs
---
College
After Exum's impressive performance at the FIBA U17 World Championships, efforts by colleges to recruit him began to heat up.
Offers began to flow in – Indiana, Boise State, Georgetown and Oregon among those to immediately offer Exum a place in their respective programs. Indiana seemed to be the clear front-runner, with Exum attending the campus on an official visit in early 2013.
It wasn't until after his breakout performance at the FIBA U19 World Championships that more colleges began to show strong interest in the point guard. In August of 2013, Exum disclosed to ESPN the final list of colleges that he would choose from, if he were to attend. Those schools were Indiana, North Carolina, Kentucky, Michigan and Oregon.
https://twitter.com/GoodmanESPN/statuses/413751342889721856
After much deliberation with his family, whilst meeting with NBA player agents throughout the month of January, 2014, Exum officially decided to declare for the 2014 NBA draft.
https://twitter.com/chadfordinsider/status/428148923740336129
Exum agreed to hire agents Rob Pelinka and Brandon Rosenthal of Landmark Sports Agency as his representation. Pelinka is most widely recognized as Kobe Bryant's agent. He also represents James Harden, Andre Drummond and Andrew Iguodala to name just a few.
---
2013 Nike Hoop Summit
In April of 2013, Exum was selected to play with and compete against some of the most highly respected juniors in the world at the annual Nike Hoops Summit.
Playing for the talent packed World team, he joined Dennis Schroeder (17th overall pick in 2013 NBA Draft), Andrew Wiggins (Kansas Freshman), Lucas Nogueira (16th in 2013 draft), Sergey Karasev (19th in 2013 draft) and Livio Jean-Charles (28th in 2013 draft).
Dante Exum with fellow World Team members Andrew Wiggins and Karl Towns @ 2013 Nike Hoop Summit
At this point, he was still a relative newcomer and somewhat of a mystery to scouts and coaches alike.
Coming off the bench, Exum quickly silenced any doubters. He had an immediate impact, chipping in 16 points, 3 rebounds, 2 assists and 2 steals in just 22 minutes. While the Nike Hoops Summit was one of the only times the world has seen Exum excel against genuine talent, this performance was enough to help solidify his place as a top prospect in the 2014 draft class.
Dante Exum - 2013 Nike Hoop Summit statistics
https://www.youtube.com/watch?v=HAdbE72z2VE
In this interview with ON POINT Basketball, Exum talks about how the AIS has helped his game as he progresses in his career and wanting to guard Andrew Wiggins throughout the Hoop Summit trainings.
https://www.youtube.com/watch?v=rw12TCfgmog&feature=youtu.be
---
2013 FIBA U19 WORLD CHAMPIONSHIPS (Prague, Czech Republic)
Exum had a somewhat slow start to the FIBA U19 World Championships, coming across as quite passive initially and very turnover prone. His performance against the USA, a 51-94 loss, did not help his cause. Exum scored just 7 points in 11 minutes, struggling against the intense defense of Marcus Smart, before succumbing to an ankle injury.
Smart's ball denial of Exum did just enough to take the Aussie point guard off his game before injury struck. The loss to the USA put Australia at 2-5 and at risk of not advancing to the knockout rounds.
Rising to the challenge, from that point on, Exum showed the world what has been arguably his most impressive stretch of basketball to date.
A standout 20-point, 6 rebound effort against Russia assured Australia's place in the knockout rounds. Exum followed that up with his most memorable game of the tournament, a 33-point performance in an upset victory against the top-ranked Spanish team. Exum showed off his repetoire of skills right then, getting to the rim with ease. On top of that, he showed poise when it counted, making 12-of-13 from the free throw line.
https://www.youtube.com/watch?v=-IBvtMkkEdA
"In Prague, it was an up-and-down tournament for me," Exum admitted. "And I think, looking at my team, we realized I needed to step up if we wanted to do something with the tournament. I think I stepped up in the quarterfinal to beat Spain...the first-ranked team. Definitely, that was a time that opened up an opportunity for me."
Australia would eventually advance to the bronze-medal game, ultimately losing to Lithuania in an overtime thriller.
Exum averaged 18.2 ppg, 3.6 rpg, 3.8 apg, 44.6% FG, 33.3% 3pt
An obvious improvement is Exum's outside game, particularly his 3-point shooting. This rose from 17.1% to 33.3% between his 2 junior World Championship appearances.
Dante Exum - FIBA U19 World Championships - GAME STATISTICS
After Exum's brilliant performance in the tournament, he finally became recognised as one of the best talents in his draft class, and the talk began.
ESPN College basketball analyst Fran Fraschilla was the first to label Exum as a player who could sneak into the top 5 of the NBA Draft.
https://twitter.com/franfraschilla/status/353163266538749952
Immediately after the tournament, Jonathan Tjarks of SB Nation wrote a feature titled, "Dante Exum: The best NBA prospect you probably don't know". Tjarks was quick to point out how good he thinks Exum can be.
"Whatever Exum decides to do, the sky is the limit. For the most part, the very best basketball players all have elite size and athleticism for their position and the skill-set to attack a defense in multiple ways. Exum has all those things. As cliche as it sounds, he can be as good as he wants to be. When he's 25, he could be one of the best players in the world. Even in a draft as strong as 2014, it won't take long for his name to come off the board."
---
2013 Australian Schools Championships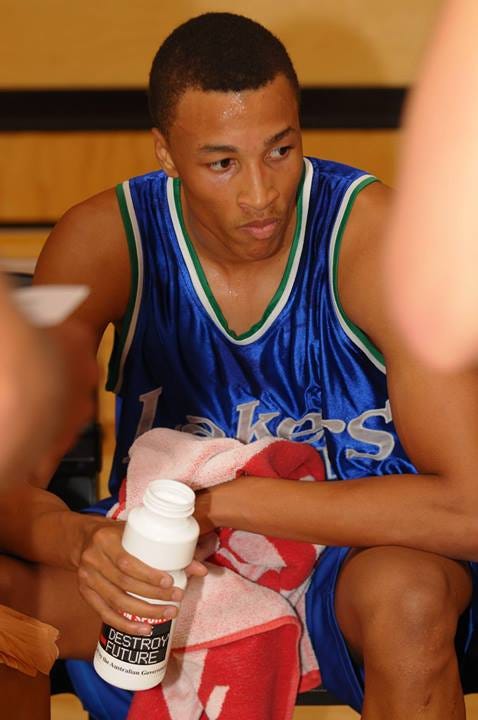 Credit - Basketball Australia/Kangaroo Photo's
It was initially uncertain whether Exum would participate in the Australian Schools Championships, with news of a foot injury a few weeks before tip-off potentially holding him back. Of course, Exum recovered quicker than expected and was 100% as he suited up for Lake Ginninderra.
Exum was dominant throughout the tournament, proving that his talent level was of a different standard to all competition. He was unstoppable on offense when he so desired, and at the other end, a defensive pest.
Jared Zwerling of Bleacher Report was in Melbourne for the tournament covering Exum's every move and though never verified, rumours that representatives from the Boston Celtics and Miami Heat were in attendance began to float around the State Basketball Centre.
Exum had a number of memorable performances throughout the week. He set the tone from his opening game against fellow Australian representative Michael Luxford, dropping 32-points and 8 rebounds in a win. An impressive triple-double in the semi-final matchup against Launceston was another highlight.
https://twitter.com/australianbball/status/408929425791545345
Although Exum shot just 33% from 3pt, it must be noted that he was intentionally extremely passive, making a conscious effort to shoot more jumpshots, an area that needed improvement entering the tournament. Another part of his game that was questioned entering the tournament was Exum's slight frame. This was exemplified during the Grand Final game as he struggled with the strength of fellow Australian representative point guard, Jonathon Mbakwe.
https://www.youtube.com/watch?v=pNRGoik0q58
Dante Exum - 2013 Australian Schools Championships - GAME STATISTICS
Match FGM-A 3PM-A FTM-A OREB DREB REB AST BLK TO PTS vs Caulfield Grammar 11-21 5-12 5-8 1 7 8 3 1 1 32 vs Willetton 6-16 0-6 1-2 2 6 8 5 0 2 13 vs Sydney Boys High 9-19 7-14 7-7 2 5 7 8 0 4 32 vs Concordia 11-30 1-12 14-17 3 9 12 7 1 0 37 vs Launceston 8-19 5-10 6-10 1 10 11 10 2 2 27 vs The Scots College 6-23 4-13 4-6 1 5 6 15 1 3 20
---
NBA Draft and beyond
After signing with Pelinka, Exum made his way to Los Angeles, California, to begin pre-draft training. In that period of time Exum also agreed to a deal with sporting giant adidas, becoming the first player in the 2014 draft class to sign a sponsorship deal.
Dante Exum signs with adidas
It's important to note the improvements Exum made in that workout period before the draft, clearly shown by his physical improvements since his previous measurements. Below shows Exum's 2013 Nike Hoop Summit measurements compared to those taken at the more recent NBA Draft Combine. Year Source Height w/o Shoes Height w/ Shoes Weight Wingspan Standing Reach Body Fat (%) No Step Vert Max 2014 NBA Draft Combine 6'4.5 6'6 196 6'9.5 8'7 6.4 31.5 34.5 2013 Nike Hoop Summit N/A 6'6 188 6'9.25 N/A N/A N/A N/A
Dante Exum's Measurements in comparison to current NBA point guards
As you can see, his athleticism is up to par with some of the best point guards in the NBA - a stat that should be reassuring to NBA execs who are considering drafting the young Aussie.
Last month, AUS BBALL Prospects and The Pick and Roll contributed to CBS Sports Fantasy Basketball to give an insight on Exum and our thoughts on him as the draft approaches.
We described Exum as a Russell Westbrook type of athlete, with more of a Tony Parker type of mindset and approach to the game – based on our observations watching Exum over the past few years.
Just a week later, during his 2014 NBA draft combine interview, Exum told the media that he sees a lot of Russell Westbrook in his game – so this seems to be a fair comparison, albeit premature.
https://www.youtube.com/watch?v=keJ6k5f8Rps
As for his readiness for the NBA?
Local sports journalist Roy Ward says it best, "He has to get stronger, has to improve his jump shot and will take time to adapt to playing 82 games – you could say that about everyone in the draft. But mentally, psychologically I have no doubt he is ready to be a pro and will make whoever drafts him better . . . Dante has been a heart-beat away from the NBA for over a year now but hasn't let it change his values – if that isn't the best possible indication of his ability to handle the NBA, then I don't know what is."
So where do we, the supposed 'Exum Experts', see the Aussie phenom being selected in the draft?
We've heard from some Australian sources that Brett Brown, the former Australian National Head Coach and current Philadelphia 76ers head coach, is extremely high on Exum, and visa versa. The two reportedly had a long phone conversation, leaving Exum with the impression that the 76ers are strongly considering using their pick on him. That information we gathered, along with Joel Embiid's recent injury, would slot him right into the #3 spot. ESPN's Chad Ford also has Exum going at the #3 spot in his latest mock draft (ESPN Mock Draft 8.1).
Dante Exum has all of the tools to be a success in the NBA. His ceiling is unlimited and, from what we can see from his improvements over the past year, he's willing to work to be the best. Not only could Dante be the face of basketball in Australia, he has the ability to make an impact on the way we see the NBA as a global game.
---
The mystery behind Dante Exum is what makes his rise to stardom such a great story. Even Dante himself is aware of his anonymity and he's willing to make fun of it in a series of Foot Locker ads titled ""Life Changes After the Draft". Check out the videos in the links below! Dante Exum's Foot Locker ads - "Life Changes After the Draft" Autograph Fan Mail Paparazzi Dorky Neighbour Reservation
Dante Exum's Player Profiles: