Discover more from The Pick and Roll
We're all about Aussie hoops. Independent, objective analysis and commentary. Insightful narratives built around Australian basketball. Read about our men and women in the NBA, WNBA, NCAA, Europe, national teams, NBL, WNBL, NBL1, prospects and more.
Over 2,000 subscribers
U18's Australian Junior Championships - Semifinals Previews
We're entering Day 7 of this year's Australian Junior Championships and it's time for the final four. Victoria has continued to dominate the tournament, remaining undefeated in both men's and women's, Metro and Country teams – credit to Basketball Victoria and their coaching staff for such an improbably feat at this point in the tournament. The South Australia teams have also exceeded expectations and have performed incredibly, with 3 teams looking to compete for a spot in the championship game.
Credit: Kangaroo Photography and Basketball Australia
Men's
VIC Country vs NSW Country
The first men's semifinal of Wednesday's action is the matchup between VIC Country and NSW Country. Both teams have had impressive tournaments – cruising through their quarterfinals games to make it to this point. NSW Country have created an aggressive defensive identity that makes them tough to handle, it's something VIC Country haven't come up against yet in this tournament so look for NSW Country to press hard and try to stifle them early.
VIC Country have the clear size advantage in this matchup – look for them to establish Tim Molloy and Jacob Pupavac down low early against NSW Country's smaller lineup.
Jack White will be the key factor in this game; he's been the most productive player all tournament and hasn't shown signs of slowing down. It's likely we'll see Sean Cranney or Matt Kenyon matched up on White to start the game but, if White's previous games are any indication, he'll still be able to put up some big numbers.
The x-factor for NSW Country would be Kouat Noi – he didn't have a great game in their quarterfinals matchup against NSW Metro, the size of Humphries and Gak proving to be too much for the 6'7 forward. He'll be looking to rebound and come out strong to start this semifinal match. Noi has been a prolific and efficient scorer all tournament but seems to struggle when matched up against size and length – we'll likely see Tim Molloy matched up against Noi to start the game so expect him to pull himself out toward the 3-point line and attack from the perimeter.
Key Players:
VIC Country:
Jack White – 23.4 ppg, 8.7 rpg, 58% FG
Tim Molloy – 9.4 ppg, 4.3 rpg, 48% FG
NSW Country:
Kouat Noi – 22.3 ppg, 3.5 rpg, 63% FG
Jayden Hodgson – 12.1 ppg, 2.8 rpg, 45% FG
---
VIC Metro vs SA Metro
SA Metro has surprised everyone and is one of 3 South Australia teams that have qualified for a semifinal game. They've proven to be the modern day Cinderella story – playing extremely hard to overcome their lack of size. VIC Metro provides a story on the other end of the spectrum, however. The clear favorites at the beginning of this tournament, VIC Metro have cruised through preliminary rounds and, although New Zealand didn't let down in their quarterfinal matchup, VIC Metro never really looked like losing.
VIC Metro not only has an insane amount of individual talent, but they've the perfect formula in order to play wining basketball. A perfect example of the depth that this VIC Metro team possesses is in their quarterfinal matchup against New Zealand – Tom Wilson, who's been VIC Metro's most consistent and productive scorer, had just 10 pts on 3/16 FG – But that statistical line was insignificant because Dejan Vasiljevic stepped up with a game-high 27 pts. Their depth is extremely unique and would be incredibly tough to beat.
SA Metro has had an incredible run leading up to this semifinal game. They've done a great job making up for their lack of size with the hustle and energy they bring to the floor. Nick Fassos has done a great job leading this team up to this point and will be key if they look to take down the tournament favorites. Fassos had a somewhat mediocre start to SA Metro's quarterfinal against QLD North, missing some easy looks at the rim. But he stepped up late and hit some big shots to seal the win. His leadership, and his ability to get to the free-throw line, will be key if SA Metro wants to compete.
Credit: Kangaroo Photography and Basketball Australia
Key Players:
VIC Metro:
Tom Wilson – 17.3 ppg, 5.6 rpg, 49% FG, 40% 3pt
Abi Akintola – 17.3 ppg, 5.7 rpg, 74% FG
SA Metro:
Nick Fassos – 15.6 ppg, 5.4 rpg, 38% FG
Madit Daniel – 13.3 ppg, 2.9 rpg, 41% FG
---
Women's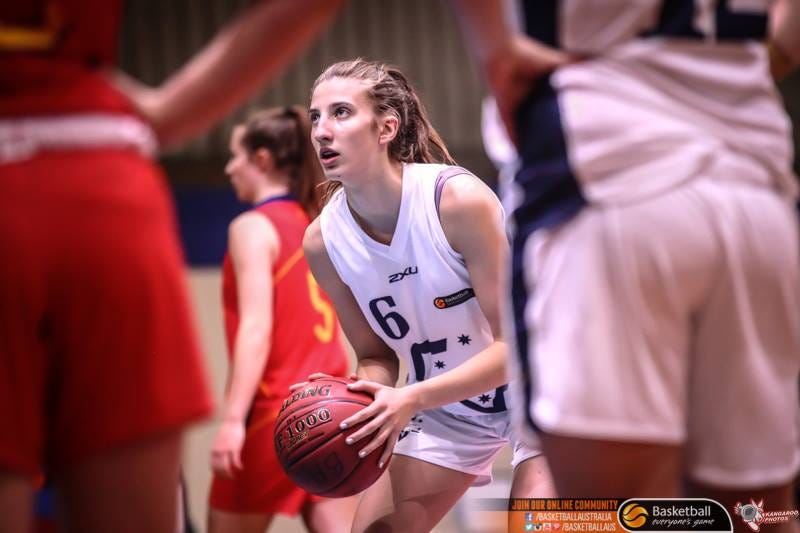 Credit: Kangaroo Photography and Basketball Australia
VIC Country vs SA Metro
The first women's semifinal is a matchup between 2 teams that play completely different styles of basketball: VIC Country is a team with a lot of size and length that like to go down low and finish in the paint. SA Metro is more of a perimeter-oriented squad, shooting a lot of 3-pointers, and making a lot of them.
VIC Country has the clear size advantage in this game, with an impressive starting frontcourt of Chantel Horvat, Chloe Bibby and Ella Hellessey. They'll need to look to establish their dominance down low early in the game – this is something that NSW Metro didn't do in their quarterfinal matchup against SA Metro and it may have cost them the game. In particular, Bibby and Hellessey will also need to stick to their fundamentals when defending the paint. SA Metro shot 32 FT's in their quarterfinal game and made 25 of them. VIC Country will need to keep SA Metro off the line to stop them from getting those easy points.
SA Metro can flat out shoot the ball – they jacked up 27 3-pointers in their quarterfinal game, making 8 of them. Taylor Ortlepp doesn't need much room to pull the trigger and is shooting from range at a high percentage – shooting 42% from 3-point range. SA Metro has a lot of offensive weapons, the most productive being Jade Johnson, who's averaging a team-high 18 ppg. Johnson has been the most consistent scorer for SA Metro and attacks extremely well from the perimeter.
Key Players:
VIC Country:
Chloe Bibby – 19.2 ppg, 11.7 rpg, 52% FG
Ella Hellessey – 16.5 ppg, 9.7 rpg, 3 bpg
SA Metro:
Taylor Ortlepp – 14.8 ppg, 4.7 rpg, 3.3 apg
Jade Johnson – 18 ppg, 5.5 rpg, 42% FG
---
VIC Metro vs SA Country
SA Country managed to upset NSW Country to advance to these semifinals. They'll face a VIC Metro team that has the size and national representative pedigree to be pegged as the favorites to win it all. VIC Metro remains undefeated while SA Country has dropped 3 games so far this tournament. One of those losses came to this very VIC Metro squad where an extremely rounded scoring effort for VIC led them to an 86-74 victory.
This VIC Metro squad is yet another team from Victoria that boasts several Australian representative players. Anneli Maley has had a great tournament up to this point and she'll look to continue her fine form as she comes up against a relatively small SA Country frontcourt. It's Maley's size and athleticism that separates her from the pack – something that was on full display in VIC Metro's quarterfinal matchup against QLD South where she pulled down 19 rebounds to go a long with her 21 points. Combine this with Alexandra Sharps' offensive diversity, the added size and length of Georgia Pineau and Grace Collett, and VIC Metro are once against the favorites to advance to the Championship game.
Demi Skinner has been a star performer for SA Country and has been one of the most productive players all tournament. She ranks top-5 in scoring and has also done a great job rebounding the ball - she'll be key if SA Country wants any chance of coming away with a victory. Another big factor in SA Country's chances is the play of Sarah Elsworthy. She's done a great job sharing the ball this week, leading all women in assists with 3.9 a game. Against a VIC Metro squad that likes to press full-court quite aggressively, Elsworthy will be extremely important in controlling the pace of the game for SA Country.
Key Players:
VIC Metro:
Anneli Maley – 16 ppg, 10 rpg, 52% FG
Alexandra Sharp – 11 ppg, 8.7 rpg, 2.9 apg
SA Country:
Demi Skinner – 18.9 ppg, 6.9 rpg, 1.7 apg
Sarah Elsworthy – 12.1 ppg, 3.6 rpg, 3.9 apg