U18's Australian Junior Championships - Grand Final Preview
After 7 days of tournament play it's now down to the Championship games. We've seen some of the best junior players in the country do what they do best and it'll come down to the last day to find out which state will take out the National Championship. A lot of credit has to go to Basketball SA and the teams they've submitted in this tournament – they weren't expected to do anything special but they managed to have 3 teams competing in semifinals action – an amazing effort.
---
Men's
NSW Country vs VIC Metro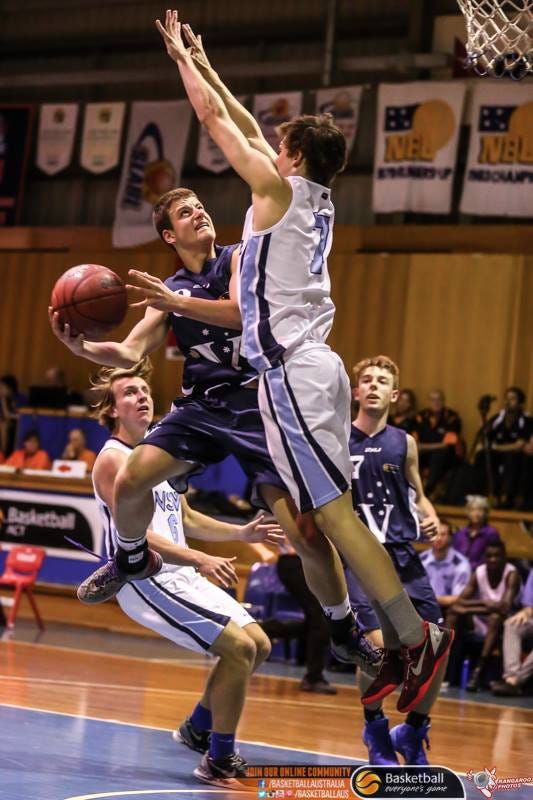 Credit: Kangaroo Photography and Basketball Australia
If the first matchup between these 2 squads is any indication, then this Men's Grand Final is sure to be a good one. VIC Metro were always pegged to go all the way in this one – they have the most Australian representative players and a lot of their squad are returners from last year's championship winning side. NSW Country always had a strong chance of making the Grand Final – a lot of their players were in last year's U16's National Championship winning squad. They play with a defensive aggressiveness that's unmatched this tournament, sometimes resorting to playing 5 guards for an especially gritty defensive lineup.
NSW Country seems to have gone away from Kouat Noi on offense, instead relying on the play of Jayden Hodgson to create for them. Though this is definitely a viable option, and it seems to be working, the smart option would be to go back to Noi. Noi's efficiency is what stands out most; he's shooting at an incredibly high percentage because of the easy looks he gets, these are the kind of baskets you need against what is a capable VIC Metro defensive squad.
VIC Metro had star PG Matt Owies coming off the bench for the first few games but have started him toward the latter end of their fixtures. He does a great job controlling the pace of the game and creates some really good opportunities for his teammates. He's also a feisty defender – he's capable of staying in front of his man and has quick hands to create steals and deflections. Abi Akintola is shooting at an unheard of rate right now and that's largely thanks to the opportunities that Owies creates for him.
Credit: Kangaroo Photography and Basketball Australia
Oliver Robilliard has been quiet yet effective for this NSW Country squad and may prove to be their X-factor in this Grand Final matchup. Robilliard did a great job leading this team during Hodgson's absence and is an extremely capable defender. In the semifinal he grabbed some key rebounds to help seal the win – it's these kind of winning plays that makes him such an effective player despite some of his shooting deficiencies.
The X-factor for VIC Metro will be the play of Jakob Cornelissen, more specifically the shooting of Cornelissen. He's been a knockdown shooter for VIC Metro all tournament and, with the attention that the likes of Tom Wilson, Dejan Vasiljevic and Abi Akintola will draw, he'll have a lot of open looks that he'll need to hit. If his jumpshot is falling then this VIC Metro team will be incredibly hard to stop.
Key Players:
NSW Country:
Jayden Hodgson - 12.2 ppg, 2.8 rpg, 84% FT
Kouat Noi – 22.3 ppg, 6.5 rpg, 63% FG
Sean Cranney – 13.7 ppg, 3.7 rpg, 3.5 apg
VIC Metro:
Abi Akintola – 17.3 ppg, 5.7 rpg, 74% FG
Tom Wilson – 17.3 ppg, 5.6 rpg, 2.6 apg
Matt Owies – 7.6 ppg, 3.6 rpg, 3.3 apg
Time: 7pm
Venue: Belconnen Sports Centre Court 1
---
Women's
Victoria Metro vs Victoria Country
This Grand Final matchup is one that was expected when this tournament began. Both teams have a unique mixture of solid frontcourt talent and capable guard play. This game will come down to who's able to contain the other on the boards, and inside the paint.
Credit: Kangaroo Photography and Basketball Australia
VIC Metro had trouble finding their feet in their semifinal against SA Country; some early foul trouble put them out of rhythm, which had them down at the half. They managed to regain their inside dominance and win comfortably. Anneli Maley will cause some problems for the VIC Country bigs; she displays athleticism that seems unmatched at her size in this tournament. She has the ability to sky for a rebound and take it coast to coast, with the awareness to dish it off to open teammates. The VIC Country bigs don't possess the same mobility that she does so it'll be interesting to see if they'll be able to handle it.
VIC Country will go to their 2 bigs that have been extremely reliable for them all tournament. Chloe Bibby and Ella Hellessey have not only been productive for VIC Country, but they've also been efficient. They managed to overcome the hot 3-point shooting of SA Metro in their semifinal with some solid post play. Of course, VIC Country haven't faced an opponent like their Metro counterparts yet in this tournament. The likes of Georgia Pineau, Grace Collett and Anneli Maley will all be factors in slowing the VIC Country bigs.
Credit: Kangaroo Photography and Basketball Australia
The X-factor for VIC Country would be the play of Chantel Horvat and Eliza West – both of whom were key in their semifinal win over SA Metro. Horvat has terrific perimeter skills for her size and was able to blow by her defender and get to the basketball for easy points, while West has displayed a really effective penetrate and dish game – something's extremely useful when playing next to skilled frontcourt players. She'll be key in maintaining the pace of the game, especially against VIC Metro PG Maddison Rocci, who has an incredibly similar game.
VIC Metro's X-factor will be the play of Australian representative Alexandra Sharp. She struggled a bit in the semifinals but she definitely is one of the most skilled players in this tournament. Sharp looks incredibly comfortable on the court, displaying one of the smoothest and most versatile styles of play.
Key Players:
VIC Metro:
Anneli Maley - 16 ppg, 10 rpg, 52% FG
Alexandra Sharp - 11 ppg, 8.7 rpg, 2.9 apg
Georgia Pineau - 10.6 ppg, 5 rpg, 48% FG
VIC Country:
Ella Hellessey – 16.6 ppg, 11 rpg, 3.3 bpg
Chloe Bibby - 17.6 ppg, 11.6 rpg, 51% FG
Chantel Horvat – 11.3 ppg, 5.7 apg, 2.1 apg
Time: 5pm
Venue: Belconnen Sports Centre Court 1