Discover more from The Pick and Roll
We're all about Aussie hoops. Independent, objective analysis and commentary. Insightful narratives built around Australian basketball. Read about our men and women in the NBA, WNBA, NCAA, Europe, national teams, NBL, WNBL, NBL1, prospects and more.
Over 2,000 subscribers
U18's Australian Junior Championships Day 3 Recap - VIC Metro continues to roll; Gak lifts NSW Metro
As each day passes, it seems as though the games are getting more and more intense here in Canberra. The players are getting settled in and every team is looking extremely refined as we enter Sunday's matchups. In men's basketball we saw NSW Metro and ACT pick up their first wins of the tournament, while both VIC teams continue to dominate. In the women's, VIC Metro picked up some solid wins to stay undefeated while both NSW teams remain strong.
Men's
VIC Metro is yet to be challenged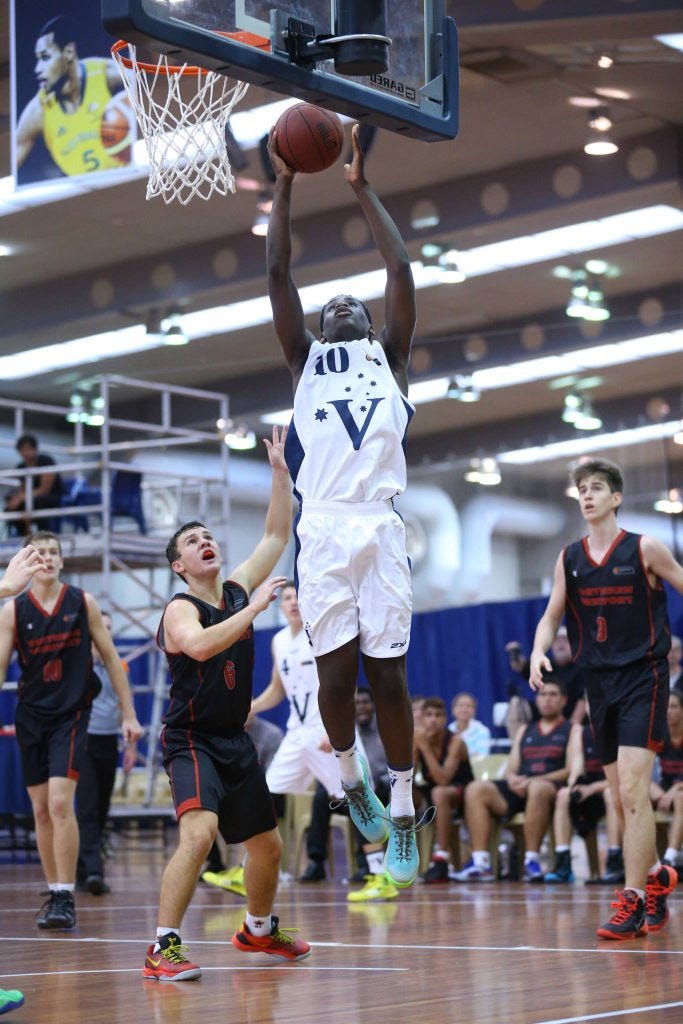 Credit: Kangaroo Photography and Basketball Australia
VIC Metro has been led by the play of Tom Wilson and Abi Akintola, who are averaging 23.3 ppg and 16.6 ppg respectively. VIC Metro has started the tournament a perfect 4-0 and is doing so with ease – winning by an average of 65 points. They have yet to be challenged so far in this tournament, cruising through every game thus far. They face a Queensland North team tomorrow that's coming off an uplifting win over Northern Territory, so it'll be interesting to see if the Harry Froling-led squad can break VIC Metro's unbeaten streak.
NSW Country rally despite Kyle Clark's big performance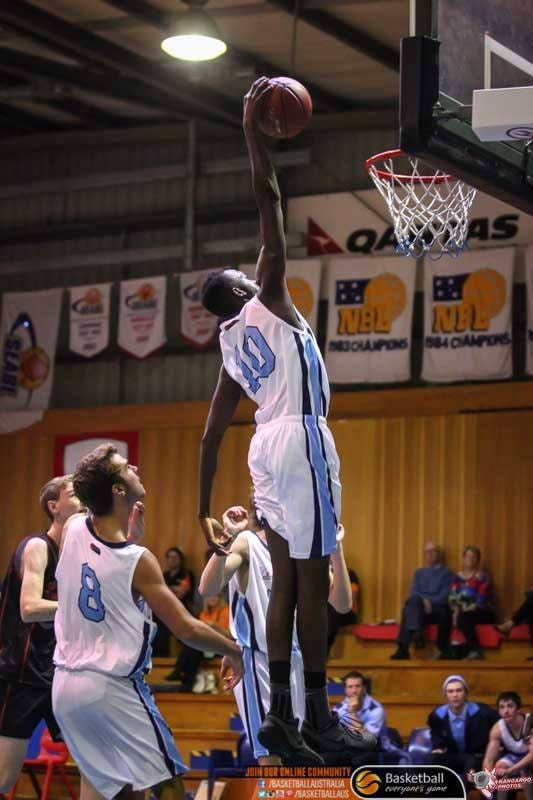 Credit: Kangaroo Photography and Basketball Australia
Kyle Clark finally had the game everyone has been waiting to see. Clark's game had dropped off recently, but he redeemed himself with an impressive 27 points and 13 rebounds against NSW Country. This effort wasn't enough as NSW Country managed to get the 84-73 win over Tasmania. Clark was extremely impressive on Saturday, showing off an array of skills, both from the perimeter and inside the paint. NSW Country managed to pick up the win thanks to another great scoring effort from Kouat Noi. It'll be interesting to see how far NSW Country can go considering the fact that the extent of the injury of PG Jayden Hodgson is still an unknown right now.
Gak impresses as NSW Metro picks up their first win
With NSW Metro looking for their first win of the tournament and star big-man Isaac Humphries in undeserved foul trouble, fellow Centre of Excellence big-man Deng Gak picked up the slack to lead them to an 82-70 victory over New Zealand. Gak caused a lot of trouble for the NZ big-men, block 3 shots and altering many more. He also managed to pull down 17 rebounds in his most impressive performance of the tournament. NSW Metro's bench really stepped up in this victory and expect then to carry this momentum into tomorrow's matchup against WA Country.
SA Metro sneakily starts 4-0
As usual, both Victoria squads are looking strong while both NSW squads are improving after each game. But a team that no-one seems to be talking about is SA Metro – they've started the tournament 4-0 and have looked really strong heading into Day 4. Led by Nick Fassos and Will Gleeson, SA Metro will have to be at their best if they want to top an also-undefeated VIC Country squad.
---
Women's
VIC Metro picks up important win over NZ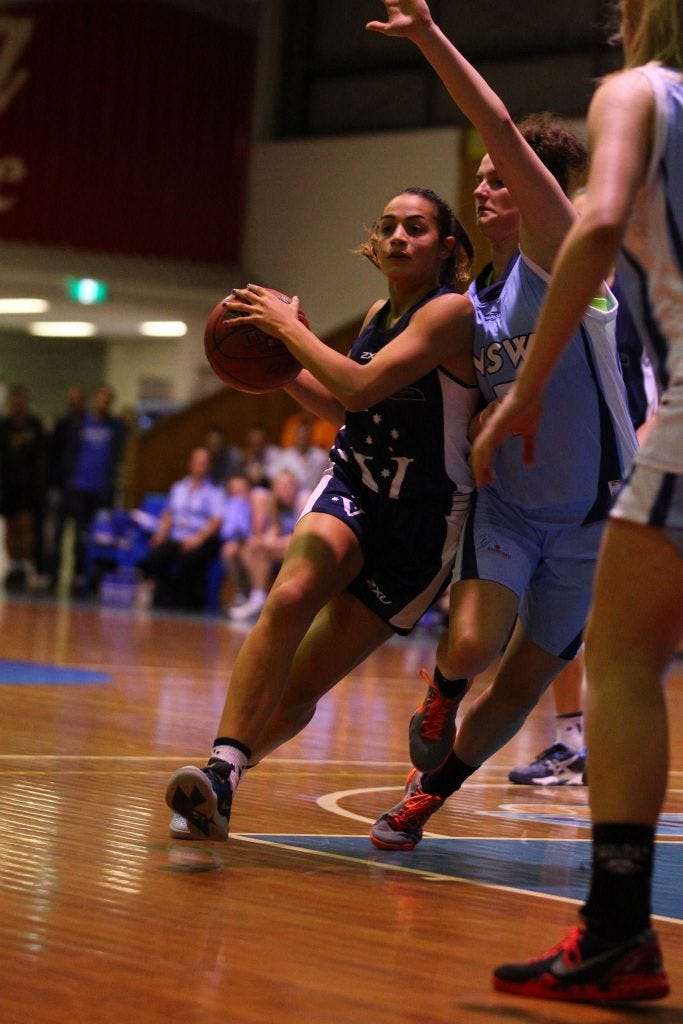 Credit: Kangaroo Photography and Basketball Australia
Entering Day 3's action, the VIC Metro vs NZ matchup was touted to be extremely exciting. Both teams were undefeated entering the game and had some very impressive performances. Anneli Maley stepped up with 18 points and 9 rebounds as VIC Metro picked up a convincing win, leaving them as the only undefeated team left in their pool. VIC Metro finished the day with a thrashing of WA Metro who just weren't able to keep up with the fast-paced play.
Tupaea leads NSW Metro to 3rd straight win
After dropping their first game to a strong VIC Metro squad, NSW Metro has managed to string together a 3-game winning streak. Day 3's game against SA Country was close throughout, but it didn't take long for star guard Tahlia Tupaea to take over the game. Tupaea took over the game both offensively and defensively to lead them to a 72-61 win over SA Country. NSW Metro will have to be at their best if they want to pick up their 4th straight win as they face a strong NZ side.
NSW Country's team effort keeps them undefeated
Throughout the first couple of days of tournament play, NSW Country was led by the amazing play of their star guard duo – Jasmine Forcadilla and Elizabeth Tonks. With Tonk's sitting on the sideline for their Day 3 matchup against WA Country, the rest of squad needed to step up. They did an amazing job sharing the ball – assisting on 25 of their 39 field goals. This is a great sign as they continue to look like one of the favorites – earlier in the tournament they looked like a 2-woman squad but over time they've managed to share the ball and show that their entire team is a force to be reckoned with.
---
A lot of the teams are only just starting to find their feet in this tournament so any suggestion of a 'favorite' could be short-lived. We're still in the front end of this tournament so it's likely that a lot of these teams haven't reached the peak of their potential. We'll be there all week covering the action so make sure to stay tuned!