Discover more from The Pick and Roll
We're all about Aussie hoops. Independent, objective analysis and commentary. Insightful narratives built around Australian basketball. Read about our men and women in the NBA, WNBA, NCAA, Europe, national teams, NBL, WNBL, NBL1, prospects and more.
Over 2,000 subscribers
Prehab before rehab: How strength and conditioning is key to reducing ACL injury risk within female sport
"You can't control the uncontrollable."
Through the 13-month layoff period in which WNBL star Sara Blicavs tolerated rehabilitation, those were the words she would often think, say, and shout. It definitely gravitated her towards a healthier way of living.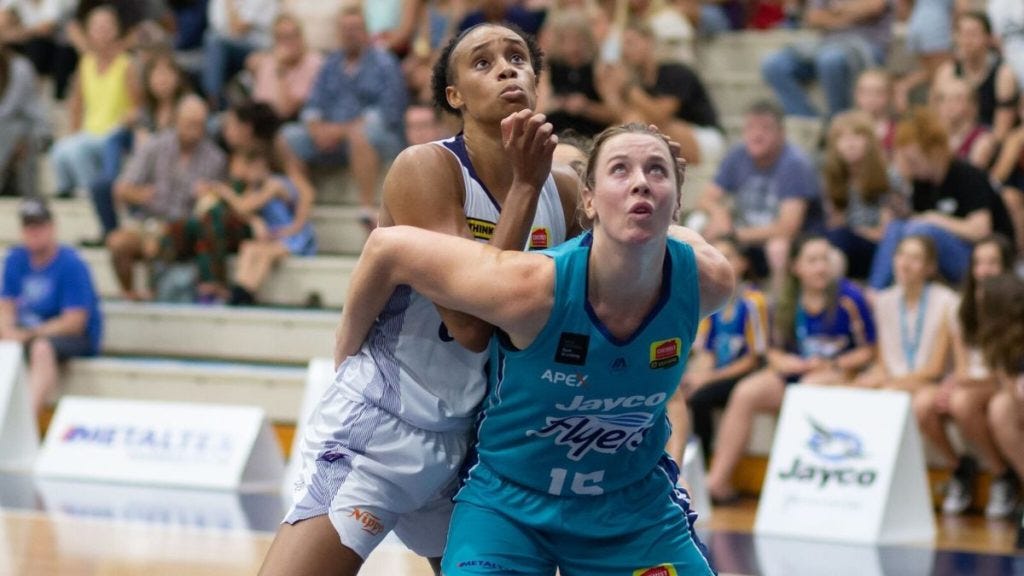 Credit: Michele Couling Photography
---
It's been over two years since Blicavs was forced to consider her own physical and mental challenges. Not only did she rupture the anterior cruciate ligament (ACL), Blicavs also tore the meniscus root from the bone, fracturing her knee in the process. Evidentially, this resulted in a lengthy rehab process where she sustained a total mindset shift. Unable to follow the typical routine trajectory of ACL rehabilitation, Blicavs' return to play date was consistently pushed further and further away.
"It wasn't as easy as waiting out your eight to ten months and then coming back. I dealt with ongoing swelling basically for eight whole months, because my knee required three surgeries, not just one," Blicavs explained. "You see a lot of girls coming back early, and their risk of doing it twice has increased. Even though it was super tough, I am thankful it took me 13 months."
One popular athlete narrative has its roots in resilience: the ability to recover and overcome adversity. The stories are inspirational but the journey is never easy, especially when injuries are often devastating to one's career, both mentally and physically. More often than ever, strength and conditioning (S&C) plays a critical role in helping athletes prepare mentally for the physical challenge of performing at an elite level, and also on injury prevention as well as rehabilitation. The alarming rise of ACL tears within female sporting codes has raised concern toward the amount of injury prevention protocol available.
With an increase in female participation, it's imperative for aspiring athletes to be educated on the risks around unconditioned play. "I was never big on strength and conditioning," Blicavs shared. "I always did it to maintain my body shape and strength at the time. But I really bought into it after my knee. I remember when I was 16, before I went to the institute of sport, I would do max two [gym] sessions a week and play once or twice a week. I was a late bloomer; my body hadn't developed anyway so there was really no point in me doing gym right away."
With the support of her brother Kris --a S&C coach specialising in injury prevention-- Blicavs discovered many ways to optimise her workouts, all while strengthening her dodgy knee. "Kris was incredible for me, he got me motivated and back into the gym. I think now after going through it, it's probably the most important part of sport, doing weight training is protection. I now do activation. Before any training session, gym, any game, I'll make sure I'm doing all these muscle activations so my VMOs are firing, my glutes are firing, my abs are firing, so when I warm up and I'm ready to play, I've got that support and protection from my joints and ligaments."
Developing healthy habits in the gym enables an athlete's longevity in their chosen sport. Speaking to experts in the field of physiotherapy, there has never been more emphasis on player empowerment through muscle manoeuvrability and strengthening, yet it can often play second fiddle to routine skill work.
Melbourne-based physiotherapist Mick Hughes - who specialises in ACL rehabilitation – spoke with The Pick and Roll about the role of strength and conditioning routines for developing athletes, discussing the impact it can have on reducing the rate of injuries to the ACL and similar. "Given in the right circumstances, with the right dosage, right technique and the right coaching, strength training and resistance training in youth adolescence can be quite powerful and beneficial to both injury prevention, and injury protection, but also performance enhancing to make them fitter, faster, stronger, more robust athletes."
Reducing the risk of knee injuries remains a constant medium for strength and conditioning trainers. Head of S&C for the Australian women's volleyball team, Arj Perera supported claims that women must build and develop their body prior to increased participation and contact. As one of the most recognisable high performance coaches in Victoria, Perera outlines why pertinent education directly benefits several factors relating to the athlete's development. Knowing how to apply programs of muscle stability is rapidly becoming the norm within elite-level team environments.
"I think women are realising, there's no restrictions that they should place on themselves, that is the most important thing," said Perera. The common misconception around weight and resistance training is that it can stunt the growth of younger athletes. As stated by Hughes, the practice of strengthening developing bodies can in fact add major benefits such as longevity, production and injury prevention. Perera instils this way of thinking into his programs. An environment which replicates and encourages muscle adaptation, Barbell Babes Brigade is a Melbourne-based, female-driven and female-focus gym which encourages women empowerment through heavy lifting – just one example of new-age training for keen athletes.
"You look at Bec Cole's Instagram, she is a monster! She just works and works and works, effectively, and goes for it," shared Perera. "You watch her on court, you see how she works, the short-range speed and then the long-range speed to cover the court. Her vertical, doesn't care if the opponent is twice her size. She's coming at you."
For Blicavs, her most effective communicators throughout ACL rehab were close to home. "My family were great. I was very fortunate with my support system, being a part of the Opals, the WNBL, I had access to that kind of stuff, facilities and people. Even if you have all that, it's still a very lonely process," Blicavs shared. "I was absolutely rapt that I could get my leg straight for the first time and that was a huge celebration for me, the first time I jumped and landed properly was massive! All these little goals. Having a good support system around you is super beneficial.
"I do a lot of weird, wacky and wonderful exercises with my brother Kris. It's not just normal strength training, we do a lot of heavy lifting and all the basic weight training for basketballers. But there's also a session dedicated to control, body movement, landing, and strength in the little muscles that you need to be firing at all times. Those are the kind of sessions everyone needs to be doing at some stage, it's a lot of band work, one-leg work off balance stuff where you're required to land, be in control and catch the ball on one leg. Doing all this stuff, you have that confidence around your knee."
Janet Main understands both sides of the coin. She's a leading physiotherapist who has worked largely with New Zealand's national rugby and basketball team, researching the effects of high performance and injury prevention programs. She's also a professional basketballer in her own right, having represented New Zealand in the 2016 FIBA 3X3 World Championships. Main's stance on reducing the total number of female ACL injuries is projected through her physiotherapy work, which begins in female physiology and its relationship with injury. While she doesn't pinpoint an overriding cause, studies have alerted the high risk relating to the female hormonal system, arguing that while many shy away from it, the perception of this topic is changing.
"If you look at the sheer size, the width of the pelvis, you can --with the right strength and conditioning-- create a very powerful female. When talking risk factors, the menstrual cycle is huge, which we're learning a lot more about now. I can't believe I train and play, yet know nothing about this – and most females will tell you the same.
"There's a lot of studies now that are starting to come out with the AFLW: within those few days before day one of the menstrual cycle, because of hormone levels, there's actual changes at the cellular level. The ligaments are relaxed and you are more predisposed to possibly injuring yourself."
While there is evidence relating to the hormonal period, the most common cause of female specific injuries is yet to be determined – leading to more and more work attributed to prehabilitation and muscle stabilisation. Prehab is a clinical approach which helps combat chronic pain prior to surgery, though various motion exercise programs. Physiologists tend to recommend prehab as a way of preparing athletes for an accelerated recovery post surgery.
"Most athletes have their program given to them for prehab, but if you can do things that individualise the mobility, you aren't jammed up in other areas," Main explained. "These are your focuses, your strength and stability exercises, compound exercises, so that you go into a season specific to you. Overall things are getting better, there are prevention type programs starting to appear for ACLs."
As someone who found herself in an awkward situation while plying her trade in the United States, Aussie forward Lou Brown suffered multiple setbacks on her journey with collegiate program Tennessee Lady Vols. After tearing her ACL and meniscus in October 2018, Brown succumbed to yet another meniscus tear less than ten months later. Incidentally, she would spend a total of six years at two colleges, Brown quickly became a story of determination and resilience.
After recently joining The Pick and Roll team, Brown discussed what she learnt about mental preparation through recovery. "I had to learn how to approach those challenges differently because basketball had always been such an outlet for me. Using basketball or the sport you are in as a sanctuary, to get away from things that are going on in your life." Brown said in a recent chat. "I learnt was how important the prehab was. The time between my injury and surgery, you kind of think you go into surgery and they fix everything. It's just as important, the prehab, making sure my knee was in the best shape possible so it had the best chance to respond to the surgery. Just being able to learn about many different preventative measure that can be taken."
Finding a suitable sports psychologist helped Brown release some built-up angst, unearth her mental strength, and eventually transition back into the place she felt most at home. Managing her alone time was key. "I've found having a place to go to vent those feelings in an environment where there was no pressure, no expectation, it was just about me and what I was going through, just a place to vent without external pressures."
Brown touched on the impact strength training had on her, reiterating the significance of a quality support system that encourages a positive headspace and engages in transparent conversations. "One of the most important parts of rehab is being able to have that open dialogue and communication with your trainer or physio, whoever you're working with at the time. It was a huge part for me, developing that relationship. You need to learn how to listen to your body, and to be a lot more responsive when there is pain and when you are struggling."
While Brown's time spent recovering and rehabilitating encouraged a positive outlook, she remained immersed in the expectations of coaches and teammates as she was welcomed back onto the hardwood. Brown's 2019/20 season ended abruptly due to the coronavirus pandemic halting NCAA play, however it gave her time to reflect as she settled back into her hometown of Melbourne, Australia. "I learnt to celebrate the small things. To break that down, every injury that someone is going through, it all comes down to perspective. How you're handling it, and what other factors are going on in your life."
There are substantial, yet minor differences in the way players are treated following ACL injuries. While the general rehab process over in America has been successful in getting players back to their sport quicker, it can at times feel rushed, and coincidentally lead to higher chance of re-injury. For Brown, she is comfortable asserting herself into further rehabilitation back home. "Here in Australia, we have one of the best medical systems between the two when talking rehab process. Sometimes I think if I had to rehab in Australia, I would be in a very different shape than I am now."
There are common factors underlining the rapid rate of female ACL tears. Biomechanics of leaping and landing, hormonal cycle, and structure of the hip bone, are some that we know of. These injuries can be managed and supported through proper conditioning. Breaking down a delicate process can fast track any situation, especially if there is trust and chemistry between athlete and staff.
Strength and conditioning is fast becoming the best medicine for regaining healthy bodies, in hope of preventing one common risk relating to female participation. For athletes such as Blicavs and Brown, the road to recovery can often feel daunting and distressing. Main has seen this first hand, but the pathway is a learning curve, and attention to detail through the progression must be specific and achievable.
"Everything's got to be purposeful. If you provide that to an athlete, I know as a clinician and a trainer that we're going to get them back to where they were, if not better than before – you need that rapport," shared Main. "The biggest thing is breaking it down, nice and simple. If you've got the athlete buy-in, they know you believe in them, you've mapped everything out, they can see the end goal, the recovery process will be that much faster."
Perera agrees. "These kids who spend a lot of time on their electronic devices, they don't spend a lot of time talking to people one on one. More and more coaches are realising they can't just yell and get someone to do it. They've got to engage properly - build trust, earn respect from their athletes and then they're going to have a good relationship. It really comes down to coaches being effective communicators in a way athletes can accept it and absorb it."
For Brown, the greatest preventative measures occur when you consider the bigger picture, engaging in positive reinforcement by ticking off each step. "Taking it day by day, challenge by challenge. Rather than looking too far forward and thinking you're so far away. In retrospect, you've already tackled this, you've come this far. Look how far you've come, not how far you've got to go."
Prevention is better than cure, and the same rule applies in sports, and for female athletes: prehab is better than rehab. The challenges ahead on injury prevention are three-fold. To increase focus on strength and conditioning, to understand how daily work builds health and career longevity, and to consistent apply those strength and conditioning principles.
You can't control the uncontrollable, but there's so much more that could be done, and needs to be done, when it comes to these athlete bodies and how risk can be further reduced.