Discover more from The Pick and Roll
We're all about Aussie hoops. Independent, objective analysis and commentary. Insightful narratives built around Australian basketball. Read about our men and women in the NBA, WNBA, NCAA, Europe, national teams, NBL, WNBL, NBL1, prospects and more.
Over 2,000 subscribers
Top 10 Australian basketball moments of 2016: Part 1
2016 has been an incredible year of hoops in Australia. The sport has taken a huge step forward, and the moments outlined below are some of the reasons for this boom time in Australian basketball.
Whilst it was very difficult to trim the list down to just 10, and then to order them too, here are The Pick and Roll's top 10 moments in Australian basketball for 2016. Today we focus on those ranked 6-10.
10. Liz Cambage's dominant performance against Japan at the Rio Olympics
To be fair, Liz Cambage's entire Olympic campaign was nothing short of excellent. She dominated smaller teams and led the competition in points per game (23.5) and was second overall in rebounds (10.3).
Against Japan, Cambage was on another level. She simply dominated. The smaller Japanese players didn't have any answers for her in the post as she scored at will. Cambage finished with 37 points (16/22FG, 4/5FT), 10 rebounds, 3 blocks and 2 assists.
This photo sums up today's proceedings perfectly. #CambageBeastMode 📸: @alannajarry

A photo posted by The Pick and Roll (@pickandrollau) on Aug 12, 2016 at 2:26am PDT
Although the Opals had a disappointing Olympic campaign overall, there is no doubt that Liz Cambage is one of the very best players in the world. Cambage will be a dominant force in Australian basketball for many years to come.
9. Record number of Australians in the NBA
Whilst this isn't centred on just one moment, the amount of Aussies currently in the NBA needs to be celebrated.
The NBA has become a global game, and Australia is now a massive part of that.
Aron Baynes, Andrew Bogut, Matthew Dellavedova, Dante Exum, Joe Ingles, Thon Maker, Patty Mills and Ben Simmons. These 8 Aussies are history-making and are playing a huge role in the continual rise and popularity of basketball in this country.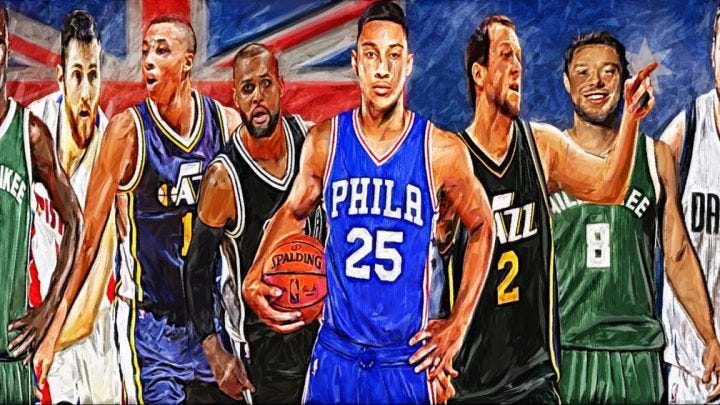 This year in particular, the Aussies are playing absolutely vital roles for their respective teams.
Joe Ingles is shooting the lights out from deep. Patty Mills is one of the very best sixth men in the league and has come up clutch in many games this season. Matthew Dellavedova got a ring in Cleveland and is now starting on an up-and-coming Bucks outfit. And of course Ben Simmons, who is yet to play a game for the Sixers, will be looking for a massive 2017 as he will finally play his first NBA minutes.
8. Patty Mills' Rio Olympic campaign
Patty Mills is quickly becoming one of the very best to wear the green and gold on the hardwood. When he suits up for the Boomers, Mills provides the energy and scoring punch that the Aussie fans love.
In Rio, Mills stepped up his game once again. After a terrific campaign in London, Mills built on that and was one of the best players in the competition. Averaging 21.3 points (second only to Croatian Bojan Bogdanovic), Mills was at his tenacious best against Team USA when he scored 30 points, including 5 triples.
How about Patty Mills' Rio 2016 campaign?! World class scorer and the pride he displays every time he pulls on the green and gold is incredible. 🇦🇺🇦🇺 #PattyThrills

A photo posted by The Pick and Roll (@pickandrollau) on Aug 21, 2016 at 4:56pm PDT
In the heartbreaking loss to Spain, Mills was once again a massive factor and almost got Australia over the line. His 30 points in 37 taxing minutes of play were sublime.
7. The legitimacy of the NBL
Once again, this selection is not based on one moment. It is all about the momentum that the NBL is currently riding and continues to build upon.
The rise of basketball in Australia is not coincidentally aligned with the strengthening landscape of the NBL. With the level of play at an all-time high, the NBL is providing basketball-hungry Australians with a great product. Now over half-way through the season, there is no clear stand-out team and upsets simply don't exist in the unbelievably even league.
Side-note: how good is it having Andrew Gaze back in the league?!
Andrew Gaze loved a little bit of Monday Fight Night! 💪🏽👊🏽

A video posted by The Pick and Roll (@pickandrollau) on Nov 7, 2016 at 1:21pm PST
Also, shoutout to the Perth Wildcats for winning it all. Damian Martin took over the Grand Final series, and coupled with Casey Prather, the Wildcats blew out the New Zealand Breakers in Game 3 to claim the 2016 NBL Championship.
6. Michele Timms inducted into FIBA Hall of Fame
Michele Timms was, and will always be remembered as a trailblazer in Australian basketball. Earlier this year, Timms was recognised for her contribution to basketball as she was inducted into the FIBA Hall of Fame.
Being inducted into the FIBA Hall of Fame was recognition of a truly legendary career. A three-time Olympian, highlighted by captaining the Opals at the Sydney 2000 Olympics, Timms wore the green and gold 264(!) times.
Timms' WNBA career was history-making too; she was the first Australian to play in the WNBA. For those who followed her career, this honour was an absolute no-brainer.
What do you think will be the top moment of 2016? Find out tomorrow as we reveal the top 5 moments of Australian basketball in 2016.