Discover more from The Pick and Roll
We're all about Aussie hoops. Independent, objective analysis and commentary. Insightful narratives built around Australian basketball. Read about our men and women in the NBA, WNBA, NCAA, Europe, national teams, NBL, WNBL, NBL1, prospects and more.
Over 2,000 subscribers
Tom Abercrombie's 200th game reminded us of how good he is
Sunday's game between United and the Breakers finished with Coach Dean Demopoulos describing their win as 'lucky' and Coach Dean Vickerman answering questions on whether they thought they were 'robbed'. Outside of this controversy though was a superb milestone game performance from New Zealand's Tom Abercrombie.
https://twitter.com/tomabo10/status/663245175825633280
With the assistance of a pick, the two or three dribble pull up jumper for Abercrombie was the money shot yesterday. Coach Vickerman was predictably full of praise for him post-game:
"I loved our fightback. Tommy was incredible today. His elevation on his jump shot, they couldn't get to that. He kept making plays, enough plays that we should have won the game"
https://vine.co/v/elKxT1InDtw
Predominantly matched up with Todd Blanchfield, Abercrombie was also outstanding defensively as he restricted him to just five points. Being a great athlete in this league allows him to switch onto either bigger or smaller guys, play great help defense, recover quickly, and even give you some above average rim protection for his position.
Check out this play where Abercrombie helps off Blanchfield (to momentarily cover Alex Pledger's man who is open after a pick and roll) before he then swiftly turns his attention back to Blanchfield and forces him into a miss (he got dangerously close to blocking it).
https://vine.co/v/elKxLKPKqAh
A game like Sunday is probably the catalyst behind Abercrombie being somewhat under appreciated. Fans see this offensive production and wonder why he doesn't do it more often. The reality though is that he plays the part of 'superstar role player' to perfection, contributing on both ends and fitting in alongside the two imports and star local(s).
Abercrombie is currently putting together another typically efficient scoring season where he is making over half of his paint and mid-range shot attempts, as well as over 40% from deep.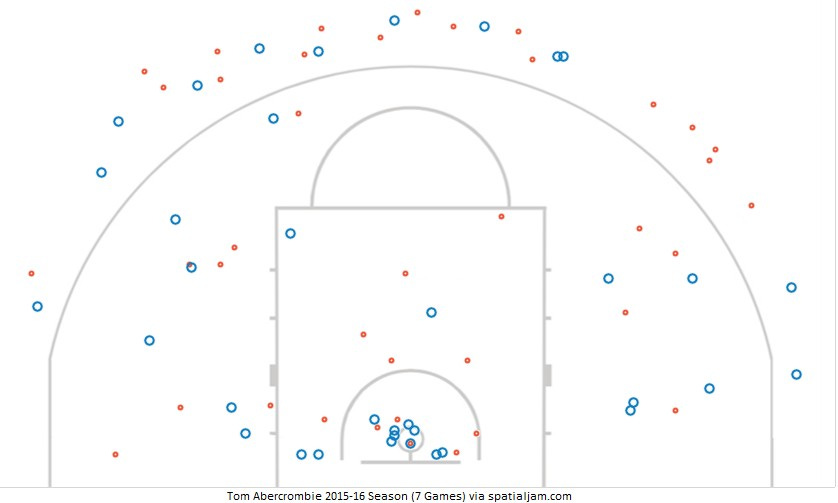 Tom Abercrombie Restricted Area Non RA Mid-Range Above the Corner 3 Corner 3 2011-12 to 2014-15 71.6% 50.9% 37.2% 40.5% 46.4% He's not a huge creator off the dribble in one on one situations, but as displayed yesterday, he can be deadly as a spot up or pull up shooter and is always a threat to sneak baseline to finish a lob pass. Here's to another 200 NBL games from Tom Abercrombie!
https://twitter.com/NBL/status/663223350823550976
Shot chart visual via spatialjam.com
Previous season shot chart stats via crunchtimeshots.com