Discover more from The Pick and Roll
We're all about Aussie hoops. Independent, objective analysis and commentary. Insightful narratives built around Australian basketball. Read about our men and women in the NBA, WNBA, NCAA, Europe, national teams, NBL, WNBL, NBL1, prospects and more.
Over 2,000 subscribers
Is Josh Green ready to be a Boomer? How Tokyo 2021 and past history impacts his chances for the coming Olympics
The conversation of Boomers selection is always a heated one. With Australia's depth of world-class talent, decision making is an unenviable task, as former head coach Andrej Lemanis found out, after his World Cup squad choices received plenty of backlash.
One of the hottest and likely most divisive discussions around the next generation of Australian Boomers, is whether young gun Josh Green is worthy of selection. He has been projected as a potential first round draft pick in this year's NBA draft while starring for Arizona this season, but competing against the best players in the world at an Olympic event is a whole other ball game.
What has undoubtedly improved Green's chances, is the recent announcement that the Tokyo Olympics have been pushed to 2021. This will make him just under 21 years old,= by the time he potentially plays for the Australian squad, and with potential NBA experience under his belt.
Many questions will be answered in Boomers camp and over the next year when Green gets drafted -- assuming the NBA is back up and running by that time-- and play at the NBA level. What can be done now, however, is assess the precedent for young players competing in FIBA competition, and just how closely they parallel Green's situation and abilities.
2019 FIBA World Cup
Didi Louzada
Here's a look at a player we're all familiar with: Sydney King Didi Louzada. His selection to Brazil's World Cup team last year provides an interesting precedent for comparison.
Not only was Louzada a similar age (20) at the time to what Green would be at the time of the Olympics, but they're also similar players: two guards with strong measurables and fairly straightforward 'three and D' skillsets.
On a team that featured the NBA experience of Cristiano Felicio, Anderson Varejao, Leandro Barbosa and Bruno Caboclo, Louzada managed to play a role, averaging 9 minutes a game as the team went on to win 3 out of their 5 World Cup games.
Louzada played extended minutes in one game: their first, against New Zealand. In the contest he scored 9 points in 19 minutes, along with 4 steals.
While good enough to make the team, he didn't seem ready to contribute in a larger role, on a team with much less talent than the Australian squad. While we've seen a lot of growth over the course of his NBL season, culminating in an impressive run of finals play, he was largely a bench player for the majority of the season. This further consolidates the notion that he wasn't polished enough to compare to marquee international players at his age despite the prestige of NBA draft selection.
Green is a player with much more considerable draft stock, and should be held to higher expectations as a result. Louzada was picked 36th by the New Orleans Pelicans, whilst Green is currently hovering around the fringes of the first round lottery.
It's important, then, to establish the distinctions between the two players. While they play similarly, Green projects at a higher tier. With a 6'10 wingspan and stronger run/jump qualities, Green is more effective in the open court, appears to be a better finisher, and has the measurements to guard a wider variety of players. Green has also demonstrated quicker decision making and passing flashes at the same age. Both players have shown a respectable ability to shoot from beyond the arc. While Louzada made 33% from three with Sydney this season, he shot 42.7% over 42 games with Franca in the 2018/19 season. In comparison, Green shot 36.1% from college three over his freshman season.
Jordan Nwora and Josh Okogie
It looks like Green establishes some variances versus Didi. For some other, more promising examples, we can look to Nigeria's pair of young wings, Josh Okogie and Jordan Nwora.
Okogie, the 20th pick in the 2018 draft (a comparable draft range to Green), turned 21 during the process of the World Cup. This made him several months older than what Green would be in time for next years Olympics.
While the age is comparable, it is worth noting that he did have 2 years of college and a rookie NBA season under his belt in terms of experience.
Despite playing with NBA experienced players such as Al-Farouq Aminu, Ekpe Udoh, Chimenzie Metu and Ike Diogu, Nigeria's lack of high end guard play put Okogie in to a role of high offensive volume, and he rose to the occasion, leading his country in scoring with an efficient 12.6 points a game, along with 2.4 steals, 1.2 blocks, 3.6 rebounds and 4.4 assists.
The same would go for Nwora. Having also just turned 21 during the tournament, and still playing at the college level with Louisville, Nwora was the team's third top scorer at 11 points a game.
Andrew Nembhard and Frank Ntilikina
There were other productive youngsters at the tournament, too. Andrew Nembhard, the Canadian guard who racked up 12 points, 10 assists and 4 rebounds against Australia in their World Cup warm up game, was only 19 years old at the time. He is currently in the midst of a quiet sophomore season at Florida, with minimal draft attention.
There was also Frank Ntilikina, who turned 21 just prior to the World Cup. Frank was drafted 8th in 2017 but had made minimal impact at the NBA level up to that point. This didn't stop him from being a key player for powerhouse nation France, averaging 8 points, 2 assists and 2 rebounds in a starting role, along with some elite defense.
---
It's certainly fair to be skeptical that such a young player could contribute at an Olympic level. However, there is certainly a precedent for young, sub 21 year olds providing valuable minutes at the highest level of FIBA play, many with less draft stock than Green does now.
Australian Boomers history
Australia has had a history of providing opportunity to young talents and seeing them thrive, as well.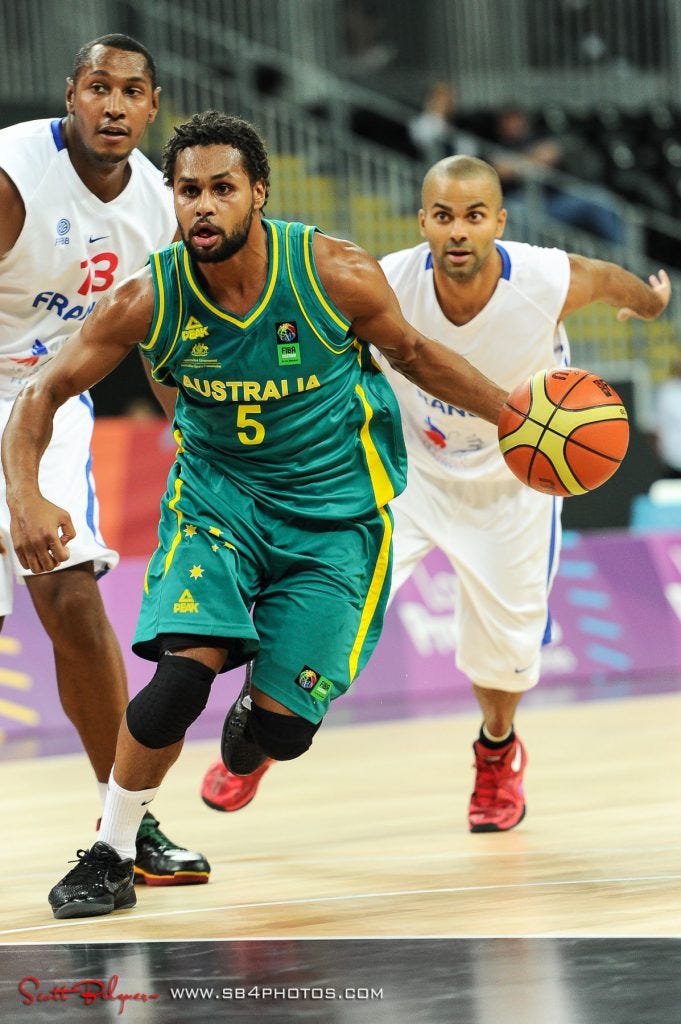 Mills will be absent for the Boomers: Credit Scott Belzner of sb4photos.com
Patty Mills, even before being drafted 55th in the 2009 draft, made his Boomers debut in 2008, where he broke out for 20 points against the USA at age 19. By the London Olympics in 2012, the 23 year old had already cemented himself as the team's leading scorer at 21.2 points a game.
Also making his debut in the 2008 Olympics was 20 year old Joe Ingles. Despite not even being on NBA radars at this time, Ingles was tearing up the NBL with the South Dragons and carried that momentum into a Boomers selection. While in a smaller role, Ingles averaged 4.8 points a game, including 11 points against the US. Most importantly, it paved the way for Ingles to step into a larger role with the national program, becoming a core piece of the 2012 and 2016 Olympic squads.
Matthew Dellavedova made his Boomers debut at age 19 in the 2009 FIBA Oceania World Championships, and made his first major tournament appearance at the 2012 Olympics, aged 22, where he logged the 3rd most minutes of all players.
Andrew Bogut made his Boomers debut at 19 at the Athens Olympics, as well. A standout talent who was soon to be picked first overall in the 2005 NBA Draft, Bogut actually had his most productive Boomers campaign, averaging 13.7 points and 9.0 rebounds a game.
The list could continue, but the point has been made - many of Australia's stars started young, and in many cases, made key contributions from the onset. Even more encouragingly, all those players, with the exception of Andrew Bogut, did not have the draft stock that Josh Green currently has.
Roster fit
Josh Green projects to play the two or three position. He certainly has the measurements and athleticism to defend either, though given his youth, may struggle with more physical forwards. However, he's considered an NBA-ready, high level defender, with excellent feet, IQ and awareness.
Offensively, Green fits the job description as an athletic transition player who can run the lanes alongside Ben Simmons. In the half-court, Green lacks creation, but surrounded with initiators like Simmons, Ingles, Mills, and potentially the big man passing of Bogut and Baynes, he won't be asked to create at all. He is an active off-ball player who can be used effectively as a cutter, and depending on how his shot translates, projects as a respectable catch and shoot threat from three. Green doesn't try to do too much, knows his role and plays it, and has shown to be a willing and smart passer that will fit in to the Boomers pass heavy, unselfish offensive schemes.
Up to this point, the case is pretty strong that Josh Green could contribute at the Olympic level in some capacity. Whether he will, comes down to weighing his selection up with the other wing talent Australia currently possesses.
It's easy to say we should put Josh Green on the team, but at the expense of who? Unlike the aforementioned Boomers stalwarts who get their go from an early age, we're currently in the golden age of Australian basketball talent.
The Boomers currently have two locks on the wing - Joe Ingles and Ryan Broekoff. Both veterans are strong team defenders and elite shooters, with the former also providing pick and roll initiation and a degree of self-created offence.
With the announcement of Matisse Thybulle's eligibility, it's hard to imagine the team without his inclusion. Thybulle, like Green, is a 3 and D type player, limited to spot up 3's and basic finishes offensively, but brings with him some of the most disruptive team defence found at the NBA level.
It could easily be deemed that the wing spots are completely covered with those three names altogether. When you consider Mills' history of starting at the 2 alongside another guard (usually Dellavedova), there's not many more minutes to go around. If selected, Bryce Cotton fits a similar mould, and Exum, with his size and defensive versatility, has generally been played alongside other guards as well.
However, the dynamic could drastically change with Ben Simmons' inclusion. Mills (and theoretically Cotton) sliding over to the shooting guard spot happens in order to pair them with another ball-handler and allow them to move off-ball. With a big man initiating the offence in Simmons, the need for that ball-handler being a traditional point guard, like Dellavedova, is now eliminated. Mills and Cotton can now play at the 1, and defend opposition teams' point guards, as they are most physically suited to do. Australia can then load up with bigger, more athletic floor spacers on the wing to maximise defence. This change could open up another roster spot on the wing, even if the role would be minimal.
From there, the competitors for a final wing spot include Chris Goulding, Deng Adel, Mitch Creek and Nathan Sobey. While all are high level players, none will really move the needle for this current iteration of the Boomers, and being able to blood the 20 year old Green in a major Boomers tournament provides greater long-term value.
---
Josh Green is unlikely to be a major contributor for the 2021 Tokyo Olympic Boomers team. It may also be unlikely that he gets selected at all, given the level of talent at Australia's disposal.
That said, if there is an 11th/12th man spot available, it makes a lot of sense to include him. Instilling a sense of Boomers culture amongst the new generation of talent is important to the program's success, and there's no better opportunity to do that than having them take part in what is likely the final Olympic run for our current era of veteran Boomers as a complete group.
Additionally, if the team finds itself a man down in the rotation for any reason, Green appears ready to contribute. His skillset complements the existing team's pieces, and he can play effectively at either wing spot. Beyond that, the success of prior Boomers debutantes should instill a level of confidence in the selection group that young players can contribute - if they are good enough.
If there was to be a roster selected today, under the presumption of full health and availability, Green would likely not make the squad. A fifth big is an inevitable choice, and it makes sense that a fifth guard should take precedence over another wing, lest we be forced to omit one of Dante Exum, Bryce Cotton or Matthew Dellavedova.
However, Green is likely the next wing up. Perhaps the coaching staff are dissuaded by Exum's small sample of healthy play, or Dellavedova's recent decline. Or maybe, Bryce Cotton's citizenship doesn't pass through in time, or an unforeseen injury occurs to a player. In these circumstances, we could see Green very possibly making the team for Tokyo.
Either way, Josh Green needs to be in the selection camp. Whether we see him line up for the Boomers next year or not, he will undoubtedly be a mainstay of the program well into the future.