Discover more from The Pick and Roll
We're all about Aussie hoops. Independent, objective analysis and commentary. Insightful narratives built around Australian basketball. Read about our men and women in the NBA, WNBA, NCAA, Europe, national teams, NBL, WNBL, NBL1, prospects and more.
Over 2,000 subscribers
Timeout with Stacey Barr: A Vandal on the rise
Michael De Lacy takes a timeout with star Idaho Vandals junior guard Stacey Barr.
---
Back when she was tearing up the Big V competition before she headed to college, then opposing Warrandyte Venom Head Coach Justin Nelson was full of praise for the dynamic guard;
''Barr is very creative and aggressive offensive player who has the ability to play the point, shooting guard or small forward positions. She is the Best player I have seen in Division 1 and could easily have played Championship level. I have no doubt she would be worth a WNBL shot when she gets back from college. I rate her as the best local player I coached against in the Big V.''
Starting her junior basketball with Werribee, Barr progressed through the junior teams and began playing Big V Division 1 senior representative basketball for the Altona Gators where she was able to establish herself as one of the best players in the league. She led the competition in scoring in her two seasons for the Gators, averaging an outstanding 29 points and 9.5 rebounds per game, along the way breaking the single game scoring record with 55 points! Barr then packed her bags and head to Idaho to play for the Vandals and has positioned herself as one of Australia's best females playing in college basketball.
This Season Barr has averaged a team-best 18.7 points, 7.8 rebounds and 2.8 assists per game in leading the Vandals to back-to-back Western Athletic Conference titles and of course the NCAA Tournament. Not a bad year for a Junior at all! Her achievements to date include;
2 Big V Titles

2 Grand Final Series Big V MVPs

1 League Big V MVP

Altona Club MVP

Big V All-star honours

2010 Maribyrnong College Female Sports Person of the Year

Holds Big V record 55 points

Big V Rookie of the year

2013-2014 WAC Conference Player of the Year

2013-2014 WAC Tournament MVP

2012-2013 WAC Tournament MVP Honours

2012-2013 WAC Conference Title

2013-2014 WAC Conference Title

Ranked 10th all-time in Vandals scoring 1,274
http://youtu.be/tTMK9cYztCQ
Barr will be hoping to help extend Idaho's season with a win over #4 seed Louisville on Monday (Australian time). If the Cardinals are unable to contain the scoring machine that is Barr, then the Vandals are a good chance to win. Either way, one thing is fore sure; Barr is a star on the rise.
---
The Pick and Roll's
exclusive interview with: Stacey Barr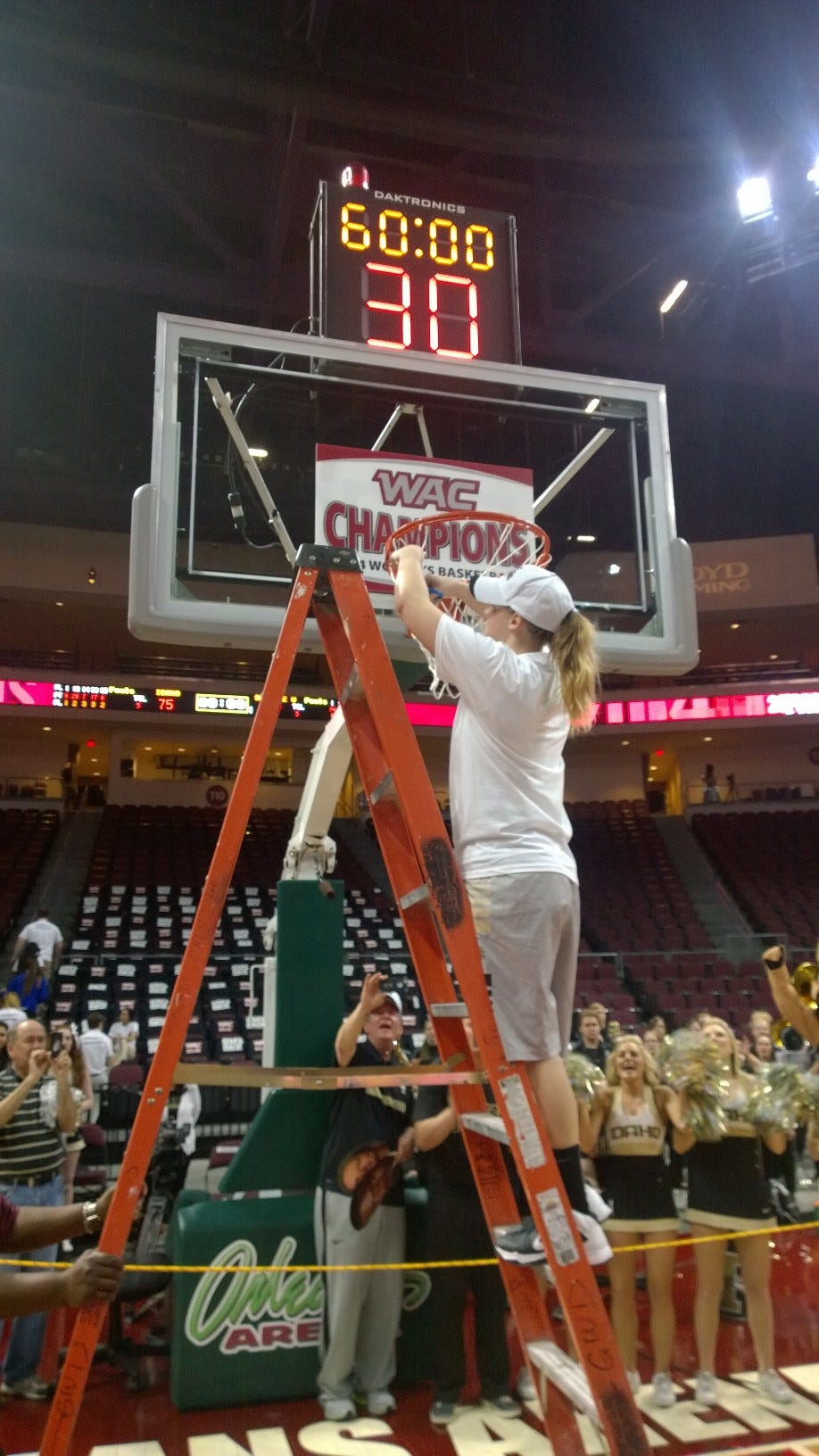 Stacey Barr cutting down the net after winning the 2014 WAC Tournament - Courtesy University of Idaho
Michael: You have had a great 2014 to date. What has it come down to? Have you changed anything?Stacey: I think as a player I have grown a lot, I worked really hard in last years offseason and came into preseason better prepared I think this really laid the foundation for me to have a successful year this year!
Michael: How many shots do you try get up a day? Do you use it to escape your study?
Stacey: We are usually on the court everyday. During season things get really busy with traveling, training and trying to stay on top of school work. But I try to be in there as much as possible and yes it's a good escape from my study (laughs).
Michael: What was the team and your own individual goals coming into this season?
Stacey: As a team our goals after last season was to; 1) To prepare to the best of our ability during preseason; our coaches work us hard and set up some tough preseason games playing teams who were/are top 25 teams. 2) Our goal this season was to win both the regular season championship and the WAC tournament championship and reach the NCAA tournament.
My individual goals this season; 1) During offseason I really wanted to work hard and prepare myself to the best of my ability. 2) During season my goals were to help the team achieve our team goals and play every single game giving it my all.
Michael: What are you currently studying? Is there something you wish to pursue after basketball?
Stacey: I'm currently studying Exercise Science & Health. I hope to become a Physiotherapist (Physical Therapist)
Michael: How did you get the opportunity to play in college? I'm sure a lot of young Australians would love to follow your footsteps.
Stacey: I had the opportunity to play in college because I worked hard from a young age, I challenged myself and I didn't give up when I was faced with a setback. I used all the help I could get when contacting colleges and when making my decision, I spoke with a lot of different people. They were coaches, players, players who had already been to college, etc. I listened to everyone's opinions and advice but in the end I made the best decision for me.
Michael: What Australian basketball players have inspired you?
Stacey: I've really enjoyed watching and been inspired by Lauren Jackson, Hanna Zavecz, and Natalie Hurst.
Michael: What lead to begin playing basketball? And when did you decide that you should go to the states?
Stacey: I started playing when I was 4 following in my older sisters footsteps. I think I decided when I was around 13 or 14 that college was what I wanted to do. I changed schools in year 10 to attend Maribyrnong Sports Academy in hope that it would improve my basketball and my chances of playing college basketball and it did!
Michael: How did you end up playing for the Idaho Vandals?
Stacey: I had coaches from home support and help, I had a DVD of one of my Big V games and I sent it to a lot of coaches and schools in America. I was fortunate enough to receive an email from Coach Newlee and after multiply emails and phone calls I decided that Idaho was my best option and it has been one of the best decisions I have made!
Michael: What or who has been the biggest support for you while being up there?
Stacey: My Mum and Dad have been my biggest support and my #1 fans through this whole journey so far. They are always a phone call or message away whenever I need them. They message me before and after every game. I love them and I don't know how I would have made it through this far without them.
Michael: What do you believe is your biggest asset to your game?
Stacey: I think my work ethic. I've never really been the quickest or tallest or strongest player on the court but I'm willing to do anything to outwork my opponent and willing to do anything to help my team be successful.
Michael: Is there something you like to work on with your game? I know your quite the offensive force so would you put defence up their?
Stacey: Yes. My defense is something I would always like to be improving on. I think since my freshman year here my defence has improved quite a bit and it's something I want to continue to improve at!
Michael: Thus far, what's your biggest career highlight to date?
Stacey: I would have to say winning back-to-back WAC championships.
Stacey Barr celebrates 2014 WAC Tournament MVP and title - Courtesy University of Idaho
Michael: Is there a position you prefer to play?
Stacey: I like my position at shooting guard.
Michael: What has been your single biggest challenge thus far playing in America?
Stacey: Adjusting to being away from home, not always having my family and friends here to support me. Then in actually playing when I first got here the speed of the game was a little quicker but I adjusted to that fairly quickly.
Michael: What's something not much people know about you? Something you like to do?
Stacey: I really love the beach and I really can't wait to get back to it. I enjoy going for bike rides when the weather here allows me to. I also love chocolate and John Mayer.
Michael: thanks so much for your time. Best of luck in the NCAA Tournament!
---
Stacey Barr and the Idaho Vandals take on #4 seed Florida on Monday, 24 March 2014 (Australian time) in the NCAA Tournament.
You can follow Stacey Barr on Twitter: @sbarr10