Discover more from The Pick and Roll
We're all about Aussie hoops. Independent, objective analysis and commentary. Insightful narratives built around Australian basketball. Read about our men and women in the NBA, WNBA, NCAA, Europe, national teams, NBL, WNBL, NBL1, prospects and more.
Over 2,000 subscribers
Timeout with Peter Hooley: A man on fire
Damian Arsenis takes a timeout with University at Albany sophomore sensation Peter Hooley.
---
Guard Peter Hooley has experienced a dream start to his collegiate career. Two years in and he has already enjoyed back-to-back America East Tournament crowns and has is now on his second consecutive trip to the NCAA Tournament.
The sophomore guard had an impressive junior career back in Australia, capped off by vice-captaining South Australia's U20 team that won bronze at the 2011 Australian Junior National Championships and then going on to being named to the Australian squad for the 2011 U19 FIBA World Championships. Landing at Albany, for the 2011/12 season, his promising start to the season was cut short after 3 games with a stress fracture in his foot. He was granted a medical red-shirt allowing him to re-commence his career as a freshman the following year.
Following his return from injury, Hooley has gone from strength to strength. He stepped up to play 26 minutes a game in his first full season, averaging 8 points, 3.4 rebounds and 3.1 assists per game – great numbers for a first year player. He was duly recognised by being named to the America East All-Rookie team as the Great Danes went on to capture the America East Tournament title and an appearance in the NCAA Tournament. However bigger and better things were yet to follow.
While the Great Danes experienced an indifferent 2014 season, Hooley's play lifted to an entirely new level. By the time the 2014 edition of the America East Tournament arrived he was a one of the hottest players going around and scorching teams seemingly at will. In averaging 15.8 points, 2.7 rebounds and 2.6 assists per game in an outstanding season, he was named to the All-America East Second Team. He then carried his hot-shooting throughout conference tournament and in doing so led Albany to a second straight appearance in the big dance. Recognised for his consistent and exemplary play in averaging 23.7 points across all three tournament games, Hooley was awarded the Reggie Lewis Most Outstanding Player trophy.
Albany opened the NCAA Tournament with a 71-64 victory over Mount St. Mary's with Hooley providing 20 points, 4 rebounds and 3 assists. He delivered 4 key points down the stretch to help ensure that the Great Danes would book a date with the #1 seed Florida.
With a further two years of college eligibility to go, it is safe to say that we may not yet have seen the best of Peter Hooley, a man currently on fire.
---
The Pick and Roll's
exclusive interview with: Peter Hooley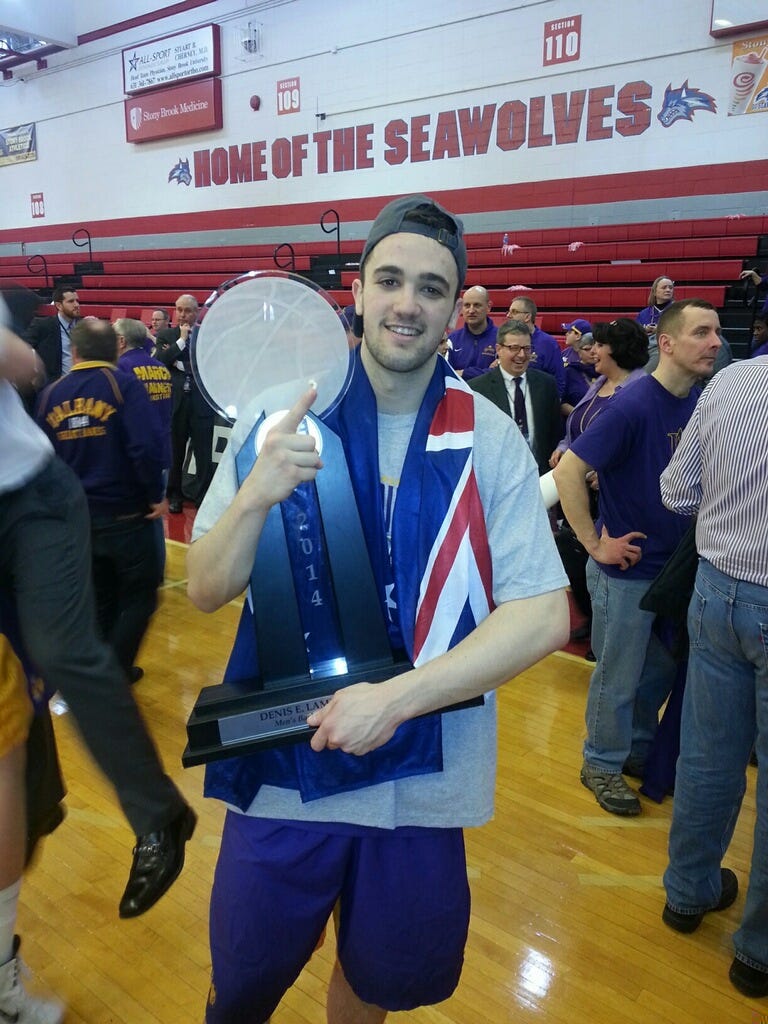 Peter Hooley with the 2014 America East MVP Trophy - Courtesy Peter Hooley
Damian: Congratulations on a fantastic season so far. All-America East First Team selection, America East Tournament champions, tournament MVP and now a 1st round winner in the NCAA Tournament! How are you feeling right now?
Peter: I'm on cloud nine right now. There are just no words to describe these past few weeks. Whether it is the fact that no one gave us a chance to win anything, and now we're here that makes it so sweet, or just the fact that this experience is just unreal. I am so proud of my team and we are enjoying every moment. As for me, I am just really enjoying playing basketball, that's all it really is.
Damian: You have on an individual level had an amazing season to date. What were your own expectations at the start of the season – did you exceed them?
Peter: I definitely exceeded them. I personally heard a lot of talk from people saying that the 'sophomore slump' was a real thing (ha ha!) so I really wanted to prove that otherwise. I just kept working and grinding it out and good things happened. I knew we had guys on this team who could step up when needed to and I am glad I could step up when I needed to help this team out. I said at the start of the season I was going to do anything in my power to help my seniors go out in the right way; they are my brothers and I didn't want to let them down.
Damian: You have let nobody down this season! As a sophomore, you have now gone dancing for two-straight years – that's pretty impressive. Was this something you would have ever thought possible when you were back home in South Australia?
Peter: I'd like to say yes, but I really don't think I could ever have imagined this. I always wanted to play college basketball, but now that I am on the big stage for the second straight year, I really am just living the dream and I am glad all the hard work is paying off. Just living every moment and enjoying it all.
Damian: There are 3 other Aussies on the team; what influence have you all been able to impart on the team? Has it made your transition to the USA any easier?
The Aussies at Albany: 2014 America East Champions - Courtesy Peter Hooley
Peter: It definitely has made transition easier. Whether it's just because it kind of feels like a part of my family is here because they're from or just the fact that we can all joke about Aussie sport and politics whilst watching the bewildered look on the Americans faces. We just bring a different style of play than people would normally be used to over here, and it's exciting for them because they haven't seen it before.
Damian: There is another Aussie in Geremy McKay joining the team following the graduation of Luke Devlin. How do you think he will fit in and do you think he can make an immediate impact?
Peter: I think he will fit in well, he is an undersized big man just like Sam (Rowley) and we have seen how big of an impact Sam has had around here. It will take some transitioning as it does for all, but I am sure with the help of us other Aussies, he will have a tremendous career here.
Damian: After an impressive junior career back home, what prompted you to head to college, and why did you choose Albany?
Peter: I always wanted to go to college, you see the picture painted of how college is and everyone really wants to experience it, yet only some live it. I had always planned to play DII; just get some court time, experience college life and get a degree. But after the U20 national (Australian Junior) championships, I got an email from Coach Brown expressing his interest, so I spoke to Luke (Devlin) about it and took a blind pick. It has worked out pretty well (laughing).
Damian: What are you studying? Do you see this as something you may pursue in life after basketball?
Peter: I have a double major in Psychology and Journalism. I can definitely see myself pursuing either of these later down the track. I really love to write. I write all the time about everything and anything, so I would love to maybe be do that. Radio has always been a possibility to, I would love a gig there. But yes, hopefully a long way away.
Damian: Maybe we will have to get you a regular column for The Pick and Roll! Seeing the success guys like Andre Bogut, Patty Mills and Matthew Dellavedova, what are your long-term aspirations? Are you going to consider turning professional once you finish at Albany?
Peter: Absolutely, that is my dream right now. I know it won't be easy but I have to keep working and putting myself in the best position to be successful there. If it doesn't work out, I don't want it to be because I didn't give it everything. So I am just going to keep working each day and enjoying the ride.
Damian: Back home we are all hoping you can cause an upset and account for #1 seed Florida. You is your pick to win the whole thing this year?
Peter: They are a tremendous team. They are number 1 in the nation for a reason. They are very athletic and strong, but we are going to go into this game with every intent to win. We all are believers and we stick together, we have shown that these past couple of weeks, so why not us? It won't be easy that's for sure, but we need to embrace it and come out firing and who knows what could happen.
Peter: Love it - that's the Aussie spirit! I like to try and find out just 1 thing that very few people would know about you that we can share. Hopefully you can make it interesting!
Peter: Well my twin sister Emma used to consistently beat me in 1 on 1 out in the backyard until we were maybe 17. I don't know why, I just couldn't guard her! She would love to remind me of it as siblings do. She could flat out play though (laughing), so I wasn't always surprised. I was angry though. If it wasn't for two brutal foot injuries she would probably be right here beside me, but she just got back into playing now back home for the Eastern Mavericks so she is about to have a big season I think and I am so glad she's back on the court.
Damian: Thanks so much for your time Peter. Good luck in your next game – make it a good one!
Peter: Anytime mate! Love your work. Time to shock the world.
---
Peter Hooley and the Albany Great Danes take on #1 seed Florida on Friday, 21 March 2014 (Australian time) in the NCAA Tournament.
You can follow Peter Hooley on Twitter: @PeterHooley12