Three things to watch from Dante Exum in the 2017/18 NBA season
To say that Dante Exum's NBA destiny remains unknown, is an almighty understatement. While Exum is technically entering a fourth NBA season, his basketball experience hasn't matched up to someone befitting his position.
An ACL injury cruelly eliminated his second NBA campaign, while the obligatory recovery period significantly hampered his output last season. Perhaps unfairly, at just 22 years of age, Exum is facing mounting pressure to validate his standing in the NBA. Exum remains a basketball neophyte, and there is still much contention over his basketball potential.
With so much at stake, here are three things to watch with young Dante this season with our Aussies in the NBA Wish List series, which started with Ben Simmons earlier..
1. Prove he belongs
Exum has yet to prove that he belongs in an NBA rotation. That's not to say his first three years have been fruitless, there have definitely been signs of promise. Trust me, I have witnessed these flashes in person. When everything clicks, Exum oozes potential and justifies his lofty draft selection. But these have been too few and far between.
For all the wrong reasons, Exum's rookie campaign was an historical outlier. Output across a number of key statistical indicators were among the worst ever recorded for NBA rookies (for a full recap of Exum's rookie season check this out). History didn't judge Exum's encore season much differently. There were some clear improvements, although a general malaise continued to dominate his performance. Still, Exum is just 22 years of age, something that clouds every prognostication on his NBA future.
On one hand, the inauspicious start to his career now appears obvious. This Australian was one of the rawest prospects to ever enter the NBA, not just in age but basketball experience. Exum's limited NBA minutes represent his only time spent playing organised basketball since turning eighteen. He just hasn't had the chance to work through growing pains in important basketball games, or practice for that matter.
Exum is just 15 months older than Donovan Mitchell, the Jazz's highly touted rookie this season. Mitchell was afforded time to develop in the relative sanctuary of the NCAA system. Exum, on the other hand, has been picked apart on the NBA level during his formative basketball years.
This past off-season was the first opportunity for Exum to thoroughly work on his game. Time before his rookie season was spent gallivanting around the pre-draft circuit. The 2015 off-season was spent playing with the Boomers, before he suffered that ACL tear, while 2016 was simply the punctuating end to a difficult 12 months of recovery.
During his year away, the Utah Jazz vaulted from developmental incubator to playoff contender, removing rotation minutes that were in abundance during Exum's rookie season.
The list goes on.
There are plenty of reasons which can explain away results that (in the abstract) appear extremely disappointing for a top five draft pick, although these explanations are quickly reaching their expiry date. The past will be rendered irrelevant if Exum's play doesn't improve.
Competition for playing time will be significant. The Jazz are fighting to maintain a playoff spot sans Gordon Hayward, and can ill afford Exum stumbling on the court. There will be no more experimental minutes under the guile of personal development.
With Ricky Rubio, Rodney Hood, Raul Neto, Alec Burks and Mitchell all fighting for backcourt minutes, Exum will be forced to earn every second of playing time.
Complicating things further is the fact that Exum is eligible for a rookie contract extension. He will become a restricted free agent at seasons end if no deal can be reached before 2 November, something that appears unlikely. His immediate earning potential and NBA prospects are on the line this season. These are significant pressures for a young man still trying to prove he belongs in the NBA.
2. Get into the paint
Exum must find a reliable source of offence to sustain a role with the Jazz. His best bet of doing so will come from attacking the paint and getting into the lane.
This is why Exum's performance during a brief Summer League campaign was encouraging. Leading a young Jazz roster allowed Exum to dominate the basketball and show off skills that have scarcely been seen in the NBA. Glimpses of a lethal, lightning quick attacking arsenal being one significant thing that stood out. Fellow Australian, Jonah Bolden, was reminded very quickly.
https://gfycat.com/gifs/detail/EnlightenedHandsomeGoose
Exum's strikingly quick first step was often the initiator, such as this play against number one pick Markelle Fultz.
https://gfycat.com/gifs/detail/AmbitiousSafeArachnid
He also utilised a surprisingly diverse array of moves - stutter-steps, speed dribbles, spin moves, floaters and runners - to subtly beat opponents.
https://gfycat.com/gifs/detail/WhichForsakenGreatdane
Across three summer games, Exum performed at a level higher than any other seen during his professional career to date. While the standard caveats concerning setting and the quality of opponents apply, Exum did everything in his control to impress during Summer League.
He was comfortable experimenting with offensive moves and opening up his game, a prudent development given diversity is needed to throw off opposition defences. The scouting report on Exum is clear: he loves to go right, so don't allow it. The majority of Exum's NBA offence has come from attacking the right side.
When forced left, Exum has historically lacked the ambidexterity to finish with his off hand, resulting in ugly cross-body attempts like this.
https://gfycat.com/gifs/detail/BasicYawningComet
In the friendly confines of Summer League, Exum was willing to utilise his off hand more than ever before. While the sample size is incredible small, there were clear signs of improvement, such as this left side drive.
https://gfycat.com/gifs/detail/SecondActualAmazontreeboa
Exum will obviously face stronger competition in the NBA, and must improve his finishing rate when at the rim. But the first step is getting there. The Australian only attempted 175 field goals inside of 5 feet last season. This number needs to increase significantly.
An increased focus on attacking smaller guards, especially when opposition defences doesn't have an established shot blocker roaming the paint, would serve Exum very well. We have seen glimpses of this within his fledgling NBA career.
https://gfycat.com/gifs/detail/VerifiableWanDrake
Harnessing such opportunities represent Exum's quickest path to becoming a valuable offensive contributor.
3. More time with Rudy
Exum's best NBA moments have come alongside Rudy Gobert.
The Frenchman's length and size is a great match for Exum, as the pair form a prototypical defensive duo when on the court together.
Utah's defence was transformed the moment Gobert became a starter in early 2015. The Stifle Tower is the lynchpin of Utah's stingy defence, although the team performed even better when Exum was by his side. This was true in Exum's rookie season, when the duo restricted opponents to a meagre 98 points per 100 possessions, and again last year when they posted a defensive rating of 99.
The Australian is already a competent on ball defender and Gobert's length inside allows him to be more aggressive on the perimeter.
Exum played 1243 minutes with Gobert during his maiden campaign, with this number dropping to 768 in 2016-17. More minutes alongside Gobert this season could further unlock Exum's defensive potential.
The same applies at the offensive end, as the pair have formed a sneaky efficient pick and roll connection. Exum instinctively looks for his big man and is quite adept at lobbing the ball towards the rim.
https://gfycat.com/gifs/detail/CluelessPhysicalGull
Again here in transition. Gobert is the perfect complement to Exum's speedy drive and is capable of finishing off the play. All Exum has to do is lob the ball and look for Gobert to finish the job.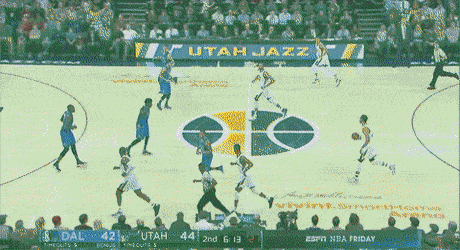 Gobert is now Utah's best player and will be heavily relied on again this season. His presence is equally vital for Exum, as he has the requisite talents to help the Australian maximise his potential.