Discover more from The Pick and Roll
We're all about Aussie hoops. Independent, objective analysis and commentary. Insightful narratives built around Australian basketball. Read about our men and women in the NBA, WNBA, NCAA, Europe, national teams, NBL, WNBL, NBL1, prospects and more.
Over 2,000 subscribers
Three things to watch from Thon Maker in the 2017/18 NBA season
Are we ready for Thon Maker 2.0 yet?
After bursting on the scene 12 months ago, Maker spent his first professional offseason away from the limelight and working on his game. A brief Summer League appearance was followed by an intense fortnight working out with Giannis Antetokounmpo. Personal development was the name of the game, and Maker hopes that will help elevate his Bucks franchise.
Maker told The Pick and Roll in February that he is firmly fixated on making the most of his NBA opportunity. He showed great promise in year one, and hopes to improve further during his sophomore NBA season.
Today, we continue our Aussies in the NBA Wish List series by looking at Maker, and what to expect with the upcoming NBA season. Last week we started by looking at Ben Simmons and Dante Exum.
1. Dribble, drive and finish
Maker wasn't asked to contribute much on offence during his rookie season. Despite appearing 57 times for Milwaukee, he averaged less than 10 minutes per game. Even when Maker was made a full-time starter, he averaged only 13.7 minutes, often playing only at the start of each half as a glorified role player. His usage was low, even by rookie standards, and he rarely got the chance to create on offence.
With Antetokounmpo making a leap to superstardom, Jason Kidd wanted his starting center to space the floor and stay away from the Greek Freak's driving lanes. That is why Maker started over the likes of Greg Monroe and John Henson, despite the fact Monroe logged the most minutes at center for the Bucks last season. The simple fact Maker shot 37.8 percent (28 of 74) from 3 made him the most natural fit as a starting five.
Maker then spent most of his minutes setting screens and standing idle on the perimeter. When the ball was swung his way, Maker would do his best The Wiggles impersonation and play hot potato. The ball was going up or it was getting passed around the perimeter. Every so often, Maker would attempt to explore the outer limits of his game, with turnovers usually ensuing – such as this audacious pass against Oklahoma City.
The young Australian's role should be very similar this season, although with Jabari Parker currently injured, there will be opportunities for Maker to show off expansion within his offensive repertoire.
Maker will still spend plenty of time roaming the outside, so it would be great to see signs of a proficient dribble drive game. While opponents respected Maker's ability to stroke the long ball, they treated his ability to drive and finish with distain.
https://gfycat.com/gifs/detail/identicalthisbagworm
Hassan Whiteside hardly contested this drive from Maker, knowing that even the slightest bump would be enough to force a miss. The same applies on this next play, against a far inferior opponent.
https://gfycat.com/gifs/detail/naivecarefreehuemul
A capable dribble drive game will significantly elevate Maker's impact on the Bucks offence. Being a spot up shooter makes him a valuable rotation piece, but developing handles and the ability to finish at the rim will provide the nuance required to stimulate his offensive influence.
Having the ability to stretch the floor and finishing off the dribble is a rare talent, and something that can dominate against traditional centers. Maker is already willing to attack closeouts if give the space, he just needs to get better at doing so. He showed flashes as a rookie, such as this bucket against the Celtics.
https://gfycat.com/gifs/detail/potableoptimisticivorybackedwoodswallow
If Maker can so consistently replicate such drives this season, the Milwaukee offence will benefit greatly.
2. Defensive awareness & defend without fouling
Maker has the athletic profile to be a very good defender, but his awareness needs to improve. There was a clear adjustment period in year one. He would routinely struggle contesting NBA calibre athletes, often committing sloppy fouls in non-threatening situations.
Maker picked up a foul every 6.7 minutes of playing time during his rookie season. Luckily, this wasn't an issue given the small quantum of minutes spent on court. That said, it is something he must clean up going forward. There are too many examples of Maker collecting unnecessary fouls.
https://gfycat.com/gifs/detail/passionateleftalligator
https://gfycat.com/gifs/detail/honestfaintannelid
If Maker wants to earn starter minutes, he must eradicate these lazy infringements and value his six fouls. To his credit, most of Maker's mistakes come from exerting too much energy. In the two examples above, Makers slaps in frustration after being called for the foul. With a little more experience, Maker will hopefully use his supreme defensive length to smoother opponents and not bail them out.
Maker should also benefit from another 12 months spent in the gym. His slender build was a clear attacking point for opponents.
https://gfycat.com/gifs/detail/wellwornmintyapatosaur
With a hefty meal plan at his disposal - Maker has allegedly been eating six meals a day for the entire year! – the gains shouldn't be far away. While there is an obvious need to add weight, it is vital Maker maintains his quickness as he gains strength. Antetokounmpo is a perfect role model in this regard. Maker's speed helps leverage his length into being a deadly weakside helper.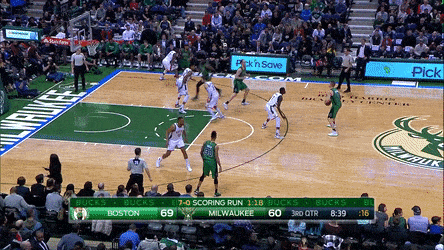 Maker blocked shots at an elite level during his limited minutes as a rookie. His block rate will likely decrease as the minutes rise, although that shouldn't belittle his defensive impact.
There were clear signs of improvement as last season went on, and it's fair to expect further growth in year two. In Milwaukee's playoff series against Toronto, Maker showed flashes of elite defensive discipline when switched onto All-Star guards like DeMar Derozan and Kyle Lowry.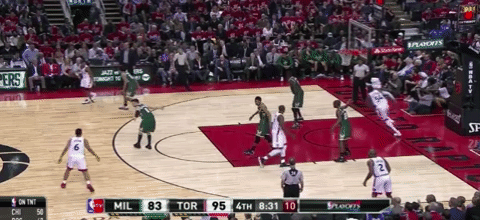 3. Improved rebounding rate
Despite standing at 7'1", with a 7'3" wingspan no less, Maker was a below average rebounder during his rookie NBA season. Only 7 centers who logged 500 minutes last season had a worse rate rebound rate than Maker (11.8 percent).
Maker's inability to clean the glass often undid the defensive flexibility that brought him into the starting lineup. The Bucks, already one of the worst defensive rebounding teams in basketball, posted the third-worst defensive rebounding rate in basketball when Maker was on the court.
Bigger centers would often bully Maker inside and collect rebounds at an alarming rate. If Maker can add the strength we discussed above, it should allow his rebounding prowess to grow. The Bucks front office recognises this is a growth area for Maker, as reinforced by Kidd's comments at Las Vegas Summer League in July.
https://twitter.com/MikeSGallagher/status/883463789953245184?ref_src=twsrc%5Etfw&ref_url=http%3A%2F%2Fpickandroll2.dev.onpressidium.com%2Faussies-nba-thon-maker-struggles-bucks-blowout-loss%2F
As with the majority of his current shortcomings, the matter of rebounding is something Maker's recognises as a key to his ongoing development.
"Just got to find openings," he explained of his rebounding mindset last year. "Be aware of where you expect the miss to go. Just read it. Read where the shot is taken from and just go get it. You've got to want the ball."
While less of an issue at the offensive end, the Bucks were far and away the worst offensive rebounding team in the NBA with Maker on the court. This is understandable given the nature of his attacking role. Although it is further anecdotal evidence that the Bucks' already shaky rebounding talents are further hampered with Maker on the floor.
What else are you looking forward to, when it comes to Thon Maker?