Thon Maker MVP of Ballislife High School All American Game
Long Beach, CA - May 2, 2015
Australia's Thon Maker, MVP, showed up and showed out to lead Team Elite to a 113 -110 victory over Team Future in the 5th annual Ballislife high school All-American game.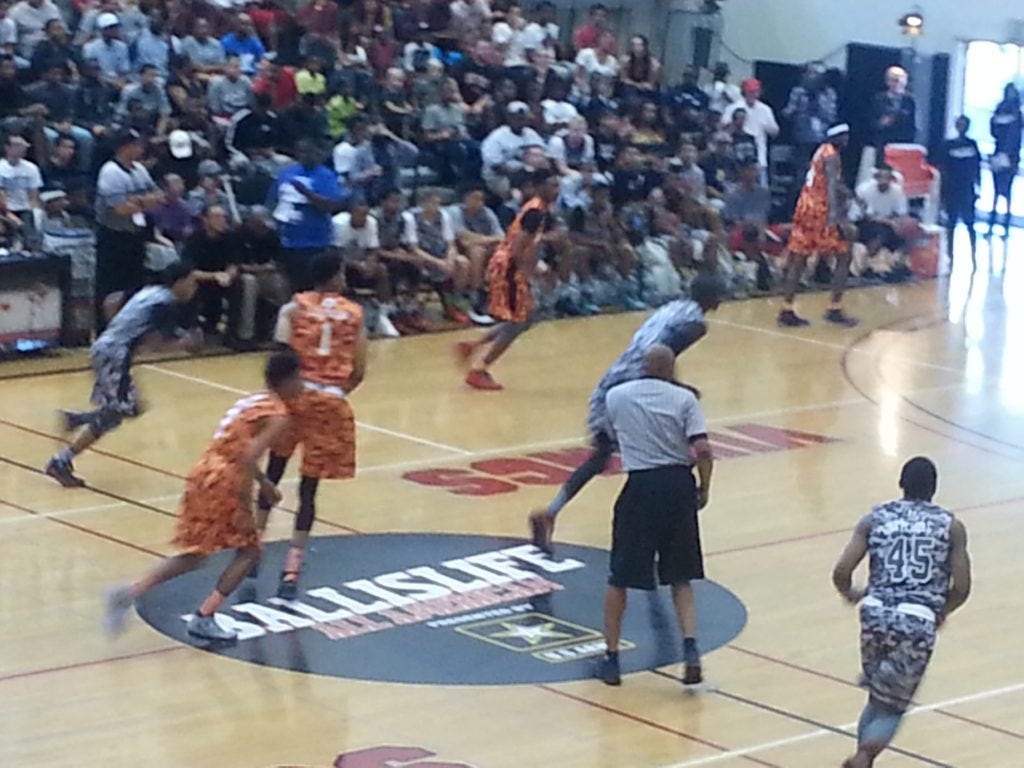 Early Ballislife game action.
(Photo taken by Darrel Wilson) All-Star games, especially in high school, are usually filled with sloppy play, no defense, and players trying to make highlight reels. But this one had a different feel from the start, at least as far as Team Elite was concerned. They scored the first eight points of the game, powered by blocked shots and smothering defense that set off fast breaks. Maker's skill-set was on full display early.
Wow! Thon Maker grabs rebound then goes coast to coast, weaving through traffic for a dunk. He's the real deal people @OzBallPnR #ballislife

— D. Wilson (@SpitsGame) May 3, 2015
Team Elite was up 63-47 at halftime after being up by 26 at one point. The margin remained between 10-20 points with Team Elite in control for the first portion of the 2nd half while a dunk contest broke out. They took their foot off the gas and allowed Team Future to mount a comeback. Team Future started playing some inspired basketball as they cut the lead down, and kept their deficit within six for most of the final 10 minutes of the game. Kentucky signee Isiah Briscoe led the charge for Team Future, with them eventually taking a three-point lead with one of his many powerful drives to the hoop with 1:16 left. Those were the last points for Team Future as they were held scoreless for the rest of the game. Rutgers signee Corey Sanders scored on an acrobatic drive, he then intercepted a pass and assisted the UCONN signee Jalen Adams's dunk to take the lead with a minute left.
Skal Labissiere (Kentucky) and Thon Maker (Undeclared) were named MVPs of the Ballislife game. (Photo taken by Darrel Wilson) Maker, who was the game's MVP for Team Elite, put an exclamation on the game when he picked up a loose ball under his own basket and slammed it through. Maker finished with 17 points, 6 rebounds, 3 blocks, and 2 steals. After the game, he said the key to closing the game out was actually playing defense. "Down the stretch, most of our guys didn't get back on transition," Maker said. "And I was yelling at them. But then it was just defensive rebounding. I made a mistake by tapping it back instead of grabbing it. I thought the time was running out, that's why I did it." The mistakes didn't hurt Team Elite too much as they came out on the winning end. Skal Labissiere, another player on his way to Kentucky, was named MVP for Team Future as he finished with 16 points, 16 rebounds, 2 blocks, and 2 assists.
---
*Notes Briscoe won the three-point shootout. In the first round, he quit shooting after the third rack with confidence his score would be good enough to advance, which it was. However, the performance of the contest came from Thon Maker who made all eight of his three-point shot attempts during a tie-breaker round to advance to the finals.
Isiah Briscoe just said he's the best shooter in the country after winning three-point shootout. #ballislife #BBN — D. Wilson (@SpitsGame) May 2, 2015
UNLV signee won the slam dunk contest with three effortless acrobatic dunks in one try each.
Yo!!! UNLV signed Derrick Jones has some crazy hops. Two perfect scores in first round. #ballislife

— D. Wilson (@SpitsGame) May 2, 2015
Derrick Jones jumped OVER a 6'5" kid and did something nasty to the rim to win the contest. #ballislife #UNLV — D. Wilson (@SpitsGame) May 2, 2015