Discover more from The Pick and Roll
We're all about Aussie hoops. Independent, objective analysis and commentary. Insightful narratives built around Australian basketball. Read about our men and women in the NBA, WNBA, NCAA, Europe, national teams, NBL, WNBL, NBL1, prospects and more.
Over 2,000 subscribers
Eyes on the Prize: Thon Maker is Focused
One of the most compelling high school athletes to ever grace the hardwood will soon make the difficult decision on which college to attend. But for now, Thon Maker is focused on making improvements to his game.
Some kids make it onto the basketball court based strictly on their height. Sudanese-Australian Thon Maker doesn't fit that category. His first sport was soccer, the fancy footwork learned on the playing field made the transition to basketball effortless. At 7-foot-1, his skill set equals that of a point guard in the open court and on the perimeter. He was discovered by Edward Smith, who operated the academy in Sydney where Thon was playing as a youth — the St. George Basketball Association. The Pick and Roll was at the 5th Annual Ballislife All-American game in Long Beach, California to catch up with Thon. The highly rated prospect revealed his state of mind and plans for the future in an exclusive interview.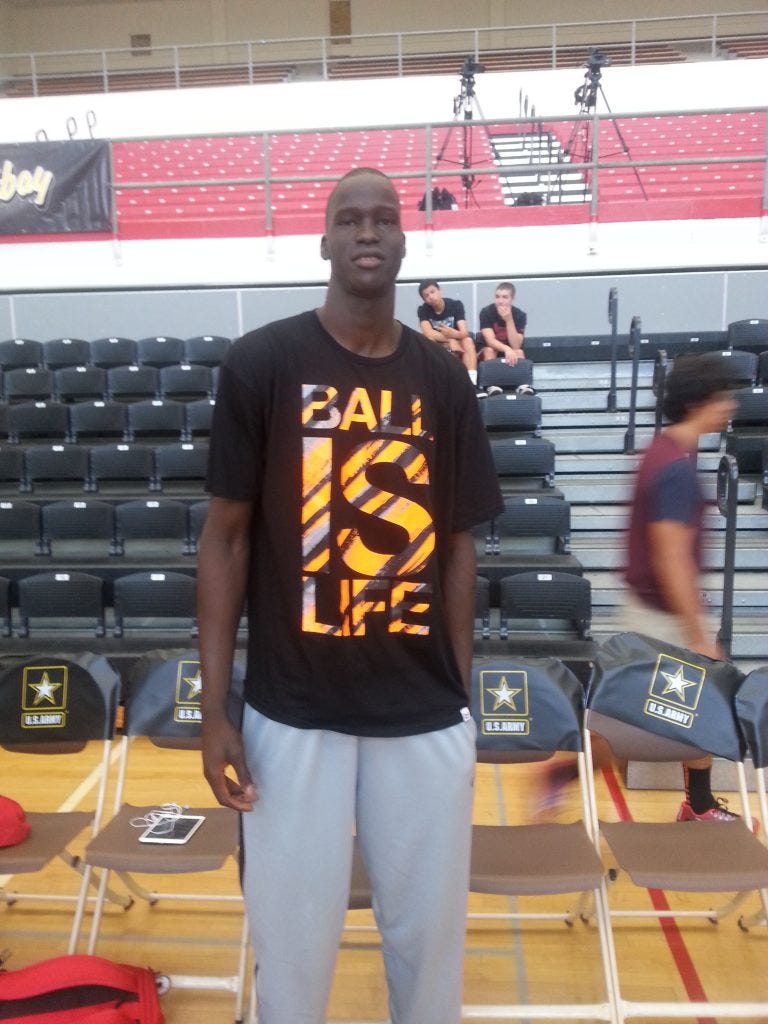 Photo Taken by Darrel Wilson The first impression when seeing Thon was that he's incredibly tall. You see listed heights of some players and question the legitimacy, but this kid stands taller than most — including the NBA's Andrew Bogut and DeAndre Jordan. What's amazing about this kid is not only his height but he was behind the arc in shoot-around chucking up three pointers and swishing them. "I have the three-point shot in my game but I don't use it as much," says Thon with an engaging smile. "You have to expand your game cause you never know what situation you'll be in." Thon later created a buzz during the Ballislife three-point shootout when he showcased his stroke.
Thon Maker made 8/8 in tie breaker to advance to finals of shootout. @OzBallPnR @PickandRollAU #ballislife

— D. Wilson (@SpitsGame) May 2, 2015
Most scouts compare Thon to Kevin Durant and Kevin Garnett. He says he leaves the comparisons to the critics and he doesn't really pattern himself after anyone. "I try to be myself," Thon says humbly. "I'm a mover. I like to make the defense chase me and operate off of that, then get to my spots — the elbow, the high post. But mainly have the defense chase me, so I can use my speed and quickness against them." He went on to elaborate on the importance of carrying the three-point shot in his toolbox. "If you end up in a place where you catch the ball behind the three and the defense sags off, it'll make it hard for the whole team to get any good looks," Thon says. "You see it with a lot of bigs, guys my height, they can't score it and end up just looking for a spot to pass it to. I rather have those skills so they really have to respect me and come and guard me, leave space behind them so guys can cut and I can pass it to. Gotta have the skills down pact." https://youtu.be/wttjoWjzvm4 Edward Smith, a trusted adviser and confidant, says Thon's mindset is always about getting better and constantly improving on his game. Off the court, Thon worked hard on adding muscle in the weight room. He went from 191 to 218 pounds in the last year. "He was trying to adjust how to work with that load; it's always work, work, work," Smith says. "It is tough, that's why we came out to California. I wanted him to get out here and have some fun." And fun is what All-Star games are mostly about. "A lot of guys think that just because this is an All-Star game, they're gonna dunk around and throw lobs," Thon says. "I mean, it's gonna be there but I'm just gonna play. My mindset is to be a pro. Don't get caught up in the highlights or get out of character, just play my game." True to his word, Thon showed out later that evening in the featured event. He garnered MVP honors scoring 17 points with six rebounds, three blocks and two steals in the process. He flashed his all-around game early when he went coast-to-coast after grabbing a defensive rebound, weaving through the defense and finishing with an emphatic dunk.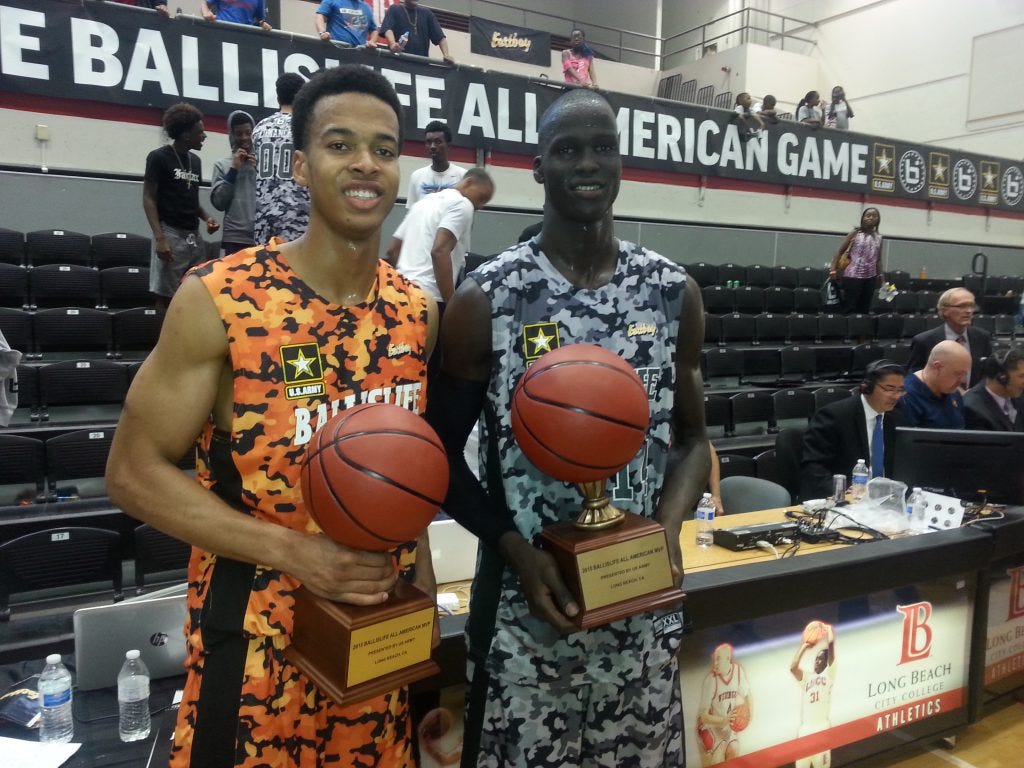 Skal Labissiere (Kentucky) and Thon Maker (Undeclared) were named MVPs of the Ballislife game.
(Photo taken by Darrel Wilson) Smith says he thinks Thon got a little sidetracked from his basketball game earlier in the year when he was trying to reclassify to the class of 2015. But now he's comfortable where he is because he's looking to finish high school by the end of December. "He got sped up a little bit within the last six months, he was trying to do too much," Smith says. "Knowing that he can be a mid-year entry into college, he's a lot more relaxed." There are a lot of recruiting websites speculating about the D-1 university that could score this phenom. Thon says the key factors in selecting his college will come down to the location he likes best, along with the coaching staff and the school itself. Mainly, he says, it's about being ready for college ball. Thon immediately debunked all of the rumors, when asked to name his top three choices. "People are saying I have a list but there was a fake account," Thon says. "It wasn't really me. I don't have a list at all. I'm really trying to finish my academics then get into the decision part." Until then, knowing that he has time to finish takes a lot of stress off. Trying to excel academically as well as playing basketball can be tough on a kid. Thon gets to enjoy playing another half season with his younger brother, Matur, who is a highly rated prospect in the class of 2017, before he goes off to college. "For him, his focus is a lot on his family and his brother," Smith says. "I told him, 'Take your time, you're not in a hurry. It's not going to be the end of the world.'" Now that the school year is complete, Thon says he'll be enjoying the NBA playoffs. Asked if he'll root for the Aussies in the postseason — specifically Matthew Dellavedova who gave my first NBA interview — Thon laughed and says he's not cheering for the Cleveland Cavaliers. "Everybody knows that Cavs have a high chance because of Lebron and them but I'm a Wizards fan so I'm a little bit off," Thon says. "If the Wizards do get past the Hawks, I'll be going with the Wizards against them." Thon's future in the NBA is yet to be written. Right now, he's just another one of the countless fans of this great game we all love.