Discover more from The Pick and Roll
We're all about Aussie hoops. Independent, objective analysis and commentary. Insightful narratives built around Australian basketball. Read about our men and women in the NBA, WNBA, NCAA, Europe, national teams, NBL, WNBL, NBL1, prospects and more.
Over 2,000 subscribers
The WNBL's most wanted: What each club needs to advance in 2024
Free agency is upon us. Here's a look at what each club's pressing needs could look like, as they look to advance up the ladder.
Credit: May Bailey Photography
The difference between languishing at the bottom of the table and challenging for a championship is often determined in the offseason. Yes, that's right — WNBL free agency finally commenced on 9 May, and each team will be out to build a roster to compete for the 2024 title.
We run through each team, including who is already signed and what areas they should consider addressing.
LIST: Free agents for WNBL24 as listed by the WNBL. *Denotes import
The Pick and Roll is a reader-supported publication. To receive new posts and support my work, consider becoming a free or paid subscriber.
Adelaide Lightning
Signed: Nat Hurst (through to 2026) - Isobel Borlase, Lauren Mansfield and Tayla Brazel
Not Listed: Steph Talbot
Notable Free Agents: Abby Cubillo, Brooke Basham, Chelsea Brook, Jacinta Monroe*, Kirsten Bell*, Marena Whittle and Sam Simons
Number one likely target: A local 4-5 forward centre
The Lightning are in desperate need of rebounding power from a local and there's a plethora of free agents no doubt currently in their sights. Championship backup centre Lara McSpadden fits the need for this position and looking for a starting position in a WNBL side may be of interest to her. Going back to the future with Abby Bishop could be another option having played at the Lightning in 2011/2012 and 2017/2018 – she's also spent time with current head coach Nat Hurst at the Capitals in 2013 where she went onto to be MVP of the league in 2015.
The Lightning were ranked fifth in total rebounds, sixth in offensive rebounds and gave up the most offensive rebounds of any team in WNBL23. It's an immediate hole that needs plugging for the Lightning and if they can't get either of those two - the type of player like Mackenzie-Clinch Hoycard may jump at the opportunity to gain a starters spot on Nat Hurst's roster. I'm also confident Alanna Smith's status would be of great interest to return to Adelaide again if the opportunity arose.  
Bendigo Spirit
Signed: Kennedy Kereama (through to 2024) – Anneli Maley, Kelsey Griffin, Alicia Froling, Abby Wehrung, Alex Wilson, Sophia Locandro and Tessa Lavey
Notable Free Agents: Kelly Wilson, Mary Goulding, Megan McKay and Cassidy McLean
Number one likely target: An import combo guard
The Spirit need at least one import in WNBL24 and the priority should be a combo guard having given up the most turnovers in the league (16.4) and gave up the second most steals in the league (8.2) – it's a small point of difference but a combo guard that can tick their scorecard over would help enormously.
One that comes to mind that would suit the style of controlled play we've seen from the Spirit is Spanish combo guard Marta Hermida from the NBL1 South's Ringwood Hawks. She is familiar with the league and Australia, recently plying her trade in France with Bretagne. A lineup of Hermida, Wilson, Griffin, Maley and Froling is potent for the Spirit with Wehrung coming in for backup to further strengthen their depth. Then you can fill out the rest of the group with the needs they have – that'll lift the Spirit right back up into top four calculations in WNBL24.     
UC Capitals
Signed: Kristen Veal (through to 2025) – Alex Bunton, Tahlia Tupaea, Jade Melbourne, Nicole Munger*, Rebecca Pizzey and Gemma Potter
Notable Free Agents: Brittany Smart, Chloe Tugliach, Rae Burrell*, Liz Tonks, Sherrie Calleia and Shaneice Swain
Number one likely target: A combo local 2/3 scorer and retain Shaneice Swain
Finishing bottom means that every area is a priority but a decent combo 2/3 player to accompany Jade Melbourne and whichever import 4/5 they land is what's most needed with Tahlia Tupaea returning and Nicole Munger already locked away for the season. A lack of offensive firepower was evident and addressing that in free agency would be the strongest priority having only put up 76.1 points per game.
Retaining Swain would be top of that list as other clubs circle around the possibility of getting the #14 pick in the WNBA draft for the Los Angeles Sparks. Then some NBL East products could be the tonic with Vanessa Panousis (28.3) and Emma Mahady (20.4) potential good fits as a shooting guard then Sara Matthews (19) could fit in at the three-spot giving you Melbourne, Swain, Tupaea, Munger and Bunton in your starting group then either Panousis, Mahady or Matthews first change.      
Melbourne Boomers
Signed: Chris Lucas (through to 2025)
Not Listed: Penina Davidson
Notable Free Agents: Kristy Wallace, Cayla George, Leilani Mitchell, Lily Scanlon, Lou Brown, Miela Goodchild, Olivia Nelson-Ododa*, Rachel Brewster, Tess Madgen and Tiffany Mitchell*
Number one likely target: Scoring and speed to either start or bring off the bench first rotation
The Boomers lost their series off the back of a lack of bench points with just the eight in both games – they need some scoring depth with Mia Murray retiring particularly. Speed is also needed off the bench in the pace stakes – they had just the nine fast break points across their finals series against the Flyers when it counted.
Free agents that would help that include the obvious one in Shaneice Swain who if Penina Davidson returns is a teammate at the Cairns Dolphins in NBL1 North. Liz Tonks from the Caps is another one ready to breakout even further in WNBL24 currently averaging 18.9 points for the Canberra Gunners. Tayah Burrows may also be keen to see some more court-time as a first change of the bench or even ready for a starting role averaging 19 points per game in NBL1 West with the Rockingham Flames.
Another NBL1 West scoring machine who's had WNBL experience is Cockburn Cougars Jewel Williams who they could look at averaging 19.2 points per game and deserves another crack at the big time. If Kristy Wallace does in fact re-sign as expected, and Tiffany Mitchell can go around for a third season, then having someone like Tonks backing up a potential starting lineup of Wallace, Madgen, Mitchell, George and import forward/centre - could see the Boomers will be back in the race for top two again.          
Perth Lynx
Signed: Ryan Petrik (through to 2025) – None listed
Notable Free Agents: Alex Sharp, Amy Atwell, Chloe Bibby, Lauren Scherf, Mackenzie Clinch-Hoycard, Robbi Ryan*, Sami Whitcomb and Tayah Burrows
Number one likely target: An import guard to take the heat off Sami Whitcomb
Sami Whitcomb was heavily relied last season so if she returns - another scoring guard import or local would be much needed. Whitcomb averaged 17.2 points per game last season with the next best guard import Robbi Ryan with 10.4 per game. The difference between the lineups of the last two seasons were the potency of scoring with the Lynx averaging in 84 per game (with Marina Mabrey) in WNBL22 compared to last season 80.1.
Locally Casey Samuels has been averaging 21.5 points per game for the same club Ryan Petrik is a part of (Rockingham Flames), and we've seen her scoring ability in the NBL1 Central with the Central District Lions – she's a viable option having improved. Mikailah Dyer for the Eastern Suns is another one already up to 19.9 point per game while out of the current free agents - the Lynx should be looking closely at Miela Goodchild and Brittany Smart. Then you have Whitcomb and Goodchild/Smart at the guard positions, and if Atwell, Bibby and Scherf all re-sign as potential starters – having players like Samuels and Dyer off the bench who can score makes them once again a contender.
Southside Flyers
Signed: Cheryl Chambers (through to 2025) – Dallas Loughridge and Nyadiew Puoch
Notable Free Agents: Abby Bishop, Aimee Rocci, Bec Cole, Carley Ernst, Kayla Thornton*, Lauren Jackson, Maddi Rocci, Monique Conti and Sara Blicavs
Number one likely target: A secure ball-handling guard
Chambers team need a secure ball-handling guard to help control the tempo of their play with their high-class wings, paint play and inside presence. The Flyers gave up plenty of turnovers across their three finals losses and conceded many points, with 25, 24, 10 and points coming from 19, 16 and 13 turnovers.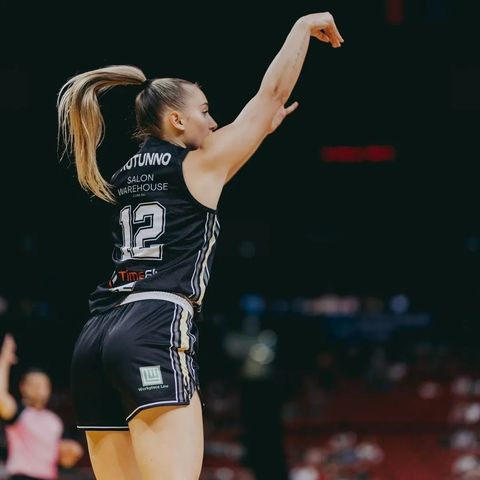 Locally Lilly Rotunno and Krystal-Leger Walker are some of the best ball handling guards in the free agent pool averaging less than two per game at NBL1 level and ready to take the next step - you feel they would do well at that position in WNBL24. It's a big move for the Flyers but if you have a secure ball carrier like a Rotunno or import guard, Maddi Rocci at the shooting guard position, Cole, Blicavs and an import centre, then back that up with Puoch and Loughridge and some role players – the Flyers can potentially overcome some of the areas they fell over late last season.       
Sydney Flames
Signed: Guy Molloy (interim coach - TBC) – Tiana Mangakahia, Emma Clarke and Kiera Rowe
Notable Free Agents: Hannah Sjerven*, Indiah Bowyer, Jocelyn Willoughby*, Kalani Purcell, Keely Froling, Lilly Rotunno, Maddy Allen, and Vanessa Panousis
Number one likely target: An import/local 4-5 centre
First and foremost interim coach Guy Molloy has to rebuild a group clearly in need of some of this year's top free agents. The Flames were outsized in WNBL23 finishing equal last in rebounding with 35.7 and conceding 41.3 the second most in the league – so re-signing Keely Froling is crucial - but she also may desire a change of scenery.
Megan McKay, Lara McSpadden, Mackenzie Clinch-Hoycard are free agents that also fit what the Flames need – averaging double figure contributions per game in NBL1 currently. If they are looking for a local import doing some serious glass work then they need look no further than Teige Morrell averaging 11.1 in NBL1 West with the Joondalup Wolves - she's previously as well held some WNBL temporary playing contracts. A lineup of an import guard, Mangakahia, Rowe, Froling and McKay, as an example, gives Molloy the building blocks to rebuild the Flames.  
Townsville Fire
Signed: Shannon Seebohm (coach till 2024) – Steph Reid, Courtney Woods, Zitina Aokuso and Kate Gaze
Not Listed: Mikaela Ruef and Kate Gaze
Notable Free Agents: Karlie Samuelson*, Krystal Leger-Walker, Lara McSpadden, Lauren Nicholson, Morgan Yaeger, Nes'eya Parker-Williams, Shyla Heal and Tianna Hawkins*
Number one likely target: Retain both Hawkins and Samuelson as imports
Finding what's broken and not fixing it is what's needed for the Fire with continuity key to continue their opportunity to go back-to back. Locking in Hawkins and Samuelson will support the continuity Seebohm needs and help to build the other pieces around them.
Certainly, Morgan Yaeger and Krystal-Leger Walker will be keen to return to the fray but it's unlikely that Shyla Heal will be there again next year as she chances her arm overseas for the next season. Reid, Nicholson, Samuelson, Hawkins and Ruef going around again possibly would keep the Fire very much in the top four and contention for back-to-back championships. Even if Nicholson chose to go elsewhere (likely the Sydney Flames, if she did) – Woods is a great inclusion already signed for this coming season.
With the delay in the free agency period recently - it'll be interesting to see in the coming weeks and months if there is a large shift or clubs retain their key pieces and build around them for their roster for WNBL24.
This story has been supported by the WNBL. Visit their official website wnbl.basketball for all the latest news.