During the Utah Jazz's postseason media wrap earlier today, Jazz guard Danté Exum addressed his injuries and the road ahead.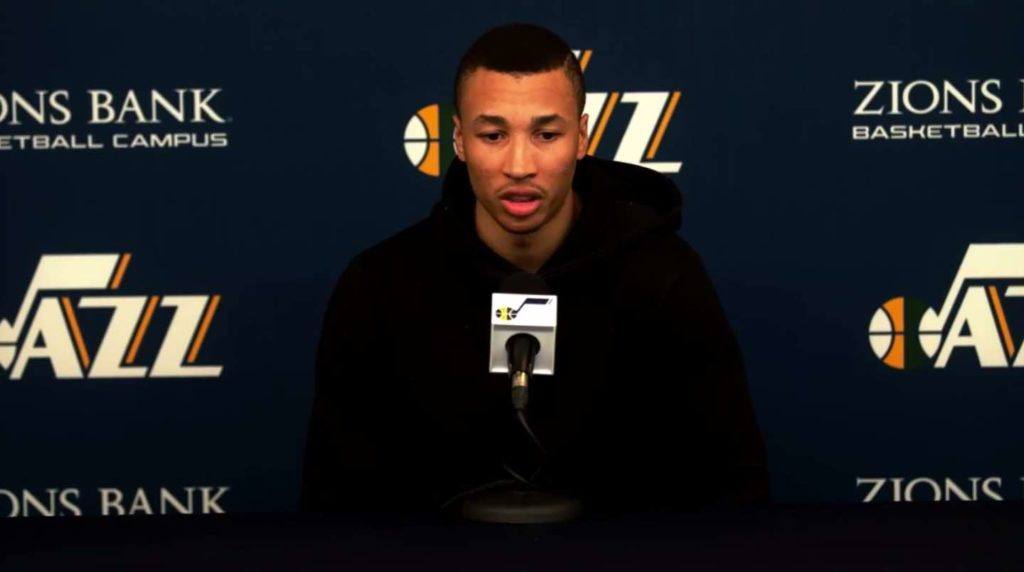 The guard had partially torn the patella tendon in his right knee, and underwent surgery in late March.
Exum talked about the frustration and his mindset that went with this injury.
"It's been the toughest road for me, not going to lie.
"I think, going through this. This was definitely the hardest one, but I felt like I've dealt with it the best. With my previous injuries, just knowing how to handle myself, one of the things I've learned is, I can't control some of the uncontrollables.
"I can control that I come into the facility every day, that I'm doing my rehab, doing everything I can and that's one of the things I've learnt, just kind of taking that next step to getting better.
There's no point in me sitting here all sad, praying and wishing I want to be on the court, because in reality I'm not going to be able to. So it's going to be whatever I can do. Think forward, just the mindset that I've gone with this," Exum shared.
"It's been good so far, no unexpected problems," Exum shared. "When [the surgeon] went in, he had to do less than he expected he had to, so that was a really good sign."
"Right now I'm walking fine, doing all that rehab every day. I have an appointment in about a week, just to see them and get an update on when I can get back on the court. Right now, things are looking good.
"I want to get back as soon as possible, but I want to do it right, make sure rehab goes right and there's no problems throughout the summer.
"My goal is to be 100% by camp, but obviously I'm going to do it safely."
Safety is without a doubt, the mantra when it comes to Exum, who has had major injuries over his professional career, including an ACL tear while playing for the Boomers, shoulder ligament damage, and a hamstring injury during the Rockets series last playoffs.
Exum also talked about his need to improve on shooting off the dribble, as well as finishing at the rim this offseason.
"You know, I say this every summer but everything, really. Just getting confident in everything. Shooting off the dribble, it's going to be a big one for me. Just continue to finish around the basket, making the right decision once I get in there every time.
"I started to get a good rhythm before I went down with the ankle injury. Throughout the summer, just trying to find that rhythm so once I get back to the team I'm ready to go from day one."
The Jazz shooting guard averaged 6.9 points, 2.6 assists and 1.6 rebounds over 15.8 minutes this season, and had shown significant upside.
https://www.youtube.com/watch?v=TKn4f9z4jeI&feature=youtu.be
He had a season-high 20 points against the Philadelphia 76ers in late December last year, and followed that up with a career-high 13 assists against the Knicks two days later.
The guard also confirmed tendinitis has been an ongoing issue, but holds firm belief in the fact that he's done as much preventative work to avoid injury issues, especially the recent one.
"I think, it's just how hard I work. Doing the injury prevention, making sure I'm in the weight room, that's as much as I can tell you.
"That was the first thing I remember, going to see the surgeon for my knee and I said, 'Was this a preventable thing?'
"I've struggled with tendinitis for the longest, even before I came into the league. But I do tendinitis exercises before every game, it's not something that we have just ignored and it just happened. We've been doing preventative stuff and it just happened. I got to do what I can... because if there was something, I would be doing it, obviously."
The fifth overall pick in 2014, Exum played 82 games as a rookie before missing all of the 2015-16 season. He returned to play 66 games in 2016-17 but has appeared in only 66 combined games over the last two campaigns, including 42 in 2018-19.
"[The team] knows how much I want to get on the court, there's just some things I can't control. But I can control how hard I work, when I want to push myself, to get back and be on the court. They see that, and that's why they've invested in me. They know I'm going to do everything in my power to be out there and be as healthy as possible.
"There's just things that you can't control."