Discover more from The Pick and Roll
We're all about Aussie hoops. Independent, objective analysis and commentary. Insightful narratives built around Australian basketball. Read about our men and women in the NBA, WNBA, NCAA, Europe, national teams, NBL, WNBL, NBL1, prospects and more.
Over 2,000 subscribers
The results are in: support for change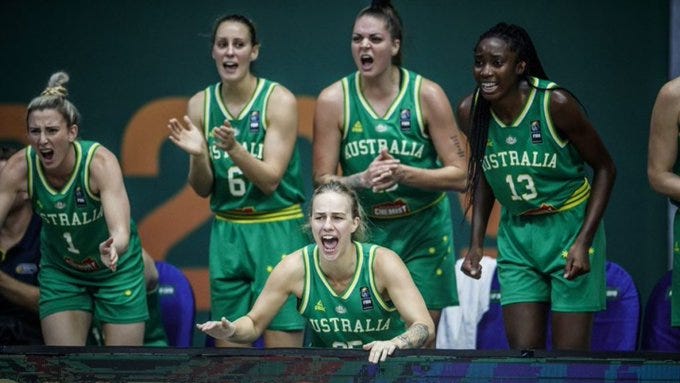 Credit: FIBA
---
Change is the only constant in life, and this has always been true for us. Bootstrapping a tiny media startup has always meant dealing with new questions, and figuring them out the best we can.
It's been seven years, and we've provided opportunities for aspiring basketball journalists and writers. From coverage about juniors through the the pro levels, at home and abroad, our platform has been at the forefront of promoting Australian basketball - both men and women.
Over the journey, both Kein and I have experienced our share of challenges, juggling full-time day jobs and growing families, and learnt a fair bit along the way. We want the best for our team and for #AussieHoops, but as I shared earlier this month, The Pick and Roll's growth has raised our workload, and our costs. The global pandemic hit the digital sports media landscape hard, and we have been no exception.
Kein and I both agreed we needed to change our operating model and evolve if we wanted to keep things going, so we asked for your feedback to help shape our future direction. Our thanks to everyone who took a few minutes out of their day to complete our survey and provide your thoughts and ideas. Not only were we encouraged by the response rate, the specific and detailed feedback we received was really appreciated.
Our primary objective for the survey was to explore a likely move to a subscription model. It appeared to be a sensible option as our next step, having already explored a multitude of other options. While we are proudly independent, we also value transparency and therefore wanted to share some key takeaways.
An overwhelming 74% of survey respondents supported a potential move to a paid subscription model, while an even larger 85% were also fine with advertisements. This outcome highlights a continued need to diversify our revenue streams, as some of you have pointed out. As you know, we currently run an online store and accept donations via Buy Me a Coffee. In addition, there was strong interest shown in possible limited edition branded apparel and coffee mugs - both are options we are keen to explore further.
We also received some great feedback on the quality of our content. Under a subscription model, respondents wanted to see at least two or more quality features each week. There was strong interest (61%) shown in us launching a new podcast too, so we'll definitely look at starting one with some exciting details to be shared soon. Other content topics where the interest came through strongest surrounded national teams, juniors, and coaching among others.
Our goal hasn't changed. We'll keep doing what we do, but with a stronger focus: to continue nurturing the next wave of talented basketball journalists by delivering insightful stories, detailed analysis, or showcasing athletes and coaches via compelling interviews. This respondent sums it up well: "More long reads that focus on areas of expertise and less trying to keep up with day to day hoops. There are plenty of options out there for that - but I love how The Pick and Roll shines a light on Aussies playing hoops all around the globe."
While the survey outcomes help point us in the right direction when it comes to popular content, it doesn't mean we will stop telling the lesser-known stories and showcase the men and women who represent Australian basketball on the global stage. We're not just about the big headlines, but also the ones that are on the horizon: "I have no one story that sticks out. I come to you guys to get a feel for what's happening with Aussie hoops in general. You guys introduced me to Jonah Bolden, Josh Green, Deng Adel, Jock Landale and countless other talented Aussies I'd have never heard of without your site. You make me feel connected to something I'm very passionate about."
Like I have shared previously, we don't have the time or desire to share aggregated news reports or clickbait news bites. Our focus on building out audience through subscriptions or memberships, rather than page views, will help us achieve just that. It's never been easy, but it's what we want to keep doing.
"No suggestions or ideas. Just want to say thank you for the work you do in developing the voices of basketball journos and offering 'non click bait' thought and analysis. It's a hard model to fund and I wish it were more widely appreciated."
Having evaluated all the feedback, the next step appears obvious to us. We'll be working towards transitioning to a subscription model that can best meet the needs for the majority of the #AussieHoops community.
We do recognise and appreciate that not everyone will want or be able to pay for a subscription, and for that reason we will try and keep some of the content available for free. Moving to a subscription model is uncharted territory for us, and we're doing our best to figure things out. It starts with doing research, getting advice and planning - something that has been underway in recent weeks, if not months.
Thanks once again for all your support. We are here to stay, and continue to believe that the best is yet to be. More to come on our next steps and how things will all work. In the meantime, make sure you sign up to our mailing list to ensure you hear it first.