The curious case of Cameron Gliddon: Will a change of team help?
Cameron Gliddon is a polarising player in the NBL. His credentials and talent are well-known, but there's a section of critics that bemoan his passiveness or propensity for quiet games on the offensive end.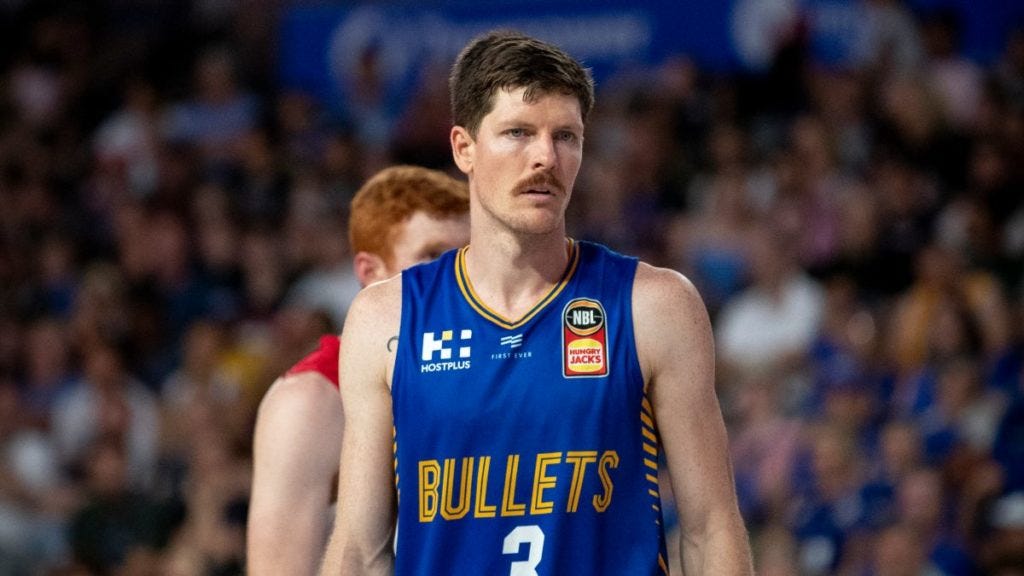 Credit: Russell Freeman Photography
---
In the following clip you'll see Nathan Sobey identify a transition opportunity and kick the ball ahead, whilst E.J. Singler screens the defender out of the play. Gliddon elects not to shoot, despite earlier knocking down multiple threes, as well as his team trailing on the scoreboard. The broadcast crew immediately turn to the familiar narrative of him being too trigger shy.
Given the game situation and the shooter that he is, this is a shot that he should take. Gliddon's smaller than usual impact in the NBL 2019/20 season wasn't just because of passiveness. There are multiple angles to look at, with the responsibility of each open to debate.
What cannot be argued is that Gliddon become an afterthought at times. For total minutes, he ranked seventh on the Brisbane Bullets. This occurred just a short time after making the final World Cup roster. Unsurprisingly, Gliddon and Brisbane parted ways with a year left to run on his contract.
"Ultimately the time is right to move on and I feel it is time for a fresh start," said Gliddon in a statement.
So... what happened?
This isn't a straightforward answer. Gliddon's form on both ends of the floor, injury or physical limitations, as well as role, coaching, and recruiting all emerged as contributing factors.
Brisbane's roster build was somewhat eye-raising, with three imports signed who could all identify as small forwards. Of course, they each had their unique traits and abilities. With the remainder of the roster littered with Boomer or Tall Black experience, there was a logjam of bodies who were capable of soaking up wing minutes.
The result was a measly 13.3% usage rate for Gliddon, a mark akin to his rookie season per spatialjam.com. Only five wings across the league posted a lower rate than him (minimum 100 minutes). His assist percentage dipped to a career low 10.0% and his free-throw rate plummeted from 28.7% to 8.5%. Basically, he was operating like a fifth option on offence for the majority of possessions.
"I don't think he's low on confidence at all," commented head coach Andrej Lemanis in January (after Gliddon had just three field-goal attempts in 25 minutes). "Obviously when he's open, we want him to shoot it. If the offence generates him a look and it gets kicked out to him, we back him to shoot it every single time."
It's just one quote in isolation but these comments do summarise what Gliddon's role was for the most part. He was heavily reliant on a teammate kicking the ball out to him as he stood stationary on the perimeter. The expectations for him to be more involved off the ball or to go and seek out a greater variety of touches were low.
Flashes of Gliddon's ability to come off of screens or set them for others were sprinkled into the offence at times. His above-average passing and decision-making was sporadically featured. Overall, he was often merely a floor spacer located in the corner. (More on all of this later.)
Defensively, Gliddon has been viewed as an above-average player at the NBL level. He's a very sound team and off-ball defender who constantly tracks both the ball and his man. He sees the floor well and recognises when to help and rotate. He gets back in transition. These particular aspects of his game remained true this past season.
Gliddon's impact became sketchier when defending on the ball or when needing to fight through screens though, especially against the quicker guards or shiftier ball-handlers. This isn't entirely new, as he isn't an all-world type athlete, but his physical limitations looked exaggerated for a stretch of the season. He missed just one game with a back complaint, but his movement appeared compromised for several others.
The above clip is from a game against Sydney where there were multiple instances of Gliddon struggling to turn the corner and recover on defence. He looked to lack some burst. The next game he was removed from the starting lineup and two weeks later he sat out through injury.
In the latter part of the season, physically he looked to be trending in the right direction again as he closed down gaps on the defensive end at more of his normal level. The final game featured a block attempt at the rim that would have been hard to imagine in late 2019 when his movement looked hindered.
What also came from that wild last game was again the re-emergence of the all too-familiar passive narrative. It was a game that required urgency with a target margin in Brisbane's sights, so the need to play free and with a scorer's mindset was paramount. Gliddon finished with his only 20-point effort of the season, hitting seven threes, with the broadcast commentary team questioning why it took such a situation to bring out his aggression on the offensive end.
"Dre said to me, if you're open, even a little bit, just let it go, we need to tally up some points and threes is a good way to do it. I just went out there and had a crack. The guys were getting me open and I was just flying around," Gliddon explained post-game.
How should Gliddon get more involved?
Having shot an elite 40.4% from three-point range over his past five NBL seasons, Gliddon gets close attention from the opposition on the perimeter. At times there appears to almost be an acceptance that he's not going to get many looks because a defender is glued to him.
Increasing the frequency of his off-ball movement in place of some of the straight up floor spacing possessions would please Gliddon believers. He certainly has the gravity to force the defence to make tough choices when multiple screens are in play. The more decisions required of the defence, the more likely the mistake, and the more likely that an advantage has been created for him or his teammates to score.
There we see how Gliddon's movement, screening and gravity as a shooter can quickly bring about mistakes from the defence or opportunities for his teammates.
Of course, Gliddon can be the one running off a screen with intent to score as shown below. He scored at an okay 0.96 points per play on these types of attempts last season but averaged less than one play per game. There's room for optimism that he could bump that efficiency up with more regular opportunity.
In the next clip Gliddon receives the ball via a dribble hand off and can either drive if he has room (or a favourable mismatch), or he can rise up for the three. He scored at an elite 1.37 points per play via hand offs last season, but again he averaged fewer than one attempt each game.
The other under-appreciated element of Gliddon's game is the way he sees the floor. We've come a long way since 2014 when he said he wanted to play more point guard, but his passing and decision-making remains a strength.
A number of advanced passes feature in that compilation, but for the most part Gliddon is more simplicity than flash, which limits his turnovers. He understands how the play is likely to unfold and is team first at the core, so he enjoys setting the table for teammates.
Why not keep Gliddon a little more involved and fully utilise his strengths this coming season? I'm not advocating for him to be used as a team's main option or anything outlandish, but he does have more to offer than what he was asked to do in 2019-20.
South East Melbourne Phoenix
A two-year deal with South East Melbourne was recently reported for Gliddon. The Phoenix also announced that they would not be picking up Ben Madgen's contract option. Madgen could still re-sign on new terms, but this signals a move to the four and a half year younger Gliddon as the starting shooting guard.
Phoenix head coach Simon Mitchell acknowledged the need for extra length and athleticism for season 2020/21.
"I don't even think we have to get better; we just have to get a little bit longer and a little more athletic. I feel like we're right in there," said Mitchell at the conclusion of the regular season.
Gliddon doesn't move the needle much in reference to athleticism, but he does have some added height at 6'5" compared with Madgen at 6'3". This will offer some more resistance against a greater variety of players on defence.
Some good efforts…
Some struggles…
Guarding the slipperiest or strongest scorers can be a problem for Gliddon, so there remains a need to further strengthen the roster.
The Phoenix arguably performed better than their record suggests last season but it is clear that the team's build placed some legitimate limitations on them as a defensive team. Both the back and front court were undersized and lacked some athletic pop.
Offensively, Madgen had a much larger role than Gliddon last season, using twice as many possessions on offence. His play style is naturally more aggressive or frenetic and his scoring ability in transition and from mid-range (a sizzling 31-51 FG) were clear strengths.
Gliddon is the much more efficient shooter though with his shot diet tilted far more heavily towards the three-point line. His true shooting percentage of 65.3% dwarfed Madgen's, who was down at 53.4% per spatialjam.com. Madgen made a below-average 31.1% of his 103 non-corner three-point attempts.
At the heart of this move, Phoenix will be viewing Gliddon as a chance to upgrade on both ends of the floor. Importantly, he will also not compromise what the club made a point of building in year one in terms of culture and community engagement. Gliddon's leadership, team-first approach, cool head, and care for the program are strong traits of his mentioned by previous coaches.
With the character and talent in mind, South East Melbourne's idea that they can unlock more from Gliddon's game than his recent form suggests looks to be a safe bet. Perhaps they even believe that a change of environment could bring out more consistency in his game than ever before.