Discover more from The Pick and Roll
We're all about Aussie hoops. Independent, objective analysis and commentary. Insightful narratives built around Australian basketball. Read about our men and women in the NBA, WNBA, NCAA, Europe, national teams, NBL, WNBL, NBL1, prospects and more.
Over 2,000 subscribers
The Ball and Hampton experiment: 5 takeaways from NBL's Next Stars 2019/20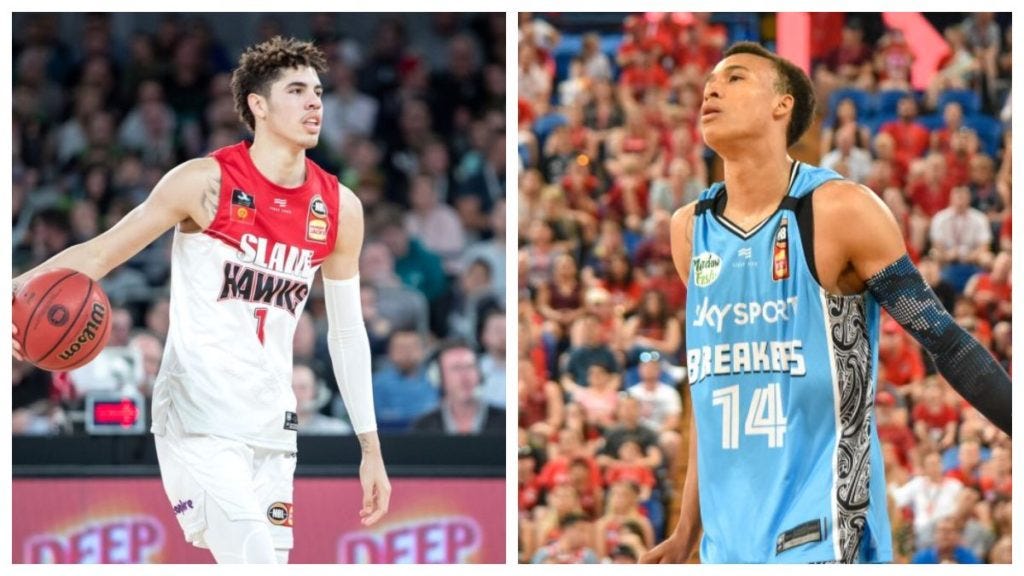 The lab experiment that was the first high-profile season of the NBL Next Stars program --with Brian Bowen II's 2018/19 season as the debut-- is, in many ways, over. With LaMelo Ball and RJ Hampton both returning to the United States in recent weeks, a lot of the excitement around the program has gone with them.
Yes, Didi Louzada and Terry Armstrong are still in the league, but both are slightly different cases. Louzada entered the NBL as an NBA draftee with professional experience, while Armstrong has barely hit the court for the South East Melbourne Phoenix.
Ball and Hampton were the faces of the initiative as soon as they announced their intentions to move Down Under rather than play in the NCAA, and their departure marks the perfect time to start evaluating the first season of the Next Stars. It's hard to deny the success of the individual players, with Hampton and Ball both projected to be top ten picks in the 2020 NBA draft. The NBL would surely be pleased, too, with the extra exposure they brought to the league.
What about the teams, though? The Phoenix, Illawarra Hawks, New Zealand Breakers and Sydney Kings have all had very different experiences with their young signings. What overarching lessons can teams take from all of those experiences when considering a Next Star candidate in the future?
1. Not all Next Stars are created equal
As mentioned above, the four players in the first crop of Next Stars all had very different seasons. Ball grabbed most of the headlines, and from an individual standpoint he was undoubtedly the most successful of the group. Based on per-game averages from NBL.com.au, he currently sits inside the top 15 in the league for scoring and top ten for rebounding, as well as second in assists and steals.
Louzada has been quieter, but he has been an impact player for the best team in the league. Injuries have seen him miss seven games, but he is the fourth leading scorer for the Kings and a versatile defender on the wing. Most importantly, he is still in the league and preparing for a title run as the postseason approaches.
Hampton's production was not too dissimilar, but the physicality of the league saw him struggle at times. As one of the youngest players in the upcoming NBA 2020 draft class, he battled manfully to be a disruptive defender and secondary playmaker for a Breakers team that stayed on the fringes of the finals race during his tenure.
It's hard to say much about Armstrong's year, as he has logged a little over ten minutes for the Phoenix across the entire season. Coach Simon Mitchell has previously mentioned that Armstrong's defence has kept him off the court at times, and even now, as they are out of the finals race he is struggling to earn minutes.
All of this is to say that teams won't necessarily get a ready contributor if they take on a Next Star. Even with success stories like Ball and Hampton, it can be argued how much they impacted winning on their teams. It might be telling, though, that the two most effective players-- Louzada and Ball-- had previous professional experience.
2. Don't put all your eggs in the Next Stars basket
This one is mostly directed at the Illawarra Hawks. Yes, there may have been some financial constraints and questions on team build, but they still built their roster with LaMelo Ball as the centrepiece. Not only did that not result in wins for the team, it also made Ball's job a lot harder. Say what you will about his shot selection and mechanics, but it's hard to imagine him shooting 37.3% from the field or 24.4% from three playing for the Kings or the Wildcats. Basing their entire gameplan on Ball hurt both the player and the team.
Even before Ball's injury, the Hawks had the worst net rating in the league by a whopping 5.7 points per 100 possessions, according to Spatial Jam. If the highest profile prospect in the world and potential number one NBA draft pick isn't enough to build your team around, it's hard to imagine any future Next Star being able to carry a team to success.
Even RJ Hampton struggled to have a winning impact, despite playing for a team that remains in the finals race. In games that he played, the Breakers went 4-11. Without him, they are 10-2 and on a run that has lifted them into the top four.
3. Injuries should be expected
It's important to remember that these players are all very young, both in age and experience. Going up against grown men and seasoned professionals, it's hardly surprising that all four have dealt with injuries.
It's hard to say how many games Armstrong has missed due to injury, since he has struggled to get on the court even when healthy. He has, however, struggled with a range of foot, calf and hip injuries that interrupted his preparation early in the season.
The other three Next Stars missed a combined 34 games through injury to date. Ball and Hampton are the most extreme cases, both ending their seasons prematurely after playing around half of their teams' schedules. It's hardly surprising when you look at them - both are supremely skilled, but lack the bulk and size of many of their teammates and opponents. It should be expected that future signees will miss at least a handful of games for these reasons.
4. It's not the free swing that it may appear to be
Next Stars players are signed and paid by the league. Their salaries don't count against the cap, and they don't take up an import slot. On the surface, taking on such a player seems like a risk-free proposition.
Dig a little deeper, though, and the stakes are higher than they might appear for teams. With so many eyes watching, there's an immense pressure that comes with developing players viewed as future NBA stars. The fact that NBA scouts value winning only heightens the extra weight on the shoulders of owners, general managers and coaches as they try to incorporate high-profile youngsters while still winning games.
The Illawarra Hawks saw firsthand what could happen if that balance wasn't achieved. After a 3-9 start and the loss of Aaron Brooks to a season-ending Achilles injury, the team was adamant they would take their time finding a replacement import. That was until suddenly, in the space of less than a week, they announced the signings of both Darington Hobson and Billy Preston. Reports suggested that the NBL pushed Illawarra to sign their replacements more quickly in order to lighten Ball's hefty workload.
Preston lasted just three games, while Hobson has been mediocre at best and abysmal at worst. Interference from the league is inevitable when they hold such high stakes in the Next Stars program, but it's another factor that teams need to consider.
5. Benefits for teams aren't obvious
Exposure. Pride. Prestige. Engagement.
These are all words that have been used countless times when talking about the impact of the Next Stars program. Sure, all of those things are nice, but it's hard to quantify any of them. What tangible benefits are there for the teams involved?
Realistically, there may not be any outside of the impact a Next Stars player has on the court. It's easy to the see the positives for other parties-- the players get professional experience and a salary, and the league gets increased coverage overseas and a payout if players are drafted to the NBA.
Very little of that flows on to the clubs involved, though. Take the Hawks, for example; even with the popularity of Ball, it has been reported that they are still struggling financially. Just last month, the Illawarra Mercury revealed that owner Simon Stratford had received a show cause notice by the NBL in relation to a "significant debt owed to the NBL". How much of that is due to the individual owner is unclear, but it would seem that Ball's presence has not made a significant impact financially.
The other figure quoted often for the Hawks is their social media following. Since Ball's arrival, it has grown to approximately 116,700 people across Twitter, Facebook and Instagram as of February 10, 2020. How many of those followers will stay, though, now that Ball has departed?
It remains to be seen what the long-term benefits will be for the teams, but there's nothing obvious on the horizon. Given some of the potential negatives involved, teams will want to make sure they are getting an impact player from the program in the future, that will benefit the franchise on multiple fronts.
What does this all mean?
Overall, the first year of the Next Stars program has been a resounding success. Looking ahead to next year, there are currently no players committed to the program and the NBL. That's hardly surprising, given Hampton was the earliest signing last year in late May.
Ultimately, the success or failure of a Next Stars signing still comes down to the fit between team and player. This season has shown that, in terms of on-court impact, players with previous professional experience have a leg up from the outset. If there are players like Louzada joining the league after being drafted, teams will surely be clamouring to have them on their squad. For younger prospects coming straight out of high school, teams will need to decide just how ready they are to contribute to winning, as well as weighing up the extra baggage that comes with them. There's no right or wrong answer, but there's certainly plenty of takeaways from this exciting season of the NBL's Next Stars program.